Canada's trade with Russia has plummeted since its invasion of Ukraine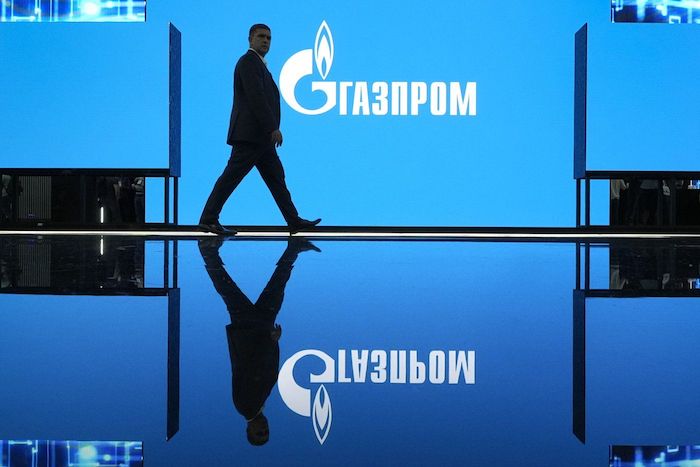 A man walks at an exhibition at the St. Petersburg International Gas Forum in St. Petersburg, Russia, Wednesday, Sept. 14, 2022, with a logo of Russian gas monopoly Gazprom in the background. Canada's trade with Russia plummeted in the first 10 months after Moscow's invasion of Ukraine a year ago, with Ottawa's economic measures barring the export of everything from forklifts to barbers' chairs.
By Dylan Robertson and Mia Rabson in Ottawa
Canada's trade with Russia plummeted in the first 10 months after Moscow's invasion of Ukraine a year ago, with Ottawa's economic measures barring the export of everything from forklifts to barbers' chairs.
Yet certain sectors have emerged largely unscathed by the restrictions, as businesses grapple with a constantly expanding list of restrictions and sanctions.
Industry Canada data show that between March and December 2022, the value of total imports from Russia plunged 78 per cent to $414 million, from $1.9 billion during the same eight-month period in 2021.
By November and December, Canadian imports from Russia had fallen 98 per cent compared to the year before. Over both months, the total value of imports from Russia was $9 million, compared to $433 million in the last two months of 2021.
The value of exports from Canada to Russia between March and December fell 91 per cent, dropping to $52 million in 2022 from $584 million in 2021.
"The Canadian footprint in Russia has collapsed," said William Pellerin, an Ottawa-based trade lawyer with the firm McMillan LLP.
Federal data show Canada is still importing a significant amount of pneumatic tires, aviation turbine fuel and plywood. But only a handful of the top 25 products imported from Russia in both 2021 and 2022 saw an increase.
That includes nickel ores, which Canada tends to process for export, as well as ammonium nitrate, mostly used in fertilizer. The imports of both more than doubled in value between the two years, though Canada didn't import either product after June 2022.
Pellerin said the fertilizer data reflect the annual cycle of farmers making purchases ahead of the spring sowing season. The purchases related to this year's season will show up in later data, he said.
Ottawa imposed a 35 per cent tariff on Russian and Belarusian products in March, which it expects will yield $115 million in revenue that Canada plans to transfer to Ukraine.
The Liberals have said they accept that tariffs and restrictions have an impact on Canada's economy, but they argue it's worth taking a stance in support of international rules.
Canada is the only G7 country to include nitrogen fertilizer in its tariff regime, to the ire of Eastern Canadian growers, who say it unfairly drives up the cost of products at a time of high inflation.
About half a dozen products saw an increase in exports in 2022 versus 2021, but many of them saw most or all of that occur in January and February, before Canada imposed sanctions. For example, Canada exported $85 million in aircraft over 15,000 kg to Russia last year, all of it in February 2022.
As part of the firm's complex regulatory solutions group, Pellerin said his clients include Canadian and international firms navigating sanctions on Russia, but not Russian themselves.
He said the drop in Canadian exports to Russia partially stem from a list of weapons-related goods that Ottawa banned for export in May, many of which don't consist of actual weaponry.
The list includes motorcycles and surgical or veterinary furniture including "dentists' chairs" as well as "barbers' chairs and similar chairs, having rotating as well as both reclining and elevating movements."
The list also includes cranes, X-ray equipment and forklift trucks, because such goods might be appropriated for military use. Canadian companies can only export these items if they secure a waiver.
"We're displacing Canadian exports, and they're being replaced by Chinese supply," Pellerin argued.
He noted that trade in services have also taken a major hit, in particular for companies that help with mining operations in Canada and Russia, given their similar terrain.
Pellerin has also come across companies based in Dubai or Europe that have significant exchanges with Russians, and others in which Russian oligarchs have partial control or ownership.
"Not a week that goes by that we don't kick up a rock and there is a sanctioned oligarch in some proposed business dealing that we can no longer do," he said.
"What the average Canadian does not see is all the business that doesn't get done with Russian parties as a result of Canadian sanctions — and frankly all the risk that is being borne by international businesses as a result."
For example, Canadian companies might suddenly discover that they've been doing business for years with a firm that has minority Russian ownership, making it unclear whether they need a waiver to continue.
Canadian companies apply for these exemptions by making the case that the economic activity would not violate the intent of sanctions, and a cabinet minister signs off on the waivers.
Pellerin argues this makes the process "more political than is truly independent or legal" and notes there is very limited detail in the guidance Global Affairs Canada posts online, compared to that provided by allied countries.
The department gave no indication it would improve the level of detail it provides, with spokesman Grantly Franklin saying in an email that the waivers "are evaluated on a case-by-case basis, and we have a rigorous due diligence process in place."
Pellerin said the sanctions team is "doing everything that they can on a shoestring operation," with some exemptions taking months to process.
In the past year, Canada has sanctioned more than 1,600 people in relation with Russia's war in Ukraine. Yet the government says it cannot determine how many more of its employees have been assigned to work on sanctions and exemptions.
"Hundreds of Global Affairs Canada employees may be contributing to the sanctions effort at any given time. For these reasons, it is not possible to specify the exact number of people working on sanctions at any given time," Franklin wrote.
In 2021, Russia stood as Canada's 28th most valuable trading partner, falling last year all the way to 53rd place.
Russia's ambassador in Ottawa, Oleg Stepanov, lamented the drop in trade in an interview this month with state news agency RIA Novosti.
"Ottawa's unfriendly actions have significantly affected the dynamics of bilateral trade," he said in a Russian-language interview.
"We predict that the negative trend will continue this year."
This report by The Canadian Press was first published Feb. 23, 2023.
StatCan report casts clouds on claims of a widespread labour shortage in Canada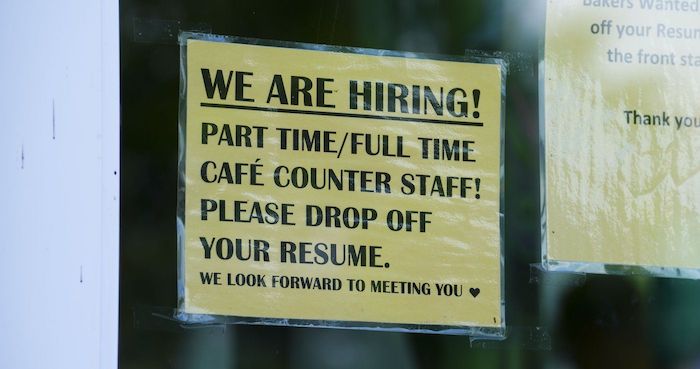 A new report is casting doubt on the idea that Canada is facing a widespread labour shortage, bolstering arguments by labour economists who say the country has more than enough workers. A sign for help wanted is pictured in a business window in Ottawa on Tuesday, July 12, 2022. THE CANADIAN PRESS/Sean Kilpatrick
By Nojoud Al Mallees in Ottawa
A new report is casting doubt on the idea that Canada is facing a widespread labour shortage and bolsters the arguments by some labour economists that high job vacancies aren't due to a shortage of workers.
The Statistics Canada analysis finds there are no labour shortages for jobs that require high levels of education, suggesting other factors, such as a mismatch in skills and pay, might be to blame for a high number of empty positions.
In the aftermath of the COVID-19 pandemic, labour shortages have grasped headlines from coast to coast as businesses have advertised more job openings than ever. Job vacancies skyrocketed to more than one million at one point last year.
The perceived countrywide labour shortage has put pressure on governments to help businesses find workers, including by increasing Canada's immigration targets.
But the report published this week compares unemployment and job vacancies by education level and paints a more nuanced picture of the labour market.
"Things look really different depending on whether you look at vacancies that require a high level of education, versus those that require a high school diploma or less," said René Morissette, the assistant director of social analysis and modelling division at the federal agency.
The report, which looked at labour data between 2016 and 2022, found for jobs requiring a bachelor's degree or higher education, there were always fewer jobs available than people to fill them.
For example, there were 113,000 vacant positions requiring a bachelor's degree or higher education in the fourth quarter of 2022, but 227,000 individuals who held such an education were unemployed during the same period.
But for positions that required a high school diploma or less, the shortage of workers only started in the third quarter of 2021.
Morissette said the findings don't mean that there are no labour shortages in some markets, but shortages may not be as extensive as previously assumed.
"It's certainly conceivable that there are local shortages in some in some positions," Morissette said. "What we're saying is that the shortages may not be as widespread as initially assumed in the early discussions about the high vacancy rates in Canada."
For employers trying to fill vacancies that require a post-secondary education, the report says their hiring challenges cannot be attributed to a lack of workers available with those qualifications.
Instead, the difficulties may be the result of a mismatch in skills required for the job and those possessed by candidates. Another factor could be that employers aren't offering wages that are on par with what job seekers expect.
The report also casts doubt on the hiring challenges facing firms trying to recruit workers with lower levels of education.
"The degree to which these job vacancies can be attributed to labour shortages in specific low-skilled occupations instead of relatively low-wage offers and fringe benefits or other factors remains an open question," the report says.
Jim Stanford, an economist and the director of the Centre for Future Work, says the report from Statistics Canada busts "long-standing myths" about labour shortages in the country.
"If you were really short of labour, and you couldn't find someone to do that minimum wage job at a McDonald's restaurant, then why aren't they either increasing the wage or trying to replace the work with machinery?" Stanford said.
"Neither are happening, which suggests to me that employers in general are quite happy with the current state of affairs, no matter how much they complain about labour being in short supply."
So what explains the high number of job vacancies?
Morissette said for low-skilled industries, businesses may be choosing to keep wages low and accept higher vacancy rates.
"For employers that have negligible training costs, a human resource strategy that combines relatively low wages with high worker turnover and some vacancies might actually … maximize profits," he said.
The federal government has kept an open ear to business groups raising alarm bells about labour shortages.
In the fall, Ottawa announced new immigration targets that would see the country welcome 500,000 immigrants annually by 2025. Immigration Minister Sean Fraser has touted the new plan as a solution to the country's labour woes.
Canada has also experienced a surge in the number of temporary foreign workers brought into the country to help businesses fill vacant positions.
The apparent shortage of low-skilled workers could push policymakers to think that even more temporary workers are needed, but Stanford said that would be a "disastrous" conclusion to draw from the report.
Many economists have reservations about temporary foreign worker programs that they worry can suppress wages domestically, if used excessively.
"The goal of immigration policy should not be to solve the recruitment problems faced by low-wage employers, or any employers for that matter," he said.
This report by The Canadian Press was first published May 27, 2023.
WestJet pilots deal grants 24% pay raise over four years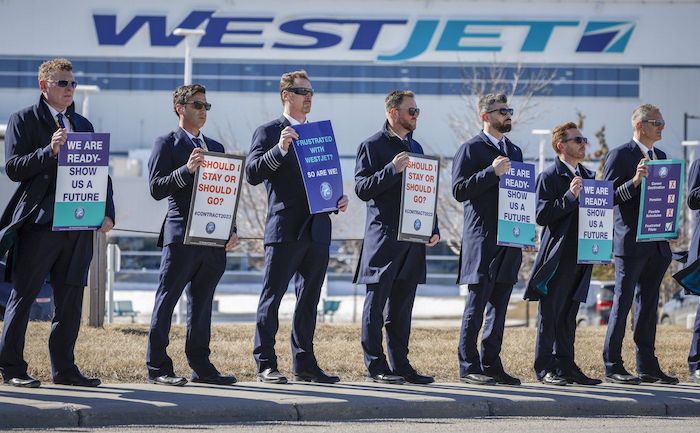 WestJet pilots are poised to get a 24 per cent pay bump over four years under an agreement-in-principle between the company and the union. Members of the Air Line Pilots Association demonstrate amid contract negotiations outside the WestJet headquarters in Calgary, Alta., Friday, March 31, 2023.THE CANADIAN PRESS/Jeff McIntosh
Calgary
WestJet pilots are poised to get a 24 per cent pay bump over four years under an agreement-in-principle between the company and the union.
A copy of the tentative agreement summary obtained by The Canadian Press states that pilots will receive a 15.5 per cent hourly pay raise this year retroactive to Jan. 1 upon ratification of the deal.
It also lays out a cumulative 8.5 per cent hike to their hourly wage over the remainder of the contract, from 2024 through 2026.
Bernard Lewall, who heads the Air Line Pilots Association's WestJet contingent, said last Friday after reaching a deal that the union achieved its main goals of better pay, job security and work-life balance.
Aviation expert Rick Erickson says the deal marks a new standard for labour negotiations in Canadian aviation, and could also make it tougher for budget airline competitors to retain pilots.
Bargaining came down to the wire last week, with WestJet cancelling more than 230 flights in preparation for job action before a deal was reached hours ahead of the strike deadline Friday morning.
This report by The Canadian Press was first published May 26, 2023.