Canada stays undefeated at world juniors with 6-3 win over Finland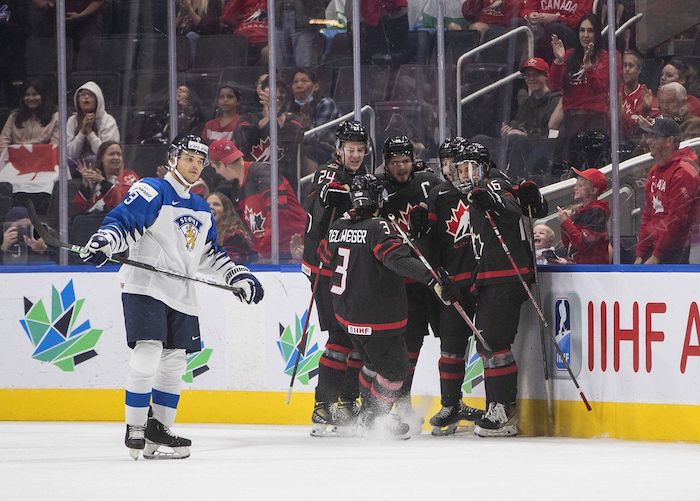 By Gemma Karstens-Smith in Edmonton
Ridly Greig was a little banged up after helping Canada to a big win at the world junior hockey championship on Monday.
Not only did the Ottawa Senators' prospect score and contribute an assist in the 6-3 victory over Finland, he blocked some big shots when the Canadians ran into third-period penalty trouble.
"Whatever it takes to win, whatever it takes to do anything for the boys or kind of get some momentum, I'm going to do it," Greig said. "Whether it's stand in front of a slap shot, I'm going to do it."
Special teams were the difference maker on Monday, with the Canadians going 2-for-2 on the power play while Finland was 1-for-5.
The Finns got their second stretch of five-on-three hockey with less than five minutes left on the clock when William Dufour joined Ethan del Mastro in the penalty box.
Finland pulled goalie Leevi Merilainen just as del Mastro's penalty expired and, with the extra man, Roby Jarventie put a puck in off the glove of Canadian goalie Dylan Garand to make it 5-3.
Dufour sealed the score at 6-3 with an empty-net strike 18:13 into the third.
The Finns had a prime opportunity to eat into Canada's lead with a minute-long two-man advantage midway through the final period.
Donovan Sebrango was sent to the box for high-sticking and less than a minute later, teammate Will Cuylee was tossed from the game for a knee-on-knee hit.
Canada weathered being down two men, then chewed through the four remaining minutes of the major penalty without conceding a goal.
"I thought our penalty kill was elite today, so many guys blocking shots. And that's a great sign for a team that's trying to win something," said Canada's captain Mason McTavish, who had a goal and two assists in the win.
"Finland, they're a great team. I think they were 3-0 coming into this, their power play is ridiculous. So the fact that our PK stood up there with one of the best power plays in the tournament is huge for us."
Connor Bedard scored and contributed an assist for Canada (4-0-0), while Dufour, Brennan Othmann and Tyson Foerester also found the back of the net. Olen Zellweger tallied three assists.
Joakim Kemell scored and contributed an assist for Finland (3-1-0) and Samuel Helenius rounded out the scoring.
Canada's Garand made 22 saves and Merilainen stopped 31 of 36 shots for the Finns.
The result was an important one for Canada, who finished the preliminary round atop Group A. They'll face Group B's Switzerland (1-3-0) in the quarterfinals on Wednesday.
Switzerland clinched its spot in the quarterfinals earlier on Monday with a 3-2 win over Austria (0-0-4).
Finland was disappointed with Monday's result, said head coach Antti Pennanen.
"It was OK but it wasn't enough. And we were angry after the game, that's for sure," he said.
A big goal early in the third whittled the Finns' deficit to 5-2.
Toronto Maple Leafs' prospect Topi Niemela fired a shot from the point and Kemell tipped it in from the slot for his third goal of the tournament.
Canada called for a coach's challenge, arguing that the puck had gone off the netting before falling back to the ice ahead of the goal.
"The guys on the ice are generally the ones who can tell you what's going on," said head coach Dave Cameron. "My players were 100 per cent sure it went in (to the net). So you trust your players."
After an extended video review, officials determined the goal was good. The Canadians did not receive a delay-of-game penalty because officials said the review was "inconclusive."
The Canadians dominated the middle frame, outshooting the Finns 20-5 and taking a 5-1 lead.
McTavish gave his country its second power-play goal of the game 16:17 into the period after Finland's Rubin Rafkin was called for interference.
Zellweger sent the Anaheim Ducks' prospect a pass from inside the blue line and McTavish uncorked a one-timer that flew over Merilainen's shoulder stick side.
Thirty-one seconds into the second, Canada went up 4-1 after the Finnish goalie bobbled a shot by Joshua Roy.
Greig slid in on one knee to put the rebound in the back of the net with his third goal of the tournament.
Canada went into the first intermission up 3-1 after a late Finland goal.
A knot of players battled for the puck behind the Canadian net and Finland's Kalle Vasisanen came up with it. He sent a pass to Helenius at the high hash marks and the L.A. Kings' prospect got a shot up and over Garland's shoulder with 57 seconds left in the period.
Bedard put away his third goal of the tournament in memorable fashion 17:19 into the first.
Canada was penned in its own zone for an extended period, but the 17-year-old phenom showed no signs of exhaustion when he collected a cross-ice pass from McTavish at the blue line and sped into the faceoff circle.
He then ripped a blistering shot past Merilainen, pinging the puck off the inside of the crossbar to make it 3-0.
A power-play strike boosted Canada's lead to 2-0 midway through the opening frame after Helenius was called for slashing.
Greig's shot ricocheted off Merilainen's pad but Foerester was in position to poke the rebound in from the top of the crease as he slid past the net.
Finland got off to a strong start, outshooting the host nation 4-0 across the first five minutes of the game.
It was Canada that opened the scoring, though, 6:21 into the first.
Defenceman Zellweger fired a long bomb from inside the blue line and Othmann batted it in past Merilainen.
The play was reviewed for a potential high stick but the goal — Othmann's second of the tournament — was determined to be good after officials reviewed the video.
The preliminary round wrapped Monday night with Group B's Sweden (3-1-0) registering a 4-2 victory over Germany (2-2-0).
Sweden will battle Latvia (1-2-1) in the quarterfinals on Wednesday while Germany will face Finland.
The reigning champion Americans (4-0-0) also went undefeated in round-robin action and will play Czechia (1-2-1), the country commonly known as the Czech Republic, in the quarterfinals.
The semifinals are scheduled for Friday and the medal games will go Saturday.
NOTES: McTavish leads the tournament in scoring with 13 points (seven goals, six assists). … Canada outscored its opponents 27-7 in the preliminary round. … The 2022 tournament is being played in August after the original event was called off on Dec. 29 after just four days as rising COVID-19 cases among players and officials forced games to be forfeited.
'Short-term pain': Group of Alberta lawyers escalate job action over legal aid cases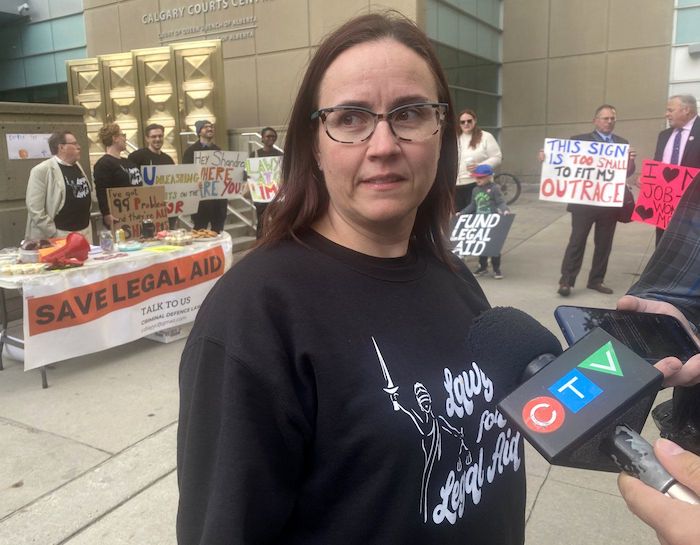 By Bill Graveland in Calgary
Alberta criminal defence lawyers are taking another step in their dispute with the provincial government over the amount of compensation paid by Legal Aid Alberta.
Organizations representing lawyers in Edmonton, Calgary, Red Deer and southern Alberta began job action Aug. 8 by refusing to accept certain bail and duty counsel files from legal aid.
The lawyers also began refusing certificates for new cases for the most serious criminal charges, including sexual offences, firearms-related crimes and homicides.
Beginning Monday, they say all services will be withdrawn.
"We're going to stop taking all certificates. That will include some our prior job actions still allowed us to take certificates for people who are already existing clients and there will be a very, very limited set of circumstances now where our members will do that," said Kelsey Sitar, vice-president of the Criminal Defence Lawyers Association in Calgary.
"The default will be: 'We are just not taking any new work from legal aid until the problem is fixed.'"
Sitar made her comments at a rally in front of the Calgary Courts Centre on Friday that drew about 50 criminal defence lawyers.
A table with a sign reading "Save Legal Aid" offered bake goods for sale. Lawyers carried signs reading "Access 2 Justice Must be Equal." Another read: "This sign is too small to fit my outrage."
"This is drastic. I mean, what we were doing up until now is something I know has happened in Ontario before, it did not last long, frankly," Sitar said.
"I can tell you that none of us want to be out here. We all want to be in there doing our jobs."
Justice Minister Tyler Shandro has said nothing is going to be done until a review of the Legal Aid Alberta administrative system is complete, which is scheduled for next month.
He said any budget changes for legal aid wouldn't happen until next year.
Sitar said the ministry chose to undertake "an incomplete and, frankly, useless review" at a time when the governing United Conservative Party is about to go through a leadership change.
"So we have to act now and they need to respond now," she said.
Sitar said she understands the people being affected the most by the job action will be people with lower incomes who need the services to afford legal representation.
"It's short-term pain right now," she said. "It's really unfortunate, but I can tell you that most of the people I've talked to on the street who are finding themselves caught up in this understand and are grateful that we're doing it."
Alberta Opposition NDP Leader Rachel Notley said the problem has been growing over the last three years. She said when her party was in power, it committed to additional funding for Legal Aid, but the UCP government backtracked.
"We simply cannot be asking the Legal Aid bar to be doing what we are asking them to do at the rate that we are asking them to do it," she told reporters.
"We have the lowest funding for Legal Aid in the country. What that means is that we don't have equal access to justice. It undermines the integrity of our justice system and, overall, it undermines our ability to build a sense of community safety, community security and an overall respect for the rule of law — all of which are important to community health and economic growth.
"It sounds like a niche issue, but it's not. It actually has knock-off effects to very, very important issues that affect all of us. So, the government needs to come to the table and negotiate decently with these lawyers."
This report by The Canadian Press was first published Sept. 23, 2022.
— With files from Colette Derworiz in Calgary.
'Kind of like carnies': International balloon festival returns to High River, Alta.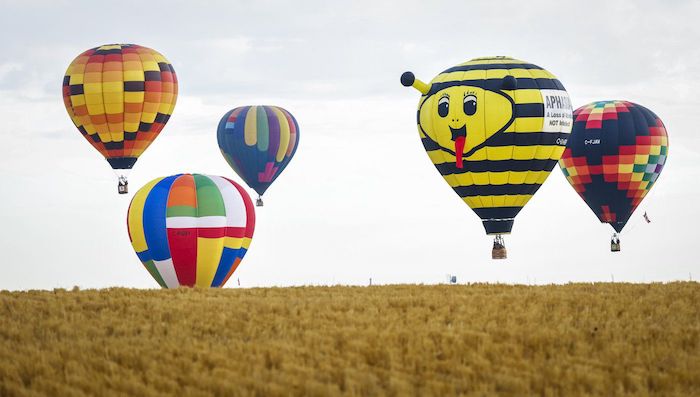 By Bill Graveland in High River, Alberta
The windswept prairie east of the Rocky Mountains seems an unlikely spot for a hot-air balloon festival, but the town of High River, Alta., is celebrating the event's 10th year.
More than 20 brightly coloured balloons — including a pink elephant, a black and yellow bee and the purple and yellow Eye of Ra, named after the Egyptian sun god — took advantage of a lull in the prevailing wind this week to get some up-in-the-air time to mark the opening of the Heritage Inn International Balloon Festival.
"We get about 50 per cent of our flights off. Weather impacts us everywhere," said event director Jamie Kinghorn, who is also a town councillor.
"This is our 10th. We started in 2013 partly because of the flood that happened. I'd been to a number of balloon events and thought this might lift the spirits of the folks in town."
The town of 12,000 just south of Calgary gained an international profile in 2013 when flooding in parts of southern Alberta caused billions of dollars in damage.
High River was one of the hardest-hit communities. Entire neighbourhoods were under water for weeks.
"I called in a bunch of friends from the balloon community and they knew what happened, so 20 of them came into High River and we put on a balloon festival that was actually amazing for the community," Kinghorn said.
"That was sort of the first major thing toward recovery after the flood and we've been doing it every year since at the end of September."
Kinghorn said the festival is a boon to local tourism and there's not a hotel room to be had in town.
He had his first hot air balloon over the city of Calgary in 1988. A year later he was a balloon pilot.
There are 23 balloons participating this year, including some from the United States, Belgium and the United Kingdom.
Kinghorn said it's a pretty small community.
"We tend to meet at various events. We tend to travel. We're kind of like carnies to some extent," he said with a laugh.
"We travel around to different cities to different balloon events."
Alan Davidson, who has been involved in the sport since 1977, is one of the volunteers.
He said those who get involved tend to stick with it.
"The amazing thing is that there are still seven or eight of the people I was ballooning with in the '70s and early '80s who are still here at this event," said Davidson. "They've been working with balloons for over 40 years."
Kinghorn, who is the owner and pilot of the Eye of Ra, was the first balloon in the air Thursday morning after a Wednesday evening flight was cancelled due to the wind.
"My God am I glad we got this off," he said as the flight came to an end.
The festival runs through Sunday.
This report by The Canadian Press was first published Sept. 23, 2022.