Canada outlasts Swedish goalie in 3-0 women's world hockey quarterfinal win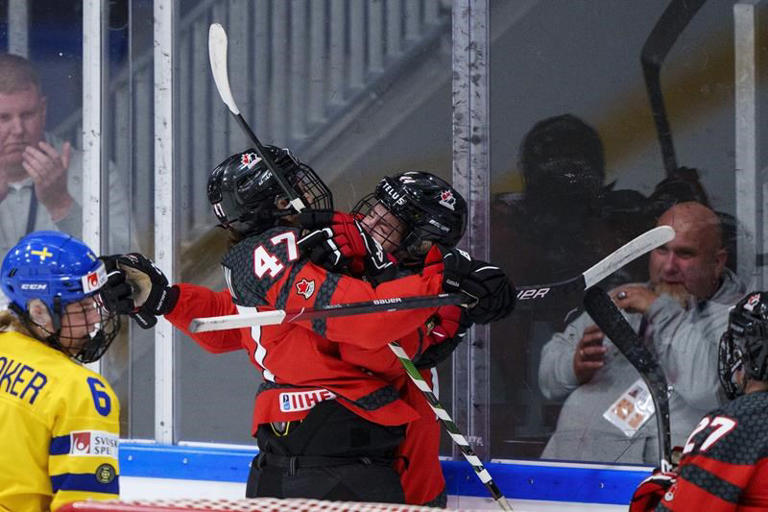 HERNING, DENMARK — Canada outlasted a tenacious goaltender to take another step toward defending its women's world hockey title.
Sarah Potomak's highlight-reel goal in the second period and her assist on Erin Ambrose's third-period goal helped seal a 3-0 quarterfinal win Thursday over Sweden.
Veteran defender Jocelyne Larocque scored her first world championship goal in her 10th appearance in the tournament, while goaltender Ann-Renée Desbiens posted a nine-save shutout.
Emma Soderberg, who tends the University of Minnesota-Duluth Bulldogs' net, was a workhorse in Sweden's net with 54 saves.
"It was a test of our patience, but also a test of our discipline," Canadian assistant captain Blayre Turnbull said. "It's really easy in games like that to become very individual and try to solve the problem by yourself and stray away from our team systems.
"I'm really proud of our group that we stuck to our game plan despite not having the offensive success that we wanted to have."
Canada meets beleaguered Switzerland in a semifinal Saturday with the victor advancing to Sunday's gold-medal game in Herning, Denmark.
Minus captain Lara Stalder and top scorer Alina Mueller because of COVID-19, as well as two other injured players, the Swiss eked a 2-1 shootout win out over Japan in their quarterfinal.
Czechia, coached by former Canadian defender Carla MacLeod, posted the upset of the tournament so far and reached the semifinals for the first time with a 2-1 overtime win over Finland.
The U.S. had an easier time in their 12-1 quarterfinal win over Hungary to face the Czechs on Saturday.
American forward Hilary Knight's goal and assist to get to 87 career world championship points surpassed Canada's Hayley Wickenheiser for the all-time record.
Canada and Sweden met in a world championship game for the first time since 2009, although the Canadians beat the Swedes 11-0 in an Olympic quarterfinal in February.
Soderberg gave up nine goals over two periods in Beijing before she was pulled, but she gobbled up the puck Thursday.
"I think we came out a lot stronger. I feel like I came out better than I did in Beijing too," Soderberg said. "We didn't let them do whatever they wanted.
"I was able to stay a lot calmer. I think I wanted to do a little bit too much in the Canada game in Beijing. That kind of punished me and us."
Sweden, the 2006 Olympic silver medallist, was relegated in the 2019 world championship.
The national team then boycotted international competition in protest over compensation and other competitive issues. The dispute with Sweden's federation was resolved later that year.
The COVID-19 pandemic eliminated second-tier world championships for Sweden to gain promotion, but the world No. 8 replaced Russia in this year's 10-country tournament.
The International Ice Hockey Federation has barred Russia from tournaments because of that country's invasion of Ukraine.
"We got here under bad circumstances of course, but we hadn't had the opportunity to qualify for the top-tier world yet," Soderberg said.
"This is where we want to be. This is where our program should be. How we're playing in this tournament is a big step forward."
Canada generated sustained pressure in Sweden's end for long stretches of the first and second periods, but Soderberg helped limit the Canadians to a 2-0 lead after 40 minutes.
"She a phenomenal goalie. She moves really well," Larocque said. "She made some huge saves. It was a test for us to stick to the game plan and do the little things right. I think it's good. We had to play some really good hockey and keep pressure on them.
"We'll be able to take a lot from, I'd say, the second half of the that game moving to the semis."
Canadian head coach Troy Ryan continued his line juggling from the previous day's practice, most notably shifting Victoria Bach into a trio alongside Marie-Philip Poulin and Brianne Jenner, and Sarah Nurse getting ice time with Sarah Fillier and Emily Clark.
"I don't think there are any natural fits," Ryan observed. "It's not like we loved any of the changes. We told them when we made those changes that we'll keep changing and trying to find something that fits, until there's no more games to be honest."
Ambrose threaded a shot from the point over Soderberg's shoulder at 13:10 of the third period.
Three power-play chances in the first 10 minutes of the second didn't yield a goal for Canada, which went 0-for-8 overall, but Potomak scored with a highlight-reel even-strength effort.
She scraped the puck off the neutral-zone boards, and then sliced by Swedish defender Maja Persson Nylen going backhand to forehand to solve Soderberg at 13:56 of the second period.
"It was a beautiful goal and that's something we've all seen from her before," Turnbull said. "It was great for her to get on the scoreboard that way and it was very timely."
Outshot 14-1 in the first period, the Swedes held Canada scoreless until 17:11 when Renata Fast, below the goal-line, fed Larocque out front for a successful wrist shot top shelf.
This report by The Canadian Press was first published Sept. 1, 2022.
Donna Spencer, The Canadian Press
Allow unvaccinated Canadians to cross U.S. border, Poilievre asks President Joe Biden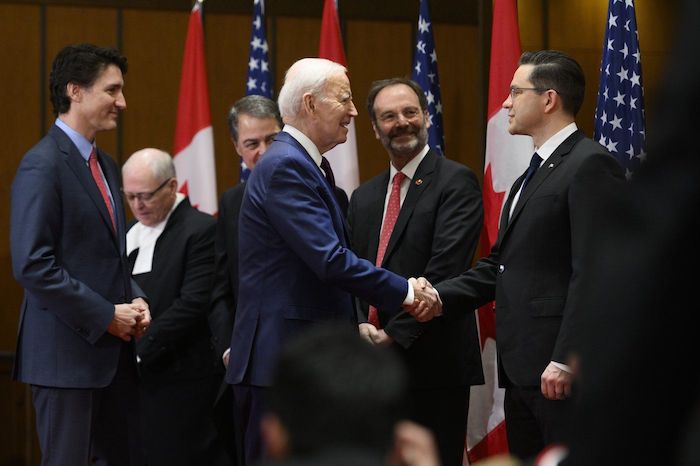 U.S. President Joe Biden shakes hands with Conservative Party of Canada Leader Pierre Poilievre, as Prime Minister Justin Trudeau looks on, during a welcoming ceremony on Parliament Hill in Ottawa, on Friday, March 24, 2023. Conservative Leader Pierre Poilievre says allowing Canadians who are unvaccinated against COVID-19 to cross into the United States was among issues he raised with President Joe Biden. THE CANADIAN PRESS/Justin Tang
By Stephanie Taylor in Ottawa
Conservative Leader Pierre Poilievre said Friday he asked President Joe Biden to remove the U.S. government's requirement that Canadians be vaccinated for COVID-19 before crossing the border.
He told reporters after their meeting that American citizens are no longer required to have their shots and Canada allows unvaccinated Americans to visit.
"There are millions of good, decent, honourable people who, through a personal medical decision, are discriminated against at the border," Poilievre said.
"I encouraged the president to lift those restrictions to allow them freedom of mobility."
Poilievre won the leadership of his party a little more than six months ago by mounting a vocal opposition to COVID-19 health restrictions, including mask and vaccine mandates, but he has since focused his message on cost-of-living issues.
He met with Biden on Parliament Hill Friday during the president's 27-hour visit to the Canadian capital, and later shared a photo of the two online.
Michael Ignatieff was the last Opposition leader to have face time with a U.S president. The former Liberal leader met with former President Barack Obama in 2009. It happened at the airport.
Poilievre said Friday he found Biden wants to be a "friendly" and "decent" neighbour to Canada, and on a personal level, he said he told the president they share Irish heritage.
He said they discussed the need for Canada to bolster its defence systems and "bring fairness" to workers by seeing the U.S. exempt Canada from its Buy American policies.
The Tory leader also said he expressed a need for Biden to axe tariffs on Canadian softwood lumber, arguing that the long-standing dispute saw a brief reprieve under Conservative prime minister Stephen Harper.
"I don't believe that Prime Minister (Justin) Trudeau has pushed and fought on behalf of Canadians," he said.
Before the meeting, Poilievre had shared some unscripted moments with the leader of the free world.
As he stood in a receiving line of Canadian politicians from all parties who were greeting Biden upon his arrival at Parliament Hill, Poilievre introduced himself as the "Leader of His Majesty's Loyal Opposition."
That prompted Biden to question, still shaking Poilievre's hand: "Loyal opposition?"
Poilievre assured him that yes, "we believe that opposition is an act of loyalty in our system."
Biden chuckled, patting Poilievre on the arm.
"We do, too, unfortunately," he said, chuckling.
Later, while addressing the House of Commons, Biden noted that both he and Trudeau appointed cabinets that were half women, making them the first in their respective countries to do so.
Many in the chamber broke out in applause.
Biden noticed that Poilievre and the Opposition Conservatives were not quick to rise, and quipped: "Even if you don't agree, guys, I'd stand up," which Poilievre and others then did.
Asked afterwards about that interaction, Poilievre said only: "We support gender equality for all Canadians."
Poilievre was on the guestlist for a dinner with Biden Friday evening, along with other government ministers, officials and celebrities.
The invitation process came with a dash of partisanship.
Earlier in the day, staff in Poilievre's office were left scratching their heads when they said it had not received an invite from Trudeau's office to attend, and asserted that any suggestion he had refused the invitation was false.
The Prime Minister's Office confirmed it had sent Poilievre notice of the dinner — but the invitation went to a personal email account that notifies senders it is not monitored.
This report by The Canadian Press was first published March 24, 2023.
Trudeau says he accepts MP's choice to leave Liberal caucus amid meddling allegations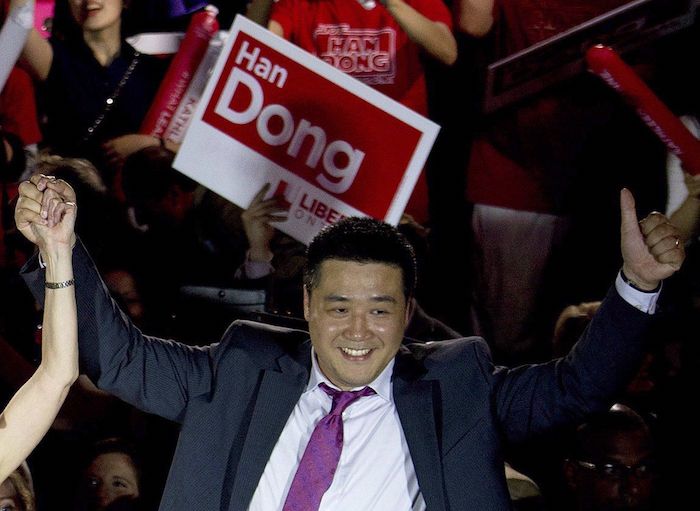 Then-Provincial Liberal candidate Han Dong celebrates with supporters while taking part in a nomination event, in Toronto, Thursday, May 22, 2014. THE CANADIAN PRESS/Nathan Denette
By Stephanie Taylor in Ottawa
Prime Minister Justin Trudeau says he accepts Han Dong's decision to leave the Liberal caucus after an allegation he spoke to a Chinese diplomat about delaying the release of two Canadians.
Trudeau sidestepped a question Friday about whether he believes the allegation, saying only that Canadians should watch Dong's "strong" speech for themselves.
He said at a news conference alongside U.S. President Joe Biden, who was visiting Ottawa, that he fully accepts Dong left the Liberal caucus "to vigorously contest these allegations."
The prime minister also added that he and Biden discussed foreign interference, and said it is "unacceptable," whether from China or from other countries such as Russia and Iran.
Dong, a Toronto MP, announced he would sit as an Independent on Wednesday night, telling the House of Commons that he would defend himself against "absolutely untrue claims" regarding his alleged involvement in Chinese interference.
Global News published a report that night, citing unnamed security sources who alleged that Dong spoke about Michael Spavor and Michael Kovrig, who at that time had been detained in China for just over two years, with a Chinese diplomat in Toronto in February 2021.
The two Canadian men had been detained by China in December 2018, just over a week after the RCMP arrested Huawei executive Meng Wanzhou in Vancouver on a U.S. extradition warrant.
Global News alleged that Dong told China's consul general in Toronto that releasing the men would benefit the Conservatives, but also that showing some "progress" in the case would help the Liberals.
The Canadian Press has not independently verified the allegations.
The MP said he met with the diplomat but disputes any suggestion he urged China to delay releasing Kovrig and Spavor, telling the House of Commons he did nothing to cause them harm.
Kovrig and Spavor were treated as honoured guests when Biden addressed the House of Commons on Friday.
Members of Parliament and others who packed the gallery gave the men no fewer than four standing ovations. It was their first time in public together since returning to Canada in September 2021.
Conservative Leader Pierre Poilievre told reporters it was moving to see Kovrig and Spavor, whom he described as "two courageous men who survived unimaginable hell."
Poilievre added: "I was very heartened that everyone in the chamber gave them such a warm welcome."
The Tory leader declined to weigh in on the allegations against Dong, but repeated his position that holding a public inquiry is the only way to get to the bottom of China's alleged meddling in Canadian affairs.
He noted that all opposition parties agree on that — and pointed out that even Dong himself voted in favour of a motion that called for a public inquiry, the day after he left the Liberal caucus.
"So for his sake and for everybody's sake, and most importantly, for the sake of the truth, the prime minister has to end his cover up and call a full public inquiry," Poilievre said.
Trudeau has not ruled out the possibility of calling a public inquiry, but he has said that any recommendation to do so will have to come from former governor general David Johnston, who was recently appointed to probe the issue as a special rapporteur.
This report by The Canadian Press was first published March 24, 2023.