Canada needs 300,000 new rental units to avoid gap quadrupling by 2026: report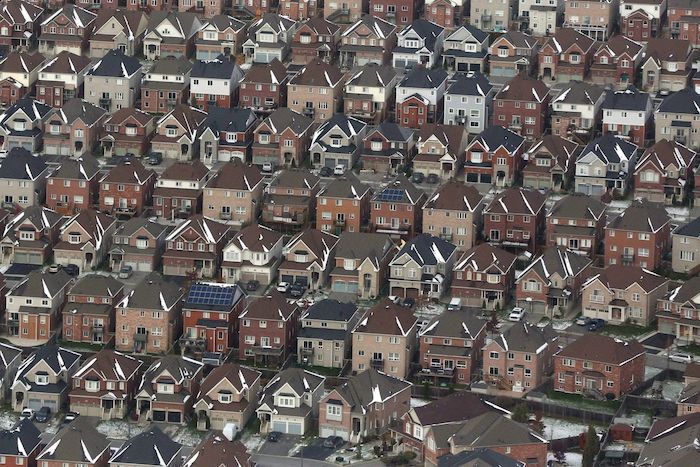 An aerial view of houses in Oshawa, Ont. is shown on Saturday, Nov. 11, 2017. A Royal Bank of Canada report predicts Canada's rental housing shortage will quadruple to 120,000 units by 2026 without a significant boost in rental stock. THE CANADIAN PRESS/Lars Hagberg
By Sammy Hudes in Toronto
Canada's rental housing shortage will quadruple to 120,000 units by 2026 without a significant boost in stock, Royal Bank of Canada said in a report Wednesday.
In order to reach the optimal vacancy rate of three per cent, the report suggested Canada would need to add 332,000 rental units over the next three years, which would mark an annual increase of 20 per cent compared with the 70,000 units built last year.
The research analyzed vacancy rate data released in January by the Canada Mortgage and Housing Corporation (CMHC).
Canada's vacancy rate fell to 1.9 per cent in 2022, its lowest point in 21 years, from 3.1 per cent in 2021.
Competition for units also drove the highest annual increase in rent growth on record, by 5.6 per cent for a two-bedroom unit.
Canada's rental housing stock grew by 2.4 per cent in 2022, led by Calgary at 7.4 per cent and Ottawa-Gatineau at 5.5 per cent, while Toronto and Montreal saw the smallest percentage increases at 2.1 per cent and 1.4 per cent, respectively.
"We haven't seen that many additions to the purpose-built inventory in almost a decade, so you would think that added supply of units would ease some of the competition, but what the CMHC rental market data revealed to us was that it didn't," said RBC economist Rachel Battaglia.
Slow growth in Canada's two most populous cities has been outpaced by rapidly increasing demand, partly fuelled by high immigration levels, she said. Annual federal immigration targets are set to grow eight per cent by 2025, meaning demand is unlikely to let up.
Battaglia also pointed to affordability and behavioural preferences for the influx of rentals sought. She said more Canadians are choosing to live alone, meaning fewer incomes per household.
"You have a lot of people being funnelled into the rental market who maybe would have liked to own something but it's just not financially in the books for them right now," said Battaglia.
The report estimated an existing deficit of 25,000 to 30,000 units of rental stock across Canada. In addition to building more supply, it recommended turning condo units into rentals, converting commercial buildings and adding rental suites to existing homes to help ease the pressure.
Without such measures, Battaglia said the market could "become infinitely more competitive."
"Which is not something that we want to realize given the competition we're already seeing," she said.
"You're already seeing rents increase dramatically."
This report by The Canadian Press was first published March 22, 2023.
Moneris confirms credit and debit card processing outage, but offers few details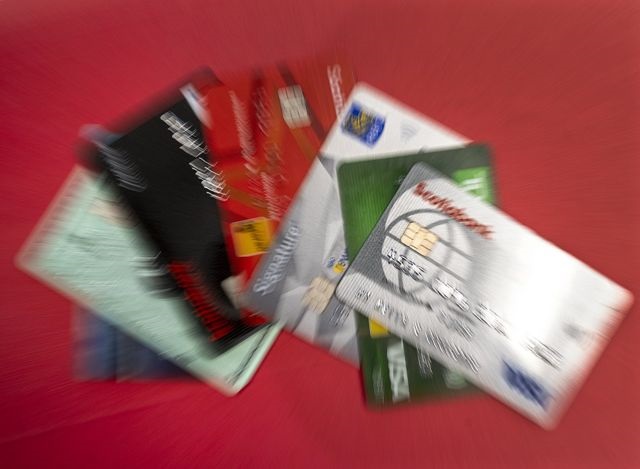 Toronto
The Canadian payment processing firm Moneris confirmed Saturday that credit and debit card transactions were interrupted by a network outage earlier in the day.
The Toronto-based technology company issued a statement saying there was nothing to suggest the outage was related to a cyber attack.
Complaints about outages started rolling in to the Downdetector.ca website before noon eastern time, but Moneris did not say when the outage started.
About three hours later, Moneris posted a message on X — the social media site formerly known as Twitter — saying it had resolved the network problem.
It remains unclear how many businesses and transactions were affected, but data provided by Downdetector.ca indicated complaints had come in from across the country.
In a statement provided to The Canadian Press, the company said the outage lasted about 90 minutes.
"We have resolved the network outage and returned transaction processing to normal," the statement said. "We continue to investigate the root cause of the issue. There are no indications this appears to be cyber-attack related and all transaction systems are functioning normally again."
The company, a joint venture between Royal Bank and BMO Bank of Montreal, said transaction processing could be slow as its systems catch up with the backlog.
Moneris says it supports more than 325,000 merchant locations across Canada.
This report by The Canadian Press was first published Sept. 23, 2024.
Smith says despite difficulty with Ottawa, Alberta has allies in Trudeau cabinet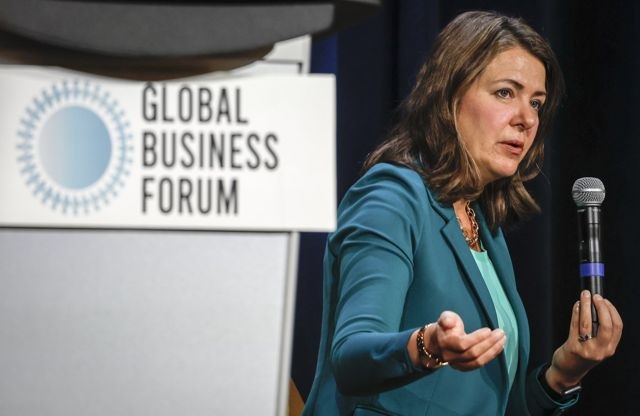 Alberta Premier Danielle Smith speaks to business leaders at the Global Business Forum in Banff, Alta., Friday, Sept. 22, 2023. Smith told the conference that despite her concerns with the federal Liberal government there was some cabinet ministers she can work with. THE CANADIAN PRESS/Jeff McIntosh
By Bill Graveland in Banff
Alberta Premier Danielle Smith told a business conference on Friday that despite her concerns with the federal Liberal government, there are some cabinet ministers she can work with.
Smith has been at odds with federal Environment Minister Steven Guilbeault and Natural Resources Minister Jonathan Wilkinson amid concerns over Ottawa's climate-change policies and transition plan for a net-zero emissions economy.
Guilbeault intends to publish draft regulations this fall to cap emissions from oil and gas, then force them downward overtime. Ottawa has also set a target to have the electricity grid be net-zero by 2035, but Alberta says it's unrealistic.
Smith says Alberta won't implement the emissions cap, nor will it follow the 2035 target.
The premier told delegates at the Global Business Forum in Banff, Alta., that Wilkinson needs to answer for comments he made earlier this week at the World Petroleum Congress in Calgary.
Wilkinson's call for the industry to work aggressively to get to net-zero was basically telling them to "pack it up, because the oil and gas industry is winding down," said Smith.
"You could just feel the energy leave the room and you could just feel the investment dollars leave the room."
Smith said energy producing provinces such as Alberta, Saskatchewan and Newfoundland and Labrador, can't trust the Trudeau government to look out for their interests at international conferences.
"After hearing how the natural resources minister talks about our industry, after hearing how the federal environment minister talks about our industry, we can't afford to let them carry our message," Smith said.
"We can't afford not to be there."
Smith said she has been in discussions with Saskatchewan Premier Scott Moe and intends to talk to Newfoundland and Labrador Premier Andrew Furey about joint presentations at conferences in the future.
Despite her disappointment with Wilkinson and Guilbeault, Smith said it's not all bad.
Finance Minister Chrystia Freeland among the top allies, she said.
"Let's give her credit for shepherding through all of the constant need to give more debt financing to Trans Mountain pipeline to get that to the finish line. That has not been easy," Smith said.
She also praised Innovation Minister Francois-Philippe Champagne, Public Safety Minister Dominic LeBlanc, Labour Minister Seamus O'Regan and Employment Minister Randy Boissonnault.
"I would say it's not uniformly negative in the Liberal caucus. But for some reason they're allowing Stephen Guilbeault to be a maverick and a renegade and quite offensive to those of who are trying to be reasonable and adult about this," Smith said.
Smith said it's time for the federal government to back away from setting "aggressive targets" in dealing with the provinces.
"Aggressive targets are not helpful. They're not helpful to us. They're not helpful to investors."
This report by The Canadian Press was first published Sept. 22, 2023.