'Canada has fallen': Calgary pastor unrepentant at his sentencing for COVID-19 breach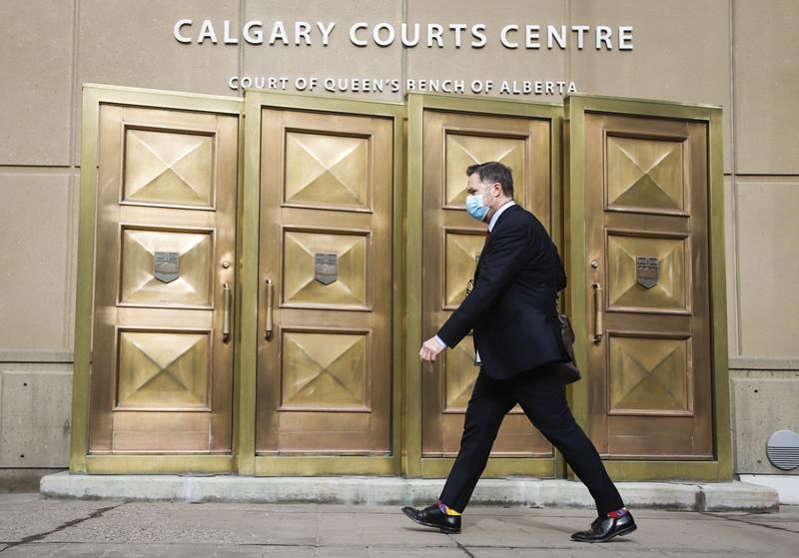 GRAVELAND — An Alberta pastor who, along with his brother, was found guilty of contempt after deliberately violating COVID-19 health orders has told a judge that he is a political prisoner who is being persecuted by Alberta Health Services.
Artur Pawlowski said during a seven-minute statement at his sentencing hearing on Tuesday that he and his brother, Dawid, have done nothing wrong.
"I am here before this court as a political prisoner of conscience," he said before Justice Adam Germain. "The AHS and the politicians have found a new way of penalizing anyone that is opposing their unconstitutional medical tyranny. They hate the idea that they have been exposed for what they really are: liars, hypocrites and cheaters," he said.
"I have heard from my grandparents about similar tactics from the time of the Nazis, persecuting churches and the clergy. Canada has fallen. Sure you can lock us up and throw the key away, but our political imprisonment will shout even louder about the hypocrisy."
The Pawlowskis, both from Calgary, were arrested in May and accused of organizing an illegal gathering as well as of promoting and attending an illegal gathering. They had been holding church services that flouted rules on masking and physical distancing.
The arrests came after court orders were granted allowing Alberta Health Services and police to charge anyone who advertised gatherings that would breach health restrictions.
At the sentencing hearing Monday, the health provider asked that the pastor be jailed for 21 days and that his brother be sentenced to 10 days. The court is also being asked to fine Artur Pawlowski $2,000 and impose $15,000 in costs.
Sarah Miller, who is representing the Pawlowskis, said there is no need to incarcerate her clients.
"This a civil proceeding that is designed to compel compliance with the court orders and that is exactly what has occurred. As far as general deterrence, they have been deterred. They have spent their time in jail," she said.
"A fine is more than reasonable to sanction either of the Pawlowskis in this case. There is no need to put them into incarceration."
Germain said he will release his decision Oct. 13.
This report by The Canadian Press was first published Sept. 14, 2021.
Bill Graveland, The Canadian Press
Alberta's chief medical officer says most of 11 Omicron COVID cases were vaccinated
EDMONTON — Alberta's total number of Omicron variant COVID-19 cases remains at 11, but the province's chief medical officer of health expects that number to grow.
Dr. Deena Hinshaw also says seven of the 11 people were fully vaccinated, two were partially vaccinated and two were unvaccinated.
Alberta Health is still gathering data on the effects and spread of Omicron, but Hinshaw says early indications are those who contract the variant can avoid severe outcomes if vaccinated.
She also reported 240 new cases of COVID-19 for a total of about 4,100 active cases.
There are 373 people in hospital with the illness, including 76 in intensive care.
Hinshaw says more than 60,000 youngsters between the ages of 5 to 11 have received a first dose of the COVID-19 vaccine.
This report by The Canadian Press was first published Dec. 7, 2021
The Canadian Press
Calgary researcher to lead study on E. coli infection in children
CALGARY — A University of Calgary researcher will lead a North American study examining a new way to treat E. coli infections that can cause kidney failure in children.
Professor and pediatrician Stephen Freedman will oversee the 26-site project, set to include more than 1,000 kids and run six years beginning in September 2022.
The university says the U.S.-based National Institutes of Health is providing more than $11 million for the investigation, meant to stop disease from progressing from bloody diarrhea to kidney shutdown and neurologic complications.
The Alberta Children's Hospital Research Institute is also providing funds.
The study will focus on Shiga-toxin producing E. coli, or STEC, which is commonly found in cattle and can spread to humans. The University of Calgary says Alberta has one of the highest rates of STEC infection in the world given its abundance of cattle, sloped terrain, food crops and use of well water.
Freedman says the study will be the first in 20 years to evaluate a treatment focused on stopping disease progression.
He says it will consider the value of "early and aggressive intravenous rehydration," a rarity in early stages of the illness. The approach calls for large volumes of intravenous fluids early-on in a bid to maintain blood flow to the kidneys.
Infected children in the study will be hospitalized before any complications occur, even if they appear relatively well, Freedman said Tuesday in a release.
"What often happens is infected children will recover from the diarrhea and may look well but in nearly 20 per cent of children, unbeknownst to their parents and sometimes doctors, their kidneys are in the process of failing," Freedman said.
The Centers for Disease Control and Prevention estimates that nearly 100,000 high-risk STEC infections occur annually in the United States.
More than 60 per cent of these infections are in children, half of whom are younger than five years old. Young children are at the highest risk of complications, which can include renal failure, strokes and in rare cases, death.
This report by The Canadian Press was first published Dec. 7, 2021.
The Canadian Press