Canada extends copyright protection another 20 years to meet new trade obligation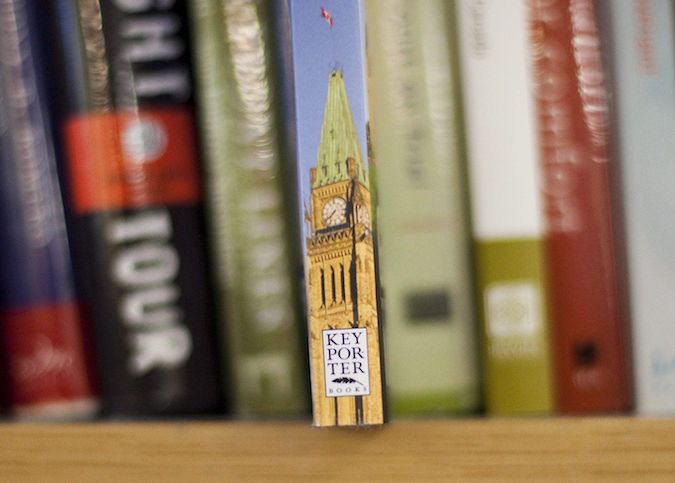 By Mia Rabson in Ottawa
There will be no new books, songs or plays added to the public domain in Canada until 2043 after the government squeezed in a change to copyright laws just before the end of 2022.
Until Dec. 30, copyright protection applied to literary, dramatic, musical or artistic works for the life of their author plus another 50 years.
But as of that date, an artistic work won't join the public domain for the life of the author plus another 70 years.
The change brings Canada into compliance with a commitment it made under the new North American free trade deal to match its copyright protections with those in place in the United States since 1998. That deal gave Canada until Dec. 31, 2022, to fall in line and it beat the deadline by one day.
In a statement from the office of Innovation Minister Francois-Philippe Champagne, the government said the change also puts Canada in line with many other countries, including those in Europe, the United Kingdom and Australia.
"Canada will continue to do its part to protect the interests of artists, creators and rights holders, while continuing to balance the needs of industry," the statement said.
Public domain use means works can be republished or repurposed without seeking permission or paying a rights holder for the use of the work.
It's what has allowed, for example, numerous adaptations, reprints, prequels and sequels for "Anne of Green Gables," which joined the public domain in the United States in 1983 and in Canada in 1992.
Public domain also allows libraries, museums and archives to use works freely for research and historical purposes, including posting online archives of the important papers of politicians and world leaders.
Any remaining copyright on writings to or by former prime minister Lester B. Pearson would have been lifted on Jan. 1, under the old law because he died in 1972. Now that won't happen until 2043.
It is not retroactive, but applies to any author, composer or screenwriter whose works would have been added to the public domain between now and 2043, meaning for 20 years nothing new will be added to the public domain in Canada.
That period affects novels by Canadian authors such as Margaret Laurence and Gabrielle Roy, but also international writers such as J.R.R. Tolkien and Roald Dahl.
Writer associations have generally been in favour of the changes, saying the more assurance creators have to get paid for their work, the more incentive there is to create.
Academics, librarians, archivists and museums, however, argue that it limits their ability to access and use hundreds of works, most of which no longer have any commercial value.
"The reality is that the vast majority of works that enter into the public domain have very little, typically no commercial value anymore," said Michael Geist, Canada Research Chair in internet and e-commerce law at the University of Ottawa.
"And that's one of the reasons why many others are really troubled by this extension, because so many of the works may have historical cultural value, but don't have commercial value anymore."
Geist also disputes the notion the 50 year post-death time frame was stifling creation.
"No one is thinking of writing the great novel right now and might have hesitated for the last number of years because they're heirs only got 50 years and they wake up this morning and think 'now I'm really going to do it because there's that extra 20 years of protection after I've died,'" he said. "People just don't think that way."
He said the extra protection has a commercial benefit for a small number of people, and that could have been addressed with an opt-in clause, so rights holders of works that do still have commercial value could ask for an extension.
He also said it extends the limits on access or use of what are known as orphan works, those which the rights holder is not easily reached.
Geist also accused the government of burying the change, by putting it near the bottom of a nearly 450-page budget bill last spring. The government didn't highlight the copyright act changes in any of its documents about that bill.
There was also no government announcement when cabinet decided in November to set the in effect date to Dec. 30, or when it did take effect. In all, the government issued 3,998 news releases in 2022 and not one of them was about the changes to copyright law.
"A lot of people are just literally waking up over the last couple of days to this issue and are shocked to learn this is something Canada went ahead and did, because it got so little coverage and attention," Geist said.
This report by The Canadian Press was first published Jan. 2, 2023.
The Negation of Reality in Roald Dahl's Literary Classic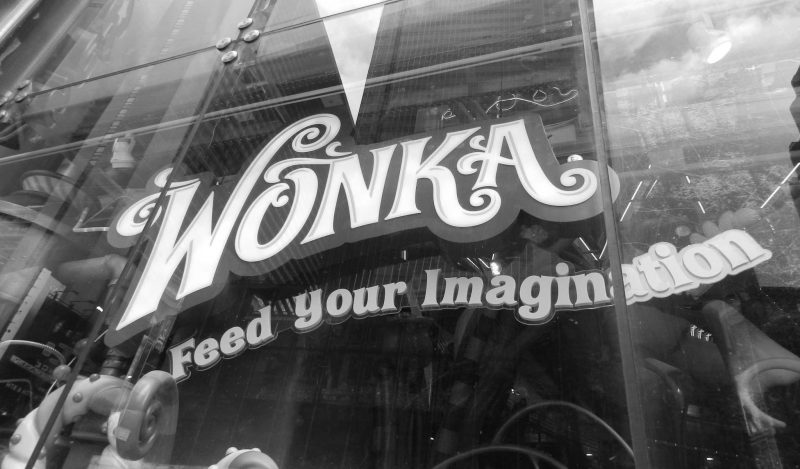 BY
THORSTEINN SIGLAUGSSON
Last weekend it was reported how books by the popular children's book author, Roald Dahl, are now being republished after significant changes to the texts. According to The Guardian, the changes are only about removing "offensive language" from his books. The Roald Dahl Story Company says the changes are minor and only about making the text more accessible and "inclusive" to modern readers.
Gerald Posner covered the issue on February 19th, citing a few examples of changes, which are certainly not minor; entire paragraphs are removed or altered beyond recognition. There are hundreds of changes, Posner says, agreeing with writer Salman Rushdie who has called these changes "absurd censorship."
Nick Dixon has published a short piece on the matter in the Daily Skeptic, pointing out how some of the changes make Dahl's text lifeless and flat and how all humour is carefully removed. Example from Matilda: "Your daughter Vanessa, judging by what she's learnt this term, has no hearing organs at all" becomes "Judging by what your daughter Vanessa has learnt this term, this fact alone is more interesting than anything I have taught in the classroom."
In other cases, the meaning simply disappears: "It nearly killed Ashton as well. Half the skin came away from his scalp" becomes "It didn't do Ashton much good." Some of the changes are outright absurdly silly, considering when the original text was written. One example Dixon takes: "Even if she is working as a cashier in a supermarket or typing letters for a businessman" becomes "Even if she is working as a top scientist or running a business."
"Mother" becomes "parent," "man" becomes "person," and "men" become "people." "We eat little boys and girls" becomes "We eat little children." Boys and girls have no right to exist anymore, no more than mothers or fathers; biological sex is prohibited. But the censors, sarcastically called Inclusive Minds, don't seem to be bothered by the practice of eating children.
References to authors currently banned for unfashionable beliefs are removed or changed. Joseph Conrad becomes Jane Austen. Rudyard Kipling becomes John Steinbeck.
Nothing is mild enough to escape the watchful eyes of the censors, Dixon says, noting how "Shut up, you nut!" becomes "Ssshhh!" and "turning white" becomes "turning quite pale." To the "inclusive," "white" is a forbidden word of course.
Suzanne Nossel, president of the American branch of the PEN writers' organization, expresses her dismay in an interview with the Washington Post. "Literature is meant to be surprising and provocative," Nossel says, explaining how attempts at purging texts of words that might offend someone "dilute the power of storytelling."
Roald Dahl is by no means uncontroversial. But his stories are the actual stories he wrote. The watered down and sanitised texts of the censors are simply no longer the author's stories.
Or, as Posner concludes: "Words matter. The problem is that the Dahl sensitivity censorship sets a template for other hugely successful author franchises. Readers should know that the words they read are no longer the words the author wrote."
The destruction of Roald Dahl's books is yet another sign of the all-pervasive negation of reality we now face. We see this negation all around us, in literature, history, politics, economics, even in the sciences. Objective reality gives way to subjective experience, emotions, or preferences in place of what is true.
It gives way, in fact, to radical subjectivism, which might just be the logical, yet contradictory conclusion of the victorious march of individualism in the West over the past few decades. It gives way, until all our common points of reference are gone, until our common sense has all but disappeared; until, atomised, lonely, incapable of meaningful communication, we no longer share a society. What takes its place will surely be no fairy tale.
And what better example of this negation of reality than the Guardian's headline, whereby the total destruction of the work of a beloved author becomes "removing offensive language" in a few places?
Republished from the author's Substack
Visitors can see famed Florence baptistry's mosaics up close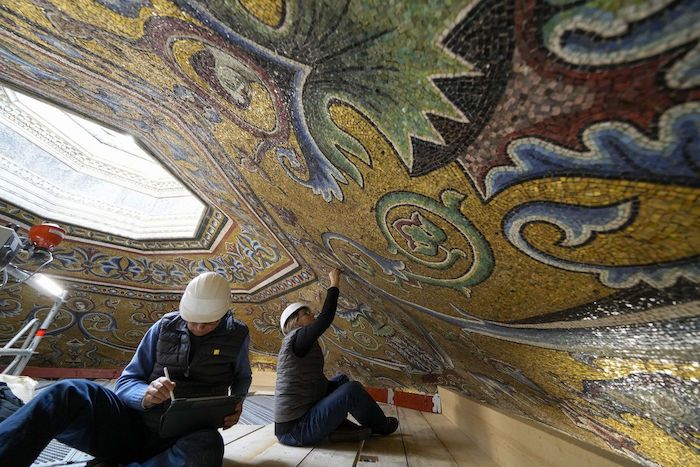 By Francesco Sportelli in Florence
FLORENCE, Italy (AP) — Visitors to one of Florence's most iconic monuments — the Baptistry of San Giovanni, opposite the city's Duomo — are getting a once-in-a-lifetime chance to see its ceiling mosaics up close thanks to an innovative approach to a planned restoration effort.
Rather than limit the public's access during the six-year cleaning of the vault, officials built a scaffolding platform for the art restorers that will also allow small numbers of visitors to see the ceiling mosaics at eye level.
"We had to turn this occasion into an opportunity to make it even more accessible and usable by the public through special routes that would bring visitors into direct contact with the mosaics," Samuele Caciagli, the architect in charge of the restoration site, said.
In an interview with The Associated Press, Caciagli called the new scaffolding tour of the baptistry vault "a unique opportunity that is unlikely to be repeated in the coming decades."
The scaffolding platform sprouts like a mushroom from the floor of the baptistry and reaches a height of 32 meters (105 feet) from the ground. Visits are set to start Feb. 24 and must be reserved in advance.
The octagonal-shaped baptistry is one of the most visible monuments of Florence. Its exterior features an alternating geometric pattern of white Carrara and green Prato marble and three great bronze doors depicting biblical scenes.
Inside, however, are spectacular mosaic scenes of The Last Judgment and John the Baptist dating from the 13th century and created using some 10 million pieces of stone and glass over 1,000 square meters of dome and wall.
The six-year restoration project is the first in over a century. It initially involves conducting studies on the current state of the mosaics to determine what needs to be done. The expected work includes addressing any water damage to the mortar , removing decades of grime and reaffixing the stones to prevent them from detaching.
"(This first phase) is a bit like the diagnosis of a patient: a whole series of diagnostic investigations are carried out to understand what pathologies of degradation are present on the mosaic material but also on the whole attachment package that holds this mosaic material to the structure behind it," Beatrice Agostini, who is in charge of the restoration work, said.
The Baptistry of San Giovanni and its mosaics have undergone previous restorations over the centuries, many of them inefficient or even damaging to the structure. During one botched effort in 1819, an entire section of mosaics detached. Persistent water damage from roof leaks did not get resolved until 2014-2015.
Roberto Nardi, director of the Archaeological Conservation Center, the private company managing the restoration, said the planned work wouldn't introduce any material that is foreign to the original types of stone and mortar used centuries ago.
"It is a mix of science, technology, experience and tradition," he said.
The origins of the baptistry are something of a mystery. Some believe it was once a pagan temple, though the current structure dates from the 4th or 5th centuries.