Buffett touts benefits of buybacks in his shareholder letter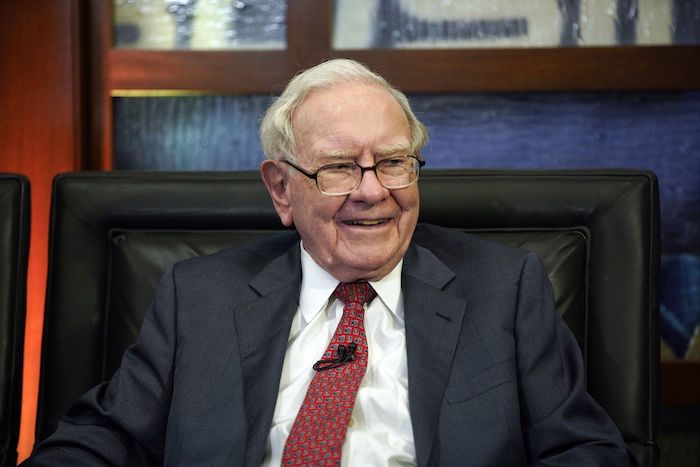 Berkshire Hathaway Chairman and CEO Warren Buffett smiles during an interview in Omaha, Neb., May 7, 2018. Buffett used part of his annual letter to Berkshire Hathaway shareholders Saturday, Feb. 25, 2023 to tout the benefits of repurchases that fiery Wall Street critics like Sens. Elizabeth Warren and Bernie Sanders and many other Democrats love to criticize. (AP Photo/Nati Harnik, File)
By Josh Funk in Omaha
OMAHA, Neb. (AP) — Billionaire Warren Buffett said critics of stock buybacks are "either an economic illiterate or a silver-tongued demagogue" or both, and all investors benefit from them as long as they are made at the right prices.
Buffett used part of his annual letter to Berkshire Hathaway shareholders Saturday to tout the benefits of repurchases that fiery Wall Street critics like Sens. Elizabeth Warren and Bernie Sanders and many other Democrats love to criticize. The federal government even added a 1% tax on buybacks this year after they ballooned to roughly $1 trillion in 2022.
"When you are told that all repurchases are harmful to shareholders or to the country, or particularly beneficial to CEOs, you are listening to either an economic illiterate or a silver-tongued demagogue (characters that are not mutually exclusive)," wrote Buffett, who himself is a long-time Democrat.
Investor Cole Smead said Washington D.C. should take note of Buffett's view on buybacks.
"Any politician, regardless of the aisle side, should stand up and be at attention to a statement like that," said Smead, who is with Seattle-based Smead Capital Management.
Buffett used his typical self-deprecating style to say Berkshire's remarkable record of doubling the returns of the S&P 500 over the last 58 years with him at the helm is the result of only "about a dozen truly good decisions – that would be about one every five years."
He recounted a few of those in his letter, but kept his message — which has long been one of the best-read documents in the business world — remarkably brief this year at a little over eight pages. And he devoted an entire page to a tribute to his 99-year-old partner Charlie Munger.
"I think investors — whether they be investors in Berkshire or just students of Berkshire — look to him for more and I think they may come away wanting more," CFRA Research analyst Cathy Seifert said.
Buffett pointed out how much Berkshire benefits from dividends that it receives from the huge investments in its portfolio like Coca-Cola and American Express even though he refuses to pay a dividend at the Omaha, Nebraska-based conglomerate he leads because he believes he can generate a bigger return for shareholders by investing that cash. Coke paid Berkshire $704 million in dividends last year and American Express added $302 million, and those payments helped push the value of those stakes to $25 billion for Coke and $22 billion for American Express. Berkshire paid $1.3 billion for each of those investments in the 1990s.
Buffett said the key lesson for investors is that "it takes just a few winners to work wonders. And, yes, it helps to start early and live into your 90s as well."
Berkshire said its' fourth-quarter profit fell sharply to $18.2 billion from $39.6 billion a year earlier as the paper value of its investments fell.
So those bottom line numbers were again distorted by the value of Berkshire's sizeable stock portfolio. That's why Buffett maintains that operating earnings are a better measure of Berkshire's performance because they exclude derivatives and investments. But by that measure, Berkshire's operating earnings also declined to $6.7 billion, or $4,584.46 per Class A share, from the previous year's $7.3 billion, or $4,904.23 per Class A share.
That's well below what Wall Street predicted. The three analysts surveyed by FactSet predicted Berkshire would report operating earnings per Class A share of $5,305.83 on average.
Analysts said that overall the results were still strong, but higher claims costs continued to hurt Geico's results while railroad traffic slowed at BNSF and rising interest rates hurt several of Berkshire's businesses that are tied to the housing market, like its nationwide network of Realtors and its Clayton Homes manufacturing housing unit.
Berkshire's performance tends to follow whatever the U.S. economy is doing because so many of its dozens of manufacturing, utility and retail businesses follow those trends. In many ways, the conglomerate is a barometer of the economy.
Whenever Buffett sees opportunities, Berkshire continues to invest in whole companies and stocks. He was particularly aggressive last year when he made a net investment of roughly $53 billion by the calculations of Edward Jones analyst Jim Shanahan. Much of that went into stock of oil producers Occidental Petroleum and Chevron and last fall's $11.6 billion acquisition of Alleghany Corp. insurance.
But even with all that spending, Berkshire's cash hoard grew to $128.6 billion at the end of the year, up from $109 billion at the end of the third quarter. Berkshire's businesses generate so much cash that it piles up quicker than Buffett can invest it.
At the start of this year, Berkshire boosted its stake in the Pilot Flying J network of 750 truck stops to 80%, up from the 38.6% it acquired in 2017, so that will help this year's earnings.
Stretched thin, parents have swath of options to save for children's education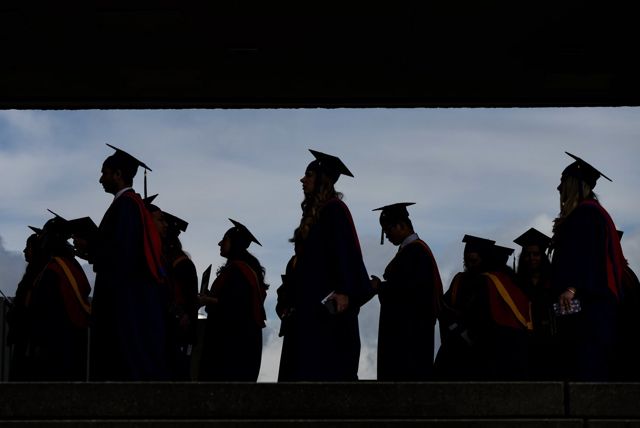 The rising cost of living has ramped up pressure on parents, who say it's tougher than ever to save for their children's post-secondary education, a new survey found. Graduates are silhouetted as they line up for a convocation ceremony at Simon Fraser University, in Burnaby, B.C., on Friday, May 6, 2022. THE CANADIAN PRESS/Darryl Dyck
By Christopher Reynolds in Montreal
Parents are finding it tougher than ever to save for their children's post-secondary education as the rising cost of living ramps up financial pressures.
But the mainstays of post-secondary saving — RESPs, especially — remain key tools, as do clear goals and plenty of planning.
Julie Petrera, a senior strategist for client needs at Edward Jones, said the first step is getting a handle on cost estimates, which can range from thousands to hundreds of thousands of dollars, depending on the type and length of schooling and whether the child is leaving home.
Other considerations include whether family members, such as a grandparent or the child themself, will contribute and where education ranks on parents' list of savings priorities.
"Are they paying for post-secondary education and saving for their own retirement and funding other expenses, like renovations and vacations?" Petrera asked.
According to an online survey of 1,000 parents with at least one child under 18 by Embark, a company specializing in education savings, some 73 per cent of parents said saving for college and university has been harder recently.
The survey also found just over half of respondents said they would go into debt to pay for their child's education.
The Registered Education Savings Plan (RESP) offers a tax-deferred investment account that has been used by millions. More than 481,000 students withdrew funds from an RESP in 2021, according to Employment and Social Development Canada.
Ottawa matches 20 per cent on the first $2,500 put toward an RESP each year, via the Canada Education Savings Grant (CESG), for a total of $500 per year, with higher rates available to lower income families. The lifetime maximum grant amount is capped at $7,200, while total contributions to RESP accounts are limited to $50,000 per beneficiary.
Low income families may also be eligible for the Canadian Learning Bond, which does not require RESP contributions.
RESP beneficiaries in British Columbia may be eligible for an additional one‑time $1,200 grant, while those in Quebec can enjoy a refundable tax credit with a lifetime maximum of $3,600.
"The RESP is great. It is designed to help with affordability," Petrera said. "But on the flip side there are some restrictions on these plans … on who can withdraw the funds, when they can withdraw them and why."
RESPs can comprise a major part of a family's education funding, but should not be viewed as a "standalone" plan, Petrera said. Non-registered investment accounts offer a supplementary option.
"There are no grants associated, they are fully taxable, but they have no restrictions. You can put money in up to any amount and withdraw at any time for any reason," she said.
A tax-free savings account provides another vehicle. Students themselves can't open one until they reach 18, but parents or grandparents can use their accounts to help save.
"My advice on that would be to work with an adviser or work with a professional that understands the pros and cons and the ins and outs of all of these plans to determine what is the best mix to maximize what the client's objective is," Petrera said.
Automatic contributions toward a plan are a simple, effective way to build a nest egg.
"We think that if each pair can make 50 bucks a month (per person) of contributions, they'll get $37,000 by the time their kids hit 18 and go to post-secondary school," Embark CEO Andrew Lo said.
He stressed that parents should educate themselves about education. One in three polled by the company did "not know enough to even guess" how much post-secondary schooling costs.
Erika Shaker, director of the national office of the Canadian Centre for Policy Alternatives, said costs are going up and everything's getting more expensive.
She pointed to a shift in education funding from Ottawa a couple decades ago that prompted most provinces to download more of the cost onto students or, in the case of Quebec, "two-tiering" the price between in-province and out-of-province pupils.
The labyrinth of funding programs and rules sometimes acts as more of a barrier than a relief, she added.
"Student assistance programs are a patchwork, they're messy, they're opaque. They're actually quite difficult to navigate and they can change midway through a degree," Shaker said.
"We have gone to a user-pay model that disproportionately impacts — negatively — students who have to borrow, unfortunately, to pay for post-secondary education."
This report by The Canadian Press was first published June 8, 2023.
Trudeau shows no interest in compromising with Meta, Google over online news bill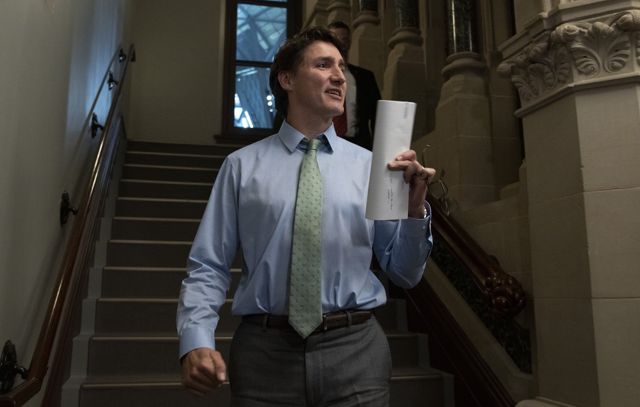 Prime Minister Justin Trudeau speaks briefly with reporters as he makes his way to a cabinet meeting, Wednesday, June 7, 2023 in Ottawa. Prime Minister Justin Trudeau is showing no interest in compromising with Meta and Google over their online news bill that would make tech giants pay for journalism created by others that helps those companies generate revenue. THE CANADIAN PRESS/Adrian Wyld
By Mickey Djuric in Ottawa
Prime Minister Justin Trudeau is showing no interest in compromising with Meta and Google over a Liberal bill that would make them pay for Canadian journalism that helps the companies generate revenue.
Trudeau said Wednesday that Meta and Google's bullying tactics will not work with his government, which he says is ensuring those companies do not weaken Canada's democracy by threatening its domestic media industry.
Meta announced last week it will test blocking access to some news for a small percentage of Canadian users of Instagram and Facebook.
The company says it is prepared to permanently end access to news content in Canada if Parliament passes Bill C-18, which would require tech giants to pay publishers for linking to or otherwise repurposing news content.
Google ran a similar test earlier this year, restricting access to news on its search engine for less than four per cent of its Canadian users. It says it is looking for a compromise with the Liberal government.
"The fact that these internet giants would rather cut off Canadians' access to local news than pay their fair share is a real problem, and now they're resorting to bullying tactics to try and get their way. It's not going to work," Trudeau said at a news conference.
"We will continue to make sure that these incredibly profitable corporations contribute to strengthening our democracy, not weakening it."
Big publishers have told a Senate committee currently studying the bill that they could lose millions of dollars should their content be blocked by Google and Meta.
The online news bill already passed in the House of Commons and could be approved by the Senate as early as this month.
If it becomes law, both companies would be required to enter into agreements with news publishers to pay them for news content that appears on their sites if it helps the tech giants generate money.
Both companies have argued that news doesn't generate much revenue for their companies, and are considering ending local news on their platforms altogether.
Meta says news makes up about three per cent of the content that's on Facebook feeds, and Google says less than two per cent of searches have to do with news, because people care more about recipes than articles.
Still, each company has proposed amendments in the Senate, including changes to the section of the bill that deals with arbitration and tweaks that would create more certainty around which publishers they would have to enter into agreements with.
For example, Google says that as the bill is currently written, it would have to enter into agreements with community and campus broadcasters, even if they do not produce news content and have no obligation to adhere to a codes of ethics.
Spokesperson Shay Purdy said in a statement Wednesday that the company has come to the table with "reasonable and pragmatic solutions" that would increase the company's investment in Canadian news.
"We're very concerned about the path we're on and we're doing everything we can to engage constructively and avoid a negative outcome for Canadians."
Heritage Minister Pablo Rodriguez has said that the bill is already balanced, and that Meta and Google have his phone number if they want to talk.
Rodriguez was expected to appear before a Senate committee on Wednesday evening.
Meta did not immediately respond to a request for comment about the prime minister's remarks.
This report by The Canadian Press was first published June 7, 2023.
———