Budget 2023: What you missed, from phone chargers and concert fees to air travel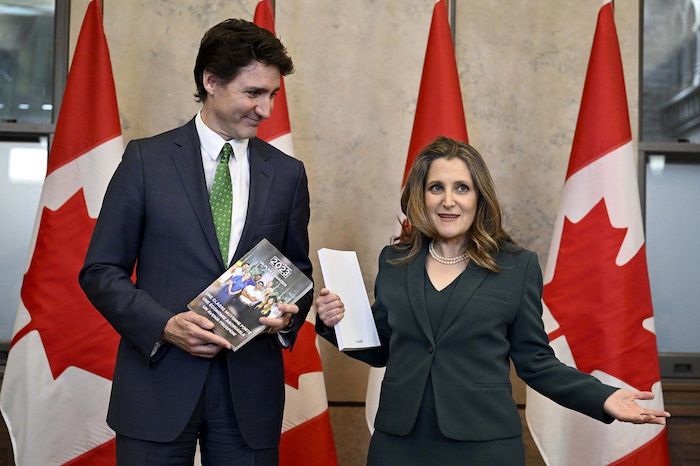 Prime Minister Justin Trudeau and Deputy Prime Minister and Minister of Finance Chrystia Freeland arrive to deliver the federal budget in the House of Commons on Parliament Hill in Ottawa, Tuesday, March 28, 2023. THE CANADIAN PRESS/Justin Tang
By Lee Berthiaume in Ottawa
For Canadians fed up with chargers that don't fit their cellphones, hidden fees, air-travel disruptions and cosmetic testing on animals, the Liberal government says help is on the way.
Those and others are among the countless measures contained in the federal budget plan unveiled by Finance Minister Chrystia Freeland.
Here are some of the less-prominent promises being made:
Common chargers: Tired of trying to find the right charger for your phone? Noting the European Union recently mandated USB-C charging ports for all small handheld devices and laptops by 2024, the government says it will work with international partners and industry to develop a common standard for Canada. It claims the move will save Canadians money and reduce electronic waste. It is also promising to introduce a "targeted framework" for home appliances and electronics in 2024 to make it easier for Canadians to get such items repaired rather than having to replace them.
Right to repair: The budget says the government will work to create a framework outlining a right to repair home appliances and electronics sometime next year.
Fees and loans: The government says it will amend the Competition Act to better protect Canadians from hidden fees such as excessive baggage charges, roaming fees and added costs when buying things like concert tickets. It also promises to reduce the amount of interest lenders are allowed to charge to crack down on predatory loans, limiting the rate to 35 per cent annually. It also says it has secured commitments from Visa and Mastercard to lower their fees for small businesses, with details to come.
Air travel: Following months of complaints and horror stories from frustrated air travellers, the government says it is taking action. The budget promises $1.8 billion over five years to improve airport operations and passenger screening, and to address a backlog of complaints to the Canadian Transportation Agency. It is also proposing to strengthen the rules around compensation for Canadians whose travel plans are disrupted, and to give the CTA more authority to resolve passenger complaints.
Montreal infrastructure: The government says it plans to spend $587 million on redeveloping the Bonaventure Expressway and maintaining infrastructure held by Jacques Cartier and Champlain Bridges Incorporated in Montreal.
Floods: Canadians are seeing more and stronger natural disasters, including devastating floods. In response, the government is setting aside $31.7 million over three years to start work on what it calls a "low-cost flood insurance program" for high-risk households without adequate insurance. It is also promising $15.3 million over three years for an online portal so Canadians can determine their flood risk, and $48.1 million over five years to identify high-risk flood areas and improve the program used by provinces and territories to recoup the cost of natural-disaster response.
Help for asylum seekers: Buried in the budget document is $999 million in spending for the coming fiscal year on temporary lodgings and health-care support for asylum claimants.
Leave for pregnancy loss: The budget says the government intends to make Canada Labour Code amendments that would create a stand-alone leave for workers in federally regulated sectors who suffer a pregnancy loss.
Farmers: The budget sets aside $34.1 million over three years to support the adoption of nitrogen management practices for Eastern Canadian farmers. The government notes that Russia's invasion of Ukraine has led to higher fertilizer prices, and that the money will help farmers optimize its use.
Space: Canada's space program is getting a boost, with $1.1 billion over 14 years for the country's participation in the International Space Station for the rest of the decade. Ottawa is also earmarking $1.2 billion over 13 years to develop and build a vehicle for astronauts to use when humanity returns to the moon with the Artemis 2 mission – a mission that will include a Canadian.
Protecting animals: They may not vote, but the federal government is nonetheless setting aside $151.9 million over three years to protect endangered whales and their habitats, and $184 million over three years for other species at risk. It is also promising to ban cosmetic testing on animals, and implement a ban on the sale of cosmetics that rely on animals to prove they are safe.
Fitness: The budgets earmarks $10 million over the next two years to fund ParticipACTION's Let's Get Moving initiative, which promotes daily exercise.
This report by The Canadian Press was first published March 28, 2023.
BMO completes US$160M deal to purchase Air Miles loyalty rewards program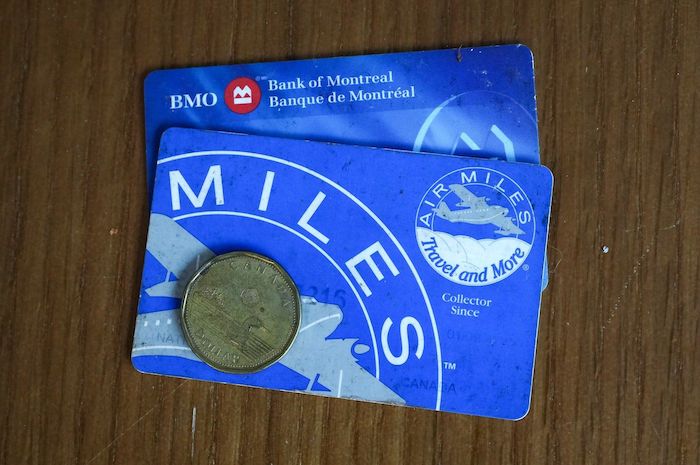 Air Miles and BMO cards are displayed in Mississauga, Ont., on Friday, March 10, 2023. BMO Financial Group closed its acquisition of the Air Miles loyalty rewards program in Canada on Thursday, saying it plans to expand the program with new ways to earn and redeem points. THE CANADIAN PRESS/Nathan Denette
Toronto
BMO Financial Group closed its acquisition of the Air Miles loyalty rewards program in Canada on Thursday, saying it plans to expand the program with new ways to earn and redeem points.
"Going forward, BMO ownership gives the program stability, but more importantly, the opportunity for us to invest in the program," said Air Miles president Shawn Stewart.
BMO announced in March it would purchase Air Miles after the program's U.S. parent company filed for bankruptcy. The bank's so-called stalking horse offer for LoyaltyOne Co. was US$160 million, subject to certain adjustments, according to court documents.
With the bank's ownership, Stewart says he's excited for the program's new chapter.
"We wanted to come out of the gate strong and reinvigorate what is a Canadian leading loyalty program. And what you'll see over the summer is a continued release of of new products, and new opportunities for collectors to earn."
Air Miles is one of the oldest and largest loyalty programs in Canada, with nearly 10 million active users, but the program has lagged in recent years as numerous companies dropped out of the program.
Last summer, Sobeys and Safeway owner Empire Co. Ltd. and office supply retailer Staples said they would be scrapping the program, a year after the Liquor Control Board of Ontario and Lowe's Canada pulled out.
BMO said it plans to introduce enhancements to the program including an improved travel booking platform and a new way for collectors to earn Bonus Miles through receipt scanning. The latter will be available first for collectors in Atlantic Canada, followed by those in other regions.
Stewart said the main complaint coming from program partners was a lack of investment in the Air Miles program, an issue the acquisition is expected to address.
"When partners see our investment, our hope and our plan is that they'll see the growth in the program, the opportunity for them to speak to 10 million Canadians, to understand and use the data and analytics the program provides," he said.
The Air Miles program is re-introducing itself to Canadians in a market that's seen more stores launching loyalty programs in recent years, but Stewart said that Air Miles stands out as a longtime brand with a broad catalogue for points redemption.
This report by The Canadian Press was first published June 1, 2023.
Total Canadian debt hit new record in first quarter: TransUnion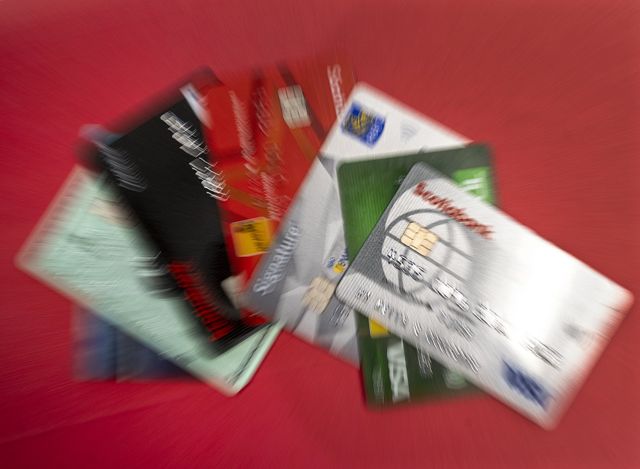 Canadians' combined outstanding debt hit a new record in the first quarter, reaching $2.32 trillion, TransUnion said Wednesday.
As the cost of living rose with high inflation and interest rate hikes, many Canadians turned to credit to alleviate financial pressures, the credit reporting agency said in its latest industry insights report.
The number of Canadians with access to credit grew 2.9 per cent year over year, led by subprime consumers, which grew by 8.3 per cent, TransUnion said.
However, the agency said consumers considered prime or higher still make up almost three-quarters of total consumers with a balance, characterizing that as a "relatively healthy risk distribution."
Credit card originations were up 20 per cent amid heavy competition in the market, while the average line of credit monthly payment increased by 43 per cent to $436.
Mortgage origination dropped 32 per cent year over year as higher interest rates slowed demand for new mortgages, especially in the refinance market.
Meanwhile, serious consumer delinquency increased, though TransUnion noted that overall delinquency levels remain below pre-pandemic levels.
"The financial position of Canadian credit consumers improved coming out of the pandemic, bolstered by higher savings accumulated through the pandemic and supported by a strong labour market," said TransUnion director of research and industry insights Matthew Fabian in the report.
"However, the longer the current conditions of elevated inflation and higher interest rates persist, the more likely it is that a segment of more vulnerable consumers may increasingly feel the pinch," he said.
"As available disposable incomes become more stretched, we expect a segment of consumers will be more likely to miss payments, and as a result, that delinquency rates will rise."
Average consumer balances on most credit products rose, with the average credit card balance up 11.4 per cent to $3,909, and the average mortgage balance up 7.1 per cent to $349,178.
TransUnion expects credit trends for 2023 to be mixed due to the uneven impact of higher inflation and interest rates.
This report by The Canadian Press was first published May 31, 2023.