Boy who shot teacher allegedly tried to choke another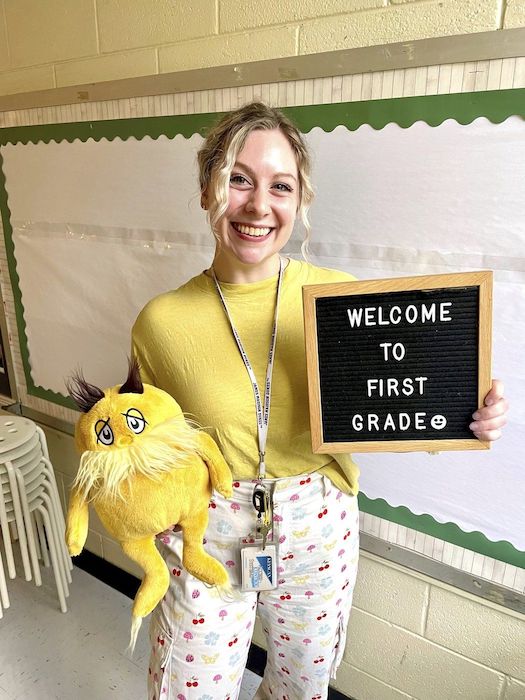 By Denise Lavoie And Ben Finley in Richmond
RICHMOND, Va. (AP) — A 6-year-old Virginia boy who shot and wounded his first-grade teacher constantly cursed at staff and teachers, chased students around and tried to whip them with his belt and once choked another teacher "until she couldn't breathe," according to a legal notice filed by an attorney for the wounded teacher.
The incidents were described in a notice sent to the Newport News school district by Diane Toscano, an attorney for teacher Abby Zwerner, informing the district that Zwerner intends to sue. The notice of claim, which was obtained by The Associated Press through a public records request, outlines prior behavioral issues the boy had at Richneck Elementary School and troubling interactions he had with teachers and students.
Two days before the shooting, the boy allegedly "slammed" Zwerner's cellphone and broke it, according to the claim notice. He was given a one-day suspension, but when he returned to Zwerner's class the following day, he pulled a 9mm handgun out of his pocket and shot her while she sat at a reading table, the notice says.
The notice elaborates on allegations Toscano outlined last month during a news conference.
The document says that several hours before the shooting, at least three teachers and staff members warned school administrators that they believed the boy had brought a gun to school. The boy's backpack was searched, but no gun was found, and administrators did not remove the boy from class, lock down the school or call police.
The claim notice says that Zwerner went to former Assistant Principal Ebony Parker's office at about 11:15 a.m. that day "to advise her that the shooter seemed more 'off' than usual and was in a violent mood." It also says the boy had threatened to beat up a kindergarten student and "angrily stared down" the school security officer in the lunch room.
The document describes several more warnings that Parker was allegedly given by staff about the boy having a gun. "Assistant Principal Parker should have called police, instead she did not follow proper protocol and chose to do absolutely nothing," the claim notice states.
Parker, who resigned from her position last month, could not immediately be reached for comment. A spokeswoman for the school district said she did not know if Parker has retained an attorney.
Len Wallin, director of legal services for the school system, said in an email that it's standard practice for the school division to forward notices of intent to sue to its insurer, which handles such litigation.
Wallin said the district's insurer will handle decisions regarding whether it will represent Parker or not "after consultation with the school board, if that is necessary."
Police investigating how shooter got firearm after autopsy and balistic analysis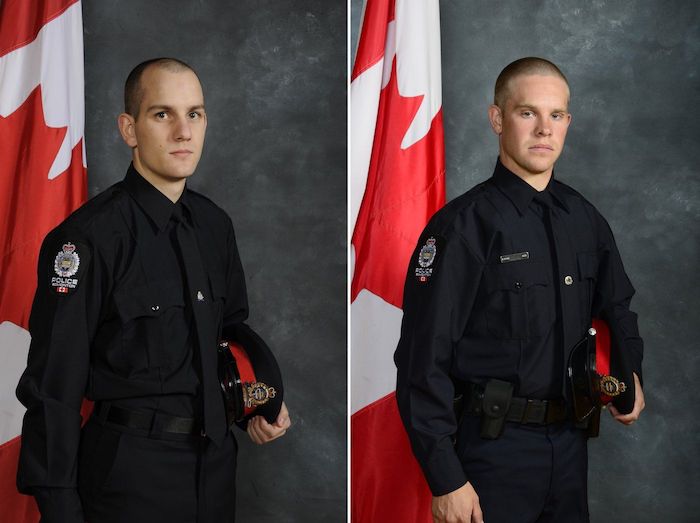 News release from the Edmonton Police Service
Autopsy on shooter, ballistic analysis complete in line of duty deaths
An autopsy on the shooter and ballistic analysis of the firearm have been completed in the Mar. 16, 2023 EPS line of duty deaths.
The Edmonton Medical Examiner conducted an autopsy on Mar. 22, 2023, and confirmed that the 16-year-old male shooter's cause of death was a single gunshot wound to the head consistent with being self-inflicted.
"We recognize that there is intense public interest in this investigation," says EPS Deputy Chief Devin Laforce. "At this time, our priorities need to be the integrity of ongoing investigations, including the origin of the firearm, as well as the safety and privacy of all the families affected by this tragedy. For these reasons, we are not releasing or confirming the name of the deceased."
A bullet casing recovered from the scene of a Mar. 12, 2023 shooting at a nearby restaurant in the area of 133 Street and 114 Avenue has been forensically matched to the firearm that was recovered at the 132 Street and 114 Avenue apartment, where Constable Brett Ryan and Constable Travis Jordan were fatally shot on Mar. 16, 2023.
Investigators believe the suspect in the Mar. 12 shooting to be the same 16-year-old male responsible for the deaths of the two EPS members, although this has yet to be confirmed. Detectives are also working to trace the origins of the firearm and how it came to be in the youth's possession.
At this time, investigators continue to believe that the youth's parents, police dispatch and Constables Ryan and Jordan had no information to suggest there was a firearm in the home when the family dispute call for service was made on Mar. 16.
"Both events have been served by robust investigations that have followed all lines of inquiry," says Deputy Chief Devin Laforce. "All tips and other investigative avenues were pursued exhaustively by the investigating teams."
The male shot on Mar. 12 in the restaurant remains in hospital in critical but stable condition, and the youth's mother who was shot on Mar. 16 remains in hospital in serious but stable condition.
Search of four Edmonton homes results in Cocaine and Meth bust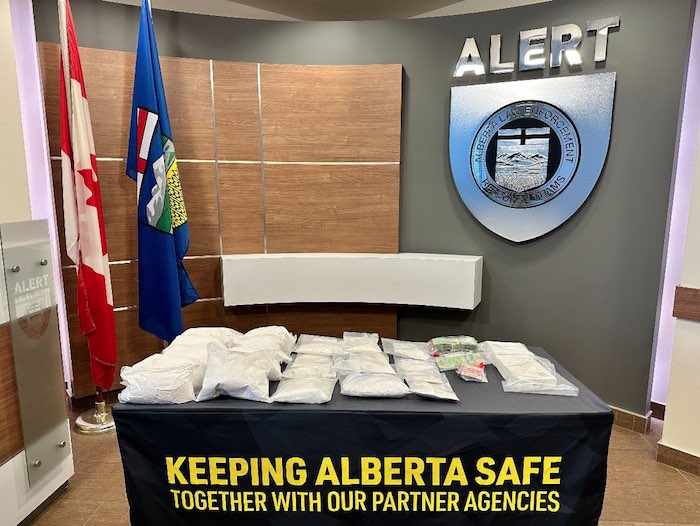 News release from the Alberta Law Enforcement Response Team (ALERT)
Cocaine seized after four Edmonton homes searched
More than two kilograms of cocaine, cash, and four vehicles have been seized following an ALERT Edmonton investigation into cocaine trafficking.
The investigation began in October 2022. Police were able to identify four homes and four vehicles linked to the drug trafficking operation.
"Through the course of this five-month investigation, officers were able to identify several suspects, and seized several pieces of equipment which were being used to produce large, commercial-sized quantities of product. This tells us that this was a much bigger, sophisticated operation," said Sgt. Jeff Woodliffe, ALERT Edmonton.
On February 23, 2023, police searched four homes and seized the following items as evidence:
2.6 kgs of cocaine;
28 grams of methamphetamine;
10 kgs of a cocaine buffing agent; and
$11,000 in cash.
The investigation remains ongoing as investigators prepare reports and disclosure for Crown Counsel.
The Edmonton Police Service assisted throughout the investigation.
Members of the public who suspect drug or gang activity in their community can call local police, or contact Crime Stoppers at 1-800-222-TIPS (8477). Crime Stoppers is always anonymous.
ALERT was established and is funded by the Alberta Government and is a compilation of the province's most sophisticated law enforcement resources committed to tackling serious and organized crime.