Blue Jays stop Judge, Yankees in a 10-inning thriller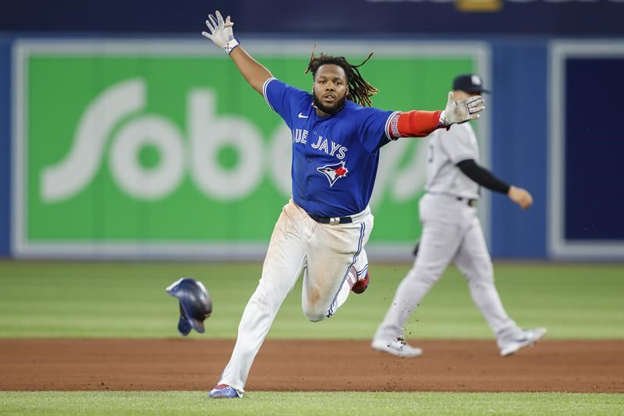 TORONTO — Interim manager John Schneider depicted the Toronto Blue Jays' series-opening win against the New York Yankees as a team effort on Monday.
The Blue Jays (87-67) stopped the Yankees (94-59) seven-game win streak with a 3-2 victory in 10 innings, thanks to Vladimir Guerrero Jr.'s walk-off single to left to score Cavan Biggio from second base with two out.
"It was such a team effort tonight," said Schneider, adding he was pleased to see Guerrero earn his third career walk-off hit as Toronto won its third in a row.
"This was huge for him. He's been grinding a little bit, and hopefully, this catapults him down the stretch here."
Guerrero and Teoscar Hernandez provided timely hitting before 34,307 at Rogers Centre. Starter Kevin Gausman and a rock-solid bullpen produced sound pitching. Schneider also employed some critical strategies in the 10th inning.
In the top of the inning, Aaron Judge came to the plate with runners on first and second and two out.
Judge, of course, is one home run shy of the AL record of 61, set by Roger Maris 61 years ago.
Schneider brought in lefty reliever Tim Mayza not to face Judge but to intentionally walk the slugger to load the bases. Mayza then induced Anthony Rizzo to a ground ball to Guerrero at first to end the inning.
"With Judge coming up and knowing you got Mayza available with two outs to face Rizzo. We'd like that," Schneider said. "We had the top of the order coming up for us."
Mayza (8-0) notched the win, while Clarke Schmidt (5-5) gave up Guerrero's deciding hit.
"You have to find a way to get it done," Guerrero said.
The win from the home side prevented the Yankees from clinching the American League East Division title.
"We know they need to win one more, but hopefully we can win all three (in Toronto)," Gausman said.
Gausman departed with one out in the seventh inning after striking out Harrison Bader. The Blue Jays' starter surrendered six hits, two runs with seven strikeouts and a walk.
After a shaky two innings to start the game, Gausman settled down after walking Judge to begin the third inning. He coaxed Rizzo to hit into a double play and then retired the next eight batters.
Judge singled, walked twice and struck out twice to remain at 60 home runs.
The Yankees snatched a 2-0 advantage with runs in the first and second innings. Judge led off with a single to right field, advanced to third on Rizzo's double and scored on Gleyber Torres's sacrifice fly to right.
New York shortstop Isiah Kiner-Falefa drilled a two-out solo shot to left for his fourth.
Yankees' starter Luis Severino cruised through the first three innings without allowing a hit. But Bo Bichette greeted Severino with a sharp single to right field to lead off the fourth.
Guerrero followed up with an infield hit when Kiner-Falefa could not handle a hot shot. Alejandro Kirk was then issued his second walk to load the bases.
Hernandez missed a grand slam when his drive to straightaway centre field hit the top of the fence for a two-run double.
In the sixth inning, Rizzo and Torres knocked back-to-back, one-out singles. But Gausman ended the threat by striking out Josh Donaldson and Giancarlo Stanton.
Bichette continued his outstanding September, going 2-for-5. But he grounded out to the pitcher with two out and runners on first and second to end the seventh inning.
HOME SUCCESS
With five games at the Rogers Centre remaining, the Blue Jays sport the fourth-best home record in the American League at 44-32, behind the Yankees (56-22), Tampa Bay (51-30) and Houston (50-23).
UP NEXT
Jose Berrios (11-6) will make his team-leading 31st start for the Blue Jays in the second game of the three-game series against the Yankees' Jameson Taillon (13-5). Berrios has faced New York three times this season, all at Yankee Stadium, going 1-1 with a no-decision.
Toronto Maple Leafs sniper Auston Matthews will throw the first pitch on Tuesday.
This report by The Canadian Press was first published Sept. 26, 2022.
Tim Wharnsby, The Canadian Press
Connor McDavid's four-point effort leads Oilers to 8-2 rout of Coyotes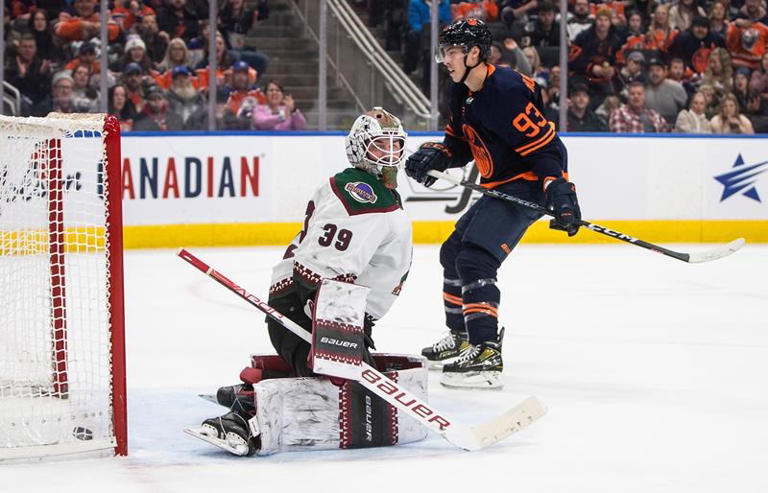 EDMONTON — Connor McDavid had two goals and two assists and Ryan Nugent-Hopkins scored twice and had an assist as the Edmonton Oilers defeated the Arizona Coyotes 8-2 on Wednesday.
Derek Ryan, Leon Draisaitl, Bret Kulak and Klim Kostin also scored for the Oilers (15-12-0) who have won five of their last seven games.
Jack McBain and Shayne Gostisbehere responded for the Coyotes (7-13-4) who finished off an epic 14-game road trip with their sixth consecutive loss.
The Oilers got off to a good start with a power-play goal just 4:37 into the opening period as Nugent-Hopkins sent a wrist shot through a screen in front that beat Coyotes netminder Connor Ingram.
Edmonton added to its lead with 3:19 minutes remaining in the first frame as Ryan shrugged off a defender and scored on a backhand shot.
The power play clicked again for the Oilers 8:14 into the second period as McDavid sent it through to Draisaitl and he scored from a tight angle for his 18th goal of the season. McDavid recorded his 50th point in just the 27th game of the season, the fastest Oiler to hit that mark since Wayne Gretzky in 1987-'88.
Arizona got on the board with 6:17 to play in the second period. McBain made a nice move in tight to deposit it past an outstretched Stuart Skinner in the Oilers net.
Edmonton got that goal back just 23 seconds later, however, as Kailer Yamamoto stole a puck at the Arizona blue line and sent Nugent-Hopkins in alone for his second of the night and 13th of the season.
The Oilers went up 5-1 with 1:21 to play in the second as Kulak blistered a shot high to the glove side that went off the bar and in.
Edmonton had a 30-10 edge in shots after 40 minutes.
The Oilers kept the pressure on in the third period as Ryan stripped a puck that went to Kostin in front and he deposited his second goal of the season past Ingram at 3:19.
McDavid extended his goal streak to six games a couple minutes later, taking a pretty pass from Draisaitl behind the net before scoring on the wraparound.
The Oilers captain made it a four-point game with seven minutes left in the third, as McDavid took a feed from Hyman and scored on a one-timer for his 24th goal of the season.
Arizona scored with just over five minutes to play as Gostisbehere tipped in a Christian Fischer shot.
Kostin fought Zack Kassian in the final minute, giving him the "Gordie Howe Hat Trick" on the night with a fight, goal and an assist.
ROAD TRIP
The Coyotes' 14-game road trip started on Nov. 5, lasted 33 days, and tied an NHL record for the longest in history with the Vancouver Canucks. Arizona started the trip with three wins before going 1-7-3 after that.
FIRST GOAL
Scoring first has been a challenge for both teams this season, as they came into the game having each allowed the first goal 15 times. Edmonton had managed to overcome the deficit more successfully with a record of 6-9-0, while Arizona was 2-11-2 in those situations.
HYMAN RETURNS
Zach Hyman returned to the Edmonton lineup, but the Oilers remained without forwards Evander Kane (wrist), Warren Foegele (undisclosed) and Ryan McLeod (undisclosed).
UP NEXT
Both teams play next on Friday night. The Coyotes finally return to Arizona to host the Boston Bruins. The Oilers close out a four-game homestand against the Minnesota Wild.
This report by The Canadian Press was first published Dec. 7, 2022.
Shane Jones, The Canadian Press
Andersson's three-point night helps Calgary Flames to 5-3 win over Minnesota Wild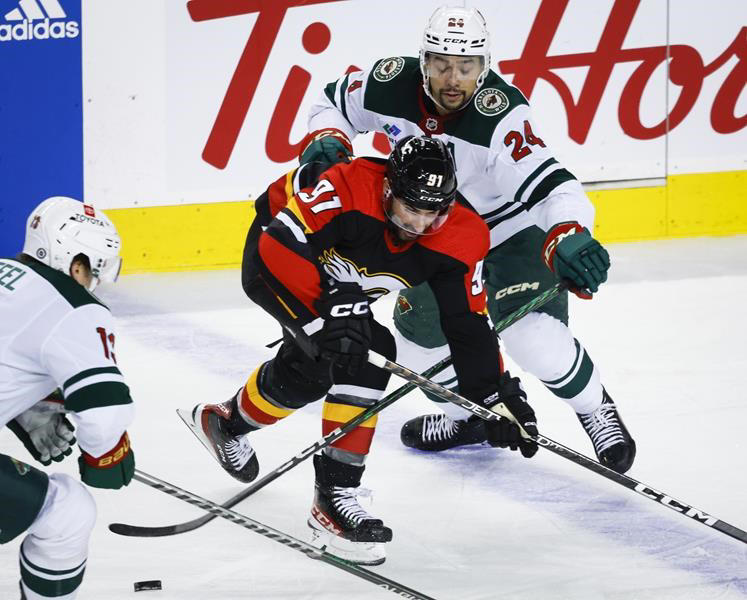 CALGARY — Rasmus Andersson notched the game-winner at 15:57 of the third period and added two assists as the Calgary Flames overcame a disastrous start in a 5-3 comeback victory over the Minnesota Wild on Wednesday.
Tyler Toffoli with a pair, including an empty netter, Nazem Kadri and Blake Coleman also scored for Calgary (13-10-3). Elias Lindholm had three assists.
The Flames have won three games in a row and earned eight points on their five-game homestand.
Kirill Kaprizov extended his goal streak to seven games for the Wild – tops in the league this season. Mason Shaw and Jon Merrill also scored for Minnesota (13-10-2), which had its four-game winning streak come to an end.
Making his sixth start in the last eight games, Dan Vladar gave up two goals on his first three shots. He settled in and finished with 25 saves for his fourth straight victory, improving to 5-4-1 on the season.
Marc-Andre Fleury had 22 saves at the other end. His record fell to 9-6-1.
Minnesota was trailing 3-2 when they tied it at 15:45 when Merrill's point shot deflected in off the stick of Flames defenceman Chris Tanev.
But just 12 seconds later, a Wild turnover behind their net ended up on the stick of Andersson, who cut across the crease and used his backhand to put the puck just inside the goalpost.
Kaprizov entered the game on an offensive tear with 19 points in his last dozen games. He extended his point streak to 13 games when he tipped in a Matt Dumba point shot just 1:27 into the game.
Both of Kaprizov's streaks are franchise records.
Less than a minute later, the Wild broke out on a 3-on-1 with Shaw one-timing Connor Dewar's cross-ice pass past Vladar.
But the Flames overcame the Wild's fast start to the first period with an even better start to the second.
On a power play that carried over from the first period, Kadri got Calgary on the scoreboard just 16 seconds into the second period when he redirected Lindholm's hard pass past Fleury.
Coleman tied it after a goalmouth scramble at 1:37.
The Flames moved in front at 3:11 with another power-play goal and another deflection. Toffoli got a piece of Andersson's heavy slapshot from the blue line.
The Wild had three power-play opportunities later in the period but were thwarted by the Flames' penalty kill. Entering play, Minnesota was 8-for-19 with the man advantage over the last six games.
BLOWN LEADS AND COMEBACKS
To lose a game in which they scored the first goal and led after the first period is a rarity for the Wild.
Minnesota entered the game with an 8-1-2 mark when scoring first and an 8-0-1 record when leading after 20 minutes.
Calgary improved to 4-6-1 when surrendering the first goal and 3-6-2 when trailing after the first period.
POWER SURGE
After a seven-game stretch where the Flames' power play was just 2-for-21, they've scored two goals in each of the past two games, going a combined 4-for-9 over that span.
UP NEXT
Wild: Head to Edmonton to take on the Oilers on Friday.
Flames: Open a three-game road trip on Friday against the Columbus Blue Jackets.
This report by The Canadian Press was first published Dec. 7, 2022.
Darren Haynes, The Canadian Press