Blue Jays get bullpen help at trade deadline, acquire relievers Bass, Pop from Miami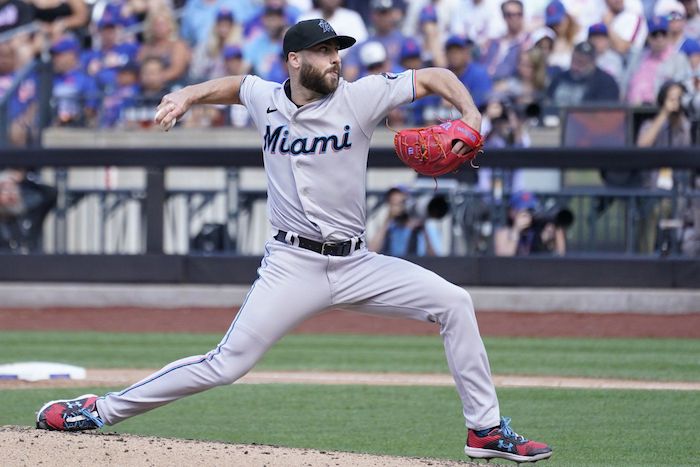 The Toronto Blue Jays have solidified their bullpen hours before the Major League Baseball trade deadline, acquiring relievers Anthony Bass and Zach Pop from the Miami Marlins for shortstop prospect Jordan Groshans.
The Jays also acquired a player to be named later in the deal.
Bass, 34, has a 2-3 record with a 1.41 earned run average over 44 2/3 innings with the Marlins this season, with 45 strikeouts and 10 walks.
He spent the 2020 season with Toronto, going 2-3 with a 3.51 ERA in 26 appearances.
Bass will get the chance to pitch in meaningful games in front of Blue Jays fans, which he didn't have the opportunity to do in his first stint with the club. The Blue Jays played home games during the shortened 2020 season at Sahlen Field, home of the Triple-A Buffalo Bisons, because of COVID-19 restrictions at the Canada-U.S. border.
"You're going to a team that has a chance of going to the post-season, which as players is what we always want to do," Bass told reporters in Miami before the Marlins hosted the Cincinnati Reds on Tuesday.
"Our end goal is to win the World Series. So that part is exciting, going to Toronto for that opportunity."
The 25-year-old Pop, from Brampton, Ont., has a 2-0 record with a 3.60 earned-run average in 18 appearances with the Marlins this season, his second in the majors.
He was drafted by the Blue Jays in the 23rd round of the 2014 MLB draft, but decided not to sign and instead played collegiately at the University of Kentucky.
Pop, who says he grew up a Blue Jays fan, called news of the trade "bittersweet" but said he is looking forward to playing close to home.
"It's pretty special to be able to go back home and see my family and play for the Blue Jays," he said in Miami.
"I've got a lot of friends, a lot of people rooting for them right now, and to be a part of what they're doing over there is pretty amazing."
Groshans, 22, was selected 12th overall by the Blue Jays in the 2018 MLB draft.
In 67 games with the Bisons this season, he batted .250 with a home run and 24 runs batted in.
In other moves, left-handed pitcher Anthony Banda was been designated for assignment and lefty Andrew Vasquez was been claimed off outright waivers by Philadelphia.
This report by The Canadian Press was first published Aug. 2, 2022.
Join us for our 2023 Induction Ceremony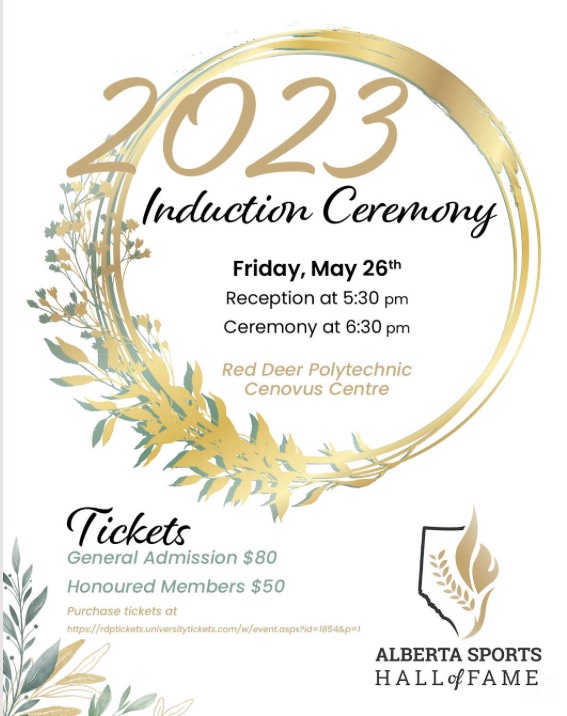 Our 2023 Induction Ceremony will be on Friday, May 26th at the Red Deer Polytechnic Cenovus Centre. Cocktails and appetizers will begin at 5:30 pm, with the ceremony starting at 6:30 pm. The class of 2023 is as follows:
Athletes
Andrew Buckley-Football
Mike Johnson-Baseball
Helen Upperton-Bobsleigh
Builders
Cara Currie Hall-Multisport
Allan Ferchuk-Multisport
Greg Peterson-Football
Lyn Radford-Multisport
Teams
Old Grizzlys 1991-1994-Hockey
Awards
Wilf Brooks-Achievement –Hockey
Mark Stephen-Bell Memorial – Radio Broadcaster
Dr. Marcus Dunsworth-Pioneer- Multisport
Tickets are $80 or $50 for Honoured Members. You can purchase your tickets by clicking here.
If you have any questions or need help purchasing tickets, please call 403-341-8614.
Honoured Member Cody Snyder to be Inducted into the Bull Riding Hall of Fame
Honoured Member Cody Snyder will be the first Canadian inducted into the Bull Riding Hall of Fame.
Cody started riding junior steers in rodeo competitions when he was eight years old, and at twelve, he finally rode his first bull. By the age of fifteen, Cody was the Canadian Amateur Bull Riding Champion. Through 1980 and 1981, Cody gained the experience he needed to lead the Canadian Professional Rodeo Bull Riding standings in 1982. He was nineteen years old. He was inducted into our Hall in 2002 as a Rodeo Athlete.
Learn more about this story by following the link below.
This newsletter is sponsored by the RBC Foundation.
Honoured Member Highlight – Allan Coulter
Volleyball Athlete – Inducted in 1997
Allan Coulter was a member of Canada's National Men's Volleyball Team from 1979 to 1992. He competed in over 700 international volleyball matches and was selected as Team Captain from 1988 – 1992. He competed in both the 1984 Summer Olympics and the 1992 Summer Olympics. He was described as the 'quickest hitting middle blocker' Canada has ever had. Allan continued to compete with the Calgary 'Canuck Volleyball Stuff' and became the spokesman, leader and role model for Canada's National Team Program.
Provincial Sport Organization: Volleyball Alberta
Their primary goal is to promote and develop volleyball at all levels throughout Alberta. Volleyball Alberta services the needs of its membership which consists of athletes, coaches, officials, and anyone interested in the sport of volleyball in the province.
Artifact in Focus!
F. E. Osborne Memorial Trophy: Tuxis Junior League Champions, Operated by Calgary Tuxis Coucil, Annual Competition. 1949-1957.
Honoured Member Dr. David Legg Teaches Adaptive Sports to Elementary Students
The Alberta Sports Hall of Fame partnered with Calgary Adaptive Hub and Honoured Member Dr. David Legg to teach students about adaptive sports.
Professor at the Mount Royal University department of Health and Physical Education, David is an engaging lecturer and supports his students in finding practical experience working with individuals with disabilities in adapted sport. He has devoted his life as a volunteer in sport for athletes with a disability at the provincial, national and international level. He was inducted in 2022 as a Paralympic/Multisport Builder.
Thank You Northern Alberta Curling Championship Society!
We want to give a huge shout-out to the Northern Alberta Curling Championship Society for sponsoring a new interactive for the Hall. The new curling rink is a great addition to our space.
If you or your organization would like to sponsor a new interactive for the Hall, please email us at [email protected] or call 403-341-8614.
Donate Now​
The Alberta Sports Hall of Fame needs your support to continue the ongoing preservation of Alberta's sports history and the development of museum exhibits. We are grateful and appreciative of the generosity of our supporters and friends. We would be happy to assist you in choosing how your personal legacy will be fulfilled and the many options available. Here is some information on donating shares to ASHFM and the benefits to you as a donor.
Tom Brady retires at 45, insisting this time it's 'for good'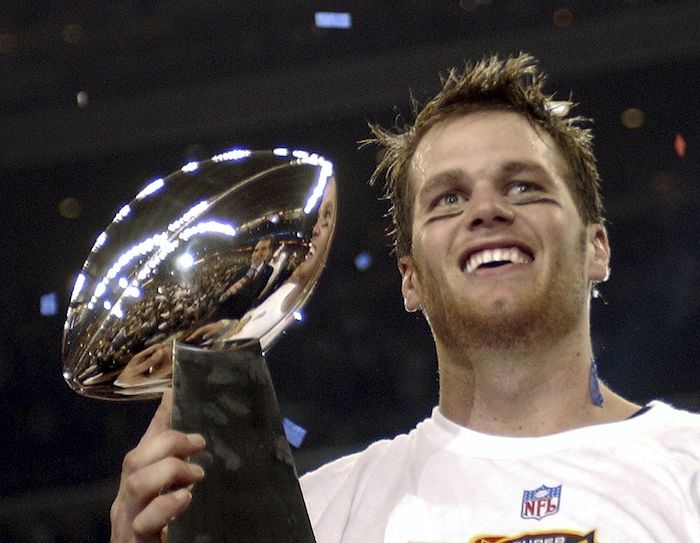 TAMPA, Fla. (AP) — Tom Brady, who won a record seven Super Bowls for New England and Tampa, has announced his retirement.
Brady — the most successful quarterback in NFL history, and one of the greatest athletes in team sports — posted the announcement on social media Wednesday morning, a brief video lasting just under one minute.
"Good morning guys. I'll get to the point right away," Brady says as the message begins. "I'm retiring. For good."
He briefly retired after the 2021 season but wound up coming back for one more year with the Tampa Bay Buccaneers. He retires at age 45, the owner of numerous passing records in an unprecedented 23-year career.
A year ago when he retired, it was in the form of a long Instagram post. But about six weeks later, he decided to come back for one more run. The Buccaneers — with whom he won a Super Bowl two seasons ago — made the playoffs again this season, losing in their playoff opener. And at the time, it begged the question about whether Brady would play again.
Only a couple of weeks later, he has given the answer.
"I know the process was a pretty big deal last time, so when I woke up this morning, I figured I'd just press record and let you guys know first," Brady says in the video. "I won't be long-winded. You only get one super emotional retirement essay and I used mine up last year.
"I really thank you guys so much, to every single one of you for supporting me. My family, my friends, teammates, my competitors. I could go on forever. There's too many. Thank you guys for allowing me to live my absolute dream. I wouldn't change a thing. Love you all."
Brady is the NFL's career leader in yards passing (89,214) and touchdowns (649). He is the only player to win more than five Super Bowls and has been MVP of the game five times.
Brady announced his retirement one day after attending the premiere of "80 for Brady" — which comes out Friday — in Los Angeles. The movie tells the story of four lifelong friends, played by Lily Tomlin, Jane Fonda, Rita Moreno and Sally Field, who went to a Super Bowl to see Brady play.
He was asked Tuesday night whether he felt a connection working with women — the four stars range in age from 76 to 91 — who don't want to retire.
"They're working hard and they love it. So good for them," Brady told The Associated Press. "You know, it's just that's what life is about. You got to, you know, wake up every day with a purpose. And when you find something you love to do, you know, it's hard to stop. You really enjoy it. And there's a lot of aspects that you do enjoy. So they still bring it at this age. It's really unbelievable to watch them on set and how much energy they have. And I certainly was inspired by them and learned a lot of lessons on this whole experience."
Famously underrated coming into the NFL — he was picked 199th in the 2000 draft by the Patriots, behind six other quarterbacks, three kickers and a punter — Brady certainly wasn't expected to become synonymous with greatness. He played in one game as a rookie, completing one of three passes for six yards.
The next year, it all changed.
Brady took over as the Patriots' starter, the team beat the St. Louis Rams in the Super Bowl that capped the 2001 season and he and New England coach Bill Belichick were well on their way to becoming the most successful coach-QB duo in football history.
More Super Bowl wins came after the 2003 and 2004 seasons. The Patriots returned to football's mountaintop for a fourth time in Brady's era a decade later to cap the 2014 season, the start of three more titles in a span of five years.
In 2020, he joined the Buccaneers and won his seventh Super Bowl. He spent his last three years with Tampa Bay, getting them to the playoffs in each of those seasons.
"I think I've been on the record dozens of times saying there's no quarterback I'd rather have than Tom Brady, and I still feel that way," Belichick said in 2021 — shortly before Tampa Bay, with Brady, came to New England and beat the Patriots in a game dubbed "The Return." "I was very lucky to have Tom as the quarterback, to coach him, and he was as good as any coach could ever ask for."
Brady has won three NFL MVP awards, has been a first-team All-Pro three times and was selected to the Pro Bowl 15 times.
Brady and model Gisele Bündchen finalized their divorce this past fall, during the Bucs' season. It ended a 13-year marriage between two superstars who respectively reached the pinnacles of football and fashion.
It was announced last year that when Brady retires from playing, he would join Fox Sports as a television analyst in a 10-year, $375 million deal.
___
AP NFL: https://apnews.com/hub/nfl and https://apnews.com/hub/pro-32 and https://twitter.com/AP_NFL