Blue Jays add three-time World Series champion Sergio Romo to bullpen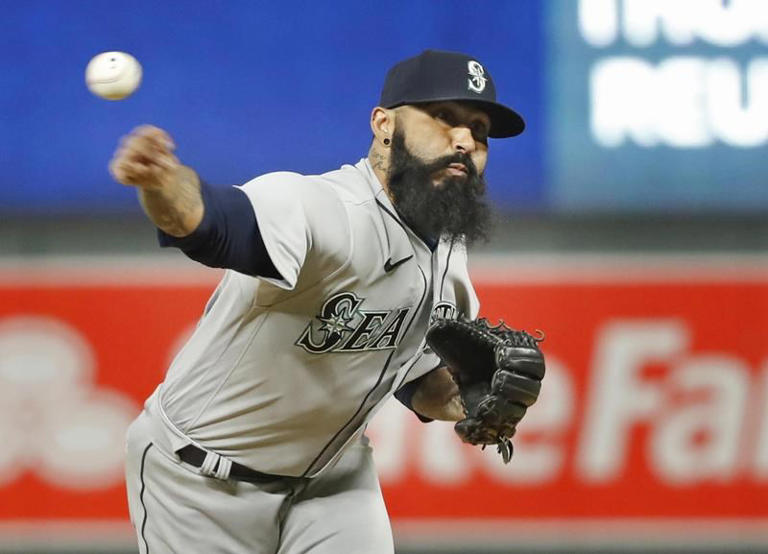 TORONTO — His activation not official until Wednesday, Blue Jays pitcher Sergio Romo watched from a stadium restaurant as his new team earned a walkoff victory over Boston a night earlier at Rogers Centre.
Enjoying a beverage on his own after passing his physical, the 39-year-old reliever — a three-time World Series champion with the San Francisco Giants — was impressed.
"Just the fight, these guys want to win and they expect to win," Romo said in a pre-game media availability. "They showed it yesterday. Backs against the ropes and they still fought it out and it wasn't just on one shot either. It was a hit, a walk, this and that.
"Everyone contributed, so it was cool. It was fun to see and I'm glad I'm here."
The Blue Jays agreed to terms with the right-hander on a one-year big-league contract. Toronto also optioned right-hander Shaun Anderson to Triple-A Buffalo and transferred left-hander Tayler Saucedo to the 60-day injured list.
Romo, who spent a month on the IL this season due to right shoulder inflammation, was recently released by Seattle after posting an 8.16 earned-run average in 17 games. He was 1-1 with a 4.67 ERA over 66 appearances last year for Oakland and has a 42-35 mark over his 15-year career with a 3.20 ERA.
"I come in here fearless, happy and appreciative, so let's go," Romo said. "I'm hungry too. I want to win. I've been blessed with three rings. By the end of my career, I wouldn't mind being able to say there's four."
It didn't take long for him to get settled in. An engaging, affable sort, Romo was holding court in the clubhouse with his new teammates before the finale of a three-game series against the Red Sox.
That kind of interaction may be where the Brawley, Calif., native is most valuable.
It's unclear how much gas he has left in the tank and what kind of leverage situation he'll be used in. But if his championship pedigree can rub off on a young team — even if it's just with a casual chat in the bullpen — then Romo could be an asset.
"I'm excited to add his experience, his skillset, his track record to the organization," said general manager Ross Atkins. "I'm really excited about his mindset and I think our team is excited as well."
The veteran right-hander also has history with Blue Jays manager Charlie Montoyo. Romo played for Tampa Bay over parts of two seasons ('17, '18) when Montoyo was on the Rays' coaching staff.
"Well you know he's not going to be nervous in any situation," Montoyo said. "We know that for sure."
After a wide-ranging 20-minute chat with reporters, Romo was all smiles as he threw balls in the outfield to bullpen catcher Alex Andreopoulos before the game.
"I'm noticing they've got this camaraderie here, plus the talent, plus the aspirations," Romo said. "It's kind of hard not to be excited to be here."
This report by The Canadian Press was first published June 29, 2022.
Follow @GregoryStrongCP on Twitter.
Gregory Strong, The Canadian Press
Celebrity Owners– Fun, Yes, But The Equity Is Even Better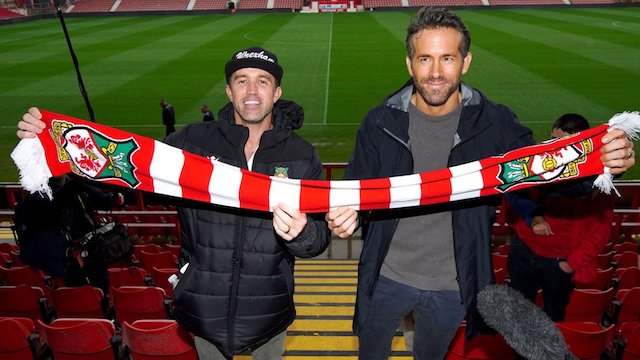 In case you hadn't noticed. Celebrity Sports Ownership is all the rage. When the Ottawa Senators were for sale Ryan Reynolds, Snoop and The Weeknd were all mentioned among the bidders (that eventually went to Montreal businessman Michael Andlauer). LeBron James now holds a minority position with Liverpool FC.
Jay-Z owns part of the Brooklyn Nets, Usher a piece of the Cleveland Cavaliers while Fergie of Black Eyed Peas fame also partly owns the Miami Dolphins. Gloria and Emilio Estefan, Marc Anthony, and tennis superstars Serena and Venus Williams are owners of pro sports teams. Famously, Elton John owned Watford FC, although he's now just an honorary chairman.
And, of course, Reynolds and Rob McElhenney used a documentary TV series that showed their Welsh Wrexham soccer team promoted to the FA's League Two. What's the attraction?
Clearly a little PR is always a good thing. But sports team ownership has also become a lucrative equity play. As BMO reports, "The average compound annual growth rate since the last purchase price… is 15 percent, a meaningful outperformance to the TSX and S&P. Forbes estimates the Toronto Blue Jays are currently worth US$2.1 billion or roughly C$2.85 billion.
Based on recent sports franchise transactions, expansion fees and annual estimations of franchise values by Forbes Magazine, an $8 billion enterprise value is easily defendable for the Jays' owners MLSE (who also own the Maple Leafs, Toronto FC and Argonauts)."
It's the same across the major pro sports leagues. The estimated average franchise value in the NFL since 2013 is $5.1B with a compound annual growth rate (CAGR) of 16 percent; in the NBA it is $2.9B with a CAGR of 18 percent. For MLB it is $2.3B with a CAGR of 12 percent; the NHL is $1.0B with a CAGR of 11 percent; while MLS is $0.6B with a CAGR 21%.
But, BMO cautions, owning a sports franchise is considered "an equity investment strategy rather than a cash flow or income play." In other words, don't think that ticket sales and hot dogs are going to make you rich. (Although the NHL's salary cap, which guarantees owners' profits is a sweet deal.) The key is sports media which is thriving despite the move to cord cutting..
Sports media rights contracts have grown in tandem with franchise valuations. Not to be ignored in the advertising growth and viewer interaction is the bear knowns as legalized sports betting. Betting companies are flooding the airwaves with commercials while bettors tune in to watch how their selections work out. The casinos and online shops have replaced lower-paying traditional advertisers who've dropped off.
In Canada, league or team ownership of broadcast properties is still common. For that reason the real value of those broadcast rights is often opaque. (We had some irritated pushback from Rogers and Bell for writing on this tidy arrangement in the mid 2010s, forcing some limited disclosures). Rogers Sportsnet and TSN own (via MLSE) own a stable of teams in MLB, NHL, CFL and MLS. Good luck finding out what they pay themselves for media rights.
It's more open in the U.S. Since the New York Yankees pioneered the YES network in 2002— sparking multiple imitators in other markets—the move in the U.S. has been away from outright ownerships of regional sports networks. A number of RSNs in the U.S. are either in bankruptcy or nearing it. Digital and network sources are now absorbing these sources. ESPN, via its owner Disney, is looking to find partners for its many broadcast properties as their bottom line in general has suffered.
Still, ESPN's legacy business generates revenue and operating income of approximately $12.5 billion and $4.0 billion in 2023. It remains to be seen what new model emerges in the U.S. to answer cord cutting and the death of conventional TV. The NFL's experiment on Monday, having two MNF games compete on separate networks is one experiment.
In Canada's monopolistic market, "TSN/RDS penetration rates have declined at a quicker pace than ESPN over the past 10 years. ESPN penetration has dropped from 81 percent of U.S. households in 2013 to 56 percent in 2022, while TSN/RDS penetration has decreased from 89% of Canadian households in 2013 to 49 percent in 2022.
In addition, BMO admits that cord cutting is a thing. "SportsNet subscribers have decreased -23 percent to 5.8 million over the same period. Subscriber and advertising revenues are 60 percent and 40 percent of total revenue, respectively. Since 2017, TSN revenues have increased 13 percent. TSN subscribers have decreased -29 percent to ~7.8 million over the same period."
But! In the last five years, TSN and SN have increased advertising revenues by 13 percent and 15 percent respectively. The same figure for the top five Canadian non-sports channels (collectively) is six percent. Thank you legalized wagering in Ontario. So who wouldn't want a piece of this action, especially in Canada?
The red flag in this surging equity market comes in the form of smaller Canadian NHL markets. The Senators sale for $950 suggests a healthy interest in owning, but the Sens sale was also tied into the new LeBreton Flats arena. Ownership or control of a Canadian arena means more than NHL games. It also includes revenue from concerts, rallies, monster-truck events etc.
Even with that can Andlauer produce a winner just two hours from the Montreal Canadiens market? Likewise, the Winnipeg Jets are desperately in need of a larger arena to replace the 15,321 Canada Life Centre. Having Canada's richest man, David Thomson, as an owner is no guarantee of getting one. And should Thomson tire of being the saviour of a losing Jets hockey property, who in that market has C$1-2B lying around needed to fund the franchise properly?
Likewise, the Calgary Flames. Despite the political press conference this summer about as new agreement the arena that management promised by 2013 has still not seen a shovelful of dirt turned over. The latest gaffe was architect's drawings for the rink being rejected by the NHL due to inadequate dressing-room space. Start again.
Should the rink not be available till 2025-26 will an evolving ownership group still be interested in shelling out the money to keep the Flames (and Stampeders, Roughnecks and Hitmen) operating in Calgary? And if they don't, because losing sucks? While energy-rich Calgary has plenty of billionaires, few will want to risk the money needed to keep a competitive team in a small market.
Connor McDavid's brilliance plasters over the same small-market crack in Edmonton. Yes, they have their new building, but can owner Darryl Katz fund the moves need to keep his stars and build a winner? Vancouver, owned by the Aqulini family, has a larger market base, but with Seattle Kraken just two hours away can they too write the cheques needed to create the first Stanley Cup winner since the Canucks entered the NHL in 1970.
If these Canadian markets do survive longterm it might have to be with foreign ownership. Certainly there is money to be made riding the equity train. But there also no guarantees that those carpetbagger owners might replicate the Montreal Expos and scoot to richer markets.
Sign up today for Not The Public Broadcaster newsletters. Hot takes/ cool slants on sports and current affairs. Have the latest columns delivered to your mail box. Tell your friends to join, too. Always provocative, always independent. https://share.hsforms.com/16edbhhC3TTKg6jAaRyP7rActsj5

Bruce Dowbiggin @dowbboy is the editor of Not The Public Broadcaster A two-time winner of the Gemini Award as Canada's top television sports broadcaster, he's a regular contributor to Sirius XM Canada Talks Ch. 167. Inexact Science: The Six Most Compelling Draft Years In NHL History, his new book with his son Evan, was voted the seventh-best professional hockey book of all time by bookauthority.org . His 2004 book Money Players was voted sixth best on the same list, and is available via http://brucedowbigginbooks.ca/book-personalaccount.aspx
Canada's Bronze Age: Showing The World Their Mettle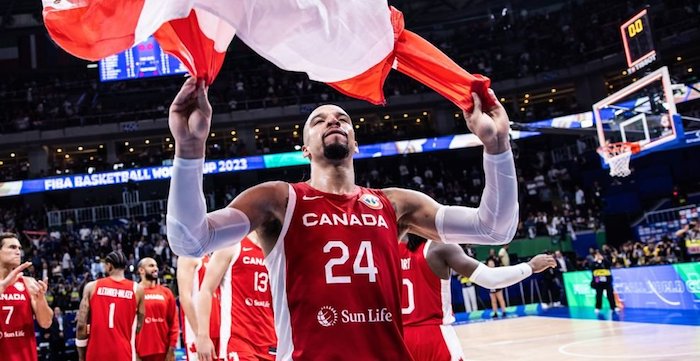 It was a moment to match the Canadian mens soccer team qualifying for the 2023 World Cup in the snows of Edmonton. Except that the Canadian men's basketball team winning a bronze medal at the FIBA World Cup— while also qualifying for the 2024 Olympics in Paris— went virtually unwatched live in Canada.
Played in the middle of the North American night in stifling hot Indonesia and the Philippines the emotional Canadian games were mostly seen on replay, long after the team led by Shai Gilgeous-Alexander (31 points) and Dylan Brooks (38 points) had made history against the Americans. Beating even a depleted U.S. team marked just the first medal in a comparable tournament since 1936.
Their crowning moment came in the bronze-medal game early Sunday. Having led the game by four points with 4.2 seconds left, Canada saw Mikel Bridges pull the "deliberately missed foul shot" trick, fielding his rebound and sinking a three pointer to send it into OT. But Canada led extra time the whole way after to seal the win as Brooks, SGA, and R.J.Barrett confidently sank threes to build an unbreakable lead.
Missing stars Jamal Murray, Andrew Wiggins, Khem Birch, Trey Lyles, Oshae Brisset and young hotshots Andrew Nembhart, Bennedict Mathurin, Shaedon Sharpe, Leonard Miller and Kevin Pangos, new coach Jordi Fernandez saw both SGA and Brooks accept the challenge of keeping the team together after the loss to Brazil in the qualifying round and the loss to Serbia is the semifinals.
Some will say a bronze is nothing to get excited about. The Americans played with only nine men Sunday. Perhaps. But remember when Canada was jokingly called the bronze-medal country because of its unwillingness to be nasty and hardbitten enough to deny someone else the gold medal?
That handle was finally shattered by the men's hockey trams in the '70s and '80's who cold-bloodedly swept all before them. They were soon followed by many athletes both male and female— like Donovan Bailey and Christine Sinclair— in a range of sports who defiantly captured gold and didn't care who liked it. The feeling we got from Sunday's bronze is that this tournament will be a great memory for all involved, but winning the Olympic gold is where it ends up.
Which leads to next summer when all the qualifying teams bring their best players— the U.S. was missing many top stars, Serbia was without two-time NBA MVP Nikola Jokic; Latvia was missing Kristaps Porzingis; France will likely be adding Victor Wembanyama and potentially Joel Embiid to the mix. Canada will also not be a secret after this tournament. Teams will prepare for them.
That's okay. In SGA's smile there was a recognition that the time for hiding is done. In a sport that is notorious for trash talking, Dylan Brooks is willing to back up his mouth. Basketball Canada thinks it can go to Canada's corporate sector wearing this bronze to get the resources it will need to support the team as it goes for gold. It's a new day.
As we wrote in October of 2018 "While hockey still has a death grip on Canada's No. 1 sport, basketball is growing in popularity. Among the factors are the economics of the game— it's much less expensive than hockey for a family, the surge in new Canadian urban communities who have less tradition with hockey and, crucially, the risk factors of concussions that blight hockey, football and even soccer these days.
NBA scouts and NCAA head coaches now flock to Toronto's Brampton suburb, hotbed for so many of the new stars, to look for the next superstar. Should the pipeline stay full, it would only be a matter of time till a star-laden Canadian team is playing against the Americans in the Olympic or World Cup Final." Since then we've seen Montreal also emerge as a basketball hotbed with Mathurin and Dort as examples..
Coaching and Basketball Canada have been impediments in the past to attracting the best of the best. Jay Triano didn't mesh with several young players in the past. Canada's coach until recently was Nick Nurse, ex-coach of the Toronto Raptors. It was hoped his NBA title bonafides would help smooth egos of players and the trepidations of NBA managements that feared their stars would be hurt in the Canadian uniform.
But when he left this season to go to the Philadelphia 76ers the assignment fell to Spaniard Jordi Fernandez, who's an associate head coach for the Sacramento Kings under Mike Brown. The NBA veterans clearly listened to him in Asia, commanding respect in a league where reputations speak louder than words. And will Basketball Canada, often a dysfunctional body, smooth or hinder the path for the team playing a world away in Asia?
In July we wrote, "With the 2024 Paris Olympics on the horizon, qualifying should be the the least of their goals this month in Indonesia. Getting into the Top 5 would be a signal achievement. A medal? A dream more possible thanks to SGA and his pals."
Mission accomplished. Bring on the Olympics.
Sign up today for Not The Public Broadcaster newsletters. Hot takes/ cool slants on sports and current affairs. Have the latest columns delivered to your mail box. Tell your friends to join, too. Always provocative, always independent. https://share.hsforms.com/16edbhhC3TTKg6jAaRyP7rActsj5
Bruce Dowbiggin @dowbboy is the editor of Not The Public Broadcaster A two-time winner of the Gemini Award as Canada's top television sports broadcaster, he's a regular contributor to Sirius XM Canada Talks Ch. 167. Inexact Science: The Six Most Compelling Draft Years In NHL History, his new book with his son Evan, was voted the seventh-best professional hockey book of all time by bookauthority.org . His 2004 book Money Players was voted sixth best on the same list, and is available via http://brucedowbigginbooks.ca/book-personalaccount.aspx