Blue Jays acquire two-time all-star Merrifield, add relievers Bass, Pop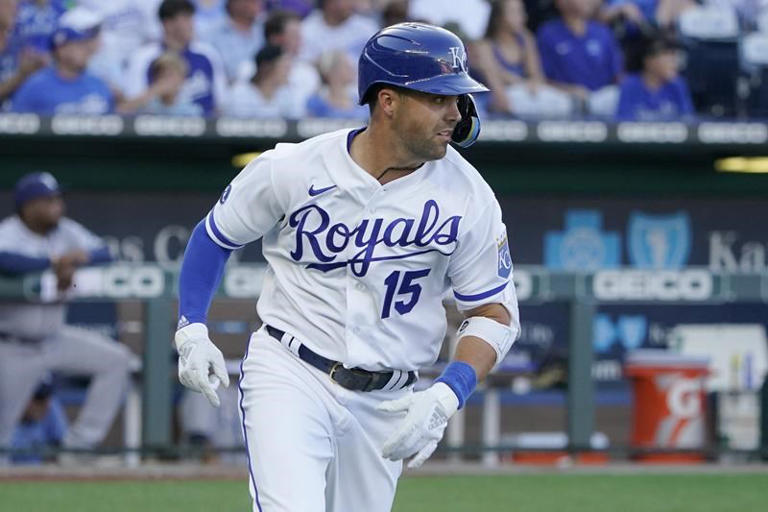 TORONTO — The Toronto Blue Jays acquired two-time all-star Whit Merrifield and solidified their bullpen by adding right-handed relievers Anthony Bass and Zach Pop before Tuesday's Major League Baseball trade deadline.
The Jays acquired Merrifield just before the 6 p.m. ET deadline from Kansas City for pitcher Max Castillo and prospect Samad Taylor.
Merrifield was one of 10 Royals who couldn't accompany the team for a four-game series in Toronto last month because he was not vaccinated against COVID-19.
The 33-year-old, who can play second base and outfield, is batting .240 with six home runs and 42 runs batted in this season.
He was an all-star last season when he hit .277 with 10 homers and 74 RBIs.
Blue Jays' GM Ross Atkins was thrilled with the deadline-beating deal.
"He (Merrifield) is such a good player. He is very accomplished with incredible experiences, the versatility, the contact ability, the speed, playing multiple positions, incredible baserunner, feel very good about him at so many different positions and that versatility will help us down the stretch … we're very well covered now," Atkins told a Zoom call minutes before the Jays opened their nine-game road trip in Florida.
The GM didn't bite when asked about his plans for get vaccinated or if he'd be playing at the Rogers Centre any time soon.
"He was acquired right at the deadline, so this is a very fresh acquisition and so because of that I'm not going to comment more on that process for him, and let him work through that with his family. I've basically said hello to him and that's it," added Atkins.
Earlier, the Jays acquired Bass and Pop from the Miami Marlins for shortstop prospect Jordan Groshans.
The Jays also acquired a player to be named later in the deal.
Bass, 34, has a 2-3 record with a 1.41 earned run average over 44 2/3 innings with the Marlins this season, with 45 strikeouts and 10 walks.
He spent the 2020 season with Toronto, going 2-3 with a 3.51 ERA in 26 appearances.
Bass will get the chance to pitch in meaningful games in front of Blue Jays fans, which he didn't have the opportunity to do in his first stint with the club. The Blue Jays played home games during the shortened 2020 season at Sahlen Field, home of the Triple-A Buffalo Bisons, because of COVID-19 restrictions at the Canada-U. S. border.
"You're going to a team that has a chance of going to the post-season, which as players is what we always want to do," Bass told reporters in Miami before the Marlins hosted the Cincinnati Reds on Tuesday.
"Our end goal is to win the World Series. So that part is exciting, going to Toronto for that opportunity."
The 25-year-old Pop, from Brampton, Ont., has a 2-0 record with a 3.60 earned-run average in 18 appearances with the Marlins this season, his second in the majors.
He was drafted by the Blue Jays in the 23rd round of the 2014 MLB draft, but decided not to sign and instead played collegiately at the University of Kentucky.
Pop, who says he grew up a Blue Jays fan, called news of the trade "bittersweet" but said he is looking forward to playing close to home.
"It's pretty special to be able to go back home and see my family and play for the Blue Jays," he said in Miami.
"I've got a lot of friends, a lot of people rooting for them right now, and to be a part of what they're doing over there is pretty amazing."
Groshans, 22, was selected 12th overall by the Blue Jays in the 2018 MLB draft.
In 67 games with the Bisons this season, he batted .250 with a home run and 24 runs batted in.
The Blue Jays also acquired right-hander Mitch White and infielder Alex De Jesus from the Los Angeles Dodgers in exchange for left-hander Moises Brito and right-hander Nick Frasso and dealt right-hander Jeremy Beasley to the Pittsburgh Pirates for cash considerations.
In other moves, left-handed pitcher Anthony Banda was designated for assignment and lefty Andrew Vasquez was claimed off outright waivers by Philadelphia.
This report by The Canadian Press was first published Aug. 2, 2022.
The Canadian Press
Kadri's winner halts Coyotes' comeback effort as Flames earn 3-2 victory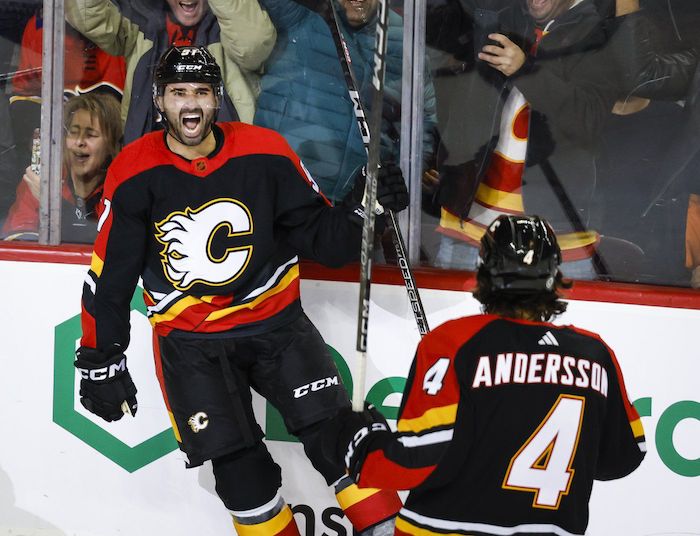 By Darren Haynes in Calgary
Nazem Kadri scored the game-winning goal at 15:42 of the third period and added two assists to lead the Calgary Flames to a 3-2 victory over the Arizona Coyotes on Monday.
Dillon Dube and Elias Lindholm also scored for Calgary (12-10-3), which has won five of its last six games at the Saddledome. Jonathan Huberdeau chipped in a pair of assists.
Shayne Gostisbehere and Jeff Chychrun each had a goal and an assist for Arizona (7-12-4), which has won just one of its last 10 (1-6-3).
Dan Vladar, starting for the fifth time in the last seven games, made 18 stops to even his record at 4-4-1.
Karel Vejmelka had 24 stops for the Coyotes in falling to 6-7-3.
Down 2-1 to start the third period, Arizona tied it at 5:50 when Chychrun snapped a shot over Vladar's shoulder. It was Chychrun's third goal in seven games since the defenceman returned from a wrist injury that sidelined him the first six weeks of the season.
But nine minutes later, Chychrun took a tripping penalty that proved to be costly.
Calgary regained the lead as Tyler Toffoli neatly set up Kadri, who notched his team-leading ninth goal of the season.
The Flames finished the night a perfect 2-for-3 on the power play, after having been in a slump, going 2-for-21 over the previous seven games.
Arizona went 0-for-2 on the man advantage.
Fuelled by back-to-back power plays early in the first period, Arizona held a 7-1 edge in shots at the 13-minute mark of the first period before Calgary started to tilt the ice in its favour.
After an extended stretch of pressure in the Coyotes' end, Dube opened the scoring deflecting a Chris Tanev point shot at 14:13 of the frame for his fifth goal of the season and fourth goal in his last eight games.
Just under three minutes later, Lindholm netted a power-play marker for his ninth of the campaign.
The Flames piled up 15 shots in a row before the Coyotes, having gone over 15 minutes without testing Vladar, finally directed a puck on the Calgary net seven minutes into the second.
With Vejmelka keeping the visitors within two, Arizona cut its deficit in half at 13:53 of the second. Rookie right-winger Matias Maccelli sent a drop pass to Gostisbehere whose shot found its way through a couple of screens and in off Vladar's arm.
HOMECOMING WEEK
Coyotes defenceman Juuso Valimaki, selected 16th overall in the 2017 draft, is the fourth Flames first-round pick to play against Calgary during its homestand. He follows Matthew Tkachuk (2016) and Sam Bennett (2014) with Florida on Tuesday and Sean Monahan (2013) with the Canadiens on Thursday.
ROOKIE RISING
Maccelli's assist extends the 22-year-old's point streak to four games (one goal, five assists). It's also his 15th helper on the season, which leads all rookies. Maccelli is second in rookie scoring behind Seattle's Matty Beniers.
UP NEXT
Coyotes: Having not played at home since Nov. 3, Arizona's stretch of 14 straight games on the road concludes on Wednesday in Edmonton.
Flames: Wrap up their five-game homestand on Wednesday against Minnesota.
This report by The Canadian Press was first published Dec. 5, 2022.
Former Edmonton Oilers scout Barry Fraser dead at 82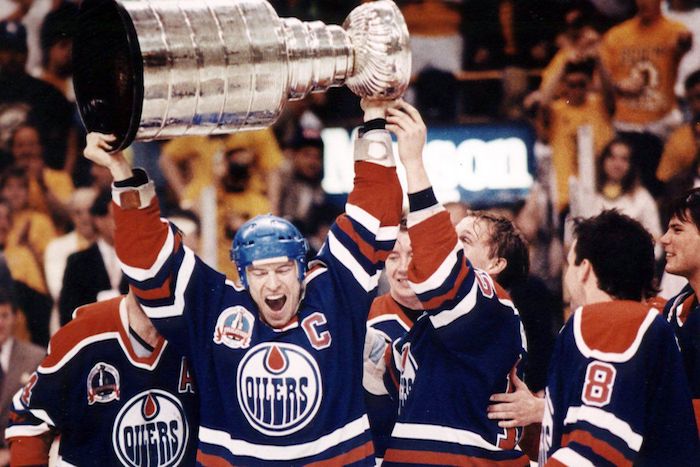 Former Oilers head scout Barry Fraser, whose shrewd draft picks helped build a hockey dynasty in Edmonton, has died, the team announced Sunday.
He was 82.
Fraser was one of the architects of the great Oiler teams of the 1980s and '90s.
After being named the team's director of scouting in 1979, the Kirkland, Ont. native was credited with drafting future Hall of Famers Mark Messier, Jari Kurri, Glenn Anderson, Kevin Lowe, Paul Coffey and Grant Fuhr.
The franchise went on to win five Stanley Cups in 1984, 1985, 1987, 1988 and 1990.
The Oilers revealed in a Twitter post that Fraser died Sunday in Edmonton.
The cause of death was not released.
This report by The Canadian Press was first published Dec. 4, 2022.