Bitter legacy hangs over today's energy discussions between Quebec and N.L. premiers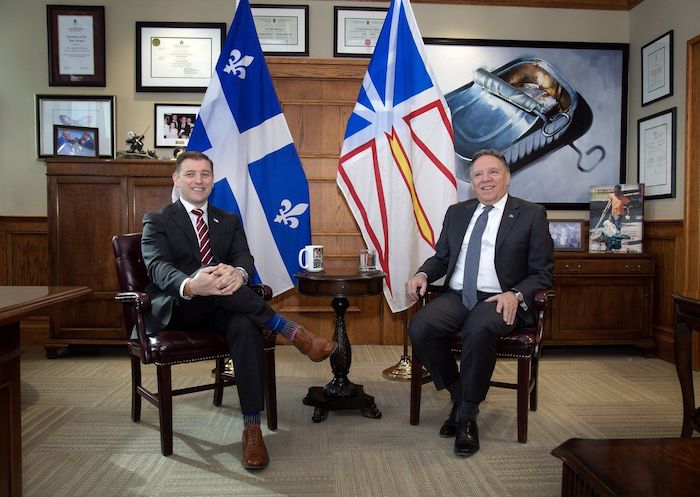 Newfoundland and Labrador Premier Andrew Furey and Quebec Premier François Legault pose in the office of the premier at the Confederation Building, in St. John's, on Friday, Feb. 24, 2023. THE CANADIAN PRESS/Paul Daly
By Sarah Smellie in St. John's
As Quebec Premier François Legault seeks a new energy deal with Newfoundland and Labrador, he faces a public in the Atlantic province scarred by the legacy of a pair of hydroelectric projects mired in missteps.
Legault travelled to St. John's this week for discussions with Newfoundland and Labrador Premier Andrew Furey about the 1969 Churchill Falls hydroelectric energy deal — and what will come after it ends in 2041. The lopsided deal heavily favours Quebec, and has left a lasting bitterness in Newfoundland and Labrador.
The two leaders are scheduled to speak with reporters later on Friday after the meeting.
Jeff Webb, a historian at Memorial University, says some residents of Newfoundland and Labrador think the province wouldn't have endured the "humiliation" of needing equalization payments from the federal government if the Churchill Falls agreement had more evenly served both provinces.
"It does speak to people's sense that this is something that's always been rightly ours, and it's been stolen," Webb said in a recent interview.
Decades later, that hostility drove people in Newfoundland and Labrador to embrace the Muskrat Falls hydroelectric project, which is long delayed and draining the provincial purse, Webb said.
The 1969 Churchill Falls deal allows Quebec's provincially owned hydroelectric utility, Hydro-Québec, to purchase 85 per cent of the electricity generated by the dam in Labrador, and therefore reap most of the profits. As of 2019, the deal had yielded close to $28 billion in profits to Quebec, and about $2 billion for Newfoundland and Labrador.
Under the agreement, Hydro-Québec pays a fixed price of 0.2 cents per kilowatt hour for Churchill Falls power. By comparison, the utility said in a news release this week it made an average of 8.2 cents per kilowatt hour on power it sold outside the province in 2022. Hydro-Québec made a record-breaking income of $4.6 billion last year, the release said.
The Innu of Uashat mak Mani-utenam in Quebec filed a $2.2-billion lawsuit against Hydro-Québec earlier this year, claiming the Churchill Falls hydroelectric station has destroyed a significant part of their traditional territory. In 2020, the Innu Nation in Labrador launched a $4-billion lawsuit against Hydro-Québec and Churchill Falls (Labrador) Corp., a subsidiary of Newfoundland and Labrador Hydro, for the ecological and cultural damage caused by the damming of the upper Churchill River in the early 1970s.
Pam Frampton, who retired in 2021 as the managing editor of The Telegram newspaper in St. John's, said she grew up under the shadow of Churchill Falls.
"There was always these associated feelings of shame and bitterness, and the feeling that we had been duped," Frampton said in an interview.
Frampton said she believes the province would be in a completely different economic position now if the Churchill Falls arrangement had not been so skewed.
"Wanting to give Quebec the middle finger, if you will, was a part of the impetus behind Muskrat Falls," Frampton said. "I think if we had a fair day's deal with (Churchill Falls), we wouldn't have been so hell-bent on getting (Muskrat Falls) developed at any cost."
Like the Churchill Falls project, the Muskrat Falls development harnesses the power of the Churchill River, in Labrador, and it also sits on traditional Innu territory. It was green-lit in December of 2012 after much trumpeting and fanfare by the Progressive Conservative government at the time, particularly by premier Danny Williams, who quit politics in late 2010.
Muskrat Falls has been disastrous for the province's finances and morale. Its price tag now sits at more than $13 billion, a figure Andrew Furey described in 2021 as "an anchor around the collective souls of Newfoundland and Labradorians."
Legault has said he wants a "win-win" deal for Quebec and Newfoundland and Labrador — and has even suggested paying the province more for electricity before the current deal ends in 2041.
Frampton said the Quebec premier needs to know that the people of Newfoundland and Labrador are hardened and still smarting from both projects.
"I think he needs to know that, going in, we are gun shy, and for good reason," she said. "He should expect us to ask the hard questions. And I certainly hope to God our government does, on our behalf."
This report by The Canadian Press was first published Feb. 24, 2023.
Liberal budget bill passes in House of Commons after Conservative filibuster attempt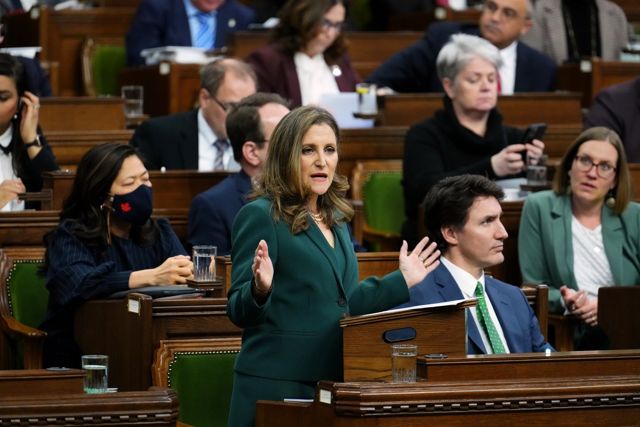 Parliamentarians passed the Liberal government's budget bill today, rolling out new incentives for Canadians and support for Ukraine, while trumping the Conservatives attempt to block it all. Deputy Prime Minister and Minister of Finance Chrystia Freeland delivers the federal budget in the House of Commons on Parliament Hill in Ottawa, Tuesday, March 28, 2023. THE CANADIAN PRESS/Sean Kilpatrick
Ottawa
The House of Commons passed the Liberal government's budget bill today, which seeks to roll out vast new incentives for clean energy and expending dental care subsidies — despite a Conservative attempt to hold it up.
The bill passed 177 to 146 with the support of Liberals and New Democrats, while the Tories and Bloc Québécois voted against it.
The bill includes a new anti-flipping tax for residential properties, a doubling of tradespeople's tools deduction and an enhancement to the Canada workers benefit, a refundable tax credit to help low income workers.
It also codifies sanctions on Russia following its invasion of Ukraine, and raises tariffs on Russia and Belarus.
The Conservatives attempted earlier this week to delete much of the bill by introducing amendments eliminating 900 of its clauses, saying they want a plan to balance the budget amid projections that show no end to federal deficits in sight.
The Senate must also pass the budget bill before it can become law, and senators have already been devoting hours study to its provisions.
This report by The Canadian Press was first published June 8, 2023.
Stretched thin, parents have swath of options to save for children's education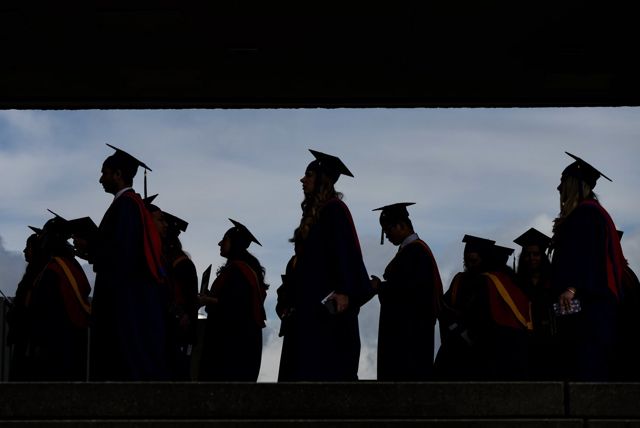 The rising cost of living has ramped up pressure on parents, who say it's tougher than ever to save for their children's post-secondary education, a new survey found. Graduates are silhouetted as they line up for a convocation ceremony at Simon Fraser University, in Burnaby, B.C., on Friday, May 6, 2022. THE CANADIAN PRESS/Darryl Dyck
By Christopher Reynolds in Montreal
Parents are finding it tougher than ever to save for their children's post-secondary education as the rising cost of living ramps up financial pressures.
But the mainstays of post-secondary saving — RESPs, especially — remain key tools, as do clear goals and plenty of planning.
Julie Petrera, a senior strategist for client needs at Edward Jones, said the first step is getting a handle on cost estimates, which can range from thousands to hundreds of thousands of dollars, depending on the type and length of schooling and whether the child is leaving home.
Other considerations include whether family members, such as a grandparent or the child themself, will contribute and where education ranks on parents' list of savings priorities.
"Are they paying for post-secondary education and saving for their own retirement and funding other expenses, like renovations and vacations?" Petrera asked.
According to an online survey of 1,000 parents with at least one child under 18 by Embark, a company specializing in education savings, some 73 per cent of parents said saving for college and university has been harder recently.
The survey also found just over half of respondents said they would go into debt to pay for their child's education.
The Registered Education Savings Plan (RESP) offers a tax-deferred investment account that has been used by millions. More than 481,000 students withdrew funds from an RESP in 2021, according to Employment and Social Development Canada.
Ottawa matches 20 per cent on the first $2,500 put toward an RESP each year, via the Canada Education Savings Grant (CESG), for a total of $500 per year, with higher rates available to lower income families. The lifetime maximum grant amount is capped at $7,200, while total contributions to RESP accounts are limited to $50,000 per beneficiary.
Low income families may also be eligible for the Canadian Learning Bond, which does not require RESP contributions.
RESP beneficiaries in British Columbia may be eligible for an additional one‑time $1,200 grant, while those in Quebec can enjoy a refundable tax credit with a lifetime maximum of $3,600.
"The RESP is great. It is designed to help with affordability," Petrera said. "But on the flip side there are some restrictions on these plans … on who can withdraw the funds, when they can withdraw them and why."
RESPs can comprise a major part of a family's education funding, but should not be viewed as a "standalone" plan, Petrera said. Non-registered investment accounts offer a supplementary option.
"There are no grants associated, they are fully taxable, but they have no restrictions. You can put money in up to any amount and withdraw at any time for any reason," she said.
A tax-free savings account provides another vehicle. Students themselves can't open one until they reach 18, but parents or grandparents can use their accounts to help save.
"My advice on that would be to work with an adviser or work with a professional that understands the pros and cons and the ins and outs of all of these plans to determine what is the best mix to maximize what the client's objective is," Petrera said.
Automatic contributions toward a plan are a simple, effective way to build a nest egg.
"We think that if each pair can make 50 bucks a month (per person) of contributions, they'll get $37,000 by the time their kids hit 18 and go to post-secondary school," Embark CEO Andrew Lo said.
He stressed that parents should educate themselves about education. One in three polled by the company did "not know enough to even guess" how much post-secondary schooling costs.
Erika Shaker, director of the national office of the Canadian Centre for Policy Alternatives, said costs are going up and everything's getting more expensive.
She pointed to a shift in education funding from Ottawa a couple decades ago that prompted most provinces to download more of the cost onto students or, in the case of Quebec, "two-tiering" the price between in-province and out-of-province pupils.
The labyrinth of funding programs and rules sometimes acts as more of a barrier than a relief, she added.
"Student assistance programs are a patchwork, they're messy, they're opaque. They're actually quite difficult to navigate and they can change midway through a degree," Shaker said.
"We have gone to a user-pay model that disproportionately impacts — negatively — students who have to borrow, unfortunately, to pay for post-secondary education."
This report by The Canadian Press was first published June 8, 2023.