Meet the artists & win tickets to BVJ 2018! Contest ends July 20th
The Big Valley Jamboree is getting closer and closer and you do not want to miss out!
**THIS CONTEST IS NOW CLOSED, THANK YOU!**
You'll be entered to win:
Whether you've been heading to BVJ for years or are planning to make 2018 your first-ever trip to Camrose, Alberta for the party of the year, you have to remember three words: 'Country for Everyone!
So set aside August long weekend (August 2nd to 5th), round up friends and family and make a plan!
Here's a look at some of this year's headliners!
Thursday (Kickoff Party):
Nitty Gritty Dirt Band
Celebrating their Golden (50th) Anniversary together, the iconic and profoundly influential Nitty Gritty Dirt Band, often cited as a catalyst for an entire movement in Country Rock and American Roots Music, continues to add to their legendary status.With multi-platinum and gold records, strings of top ten hits such as "Fishin' In The Dark" and "Mr. Bojangles", multiple Grammy, IBMA, CMA Awards and nominations, the band's accolades continue to accumulate.
Today, NGDB (Jeff Hanna, Jimmie Fadden, Bob Carpenter, John McEuen) continue their non-stop touring in their 50th year together. Recent tour stops included Stagecoach, Hardly Strictly Bluegrass Festival and many more. The plans for their 50th Anniversary will be extensive! On September 14th, 2015 they played to a Sold out Crowd at The Historic Ryman Auditorium with some close friends to film a 50th Anniversary Special to air on PBS starting March of 2016.
Nitty Gritty Dirt Band BVJ Performance Information:
Date: Thursday, August 2, 2018
Location: Coors Banquet Saloon
Time: 9:30 pm
Luke Combs
A native of Asheville, North Carolina, country singer/songwriter Luke Combs took joy in singing from a young age. During his high school years, Combs split his time between football and singing in local vocal groups, eventually picking up the guitar while attending college at Appalachian State. Taking inspiration from some of country's leading men like Tim Mcgraw and Luke Bryan, he began writing songs and soon released a pair of EPs in 2014. In 2015, his single "Hurricane" reached the Top Ten on iTunes' country chart and he quickly followed up with his third EP, This One's for You, later that year. Over the course of 2016, "Hurricane" continued to gain steam, winding up at number one on Billboard's Country Airplay charts in May of 2017. The single's success led to Combs signing with Riverhouse/Columbia Nashville, which released his full-length debut, also called This One's for You.
Luke Combs BVJ Performance Information:
Date: Thursday, August 2, 2018
Location: Coors Banquet Saloon
Time: 11:00 pm
Friday:
Billy Ray Cyrus
Throughout the course of nearly three decades, Billy Ray Cyrus has achieved international success as a singer, songwriter, entertainer, and philanthropist. He has sold millions of albums, charted 35 singles, 16 of which are Top 40 hits and continues to receive critical acclaim as an actor, writer, and executive producer in film and television.
Billy Ray Cyrus BVJ Performance Information:
Date: Friday, August 3, 2018
Location: Mainstage
Time: 5:00 pm
Paul Brandt
Paul Brandt is the most awarded male Canadian country artist in history. His 1996 debut RIAA certified Gold album Calm Before the Storm went on to sell one million albums internationally, propelled by the #1 single and wedding classic "I Do". Stateside, his #5 and #1 charting songs "My Heart Has A History", and "I Do" were the first to chart by a male Canadian Country artist on the US Billboard Top 20 since 1976. His 11 career albums have spawned hit singles, multiple Album of the Year awards, gold, platinum, and multi-platinum performances. According to Nielsen BDS, of the top 25 Canadian Country songs, 6 were released by Paul Brandt, and his song "My Heart Has a History" is the most played Canadian Country song since the chart began. Paul is also the most played Canadian Country artist on Country Radio in history (Nielsen BDS). He has had 26 top ten songs at Canadian Radio.
Paul Brandt BVJ Performance Information:
Date: Friday, August 3, 2018
Location: Main Stage
Time: 7:30
Thomas Rhett
Thomas Rhett is an American country music singer and songwriter who has released three studio albums for Big Machine Records.Thomas Rhett scored his first No. one hit in 2013 with "It Goes Like This," introducing a sound that mixed the southern swagger of county music with pop hooks, R&B grooves, soulful strut, and the anything-goes attitude of rock. During the years since, he's become a husband. A father, too. And, thanks to eight chart-topping singles, a headliner of massive arenas. It's funny how life can change so much in such a short period of time.
Thomas Rhett BVJ Performance Information:
Date: Friday August 3, 2018
Location: Mainstage
Time: 9:00pm
Saturday
Emerson Drive
Emerson Drive has been a part of the country music scene since they signed their first record deal with DreamWorks Records Nashville in 2001. The band's first two singles, "I Should Be Sleeping" and "Fall Into Me," peaked in the Top 5 on the Billboard charts and quickly became fan favorites but it was the career-changing song "Moments" that gave the band their first #1 single in the USA. Emerson Drive has been honored with awards and/or nominations from the Academy of Country Music, Country Music Association, Canadian Country Music Association, CMT, Dove Awards, Grammy Awards, Inspirational Country Music Association, Juno Awards, Music Row Magazine and Campus Activities Magazine. The band has toured with Toby Keith, Shania Twain and Big & Rich among other artists.
Emerson Drive BVJ Performance Information:
Date: Saturday, August 4, 2018
Location: Coors Banquet Saloon
Time: 12:00 am
Jess Moskaluke
Growing up listening to, and falling in love with country music, Jess Moskaluke (MDM Recordings Inc. / Universal Music Canada) adored the greats, from Terri Clark and Carolyn Dawn Johnson to her idol, Shania Twain. Today, she is amazed at the road she now travels. Acclaimed as the first Canadian female country artist to have a song in the Top 5 since 2008 (Drive Me Away – #3), and the first female Canadian country artist since [her childhood idol] Shania Twain to achieve PLATINUM single status (with her hit track "Cheap Wine and Cigarettes"), Moskaluke continues to dazzle the Canadian country music world achieving not one, but three Top 10 hits with her respective singles, "Kiss Me Quiet", "Take Me Home" and "Drive Me Away". In 2016, Moskaluke had the #1 Most Played Song ("Take Me Home") at Canadian Country Radio and was the top spun Canadian female artist for the second year in a row.
Jess Moskaluke BVJ Performance Information:
Date: Saturday, August 4, 2018
Location: Mainstage
Time: 5:00 pm
Dallas Smith
Platinum selling Country star DALLAS SMITH "has blazed a path across genres in Canadian music" (CBCMusic) for nearly two decades and fans continue to prove they'll follow him wherever he wants to go. On the heels of a career album (Lifted) earning critical acclaim, commercial success including a multi-week #1 single and an armful of JUNO and CCMA Award wins and nominations, Smith continues one of the most talked about journeys in Canadian country music with the latest marker, his fourth #1 single "SKY STAYS THIS BLUE" from the 2017 JUNO Award nominated and CCMA Awards Album of the Year release "SIDE EFFECTS" (604 Records) released last September (2016).
Dallas Smith BVJ Performance Information:
Date: Saturday, August 4, 2018
Location: Main Stage
Time: 7:30
Alabama
It took Randy Owen, Teddy Gentry and Jeff Cook six long years of tip jars and word of mouth to earn the major label deal they'd been dreaming of, but then seemingly no time at all to change the face of country music. ALABAMA is the band that changed everything. They reeled off 21 straight #1 singles, a record that will probably never be equaled in any genre. They brought youthful energy, sex appeal and a rocking edge that broadened country's audience and opened the door to self-contained bands from then on, and they undertook a journey that led, 73 million albums later, to the Country Music Hall of Fame and the Hollywood Walk of Fame. Some of the bands songs are among the most memorable in country history.
Alabama BVJ Performance Information:
Date: Saturday August 4, 2018
Location: Mainstage
Time: 9:00 pm
Sunday:
Brett Eldredge
Brett Eldredge is an American country music singer who grew up in Paris, Illinois. His parents bought him a guitar when he was young and by age 15, he was a performer in high demand for local functions. After he finished college, Brett moved to Nashville, relearning the guitar and becoming a singer-songwriter. When Brett broke out on his own, his first three singles charted, with his third, "Don't Ya," reached the Top 20 of the Hot Country Songs. The song reached the No.1 spot on the Country Airplay charts in Aug. 2013, the same month he released his debut, "Bring You Back. Brett's rising success in the music world has led him to tour with some big names. He was on the Red Tour with Taylor Swift in 2013, the 2014 Painkiller Tour with Little Big Town and, in 2015, he joined Darius Rucker for the Southern Style Tour. That year, he co-headlined the Suits & Boots Tour with Thomas Rhett.
Brett Eldredge BVJ Performance Information:
Date: Sunday, August 5, 2018
Location: Main Stage
Time: 7:30 pm
Florida Georgia Line
Florida Georgia Line came out of nowhere in 2012 to become the biggest country group of the new decade. The vehicle of their success was "Cruise," a slick, shimmering ode to the wide-open road that became an unkillable crossover hit in 2013 and, eventually, the biggest country single of all time. After "Cruise" broke through on its own merits, reaching 16 on the Billboard Hot 100, its life was extended thanks to a remix featuring rapper Nelly. This unexpected collaboration pushed the single all the way to number four on the Hot 100, but at that point it was clear that the appeal of "Cruise" lay in Florida Georgia Line's unabashedly polished pop perspective. Unlike some fellow contemporary country bros, the duo of Brian Kelley and Tyler Hubbard were bright, sunny, and friendly, qualities showcased on subsequent hits "Get Your Shine On" and "Round Here." Florida Georgia Line stayed on the top of the charts with 2014's "Anything Goes" and 2016's "Dig Your Roots".
Florida Georgia Line BVJ Performance Information:
Date: Sunday, August 5, 2018
Location: Main Stage
Time: 9:00pm
Again, here's your chance to win your way in!
Just send an email to [email protected] with 'Todayville BVJ Contest' in the subject line. Could it be more easy?!
You'll be entered to win:
Best of luck!
Entries will be accepted starting on April 25, 2018 at 08:00 MDT and ending July 20, 2018 at 12:00 MDT.
Entrants must be 18 years of age or over.
The winner will receive 2 x 3-Day General Admission Passes, 2 x Thursday Kick-off Party Tickets and 1 x Country Nation Campsite. No cash or other prize substitutions.
The odds of winning depend on the number of eligible entries received.
Graffiti artist completes world's tallest mural in downtown Calgary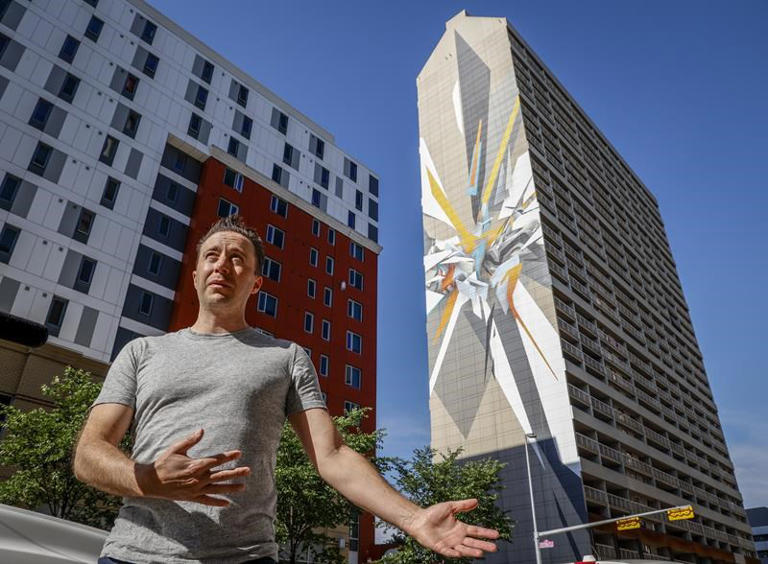 CALGARY — It looms on the edge of downtown a stone's throw from the Calgary Tower, a splash of colour amid aging buildings, railway tracks, parkades and a steady stream of traffic.
It's billed as the world's tallest mural, painted by one of the globe's top graffiti artists, and is part of a project to turn an austere area of downtown into an expansive open-air urban art gallery.
"The brutalism and dystopian look of this area with the giant parkades and the spiral ramps and stuff — it feels like Gotham. So turning this wall from concrete nothing to this is really fun," said Peter Oliver, president of the Beltline Urban Murals Project, or BUMP.
The mural is an abstract painting in various shades of orange, black, grey, blue, white and yellow and is the creation of DAIM, an internationally renowned German artist. DAIM, whose real name is Mirko Reisser, has been creating public artworks for more than 30 years.
"DAIM's work is rooted in graffiti art. It's abstract and he was actually the very first graffiti artist to start exploring three-dimensional works. So his work kind of obeys the laws of light and shadow but defies the laws of gravity," Oliver said.
"I think his work really marries well with the brutalism of this building and it's just a massive flat wall of concrete. It's the very first prefabricated concrete building in Calgary, built in 1980."
The mural is 95 metres high, making it the tallest mural in the world "by a long shot," said Oliver.
He said most cities don't have giant concrete walls available, with the majority being glass, steel or aluminum. So this was a perfect marriage.
DAIM, who was assisted by three local artists, spent over three weeks painting and went through more than 500 cans of spray paint after a base coat was added to the bare concrete. It is to be a permanent addition to the area and, as of last week, was awaiting a coat of UV sealant to make it complete.
Facing toward the east, it can be seen from a long way away.
"If you've got the window seat on the airplane, you can see it on the approach into the airport," Oliver said.
"I think what we're really doing with BUMP is re-architecting the identity of this city."
The project will be unveiling about 60 new murals during its annual festival, which runs from Aug. 1 to 28. Before that, the new art work can be viewed by visitors at the annual Calgary Stampede, which begins this week.
"If you're coming down, I'd check this out over the parade any day," Oliver said with a chuckle.
This report by The Canadian Press was first published July 4, 2022.
Bill Graveland, The Canadian Press
Alberta's 2022 Lt. Governor Emerging Artists Named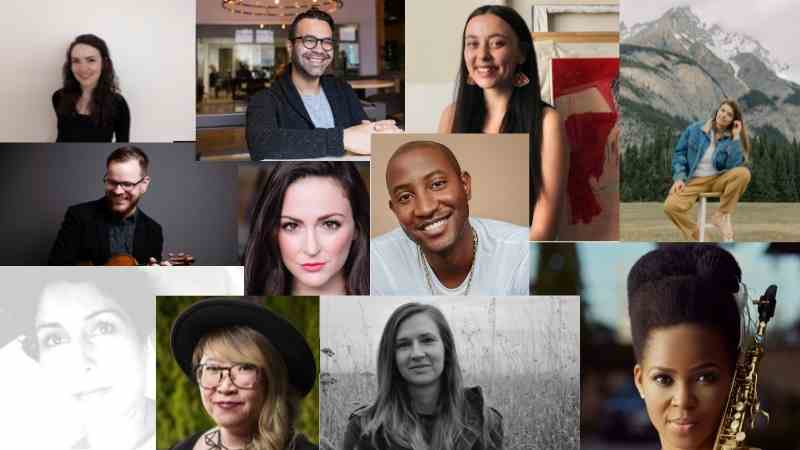 Alberta's 2022 Lt. Governor Emerging Artists Named
The Lieutenant Governor of Alberta Arts Awards Foundation announces awards totaling $110,000 to the 11 recipients of its 2022 Emerging Artist Award.
"When economic times are tough, our artists are particularly vulnerable," says Foundation Chair, Arlene Strom. "We are thrilled to invest $110,000 this year in advancing the careers of these outstanding artists at the early stages of their professional development."
2022 Emerging Artist Recipients:
Perpetual Atife Saxophone, Calgary
Vicki Chau Filmmaker, Calgary
Arlan Vriens Violin, Edmonton; Toronto
Eden Tremayne Soprano, Calgary
Omar Mouallem Writer, Edmonton
Trina Moyles Writer, Peace River
Kiona Ligtvoet Visual Arts, Edmonton
Tenaj Williams Actor, Calgary
Ally McIntyre Visual Arts, Edmonton
Moni Brar Writer/Poet, Calgary
Nahanni McKay Visual Arts, Banff
The Award's patron, Her Honour, the Honourable Salma Lakhani, Lieutenant Governor of Alberta AOE, B.Sc., LLD (hon) awarded the 2022 Emerging Artists at a celebration hosted by the County of Lac La Biche and Portage College on June 10, 2022. Each awardee receives a $10,000 cash award, a handcrafted medal and a certificate.
The 11 recipients were selected from 140 applications in an adjudication process overseen by The Banff Centre. The adjudication panel included: Darren Fung, renowned composer based out of Los Angeles, originally from Edmonton; Sean Caulfield, artist and Centennial Professor in the Department of Art & Design at the University of Alberta; Patricia Darbasie, Alberta actor, director and educator; Jenna Butler, 2014 LG Emerging Artist, award-winning author and educator; Derek Beaulieu, Jury Facilitator, Director of Literary Arts at the Banff Centre.
For more information on the awardees visit artsawards.ca
Who are the 2022 Emerging Artists?
Perpetual Atife Saxophonist, Calgary: Perpetual Atife is retelling African stories and music through her practice as a jazz saxophonist and songwriter. Her entrepreneurial spirit and energy are as impressive as her skills as a band leader and performer. The aural tapestry she creates combines her Nigerian roots and the realities she exists in today. Her debut album, a collection of her journey through instrumental music, spoken word and vocal music, is due to be released in the Fall of 2022.
Vicki Chau Filmmaker, Calgary: Vicki Chau is a filmmaker and media artist based in Calgary. Her two short films Pulled Strings and Hearth of the Lion capture a slice of her Chinese-Vietnamese heritage in a beautiful lyrical way. Her family and cultural identity have been a core inspiration in her artistic practice and help her to promote the appreciation of both Chinese and Vietnamese culture through a uniquely Canadian perspective. She was selected for the WarnerMedia Access Festivals Program at Toronto's Reelworld Film Festival in 2021.
Arlan Vriens, Violin, Edmonton/Toronto: Arlan Vriens is an Edmonton-born classical violinist noted for his ability to evoke strong, emotional performances with difficult, contemporary repertoire that pushes the boundaries of what the instrument was designed to do. Equally at home performing newly-written contemporary works or rediscovering long-lost violin techniques, Arlan is committed to nurturing and critiquing classical music as a living, evolving practice. His chamber music and solo violin projects have been supported by the Canada Council for the Arts and the arts councils of Alberta, Ontario, and Newfoundland.
Eden Tremayne Soprano, Calgary: Eden Tremayne delivers an authenticity and emotional strength that is impressive to see in an emerging opera singer. A soprano with both a strong technical facility and range, she is noted for her stirring performances. For the past three seasons, Ms. Tremayne has been a McPhee Artist with Calgary Opera. She had her Calgary Opera mainstage debut In the 2019-2020 season as Clotilde in Bellini's Norma and covered Musetta in Puccini's La bohème. Tremayne was previously featured as an Apprentice Artist with the San Diego Opera and a Yulanda M. Faris Young Artist with Vancouver Opera.
Omar Mouallem Writer, Edmonton: Omar Mouallem has established himself as a talented young journalist and filmmaker to watch. With the arrival of his important new book of non-fiction, Praying to the West: How Muslims Shaped the Americas, he's an important voice in Canadian literature with a long career ahead. A second-generation Canadian born and raised in Northern Alberta's Muslim Lebanese community, Mouallem has become known for his ability to intertwine human interest stories with world history and broad social issues. Omar co-authored the national bestseller Inside the Inferno: A Firefighter's Story of the Brotherhood that Saved Fort McMurray and co-directed Digging in the Dirt (with Dylan Rhys Howard), a raw look at the psychological toll of oil and gas labour.
Trina Moyles Writer, Peace River: Trina Moyles blends journalistic knowledge with literary expertise and a love for the land. She grew up in the northern community of Peace River, Alberta (Treaty 8), where she spent much of her childhood immersed in the boreal forest. Moyles's first book, Women Who Dig: Farming, Feminism, and the Fight to Feed the World was published in 2018 by the University of Regina Press. Her second book, a memoir and frontline reportage on the increasing prevalence of wildfire in North America, Lookout: Love, Solitude, and Searching for Wildfire in the Boreal Forest, was published in 2021 by Penguin Random House Canada. Lookout won a National Outdoors Book Award in 2021 and has recently been nominated as a finalist for the 2022 Robert Kroetsch City of Edmonton Book Prize and a finalist for the Memoir Award at the 2022 Alberta Literary Awards.
Kiona Ligtvoet Visual Arts, Edmonton: Kiona Ligtvoet looks to experiences with family and the land they live and work on to create paintings, prints and installations that function as both a personal archive, as well as non-linear storytelling. Kiona grew up west of Edmonton near the hamlet of Calahoo where she lived with her moshom and relatives on scrip land. Her family lines are Cree and Métis descending from Michel First Nation, as well as Dutch/ mixed European. Kiona works in painting, printmaking and drawing, recollecting personal stories of grief and tenderness. Most recent exhibitions have been sahkitok mistahi at Ociciwan Contemporary Art Centre (2021), and her solo show, These Are the Things at Latitude 53 (2021). She is currently writing her debut graphic novel We Were Younger Once (2022).
Tenaj Williams Actor, Calgary: Tenaj Williams has built on his community theatre experiences to create a provincial and national footprint as an actor, professionally performing on stages in Alberta and across the country. He has recently branched out into film and television landing roles on various TV series, most prominently the hit CTV comedy show, JANN. Tenaj hopes to further advance his work in the arts and be instrumental in helping to create and foster safe, and brave spaces for diverse and emerging artists. He plans to develop his skills as a director and learn more about theatre production and management.
Ally McIntyre Visual Arts, Edmonton: Ally McIntyre creates bold, powerful paintings that combine passages of abstraction with naturalistic imagery, and which contain moments of aggressive and expressive mark-making, alongside more introspective, sensitive passages of drawing. This blending of visual languages results in highly compelling imagery that fosters unexpected narratives and poetic associations for viewers. Bold and assertive, her works question the prevailing gendered association of large-scale art and expressionism. In 2015, McIntyre was awarded the HIX Award 2015 presented by Tracey Emin and the Jealous Prize 2015. Exhibits include various galleries in London, UK, The Original Print Fair at the Royal Academy, The London Art Fair, Start Art Fair and Art Toronto. She was a finalist in the RBC national painting competition (2018). Her solo exhibition 'Dog Day Circus' was featured at the Saatchi Gallery in London, UK (2022). Her work can be found in private collections in Australia, Asia, Europe, and North America.
Moni Brar Writer/Poet, Calgary: Moni Brar has published in many of the most respected journals in Canada and received a number of the top writing awards. A Punjabi Canadian writer exploring diasporan guilt and intergenerational trauma, she is poised to make major contributions to the literary arts in Canada. She has been nominated for the Pushcart Prize and multiple Best of the Net awards and was the winner of the SAAG Arts Writing Prize, runner-up in PRISM international's Grouse Grind Prize, honourable mention in Room magazine's Poetry Prize, and a finalist in the Alberta Magazine Awards and the Subnivean Awards. Her work can be found in Best Canadian Poetry 2022, the Literary Review of Canada, Passages North, Prairie Fire, Hobart, and the League of Canadian Poets' "Poem in Your Pocket" postcard series.
Nahanni McKay Visual Arts, Banff: McKay's creative practice utilizes photography, digital media, as well as performances in the landscape to explore pressing questions related to environmental change. The work often considers the ways landscape and animals have been depicted historically, particularly in the context of national parks, in order to investigate the complex interrelationship between colonial power structures, identity and ecological degradation and loss. Nahanni uses her photography to bring awareness of the need to coexist with wildlife to prevent further harm to the land we reside on. Exhibits include Personal Structures Exhibition, European Cultural Centre, Venice, Italy (2022), Loop 14, Alberta Foundation for the Arts Travelling Exhibition (2020), EXPOSURE Photography Festival Emerging Artists Showcase, Contemporary Calgary and more.
About The Awards
Founders Fil Fraser, Tommy Banks, John Poole and Jenny Belzberg established the Lieutenant Governor of Alberta Arts Awards Foundation in 2003 to celebrate and promote excellence in the arts. The endowments they established were created with philanthropic dollars and gifts from the Province of Alberta and the Government of Canada. Since its inception in 2003, the Foundation has awarded $1,430,000 to 23 Distinguished Artists and 74 Emerging Artists, all Alberta affiliated. The Foundation administers two awards programs: The Emerging Artist Awards program, established in 2008, gives up to 10 awards of $10,000 each to support and encourage promising artists early in their professional careers. Emerging Artist Awards are given out in even years. The Distinguished Artist Awards program, begun in 2005, gives up to three awards of $30,000 each in recognition of outstanding achievement in, or contribution to, the arts in Alberta. Distinguished Artist Awards are given in odd years.