Big Can Be Beautiful. It Can Also Take Your Life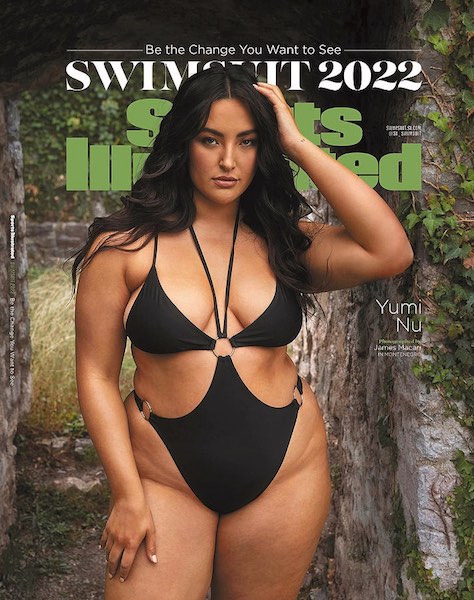 When we go to our local swimming pool there is ample evidence of the fat of the land (including your correspondent). The display of plus-sized pork among our fellow swimmers (most 50+) is breathtaking. The Parnassus of lard has to be the 60-ish gentleman who wears a Speedo on his 375-pound-plus body as he swims laps. We assume there's a Speedo in there somewhere, captured by rolling mounds of cellulite on his glutes.
While alarming to see so many who've lost the battle to fat, at least these souls are making the attempt to stay healthy. God bless them. When we see them lower themselves into the pool we have to wonder at those who've completely given up on the concept of a healthy figure. How do they live?
The notion of what constitutes a beautiful body is in the news again as Sports Illustrated featured plus-sized model Yumi Nu on the cover of its annual swimsuit edition. The swimsuit edition is the annual display of beautiful female bodies that traditionally sent nuns and librarians into a censorship fury worthy of Twitter. (And found its way between the mattresses of teenaged boys.)
In what is clearly Woke symbolism, Time Warner's magazine is attempting to placate another stigmatized group— plus-sized women— by displaying Nu in all her rounded beauty. "See, it's normal to be wearing XXX-sized clothing" is the message. (The magazine also features Elon Musk's mother and four NBA models in the edition).
This comes at a time when plus-sized rapper Cardi B has made highly sexualized twerking a thing in her graphic videos. It seems to now be hip to placate people who've lost the battle against Cheetos in a masturbatory celebration of a blubbery freedom.
Canadian author/ psychologist Dr. Jordan Peterson spoke for those not amused by SI's project. "Sorry. Not beautiful. And no amount of authoritarian tolerance is going to change that. It's a conscious progressive attempt to manipulate & retool the notion of beauty, reliant on the idiot philosophy that such preferences are learned and properly changed by those who know better."
But there was a cascade of approval for SI's choice, recognizing that beauty is in the eye of the beholder. Many found Nu stunning and sexy. Feminists applauded her acceptance of bodaciousness. Fair enough.
Two quibbles. One small and the other massive. First— this will be lost on feminists— the SI Swimsuit edition was created in the 1960s to defeat a stereotype that fit sportswomen were tomboys, unattractive and vaguely butch. In their own way, the early SI models destroyed those stereotypes while pleasuring hetero men. They convinced women that muscles aren't a bringdown.
The more significant point— lost on SI and Time Warner— is that the time of Covid, with its choked hospitals and healthcare system, is hardly the moment to celebrate people who exceed their body-fat index. In fact it might be described as a reckless message that allows people with hereditary or cultural vulnerability to diabetes, stroke and heart attacks to put off weight reduction.
As we wrote last October, obesity is the silent killer of millions infected with the virus. But one buried by governments, media and health authorities who decided to make vaccine-resisters the real villain of the piece.
"Friends and neighbours we have thought otherwise sane are now seriously demanding that unvaccinated people be sent to the back of the line for health care till all the vaccinated people are satisfied. This triage is equal measures of fear, spite and blithering ignorance of the facts of single-payer health.
Take this example: one of the factors established very early in the pandemic was the vulnerability of obese and morbidly obese— especially in the elderly. The AMA reports, "The vast majority—78%—of U.S. patients hospitalized with COVID-19 were overweight or had obesity. The numbers for intensive care, invasive mechanical ventilation and death were nearly the same."
According to the CDC, 42.4 percent of U.S. adults have obesity. While some are obese for genetic or disease-related reasons, the vast proportion of the obesity is lifestyle induced. The World Obesity Federation has shown that death rates from COVID-19 have been 10 times higher in countries where more than half of the population is overweight.
Yet there is no call from the media and its acolytes to punish the obese for clogging the healthcare system. No demand they be put to the back of the line. Why? Because it doesn't suit the narrative of right-wing extremism the way that non-vaxxers do. Too many allies of Woke land— in and out of politics— would be shoved down the line if fat were targeted.
University of Oxford researchers found, "Excess weight is a modifiable risk factor, and investment in the treatment of overweight and obesity and long-term preventive strategies could help reduce the severity of COVID-19 disease."
Yet when was the last time you heard Justin Trudeau or president Joe Biden suggest dropping weight to lessen the burden on healthcare? The last time would be the first time, as they have been mute on lifestyle adaptions to clear the ICUs.
It goes the same for smokers, drinkers, drug abusers and more who— under Canada's healthcare rulers— receive the same treatment in emergency rooms as do those who live clean. According to the howler monkeys of vaccine enforcement only non-vaxxers should be culled from the herd for flooding ICUs."
It's not the first time that Wokedom has stifled information contrary to their societal control. It won't be the last. In the battle of the bulge it's not a fashion statement. It's a matter of life and death. It's also a matter of saving the healthcare system.
Bruce Dowbiggin @dowbboy is the editor of Not The Public Broadcaster (http://www.notthepublicbroadcaster.com). The best-selling author was nominated for the BBN Business Book award of 2020 for Personal Account with Tony Comper. A two-time winner of the Gemini Award as Canada's top television sports broadcaster, he's also a regular contributor to Sirius XM Canada Talks Ch. 167. His new book with his son Evan Inexact Science: The Six Most Compelling Draft Years In NHL History is now available on http://brucedowbigginbooks.ca/book-personalaccount.aspx
A Drag Prescription: Kids Party Like It's 2022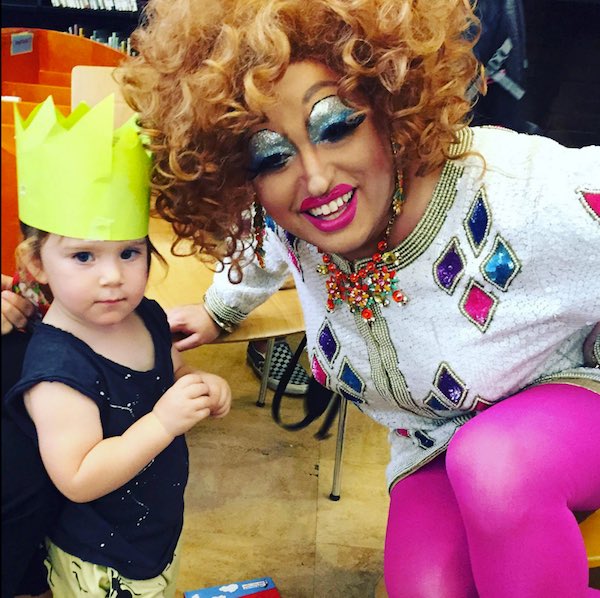 Back in the days before Toronto became a sensitivity chamber, people would head out to the old St. Charles Tavern on Yonge Street to see the annual Halloween drag-queen parade. As the local talent strutted, the crowd hooted, whistled and generally laughed at the circus. For the paraders the attention was bliss.
In those days trans people, cross dressers and drag queens were an exotic diversion in a city that had yet to take itself too seriously. They had no pretensions to glory. So naturally those who remember the tacky Halloween Drag Parades are probably confused to find that drag has ascended to the heights of Woke sensitivity.
Ru Paul's Drag Race is the hippest TV attraction on mainstream TV. Drag queens have replaced clowns at children's birthday party as the entertainment. Trans activists have turned public bowel movements into a political education seminar. Having a prominent trans figure is a sign of the highest corporate awareness.
To the chagrin of feminists, blacks, immigrants and Wanda Sykes , trans is the new holy caste in leftist politics— which is to say their protection is the solemn duty of CBC, MSNBC, The Toronto Star, corporate inclusion VPs and educators across the continent. The former allies of the Left have been left on the curb; Mom's got a new beau.
As conservative David Reboi tweeted, "You've got to think that most Americans—even the shitlibs—never gave drag queens a moment of thought before recently. Now, it's the greatest form of self-expression imaginable. Amazing how quickly it happens."
Heaven forbid anyone ask why kindergarteners need a drag shows or the propriety of men competing against women in sports. Showing a disinterest in drag generals is a one-way ticket to Stephen Colbert's late-night gulag. Pointing out the insanity of making 0.01 percent of the population the focal point of a turning society is a hanging offence.
The first sign that trans had matriculated to the first ring of heaven was the language used to describe their painful past. Using words like cross dressers, trannies and queens was made a banishment-level crime. New vocabulary— following the example of other grievance causes— put the discussion on wheels and steered it away from rational debate of facts. The Media Party compliantly fell int the pit. It was now about words, not deeds.
George Orwell foretold this tactic during his time fighting in the 1936-38 Spanish Civil War. "For the first time, I saw troops who had fought bravely denounced as cowards and traitors, and others who had never seen a shot fired hailed as the heroes of imaginary victories; and I saw newspapers in London retailing these lies and eager intellectuals building emotional superstructures over events that had never happened. I saw, in fact, history being written not in terms of what happened but of what ought to have happened according to various 'party lines'."
What's next? The current Jan. 6 show trials demonstrate cancel culture's relentless manicuring of history to put half of society offside with power. This happened because the Left— former home of wit and humour— lost any sense of honest laughter or proportion between 2016 and 2020. Writes Matt Taibbi. "In that time they perfected an attitude of imperious condescension and entitlement so grating that at least half of America wouldn't piss on someone like Adam Schiff if he were on fire."
If Sykes' sneering middle-part America doesn't like it, tough. @ScottAdams "The Jan6th hearings are basically an updated Russia Collusion Hoax with a new topic. That's how Democrats signal that they know they can't compete on policy and competence. They need hoaxes to win."
But there are signs that this has turned disastrous for the Left. The SCOTUS Dobbs v. Jackson abortion decision "was the result of decades spent building a political project so incoherent, unsellable, and untrustworthy to ordinary people that in 2016 they chose Donald Trump over the person Barack Obama called the most qualified candidate in history.
"The justices who cast the critical votes Friday were picked by a man denounced by all of institutional America prior to election. All those voices were ignored. That total collapse in trust, not Jill Stein's candidacy or Putin's Facebook ads, led to Dobbs v. Jackson."
Sadly for Canadians there is no remedy for the pissy smugness of its media and opinion makers. Loathing Republicans has a long history with postmodern Canadians dating back to the Viet Nam war. This self-satisfied detachment of a kept people mirrors that which Taibbi sees in the U.S.
Canada's traipsing PM paused from interfering yet again with the RCMP to proclaim that Canada would be an abortion clinic to any Americans who can't find services in their own states. Trudeau preens in this way, because he thinks that, having paid off the media, he will never face reality on abortion so long as CBC tut-tuts that it's a loser issue.
But as we wrote in December of 2017 Trudeau's 1980s liberal conceit has been been overtaken by a more nuanced reality. "Medical innovation has shifted the issue since Canada's pols ran like Good Sir Robin away from the fight. In today's world, 50 to 70 percent of babies born at 24 to 25 weeks, and more than 90 percent born at 26 to 27 weeks, survive. Conditions such as Down Syndrome are no longer seen as socially acceptable reasons to terminate a pregnancy. There is a need for children for adoption."
Polling also agrees it's time to revisit a compromise on the issue. While a majority of Canadians favour some form of abortion, 70 percent are against unlimited abortion. 85 percent are against sex-selective abortion. "All these factors have lurked in the background as the public debate was stilled. But if Trudeau wishes to use his absolute abortion standard as a yardstick to measure funding viability he may find a public far more willing to accept limits on ending some pregnancies than it was even a decade ago."
As Friedrich Hayek wrote, "In Germany the Nazis were able to succeed because the Socialists had already done most of their work for them, especially the intellectual work of weakening the desire for liberty. By bringing the whole of life under the control of the State, Socialism necessarily gives power to an inner ring of bureaucrats, who in almost every case will be men who want power for its own sake and will stick at nothing in order to retain it."
So drag is now the lapdog of the bored suburban liberal female demo. If this transcendence is a little too on-the-nose to those who stood by the St. Charles, a bit provocative, a lot in-your-face… that's the point. You're meant to feel unsettled, insulted. It's a design feature.
Bruce Dowbiggin @dowbboy is the editor of Not The Public Broadcaster (http://www.notthepublicbroadcaster.com). The best-selling author was nominated for the BBN Business Book award of 2020 for Personal Account with Tony Comper. A two-time winner of the Gemini Award as Canada's top television sports broadcaster, he's also a regular contributor to Sirius XM Canada Talks Ch. 167. His new book with his son Evan Inexact Science: The Six Most Compelling Draft Years In NHL History is now available on http://brucedowbigginbooks.ca/book-personalaccount.aspx
Hockey Canada's Own Goal: Burying The Lawsuit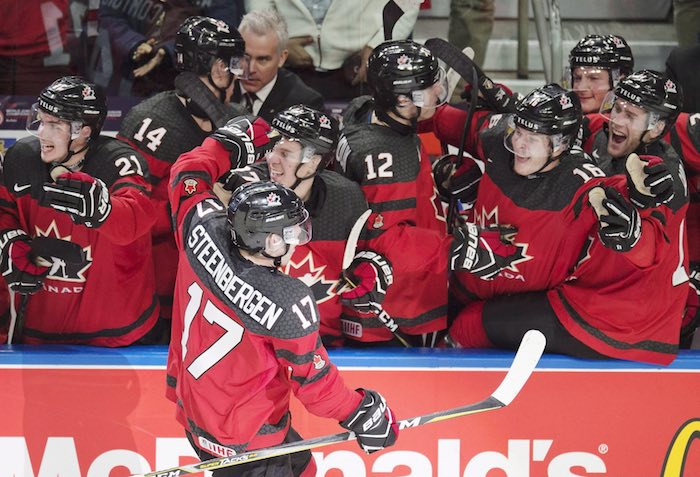 Why in the name of Aurel Joliat would a sports organization want to put itself in the hands of the McHale's Navy of governments? Namely, Justin Trudeau's faculty lounge. But that's what Hockey Canada has done. Its neglect and incompetence in a recent sexual assault allegation against members of the 2018 WJC champion team seems to have been asking for trouble.
Hockey Canada's access to public funds (HC gets 6 percent of its funds from the government) is now frozen by the federal government, effective immediately, over its response to the alleged sexual assault and a subsequent out-of-court settlement last month after a woman claimed she was assaulted by members of the country's 2018 gold-medal winning world junior hockey team in June of that year at a gala in London, Ont.
And why, after the Chicago Blackhawks sexual abuse scandal that surfaced last year, has the NHL once again been shown incompetent in dealing with a sexual assault allegation? Twenty-two members of the 2017-18 junior squad in question were NHL draft picks. While we don't know the eight in question one only has to peruse the roster of that team to realize a number of the players are stars in the NHL at the moment.
In the absence of evidence otherwise, all members of that team are under suspicion. (The woman, who decided against speaking with police or HC investigators, chose not to identify the players.) CBC reports, "The woman, now 24, was seeking $3.55 million in damages from Hockey Canada, the Canadian Hockey League and the unnamed players. Details of the settlement have not been made public".
Which looks bad enough on the organization trusted to handle both men's and women's hockey in this country. But then the HC suits appeared in front of a House of Commons committee to throw a little accelerant on the fire. Outgoing HC chairman Tom Renney told MPs that HC had hired an outside law firm in 2018 to help it with the allegation that— so far— has produced no criminal charges.
HC president Scott Smith— who said Sport Canada had been notified of the allegation in 2019— testified, "players present at the event in London were 'strongly encouraged' to participate, but it was not mandated. (Renney initially testified that between four and six of the 19 players in question spoke with investigators before Smith indicated later the number was 12 or 13.) He added that HC does not know the identity of the eight John Does listed in the lawsuit.
Needless to say the voluntary nature of testimony caused heads to explode among the politicians. "We were all expecting answers to all the questions, the many questions, that we have regarding how they handled the whole situation when they testified," Sport Minister Pascal St. St-Onge told reporters. "Unfortunately, we did not receive many answers… But we did learn a few things."
Such as HC saying that public funds (HC got $ 14 M. From the feds in 2020-21) had not been used to settle the lawsuit. St. Onge was not mollified. And so funding was frozen pending a forensic audit and fuller explanations of the HC's handling of the incident. "The fact that they haven't been identified sort of shocks me," added Liberal MP Anthony Housefather, a member of the committee.
HC might have predicted the volatility of the allegations. Previous sexual abuse cases such as former coach Graham James' abuse of Theo Fleury, Sheldon Kennedy and others in the 1980s produced national outrage— and HC protocols on how to deal with future incidents. While it appears that HC followed some protocols of conducting an independent investigation, the revelation that players involved were not compelled to testify beggars the imagination.
With the euphoria of the Stanley Cup, Memorial Cup and IIHF World Championships now dissipating, hard questions need to be asked. The innocent should have the shroud removed from their reputations. Those who sought anonymity in the lawsuit need to face NHL sanctions. And Hockey Canada needs to understand yet again that carrying the flag for Canada in world hockey only covers them so far.
Bruce Dowbiggin @dowbboy is the editor of Not The Public Broadcaster (http://www.notthepublicbroadcaster.com). The best-selling author was nominated for the BBN Business Book award of 2020 for Personal Account with Tony Comper. A two-time winner of the Gemini Award as Canada's top television sports broadcaster, he's also a regular contributor to Sirius XM Canada Talks Ch. 167. His new book with his son Evan Inexact Science: The Six Most Compelling Draft Years In NHL History is now available on http://brucedowbigginbooks.ca/book-personalaccount.aspx