Biden vowing 'strong' climate action despite dual setbacks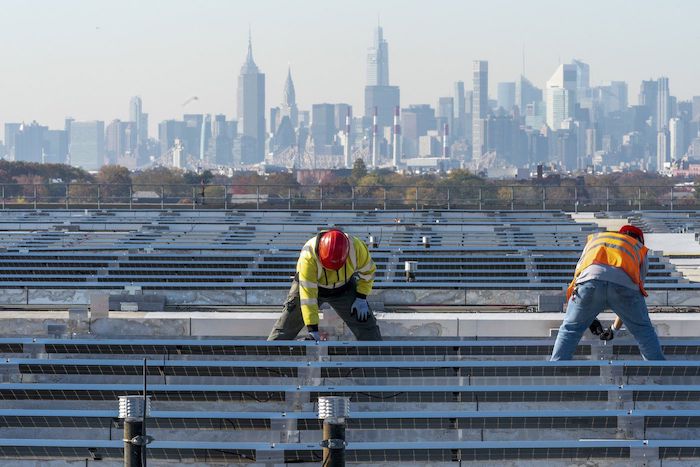 By Matthew Daly in Washington
WASHINGTON (AP) — President Joe Biden is promising "strong executive action" to combat climate change, despite dual setbacks in recent weeks that have restricted his ability to regulate carbon emissions and boost clean energy such as wind and solar power.
The Supreme Court last month limited how the nation's main anti-air pollution law can be used to reduce carbon dioxide emissions from power plants. Then late Thursday, Sen. Joe Manchin, D-W.Va., said he wants to delay sweeping environmental legislation that Democrats have pushed as central to achieving Biden's ambitious climate goals.
Biden, who has pledged to cut greenhouse gas emissions in halfby 2030, compared with 2005 levels, said Friday that "action on climate change and clean energy remains more urgent than ever."
If the Senate will not act to address climate change and boost clean energy, "I will take strong executive action to meet this moment," Biden said in a statement from Saudi Arabia, where he met Friday with Saudi Crown Prince Mohammed bin Salman.
Biden did not specify what actions he will take on climate, but said they will create jobs, improve energy security, bolster domestic manufacturing and protect consumers from oil and gas price increases. "I will not back down," he promised.
Some advocates urged Biden to use the moment to declare a national climate emergency and reinstate a ban on crude oil exports, among other steps.
Declaring a climate emergency would allow Biden to redirect spending to accelerate renewable energy such as wind and solar and speed the nation's transition away from fossil fuels such as coal, oil and natural gas.
Climate advocates, including some of Manchin's Democratic colleagues in the Senate, said Manchin's announcement that he cannot back the climate provisions in the Senate bill — at least for now — frees Biden of the obligation to cater to a powerful, coal-state senator eager to protect his energy-producing home state. Manchin's vote is decisive in the evenly divided Senate, where Republicans unanimously oppose climate action.
"Free at last. Let's roll. Do it all and start it now," tweeted Sen. Sheldon Whitehouse, D-R.I. who has long pushed stronger action on climate. "With legislative climate options now closed, it's now time for executive Beast Mode," Whitehouse wrote.
Whitehouse suggested a series of actions Biden could take, including "a robust social cost of carbon rule″ that would force energy producers to account for greenhouse gas emissions as a cost of doing business. The senator also urged Biden to require major polluters to use technology to capture carbon dioxide emissions and impose stronger pollution controls on cars, light trucks and heavy-duty vehicles.
Advocates also urged Biden to reject all onshore and offshore drilling on federal lands and in federal waters — a step he promised during the 2020 campaign but has not enacted — and restrict approval of natural gas pipelines and other fossil fuel projects.
"For too long, we've been waiting on a single legislative package to save us and a single legislator to determine our fate," said Sen. Jeff Merkley, D-Ore. "Now that it's clear legislation to address our climate crisis is dead, President Biden needs to put us on an emergency footing to address this disaster."
Citing Biden's campaign promise to end new drilling on federal lands and waters, Merkley said, "Now is the time to show the American people he's serious by saying 'no' to expanding our addiction to fossil fuels."
Even before Manchin's apparent rejection of the climate measures, Democrats had slimmed their down their plan from about $555 billion in climate spending to just over $300 billion in a bid to secure his support. Proposed tax credits for wind, solar and nuclear energy, along with still-unproven carbon-capture technology, could reduce emissions by up to 40% by 2030, advocates said.
Manchin had already forced Democrats to drop two tax provisions he opposes: direct payments of clean energy credits and tax credits for drivers who purchase electric vehicles. Manchin forced other concessions last year, including killing a proposal that would have paid utilities that increase clean energy while penalizing those that do not.
Sen. Ron Wyden, D-Ore., chairman of the Senate Finance Committee, said he still hopes to salvage the clean energy tax provisions and said failure "really is not an option here."
Manchin's request to postpone action on the climate measure follows a June 30 ruling by the Supreme Court, which said in a 6-3 vote that the Clean Air Act does not give the Environmental Protection Agency broad authority to regulate greenhouse gas emissions from power plants.
The ruling by the court's conservative majority likely complicates the Biden administration's plan to manage power plant pollution, but does not eliminate its authority to regulate greenhouse gases. EPA Administrator Michael Regan has said the agency is moving forward with proposed rules for power plants in the coming months.
Ann Clancy, associate climate policy director for Indivisible, a progressive advocacy group, said it was time for Biden to "stop waiting for corporate-backed Democrats and their bad faith negotiations and deliver real wins for the American people on climate."
"We don't have any more time to waste," Clancy said.
Manchin, in a radio interview Friday, said climate activists want an immediate end to U.S. use of oil, coal and gas. "That's crazy," he told West Virginia talk show host Hoppy Kercheval. "I'm not throwing caution to the wind. I think we need an energy policy that works for our country."
Future of Energy is Here – Province of Alberta pitches Alberta and Albertans at 2022 Energy Council conference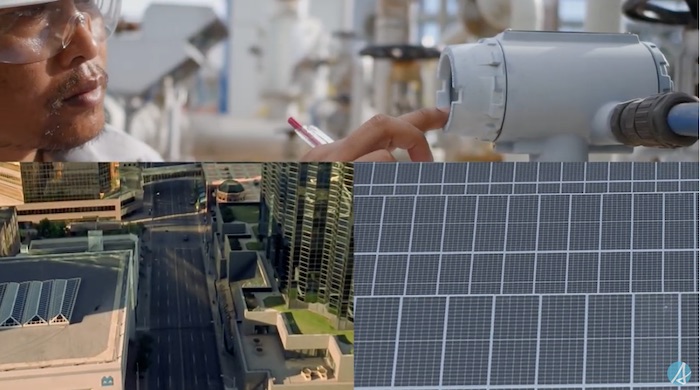 Alberta's Energy Minister Pete Guthrie is making a powerful presentation to state and provincial legislators from across the United States and Canada at the Energy Council's Global Energy and Environmental Issues Conference in Banff.
It's a convincing pitch on behalf of energy workers, and Alberta taxpayers who rely so heavily on the province's most lucrative industry. The presentation is boosted by this video profiling Alberta's stable, abundant and environmentally responsible energy supply.
Energy Minister Pete Guthrie issued the following statement on Alberta's energy sector at the 2022 Energy Council conference:
"Energy matters now more than ever. This year, we've seen how geopolitical events and volatile energy markets can impact the lives of people throughout the world. It matters where the energy that powers our homes, our economies and our lives comes from.
"The world needs a solution for long-term energy security that is also responsible, reliable and affordable. That solution is Alberta.
"It's in this spirit that Alberta is proud to host the Energy Council's Global Energy and Environmental Issues Conference in Banff. We are promoting our energy sector to more than 160 participants – including state and provincial legislators from the United States and Canada.
"During the conference, we will focus discussions on the future of the energy industry, the strength and security of the North American energy system and the role Alberta has to play.
"Alberta is the global leader in responsible energy development that the world needs. We have the innovation, technology and expertise needed to produce responsible energy. We have the highest human rights, labour and environmental standards. We have Canada's fastest-growing renewable energy sector. On top of all that, we are rapidly developing carbon capture and storage and lowering emissions, with the Pathways Alliance targeting net zero by 2050.
"Our government firmly believes Alberta is the key to energy security for North America and the world. Our track record speaks for itself. Last year, about 62 per cent of the crude oil imported to the United States came from Alberta – that is 10 times more than their oil imports from Saudi Arabia, and over four times more than all of OPEC. Every barrel that comes from Alberta helps replace one produced by countries that do not adhere to our high environmental and social standards. Our province has one of the largest oil reserves in the world, and we are ready to supply nations around the world with our reliable and responsibly produced resources.
"Alberta's support of research and innovation excellence ensures that innovators can continue to make groundbreaking discoveries, commercialize game-changing emissions-reducing technologies and solve some of the industry's biggest challenges.
"The future of energy is here. It's Alberta."
Alberta introduces bill for $2.8 billion in inflation-fighting payouts, rollbacks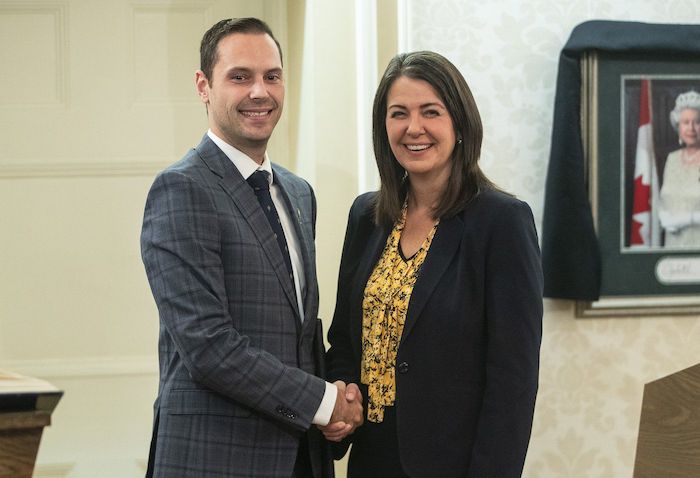 Edmonton – The Alberta government has introduced legislation to implement inflation-fighting rebates and payouts announced recently by Premier Danielle Smith.
Affordability Minister Matt Jones says the changes allow for help for families, seniors and the vulnerable soon.
Middle- to lower-income families, those with a household income of less than $180,000 a year, are to get $600 over six months for each child under 18 years of age.
The same income threshold and benefit applies to seniors, and the payout will also go to those on disability supports.
There will be electricity rebates and the 13 per cent provincial tax on gasoline is suspended from January to June.
The total cost of the package is pegged at $2.8 billion.
This report by The Canadian Press was first published Dec. 7, 2022.