Biden says Putin will pay 'dear price' if he invades Ukraine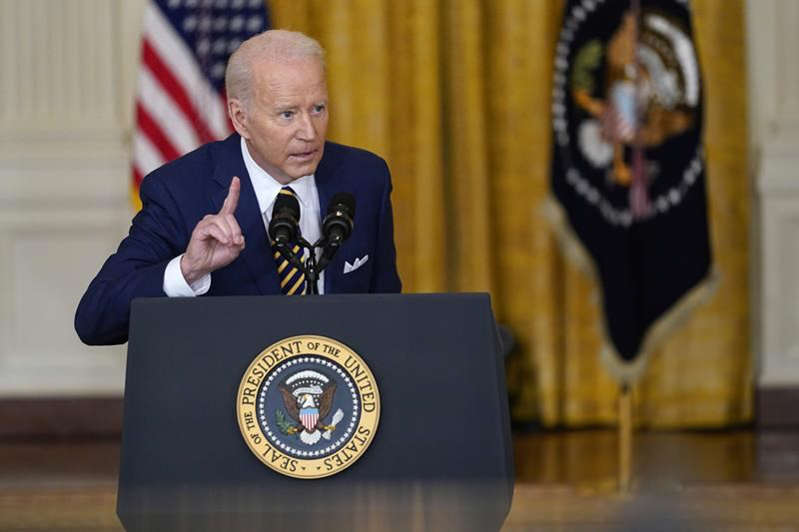 WASHINGTON (AP) — President Joe Biden said he believes Vladimir Putin doesn't want full blown war in Ukraine and would pay a "dear price" if he moves forward with a military incursion.
Biden, speaking at a news conference to mark his one-year anniversary in office, also said he believes that Russia is preparing to take action on Ukraine, though he doesn't think the Russian president has made a final decision. He suggested that he would limit Russia's access to the international banking system if it did further invade Ukraine.
"I'm not so sure that he is certain what is he going to do," Biden said. He added, "My guess is he will move in."
Biden's comments came hours after U.S. Secretary of State Antony Blinken during a visit to Kyiv accused Russia of planning to reinforce the more than 100,000 troops it has deployed along the Ukrainian border and suggested that number could double "on relatively short order." Blinken did not elaborate, but Russia has sent an unspecified number of troops from the country's far east to its ally Belarus, which also shares a border with Ukraine, for major war games next month.
The U.S. president said he believes the decision will "solely" be Putin's and suggested he was not fully confident that Russian officials with whom top White House advisers have been negotiating are fully informed about Putin's thinking.
"There's a question of whether the people they're talking to know what he's going to do," Biden said.
Biden also suggested a "minor incursion" would elicit a lesser response than a full-scale invasion of Ukraine, saying "it's very important that we keep everyone in NATO on the same page." Biden later in the news conference sought to clarify that he was referring to a non-military action, such as a cyberattack, that would be met with a similar reciprocal response.
Ukraine, meanwhile, said it was prepared for the worst and would survive whatever difficulties come its way. The president urged the country not to panic.
Blinken's visit to the Ukrainian capital came two days before he is to meet in Geneva with Russian Foreign Minister Sergey Lavrov. That follows a series of inconclusive talks last week that failed to ease rising tensions.
Russian military activity has been increasing in recent weeks, but the U.S. has not concluded whether Putin plans to invade or whether the show of force is intended to squeeze the security concessions without an actual conflict.
Biden, who spoke with Putin twice last month, said he's made it clear to him that Russia would face severe sanctions. Still, he said the decision for Putin could come down to "what side of the bed" he wakes up on.
"He's never seen sanctions like the ones I promised will be imposed if he moves, No. 1," Biden warned. "This is not all just a cake walk for Russia," Biden said. "They'll pay a stiff price immediately" and in the medium and long term "if they do it."
In Kyiv, Blinken reiterated Washington's demands for Russia to de-escalate the situation by removing its forces from the border area, something that Moscow has flatly refused to do. And, Blinken said he wouldn't give Russia the written response it expects to its demands when he and Lavrov meet in Geneva.
Meanwhile, a top Russian diplomat said Moscow would not back down from its insistence that the U.S. formally ban Ukraine from ever joining NATO and reduce its and the alliance's military presence in Eastern Europe. Deputy Foreign Minister Sergei Ryabkov said Moscow had no intention of invading Ukraine but that its demands for security guarantees were non-negotiable.
The U.S. and its allies have said the Russian demands are non-starters, that Russia knows they are and that Putin is using them in part to create a pretext for invading Ukraine, which has strong ethnic and historical ties to Russia. The former Soviet republic aspires to join the alliance, though has little hope of doing so in the foreseeable future.
Blinken urged Western nations to remain united in the face of Russian aggression. He also reassured Ukraine's leader of NATO support while calling for Ukrainians to stand strong.
Blinken told Ukrainian President Volodymyr Zelenskyy that the U.S. and its allies were steadfast in backing his country and its democratic aspirations against Russian attempts to incite division and discord through "relentless aggression."
"Our strength depends on preserving our unity and that includes unity within Ukraine," he told Zelenskyy. "I think one of Moscow's long-standing goals has been to try to sow divisions between and within our countries, and quite simply we cannot and will not let them do that."
The Biden administration had said earlier it was providing an additional $200 million in defensive military aid to Ukraine. Blinken said more assistance is coming and that it would only increase should Russia invade.
Zelenskyy thanked Blinken for the aid, which was approved in late December but not confirmed until Wednesday.
"This (military) support not only speaks to our strategic plans of Ukraine joining the alliance, but more importantly to the level of our military, our military supplies," he said, referring to Kyiv's desire to join NATO.
"Your visit is very important," Zelenskyy said. "It underlines once again your powerful support of our independence and sovereignty."
Zelenskyy released a video address to the nation on Wednesday evening, urging Ukrainians not to panic over fears of a possible invasion. But he said the country has been living with the Russian threat for many years and should always be prepared for war. He called on all Ukrainians, especially the elderly, to "breathe" and "calm down."
Ukraine's president also gave assurances that the country was strengthening its defense capabilities and doing everything possible to resolve the crisis through diplomacy.
"Ukraine doesn't want a war, but must always be prepared for it," Zelenskyy said.
From Kyiv, Blinken plans a short trip to Berlin for talks with German and other European allies on Thursday before meeting with Lavrov.
On Wednesday, French President Emmanuel Macron called on the European Union to draw up a plan to ease tensions with Russia, "We should build it among Europeans, then share it with our allies in the framework of NATO, and then propose it for negotiation to Russia," he said.
Washington and its allies have kept the door open to possible further talks on arms control and confidence-building measures to reduce the potential for hostilities.
Ryabkov insisted, however, that there can't be any meaningful talks on those issues if the West doesn't heed the main Russian requests for the non-expansion of NATO with a formal response. He said the Russian demands are "a package, and we're not prepared to divide it into different parts, to start processing some of those at the expense of standing idle on others."
Blinken, though, said no such formal response was coming. "I won't be presenting a paper at that time to Foreign Minister Lavrov," he said. "We need to see where we are and see if there remain opportunities to pursue the diplomacy and pursue the dialogue."
The Biden administration and its allies have accused Putin of creating the crisis and say it is up to him and the Russians to decide whether to invade and suffer severe economic consequences.
Russia has brushed off calls to withdraw its troops by saying it has a right to deploy its forces wherever it likes on its own territory. It also has rejected U.S. allegations that it's preparing a "false flag operation" to use as a pretext for intervention. Russia has angrily denied the charge.
Before Blinken's visit to Kyiv, a delegation of U.S. senators traveled to Ukraine to emphasize congressional support for the country.
Russia in 2014 seized the Crimean Peninsula after the ouster of Ukraine's Moscow-friendly leader and also threw its weight behind a separatist insurgency in eastern Ukraine. More than 14,000 people have been killed in nearly eight years of fighting between the Russia-backed rebels and Ukrainian forces in the country's industrial heartland, called Donbas.
___
Lee reported from Kyiv. Associated Press writers Vladimir Isachenkov in Moscow and Yuras Karmanau in Kyiv contributed to this report.
Matthew Lee And Aamer Madhani, The Associated Press
Blinken: US to leverage Russia-Ukraine bloc against China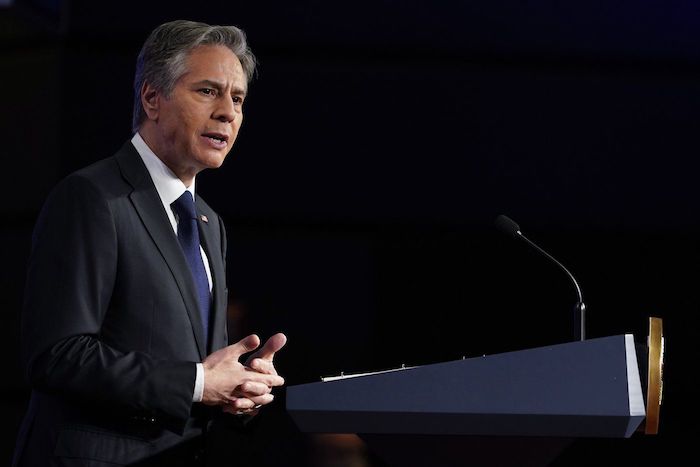 By Matthew Lee in Washington
WASHINGTON (AP) — Secretary of State Antony Blinken said Thursday the Biden administration aims to lead the international bloc opposed to Russia's invasion of Ukraine into a broader coalition to counter what it sees as a more serious, long-term threat to global order from China.
In a speech outlining the administration's China policy, Blinken laid out a three-pillar approach to competing with Beijing in a race to define the 21st century's economic and military balance.
While the U.S. sees Russia and Russian President Vladimir Putin's war in Ukraine as the most acute and immediate threat to international stability, Blinken said the administration believes China poses a greater danger.
"Even as President Putin's war continues, we will remain focused on the most serious long-term challenge to the international order — and that is the one posed by the People's Republic of China," Blinken said.
"China is the only country with both the intent to reshape the international order — and, increasingly, the economic, diplomatic, military, and technological power to do it," he said. "Beijing's vision would move us away from the universal values that have sustained so much of the world's progress over the past 75 years."
Thus, Blinken laid out principles for the administration to marshal its resources, friends and allies to push back on increasing Chinese assertiveness around the world. Although he made clear that the U.S. does not seek to change China's political system, rather it wants to offer a tested alternative.
"This is not about forcing countries to choose, it's about giving them a choice," he said.
However, he also acknowledged that the U.S. has limited ability to directly influence China's intentions and ambitions and will instead focus on shaping the strategic environment around China.
"We can't rely on Beijing to change its trajectory," Blinken said in the speech, delivered at George Washington University. "So we will shape the strategic environment around Beijing to advance our vision for an open and inclusive international system."
The speech followed President Joe Biden's just-concluded visits to South Korea and Japan, where China loomed large in discussions. Biden raised eyebrows during that trip when he said that the United States would act militarily to help Taiwan defend itself in the event of an invasion by China, which regards the island as a renegade province.
The administration scrambled to insist that Biden was not changing American policy, and Blinken restated that the U.S. has not changed its position. Blinken said Washington still holds to its "One China" policy, which recognizes Beijing but allows for unofficial links with and arms sales to Taipei.
"Our approach has been consistent across decades and administrations. The United States remains committed to our 'One China' policy. We oppose any unilateral changes to the status quo from either side," he said, adding that "we do not support Taiwan independence."
Blinken said that while U.S. policy on Taiwan has remained consistent, China's had become increasingly belligerent.
He made the case that the global response to Putin's invasion of Ukraine can serve as a template for dealing with China's efforts to mold a new and unpredictable world order to replace the rules and institutions that have guided relations between states since the end of World War II.
China, Blinken said, has benefited greatly from that international order but is now trying to subvert it under the leadership of President Xi Jinping and the Chinese Communist Party.
"Rather than using its power to reinforce and revitalize the laws, agreements, principles, and institutions that enabled its success, so other countries can benefit from them, too, Beijing is undermining it," Blinken said. "Under President Xi, the ruling Chinese Communist Party has become more repressive at home and more aggressive abroad."
Yet, Blinken also decried the rise in anti-Chinese and anti-Asian hate crimes in the United States, saying Chinese Americans and other Asian Americans have the same claim to the U.S. as any other immigrants or their descendants.
Investment in domestic U.S. infrastructure and technology along with stepping up diplomatic outreach to potentially vulnerable countries are other elements of the policy and are key to the U.S. approach, Blinken said.
In the latest manifestation of China's push to expand its reach that has drawn concern from the U.S. and other democracies, Chinese Foreign Minister Wang Yi on Thursday began an eight-nation tour of Pacific islands during which Beijing hopes to strike a sweeping agreement that covers everything from security to fisheries.
Wang opened his tour in the Solomon Islands, which last month signed a security cooperation pact with China that some fear could lead to a Chinese military presence there. The agreement was finalized shortly after the Biden administration announced it would open a U.S. embassy in the Solomons as part of its efforts to engage in the greater Indo-Pacific region.
The Biden administration has largely kept in place confrontational policies toward China adopted by its predecessor in response to Chinese actions in its western Xinjiang region, Hong Kong, Tibet and the South China Sea.
And, while the administration sees areas for working with Beijing, such as combatting climate change, it will not trade cooperation for compromising on its principles regarding human rights and rule of law, Blinken said.
Police face questions over delays in storming Texas school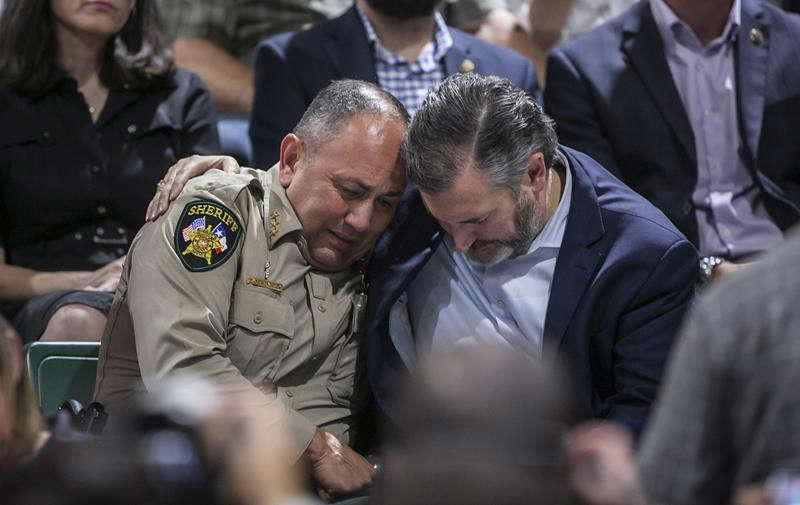 UVALDE, Texas (AP) — Law enforcement authorities faced questions and criticism Thursday over how much time elapsed before they stormed an Uvalde elementary school classroom and put a stop to the rampage by a gunman who killed 19 children and two teachers.
Investigators were also unable to say with any certainty whether an armed school district security officer outside Robb Elementary exchanged fire with the attacker, 18-year-old Salvador Ramos, when he first arrived on Tuesday.
The motive for the rampage — the nation's deadliest school shooting since Newtown, Connecticut, a decade ago — remained under investigation, with authorities saying Ramos had no known criminal or mental health history.
During the siege, which ended when a Border Patrol team burst in and shot Ramo to death, frustrated onlookers urged police officers to charge into the school, according to witnesses.
"Go in there! Go in there!" women shouted at the officers soon after the attack began, said Juan Carranza, 24, who watched the scene from outside his house, across the street from the school.
Texas Department of Public Safety Director Steve McCraw said Wednesday that 40 minutes to an hour elapsed from when Ramos opened fire on the school security officer to when the tactical team shot him.
But a department spokesman said later that authorities could not give a solid estimate of how long the gunman was in the school.
"The bottom line is law enforcement was there," McCraw said. "They did engage immediately. They did contain (Ramos) in the classroom."
Meanwhile, a law enforcement official familiar with the investigation said the Border Patrol agents had trouble breaching the classroom door and had to get a staff member to open the room with a key. The official spoke on the condition of anonymity because he was not authorized to talk publicly about the investigation.
Javier Cazares, whose fourth grade daughter, Jacklyn Cazares, was killed in the attack, said he raced to the school when he heard about the shooting, arriving while police were still gathered outside.
Upset that police were not moving in, he raised the idea of charging into the school with several other bystanders.
"Let's just rush in because the cops aren't doing anything like they are supposed to," he said. "More could have been done."
"They were unprepared," he added.
Carranza had watched as Ramos crashed his truck into a ditch outside the school, grabbed his AR-15-style semi-automatic rifle and shot at two people outside a funeral home, who ran away uninjured.
Lt. Christopher Olivarez of the Department of Public Safety told CNN that the school security officer outside was armed and that initial reports said he and Ramos exchanged gunfire. "But right now we're trying to corroborate that information," Olivarez said.
After entering the school, Ramos barricaded himself in a classroom and began to kill.
Carranza said the officers should have entered the school sooner.
"There were more of them. There was just one of him," he said.
On Wednesday night, hundreds packed the bleachers at the town's fairgrounds for a vigil. Some cried. Some closed their eyes tight, mouthing silent prayers. Parents wrapped their arms around their children as the speakers led prayers for healing.
Before attacking the school, Ramos shot and wounded his grandmother at the home they shared.
Neighbor Gilbert Gallegos, 82, who lives across the street and has known the family for decades, said he was puttering in his yard when he heard the shots.
Ramos ran out the front door and across the yard to a truck parked in front of the house and raced away: "He spun out, I mean fast," spraying gravel in the air, Gallegos said.
Ramos' grandmother emerged covered in blood: "She says, 'Berto, this is what he did. He shot me.'" She was hospitalized.
Gallegos said he had heard no arguments before or after the shots, and knew of no history of bullying or abuse of Ramos, whom he rarely saw.
Lorena Auguste was substitute teaching at Uvalde High School when she heard about the shooting and began frantically texting her niece, a fourth grader at Robb Elementary. Eventually she found out the girl was OK.
But that night, her niece had a question.
"Why did they do this to us?" the girl asked. "We're good kids. We didn't do anything wrong."
___
Bleiberg reported from Dallas.
___
More on the school shooting in Uvalde, Texas: https://apnews.com/hub/school-shootings
Jake Bleiberg, Jim Vertuno And Elliot Spagat, The Associated Press