Biden offers tax deal to Republicans in infrastructure talks
President Joe Biden is trying to break a logjam with Republicans on how to pay for infrastructure improvements, proposing a 15% minimum tax on corporations and the possibility of revenues from increased IRS enforcement as a possible compromise.
The offer was made Wednesday to Republican Sen. Shelley Moore Capito of West Virginia as part of the bipartisan negotiations and did not reflect a change in Biden's overall vision for funding infrastructure.
White House press secretary Jen Psaki said that Biden examined all the tax overhauls from his campaign and administration to look for potential common ground with Republicans and that imposing a minimum corporate tax seemed like a possible option.
"He looked to see what could be a path forward with his Republican colleagues on this specific negotiation," Psaki told reporters at a Thursday briefing. "This is a component of what he's proposed for a pay-for that he's lifting up as a question as to whether they could agree to that."
Biden has proposed increasing the corporate tax rate to 28% from 21% to help fund his plans for roads, bridges, electric vehicles and broadband internet, and that remains one of his preferred approaches. But the rate hike is a nonstarter with Republicans because it would undo the 2017 tax cuts signed into law by President Donald Trump.
By floating an alternative — there is no minimum corporate tax now on profits — Biden was trying to give Republicans a way to back infrastructure without violating their own red line of keeping corporate tax rates at their current level. The Washington Post first reported the offer.
On Thursday, Senate Republican leader Mitch McConnell said he spoke with Capito after the session and is "still hoping" to reach a deal with the administration. But he prefers the GOP approach that is eyeing a scaled-down package, paid for by tapping unspent COVID-19 relief funds, rather than taxes.
"Let's reach an agreement on infrastructure that's smaller but still significant, and fully paid for," he said in Paducah, Kentucky.
The president is essentially staking out the principle that profitable corporations should pay income taxes. Many companies can avoid taxes or minimize their bills through a series of credits, deductions and other ways of structuring their income and expenses.
The president has insisted that the middle class should not bear the cost of greater infrastructure spending. Yet a chasm exists in negotiations because Republicans say that corporate tax increases will hinder economic growth.
The idea of imposing a minimum corporate tax is not new for Biden, who proposed the policy during the presidential campaign last year, and that could turn off some Republicans. The center-right Tax Foundation estimated that a minimum tax would subtract 0.21% from long-run U.S. gross domestic product.
"He's been pushing it since the primaries over a year ago," said George Callas, managing director of government affairs for the law firm Steptoe and a former tax counsel to House Republicans. Callas said that the minimum tax would mostly hit firms such as electric utilities and telecoms that make substantial capital investments as well as companies that rely on paying their employees with stock.
At the same time, both Democrats and Republicans have eyed revenues that could come from stepped-up IRS enforcement of unpaid taxes. House Speaker Nancy Pelosi, D-Calif., has suggested it could amount to some $1 trillion, but others say the estimate is far lower.
Biden is seeking roughly $1 trillion in infrastructure spending, down from an initial pitch of $2.3 trillion. Republicans, so far, have countered with only $257 billion in additional spending on infrastructure as part of a $928 billion package. The GOP's new spending on infrastructure would be a fraction of what the president says is necessary to compete globally and boost economic growth.
Talks over Biden's top legislative priority have been moving slowly, a daunting undertaking given the massive infrastructure investment, and time for a deal is running out. The administration has set a Monday deadline to see clear direction and signs of progress.
Biden and Capito are set to meet again on Friday.
___
Associated Press writer Bruce Schreiner contributed to this report from Frankfort, Ky.
Josh Boak, The Associated Press
Pelosi says House to move forward with Jan. 6 investigations
WASHINGTON (AP) — Speaker Nancy Pelosi says the House will move forward with investigations of the Jan. 6 insurrection now that legislation to create an independent commission has stalled in the Senate, saying "we can't wait any longer" to probe the attack.
Pelosi's comments came as the House prepared Tuesday to hear testimony from military officials and FBI Director Christopher Wray about what went wrong that day, when hundreds of supporters of former President Donald Trump breached the Capitol and interrupted the certification of President Joe Biden's win. Pelosi met with several committee chairs before the hearing and said afterward that the final form of the investigations is "to be determined." She said she will make an announcement soon.
"Whether we have a commission today, tomorrow or the next day over in the Senate, or not, the work of the committees will be very important in what we're seeking for the American people — the truth," Pelosi said.
One option under consideration is a select committee on the Jan. 6 attack, a setup that would put majority Democrats in charge. More than three dozen Republicans in the House and seven Senate Republicans wanted to avoid such a partisan probe and supported the legislation to create an independent, bipartisan commission outside Congress.
But those numbers weren't strong enough to overcome GOP opposition in the Senate, where support from 1O Republicans is needed to pass most bills. Senate Democratic leader Chuck Schumer has said he may hold a second vote after the legislation failed to advance last month, but there's no indication that Democrats can win the necessary support from three additional Republicans.
"We can't wait any longer," Pelosi said. "We will proceed."
Meanwhile, most Republicans are making clear that they want to move on from the Jan. 6 attack, brushing aside the many unanswered questions about the insurrection, including how the government and law enforcement missed intelligence leading up to the rioting and the role of Trump before and during the attack.
The hearing Tuesday in the House Oversight and Reform Committee will examine "unexplained delays and unanswered questions" about the siege, with public testimony from Wray, Gen. Charles E. Flynn and Lt. Gen. Walter E. Piatt, the director of Army staff.
All three men were involved that day as the Capitol Police begged for backup. The National Guard did not arrive for several hours as the police were overwhelmed and brutally beaten by the rioters.
Seven people died during and after the rioting, including a Trump supporter who was shot and killed as she tried to break into the House chamber and two police officers who died by suicide in the days that followed. A third officer, Capitol Police Officer Brian Sicknick, collapsed and later died after engaging with the protesters, but a medical examiner determined he died of natural causes.
Mary Clare Jalonick And Nomaan Merchant, The Associated Press
Two charged in Saskatchewan Mountie's death make first court appearance in Regina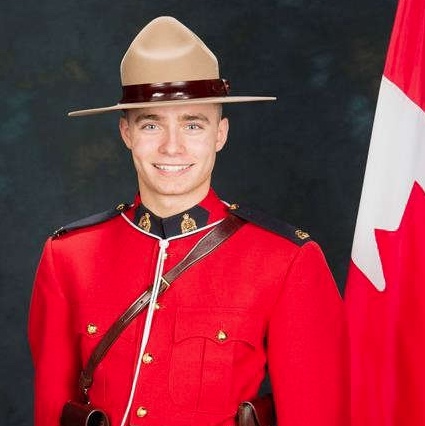 REGINA — Two people accused of killing a Mountie by hitting him with a truck in rural Saskatchewan made their first appearance in court Monday.
Alphonse Stanley Traverse, 41, and Marlene Velma Louise Pagee, 42, have been charged with manslaughter in the weekend death of Const. Shelby Patton.
RCMP have said the 26-year-old officer died Saturday after he stopped a suspected stolen truck in the small town of Wolseley, 95 kilometres east of Regina.
Patton was hit by the truck before it sped off. The officer died at the scene.
Pagee and Traverse were arrested two hours later in a field outside Francis, a town about 80 kilometres southwest of where the officer was killed.
They also face charges of failing to stop after an accident resulting in death as well as of theft of a motor vehicle. Pagee is also charged with possession of a controlled substance.
They appeared in a Regina court in person. Pagee is to be back in court Friday, while Traverse is scheduled for a video appearance on Monday.
Both are from Winnipeg and RCMP have said the truck was stolen in Manitoba. Winnipeg police said they could not provide any information about the investigation.
"The tragic, senseless death of Const. Shelby Patton is being investigated by Saskatchewan RCMP," Winnipeg police Const. Rob Carver wrote in an email.
Manitoba court records show Traverse and Pagee have been in and out of jail for multiple convictions, including theft and break and enter. In 2006, Pagee was found guilty for operating a motor vehicle while being pursued by police.
Both face outstanding charges in Manitoba for unrelated offences.
Meanwhile, a memorial of flowers continued to grow at the Indian Head detachment where Patton was posted.
He had been a Mountie for just over six years and worked at the detachment since 2015. Before that, he was briefly on assignment at Parliament Hill.
Saskatchewan RCMP Assistant Commissioner Rhonda Blackmore said officers have appreciated the outpouring of support and condolence messages.
"These messages help us through this difficult time. I would like to thank everyone who took the time to let us know they share our grief," Blackmore said in a statement.
This report by The Canadian Press was first published June 14, 2021.
— By Kelly Geraldine Malone in Winnipeg
The Canadian Press