Bell CEO warns 'interventionist' regulations could lead telcos to curtail investments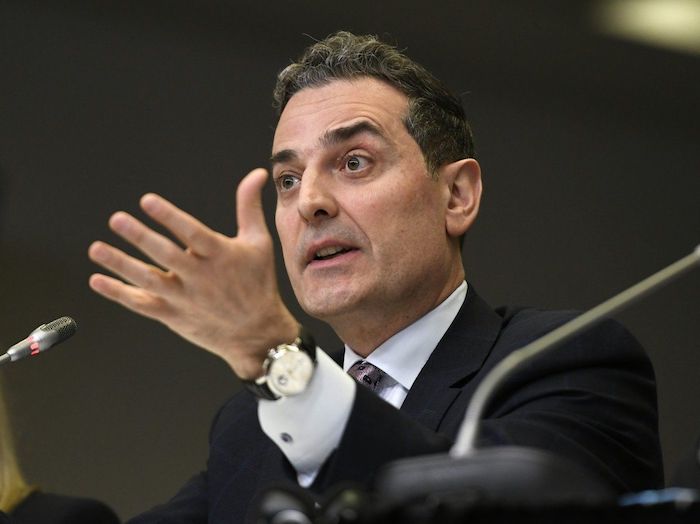 Mirko Bibic, president and CEO of BCE and Bell Canada speaks during a CRTC hearing for Telecom Notice of Consultation CRTC 2019-57, Review of mobile wireless services, in Gatineau, Que., on Wednesday, Feb. 19, 2020. THE CANADIAN PRESS/Justin Tang
By Sammy Hudes in Toronto
Bell Canada president and CEO Mirko Bibic warned Monday that increased regulation in Canada's telecommunications industry could prompt companies to scale back investment and make cuts to service for underserved communities.
Speaking at a lunch hosted by Canadian Club Toronto, Bibic took aim at the federal government and Canadian Radio-television and Telecommunications Commission for a shift "towards more micromanagement of Canada's telecom industry."
He said some investments are "impossible to justify" when big companies are required to provide smaller competitors access to their privately built networks at heavily discounted rates.
"Our industry is quite highly regulated and we appear to be moving rapidly towards even more intervention," said Bibic, adding that such an approach "generates market uncertainty."
"Our regulator's telling us that we have to give access to the new networks that our people, our partners and our capital are building and they're telling us the rates we have to charge for that access. That's not how a competitive market should be regulated. [It] certainly doesn't strengthen the quality or resiliency of the networks and services you all rely on."
Earlier this year, Canada's telecommunications regulator announced it would lower some wholesale internet rates by 10 per cent and review whether big companies should provide smaller competitors access to their fibre-to-the-home networks.
The CRTC said the move was aimed at improving internet speeds and bolstering competition.
That came after federal Industry Minister Francois-Philippe Champagne directed the regulator to implement new rules to enhance consumer rights, affordability, competition and universal access, which included a requirement for improved wholesale internet rates.
The CRTC also stated earlier this month that major telecoms would have 90 days to negotiate access agreements for mobile virtual network operators (MVNOs). That followed a policy set in 2021 allowing regional cellphone providers to compete as MVNOs across Canada using networks built by large companies.
But Bibic urged Ottawa and the CRTC to ensure Canada's four major telecom companies have incentives to invest and differentiate themselves from each other, which he said would lead to more customer value. He warned of "unintended consequences" if regulation continues to ramp up.
"There comes a point where if government is too interventionist, all of us are going to have to scale back those investments, which is not good for consumers and businesses," he said.
"If you've got to start cutting back on capital, what gets cut first? Does the GTA get cut first? Or does some northern community in Ontario get cut first? We know the answer to that."
Bibic also pushed back against a "prevailing but false narrative" surrounding the state of competition in Canada's telecom industry, as well as cellphone and internet prices.
A report released in February by Wall Communications Inc., which conducts an annual comparison of Canadian phone and internet prices to other jurisdictions, found Canada still had among the highest prices internationally for cellphone and broadband service in 2022.
But Bibic noted that despite rising inflation, wireless prices in Canada have declined eight per cent over the past two years and almost 25 per cent since January 2020.
"We've all been in the U.S. right? The service is terrible. So there is a quality dimension to it," he told the crowd.
"Too often, the prevailing narrative is based on these studies that by definition create these average baskets of goods so that there's some semblance of trying to compare prices across the world, but the baskets of goods don't actually reflect what people are buying today."
This report by The Canadian Press was first published May 29, 2023.
Companies in this story: (TSX:BCE)
UK leader Rishi Sunak signals plan to backtrack on some climate goals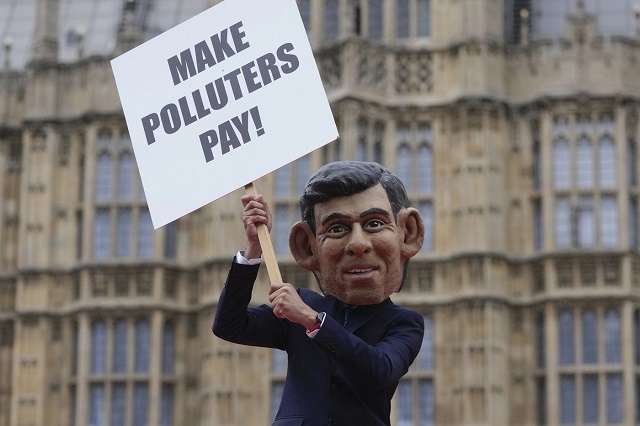 Oxfam's Rishi Sunak 'big head' protests outside the Parliament in London, Tuesday, Sept. 19, 2023. On the eve of the UN Climate Ambition Summit, Oxfam's Rishi Sunak 'big head' staged a protest on top of a giant oil barrel, amongst dozens of real oil drums, supporting the Make Polluters Pay campaign. Calling for oil and gas giants, such as BP and Shell, to pay more tax to raise critical funds to help communities devastated by climate change. (AP Photo/Kin Cheung)
By Jill Lawless in London
LONDON (AP) — Prime Minister Rishi Sunak is preparing to water down some of Britain's environmental commitments on Wednesday, saying the country must fight climate change without penalizing workers and consumers.
The news drew wide criticism from political opponents, environmental groups and large chunks of U.K. industry, but was welcomed by sections of the governing Conservative Party.
Sunak issued a late-night statement Tuesday in response to a BBC report saying the prime minister is considering extending deadlines for bans on new gasoline and diesel cars — currently set for 2030 — and on new natural-gas home heating, due in 2035.
Sunak said he would set out a "proportionate" approach to the environment. He summoned his Cabinet to an unscheduled conference call to discuss the plans ahead of a speech hastily rescheduled for Wednesday afternoon. It had been due later in the week.
"For too many years, politicians in governments of all stripes have not been honest about costs and trade-offs," Sunak said. "Instead, they have taken the easy way out, saying we can have it all."
Sunak did not confirm details of his announcements. He said he would keep a promise to reduce the U.K.'s emissions of climate-warming greenhouse gases to net zero by 2050, but "in a better, more proportionate way."
The government has previously boasted of Britain being a leader in cutting carbon emissions. U.K. greenhouse gas emissions have fallen by 46% from 1990 levels, mainly because of the almost complete removal of coal from electricity generation. The government had pledged to reduce emissions by 68% of 1990 levels by 2030 and to reach net zero by 2050.
But with just seven years to go until the first goalpost, the government's climate advisers said in June that the pace of action is "worryingly slow." Sunak's decision in July to approve new North Sea oil and gas drilling also spurred critics to question his commitment to climate goals.
Former Prime Minister Boris Johnson, who brought in the 2030 gasoline car target when he was leader, said businesses "must have certainty about our net-zero commitments."
"We cannot afford to falter now or in any way lose our ambition for this country," he said.
News of plans to backtrack broke as senior politicians and diplomats from the U.K. and around the world — as well as heir to the British throne Prince William — gathered at the United Nations General Assembly in New York, where climate is high on the agenda. Sunak is not attending, sending his deputy instead.
Greenpeace U.K. policy director Doug Parr said the prime minister was "taking the public for fools."
"Rowing back on home insulation and commitments to help people move away from gas will ensure we stay at the mercy of volatile fossil fuels and exploitative energy companies," Parr said.
Environmentalists were not the only ones blindsided by the move. Automakers, who have invested heavily in the switch to electric vehicles, expressed frustration at the government's apparent change of plan.
"We're questioning what is the strategy here, because we need to shift the mobility of road transport away from fossil fuels towards sustainable transport," said Mike Hawes, chief executive of the Society of Motor Manufacturers and Traders, an industry body.
Ford U.K. head Lisa Brankin said the company had invested 430 million pounds ($530 million) to build electric cars in Britain.
"Our business needs three things from the U.K. government: ambition, commitment and consistency. A relaxation of 2030 would undermine all three," she said.
Analyst Tara Clee of investment firm Hargreaves Lansdown said the retreat could undermine Britain's hard-won reputation for leadership on green technology, threatening the wider economy.
"The market has been directing capital to the net-zero transition and has been working in good faith," Clee said. "These changes send a message that nothing is set in stone, and committing in earnest to a movable goalpost could be a major business risk."
Britain's Conservatives have been openly reassessing their climate change promises after a special election result in July that was widely seen as a thumbs-down from voters to a tax on polluting cars.
The party, which trails behind the Labour opposition nationwide, unexpectedly won the contest for the suburban London Uxbridge district by focusing on a divisive levy on older vehicles imposed by London's Labour mayor, Sadiq Khan. Some Conservatives believe axing green policies is a vote-winner that can help the party avoid defeat in a national election due by the end of next year.
"We're not going to save the planet by bankrupting the British people," Home Secretary Suella Braverman said Wednesday.
But Conservative lawmaker Alok Sharma, who chaired the COP26 international climate conference in Glasgow in 2021, warned that it would be "incredibly damaging … if the political consensus that we have forged in our country on the environment and climate action is fractured."
"And frankly, I really do not believe that it's going to help any political party electorally which chooses to go down this path," he told the BBC.
Carbon Tax poll reveals what we already knew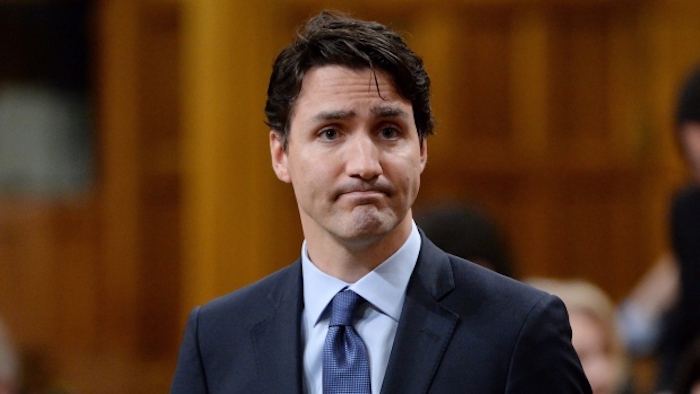 The chickens are coming home to roost for the Trudeau government.
Last month (August 6th) Nanos Research released a new poll showing that two thirds of Canadians think that now is a bad time to increase the Carbon Tax. This is not exactly a shocking revelation. It really didn't take a poll to determine what everyday Canadians already know. Adding a Carbon Tax to a struggling economy is a bad idea.
Anyone who has gone to the grocery store lately, or has filled up their vehicle, knows that the cost of living has skyrocketed. Social media is flooded with Canadians sharing their stories of how they are at the breaking point with the cost of living. It doesn't take an economist to know that higher consumption taxes have the immediate effect of increasing the cost of everything. That has not stopped the green Agenda driven Trudeau government that seems determined to make life unaffordable for Canadians.
But back to that Nanos poll –
Let's break this down a bit more to understand what this poll is really saying about how Canadians feel about Carbon Taxes.
First, it is evident that Nanos is approaching this poll with a clear bias in favor of Carbon Taxes. Participants were asked three (3) questions: 1) Do you think a carbon tax on things like gas is an effective, somewhat effective, somewhat ineffective, or ineffective way to encourage people to use less fuel? 2) Is now a very good, good, average, poor or very poor time to increase carbon taxes on things like gas? 3) On a scale from 0 to 10 where 0 is not at all effective and 10 is extremely effective, how effective do you think the federal government's Carbon Pollution Pricing system, often called the carbon tax, is to combat climate change?
Notice the poll did not ask Canadians whether or not they think Carbon Taxes are a good idea or whether they want them at all.
The assumption is that Canadians buy into the narrative that climate change is real, and a "real problem" that requires government action, that "using less carbon" such as fuel is a key, if not the key, to reducing "carbon consumption".
We know not every Canadian believes this; but the Nanos poll didn't even ask.
That said, looking at the results of what they did ask, two thirds of Canadians say that now is a bad time to increase carbon taxes.
In the prairie provinces, this number was 79% and in Atlantic Canada 73% of respondents said the timing is "poor" or "very poor".
Of even greater political significance: in Ontario, where the next federal election will likely be decided, a whopping 68.7% of respondents said that now is a bad time to increase the Carbon Tax. And yet Justin Trudeau keeps increasing this most hated tax.
In terms of effectiveness, 64.3% in Ontario think that a new carbon tax is not effective at encouraging people to use less fuel. This comes as no surprise. A majority of Canadians rely on their vehicles to get to work, the grocery store, kids practices, and family vacations. Normal daily activities for life in Canada. In most cases not driving is not an option. It only means that getting there is more expensive, and other items in the budget need to be sacrificed instead.
And as we know the Carbon Tax is one of the culprits for higher prices.
Conservative MP Kyle Seeback articulated it well in the House of Commons when he explained to Trudeau's Environment Minister Stephen Guilbeault how the Carbon Tax is driving up inflation. "Mr. Speaker, it is incredible, he actually does not know how food ends up on his plate. The farmer pays a carbon tax, the truck that picks up the farmer's food pays a carbon tax to take it to the processor, the processor pays a carbon tax, the truck that picks it up from the processor to take it to the grocery store pays a carbon tax, the grocery store pays a carbon tax and then Canadians cannot pay for food."
Canadians for Affordable Energy has been advocating for affordability since 2017 and have known that Carbon Taxes are a threat to affordable energy in Canada and will drive up the cost of everything. And that is exactly what is happening. Fuel prices are skyrocketing, food prices are at record highs, and Canadians are struggling to make ends meet. Energy affordability is the key to success in Canada and therefore it is the view of CAE that there is never a good time to implement a Carbon Tax. Full stop.
Canadians are finally starting to connect the dots on a path that leads directly back to bad energy and environmental policies. Policies that have stifled our resource economy and punished working Canadians. Policies that are hitting Canadians' pocketbooks really hard, especially when trying to fill up their vehicles and feed their families. Policies that won't even help the environment.
Pierre Poilievre and his Conservative government have committed to scrapping the carbon tax. Let's hope they follow through on this promise if they come into power in the next election. Because not all Canadians buy the narrative that Carbon Taxes are a good thing.