Beaver Lake Cree Nation to prove anew it needs funding for suit against feds, Alberta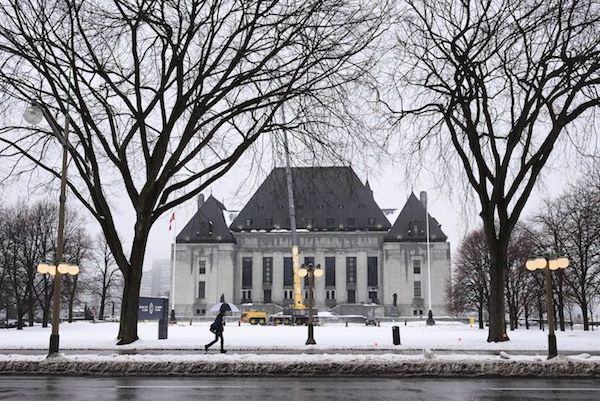 Ottawa-An Alberta First Nation fighting what it calls overdevelopment of its traditional territory has been given a second chance to convince the courts that governments should advance money for its legal bills so it can spend the revenues it has on social needs.
In a decision released Friday, the Supreme Court of Canada overturned a ruling from Alberta's top court that Beaver Lake Cree Nation wasn't entitled to advance funding for its long-running legal case. The Supreme Court said the band was entitled to put first priority for the money it had on "pressing needs."
"Allocating resources to improve deficits in housing, infrastructure, and basic social programming would, from the perspective of this First Nation government, constitute the addressing of pressing needs," the court's judgment said.
"We therefore disagree with the Court of Appeal inasmuch as it suggests that expenditures thereon represent 'spending on desirable improvements' rather than spending on pressing needs."
But, in a unanimous decision, the court also said Beaver Lake has to go back to a lower court and work harder to prove the band's needs are so great it can't be expected to also fund its court action.
"There was no specific account of how much it would cost to address Beaver Lake's pressing needs, or why no other resources were available to meet those needs," the judgment said.
The First Nation filed the lawsuit against the federal and Alberta governments in 2008, arguing the Crown had allowed so much development on the band's traditional lands that it was impossible to exercise treaty rights or to live a Cree life.
"There are multiple places we can no longer go to," said band spokeswoman Crystal Lameman. "There are multiple examples of roads that are no longer accessible, trails that are no longer accessible, by way of lease pads or no trespassing signs put up by industry.
"There are species of medicines and flora and fauna that we can no longer find."
The First Nation has already paid $3 million to fund its lawsuit. It has argued it doesn't have enough money to keep the case going until its scheduled trial date in 2024.
The total cost of litigation is estimated to be $5 million.
Lawyer Karey Brooks, who represented Beaver Lake, said the decision lays down clear guidelines for courts to follow in deciding whether a First Nation should get their legal bills paid in advance.
"It leaves a road map that all First Nations that are seeking such an award will have to follow. It's very clear."
The court held that a First Nation government's own ideas about what constitutes a pressing need should be considered in such judgments.
"Pressing needs are not defined by the bare necessities of life," it wrote. "Rather, and in keeping with the imperative of reconciliation, they ought to be understood from the perspective of that First Nation government."
Fourteen years into its lawsuit, Beaver Lake now has to go back into its books and return to Court of Queen's Bench, where the action began, to make the case that it can't afford to both support its people and defend its treaty rights.
"We're not happy about it, but we welcome this exercise," Lameman said. "We know this is not a full win, but this is a victory."
A spokeswoman for the Alberta government's Indigenous Relations department said it's pleased with the decision.
"Alberta's government is pleased that the Supreme Court of Canada has … provided additional clarification on the legal test that determines the First Nation's ability to pay costs," said Olga Michailides in an email. "We continue to work with Beaver Lake Cree Nation to ensure community members can participate in Alberta's economy."
Comment from the federal government was not immediately available.
Lameman said the costs and court time could be avoided by negotiation.
"We have repeatedly gone to the Crown to ask them to negotiate a resolution to costs and a resolution to the overall treaty case. Each and every time, they have denied."
This report by The Canadian Press was first published March 18, 2022.
Alberta Premier Danielle Smith says conservatives must learn to win in 'big cities'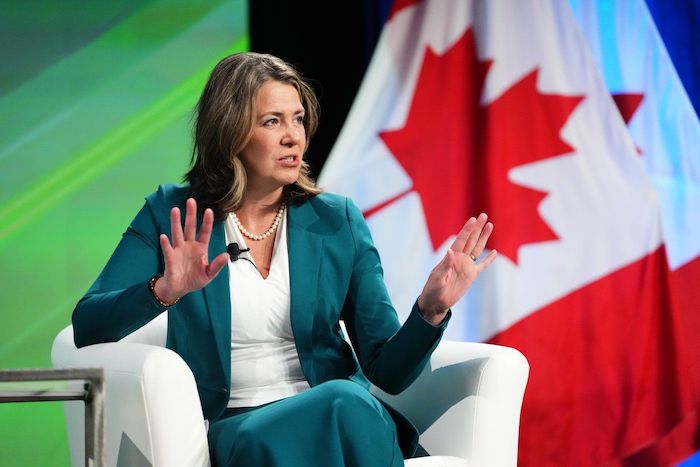 Alberta Premier Danielle Smith speaks at the Canada Strong and Free Network in Ottawa on Thursday, March 23, 2023. THE CANADIAN PRESS/Sean Kilpatrick
Ottawa (CP) – Alberta Premier Danielle Smith says conservatives must learn how to win in "big cities."
Smith made the comment to a room of conservatives gathered in Ottawa for the annual conference of the Canada Strong and Free Network, formerly called the Manning Centre.
With Albertans set to go the polls in a provincial election this year, Smith says the United Conservative Party has more ground to gain in the province's two largest cities: Calgary and Edmonton.
Smith replaced Jason Kenney as party leader and premier last fall, after he resigned following a leadership review where he received only 51 per cent support.
Kenney faced considerable backlash leading up to that vote for his handling of the COVID-19 pandemic, and Smith told today's crowd that the party had lost "a lot" of its base.
Smith's belief that conservatives must make inroads in large cities is shared by the federal Conservatives, with Leader Pierre Poilievre spending many of his weekends in Metro Vancouver and the Greater Toronto Area — areas where his party has struggled to gain ground in the past several elections.
This report by The Canadian Press was first published March 23, 2023.
Toffoli's two-goal effort leads Flames in 5-3 win over Sharks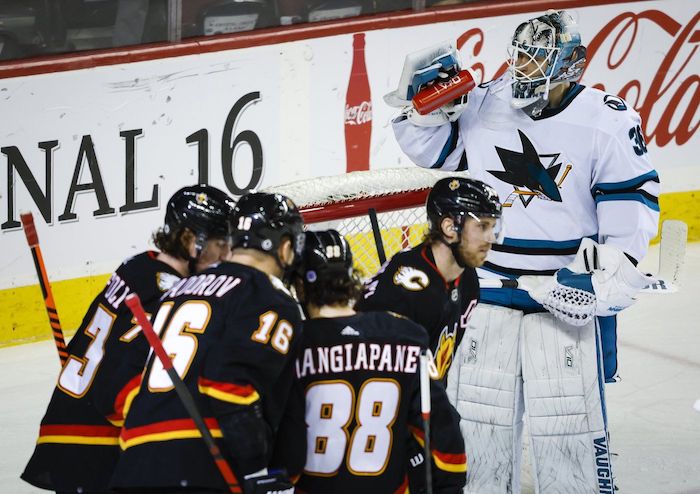 San Jose Sharks goalie Kaapo Kahkonen, right, takes a drink as Calgary Flames players celebrate a goal during first period NHL hockey action in Calgary, Alta., Saturday, March 25, 2023.THE CANADIAN PRESS/Jeff McIntosh
By Darren Haynes in Calgary
Led offensively by two guys with Stanley Cup rings, the Calgary Flames kept their faint playoff hopes alive on Saturday.
Tyler Toffoli scored two goals and Nazem Kadri notched the game-winner as the Flames won 5-3 over the San Jose Sharks to climb two points closer to a playoff berth.
"They're a desperate team, they have some skill. And obviously with (Erik) Karlsson on the back end, he can take over games, and I thought we did a good job sticking together and finding a way to win," said Toffoli, whose 31 goals equals a career high.
Combined with Winnipeg's 4-1 loss to Los Angeles, the Flames moved to within four points of the Jets, who occupy the final wild-card spot in the Western Conference. Both teams have eight games remaining including one head-to-head.
"We can't really worry about what other people are thinking," Toffoli added. "We just have to win every game we can, and every game we win keeps us in it and gives us a chance."
Toffoli played for Darryl Sutter in 2014 when he was the coach of the Stanley Cup-winning Los Angeles Kings.
"He's a winner," said Sutter. "Can't teach it, thankful to have him."
Kadri won his Stanley Cup last season with Colorado.
"Ideally you want to find yourself to not be in this position this late in the season," Kadri said. "But it's hard to win in months like these leading up to the playoffs and we've given ourselves a chance so that's really all that matters."
Tied at 3-3, Kadri scored the go-ahead goal 5:45 into the third period. On his first shift moved onto a line with veteran Milan Lucic and rookie Walker Duehr, he banged in a rebound from the side of the net after Kaapo Kahkonen had stopped shots from both of his linemates.
"Great work ethic by them," said Kadri, who has goals in consecutive games after a 16-game goal drought. "That's what Walks and Looch are good at, staying on pucks and being tenacious and I just tried to get simple and go to the net as that's where most of the pucks are going."
Toffoli put the game away scoring into an empty net with 1:10 remaining.
"It was a real gut-check game. We had nine games in 15-and-a-half days for everybody in this room that travels with us and it was hard for us," said Flames coach Darryl Sutter.
MacKenzie Weegar and Duehr added the other goals for Calgary (33-26-15), which won for just the second time in its last nine games at the Saddledome (2-5-2). Jacob Markstrom made 28 saves.
Logan Couture, Nico Sturm and Martin Kaut replied for San Jose (19-39-15), which had its winless skid extended to nine games (0-6-3). Kahkonen had 25 stops.
Erik Karlsson had two assists to reach 68 on the year and surpass his previous career-high of 66 in 2015-16 and break the Sharks record for helpers by a defenceman. Brent Burns previously held it with 67 in 2018-19.
"We just want to come every day and work hard and make the most out of a bad situation," said Karlsson. "Today everybody showed up and we tried to play the way we need to to be competitive and I think we were for the most part of 60 minutes."
The Flames saw their 2-1 lead entering the second period disappear after surrendering two goals to the visitors.
Sturm drove hard to the net, got his outstretched stick on the end of a hard centring pass from Noah Gregor and neatly deflected it in at 4:52.
Twenty-two seconds later, Steven Lorentz ripped a shot off the goalpost and Kaut knocked in the rebound.
The lead was short-lived, though, with Duehr answering back for Calgary 25 seconds later. He buried a one-timer on a dish from Trevor Lewis.
"Losing sucks," said Couture. "Tonight was one of our better efforts. We're realistic in here. We know where we're at. We lost a bunch of guys at the deadline. We moved out six or seven of our full-time players. I liked our compete. We fought to the end. We can be proud of that."
The Flames opened the game with a bang, grabbing a 2-0 lead before the Sharks even got a shot on net.
Couture cut into the deficit at 14:27 when he went hard to the net and was set up for a tap-in thanks to a slick pass from Karlsson.
MILESTONE FOR BACKLUND
Mikael Backlund played in his 900th career game Saturday. A first-round pick by the Flames in 2007, the 34-year-old centre is third on the franchise's all-time games played list behind Jarome Iginla (1,219) and Mark Giordano (949).
BLUE LINE SHUFFLE
The Sharks made two changes on the blue line, welcoming back Matt Benning (undisclosed) and Jacob MacDonald (upper body) from injuries that had sidelined them for one and nine games, respectively.
UP NEXT
Flames: Conclude their home stand on Tuesday against the Kings.
Sharks: Return home to host Winnipeg on Tuesday.
This report by The Canadian Press was first published March 25, 2023.