B.C. mayor seeks change after report of infant's death while waiting for ambulance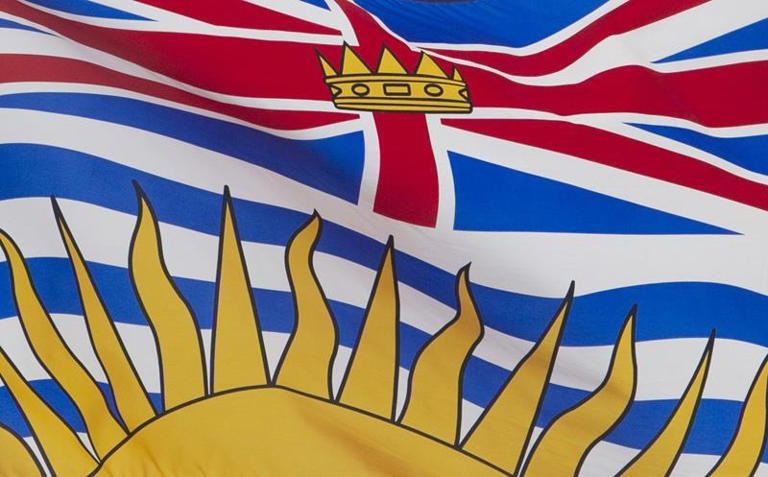 B
ARRIÈRE, B.C. — The mayor of a small community in British Columbia's southern Interior is calling for flexibility around which first responders are allowed to take patients to hospital after an infant reportedly died while waiting for an ambulance.
He said that has to change as the community grapples with gaps in service that mean first responders might not be available when someone calls 911.
In an interview on Monday, the mayor said he hadn't been told how long it took paramedics to respond to the call about the infant last Thursday.
He could not provide details of what happened, saying only that there had been a "critical care incident" involving a young child who died.
Stamer said all he knows is based on whatTroy Clifford, the president of Ambulance Paramedics of BC had told media — that there had been a fully staffed vehicle in Barriere, but it was diverted south to help in Kamloops.
There's normally one ambulance in Barriere and two in Clearwater, about 60 kilometres north, but they're shared throughout the region, Stamer said.
"From what I understand, there was only one car for all of Kamloops on that Thursday night, and that is why ours was taken from us," he said.
The service does not tell the local government when the ambulance that's based in Barriere is being diverted elsewhere until afterwards, he said.
Clifford had spoken to media over the weekend about the death of an infant, but said Monday that requests for details about response times and matters related to coverage across communities were being referred to BC Emergency Health Services.
It's "heartbreaking to hear reports that an ambulance and paramedics were not immediately available in someone's time of need," he said in a statement.
Clifford said his organization would continue to address a "provincewide staffing crisis," adding it's leaving communities like Barriere without appropriate ambulance coverage for long periods of time.
"This is easily one of the worst situations anyone can imagine," he said, referring to the child's death.
BC Emergency Health Services said it's reviewing the circumstances of the "heartbreaking loss."
The agency said it received a call to respond to a patient at a home in Barriere on Thursday.
It said the closest available ambulance was immediately dispatched, while local firefighters were also called to assist with the call.
The agency did not confirm the patient's age or cause of death, but said it has opened a review into the call and it will work with the patient care quality office to reach out to the family and address any questions or concerns.
The statement from BC Emergency Health Services said its "deepest condolences go out to the family and the community."
Stamer described a situation about two weeks ago, when a woman in Barriere had a stroke when the ambulance service wasn't immediately available. The woman's daughter was pulled over by the RCMP for speeding while taking her mother to hospital in Kamloops, about 66 kilometres away, and the Mounties ended up escorting them, he said.
"We've all got stories like that," he said of rural communities across B.C.
Stamer said there's a "higher level of anxiety" in Barriere as residents don't know what level of ambulance service might be available on a given day.
"Should we be getting our residents prepared, like an evacuation alert, so you've got a full tank of gas so you can throw somebody in the pickup and take them to town? That's kind of where we're at sometimes," he said.
Stamer said he and other mayors from communities in B.C.'s Interior are talking about coming together at the Union of B.C. Municipalities meeting next month to try to catch the ears of provincial authorities.
"We're not trying to point fingers here and we're not blaming anybody," he said. "We just want to be able to sit down and see if we can have a constructive meeting, to see if we can come up to some short-term solutions to the problems that we're all facing in these communities."
— By Brenna Owen in Vancouver
This report by The Canadian Press was first published Aug. 29, 2022.
The Canadian Press
B.C. officials push back against safe supply critics and their 'polarizing rhetoric'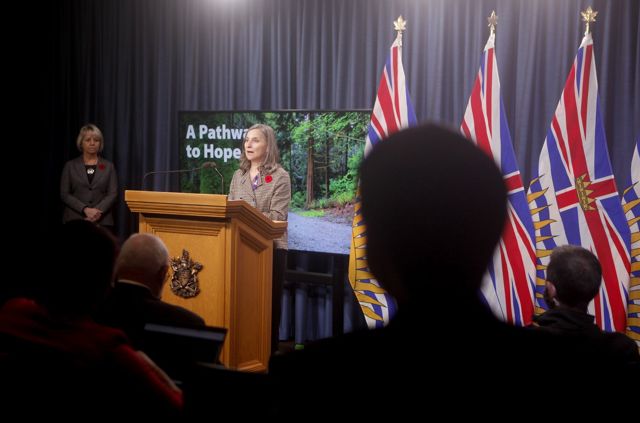 Provincial health officer Dr. Bonnie Henry looks on as chief coroner Lisa Lapointe discusses details about the province's application for decriminalization in the next step to reduce toxic drug deaths during a news conference in the press gallery at the legislature in Victoria, Monday, Nov. 1, 2021. THE CANADIAN PRESS/Chad Hipolito
Victoria
British Columbia officials have sought to rebut claims that drugs prescribed through the province's safe supply program aimed at curbing overdoses are being re-sold to young people, helping fuel the deadly drug toxicity crisis.
B.C.'s representative for children and youth, Jennifer Charlesworth, said her office reviews injury and death reports involving young people and she hasn't seen any sign that youth are either using drugs "diverted" from the safe supply program, or that they are suffering overdoses from such drugs.
Instead, she said "polarizing rhetoric" on the issue was causing harm.
"Safe supply is an alternative to the poison that is available on the street, and I'll repeat, for emphasis, what I said earlier: there's no indication from our data that diverted safe supply is causing overdoses for children and youth," she said.
"Is it possible that diversion will be an issue in the future? Anything is possible within this highly complex and fast-evolving crisis we are all in."
Her remarks came after Opposition Leader Pierre Poilievre recently told the House of Commons that federal and B.C. government policies are worsening the overdose crisis because prescription hydromorphone "gets sold to kids" by those taking part in the program, with the profits used to buy stronger substances, such as fentanyl.
B.C.'s chief coroner, Lisa Lapointe — who joined Charlesworth and provincial health officer Dr. Bonnie Henry at a news conference on Monday — said toxicology tests show hydromorphone hasn't been present in any significant number of deaths.
Officials are "closely monitoring, continually, for any and all trends that may impact public safety" as a result of the safe supply program, she said.
Henry said monitoring has not detected an increase in opioid overdoses involving children, or new diagnoses of opioid use disorder.
She said the amount of hydromorphone being prescribed through the safe supply program is very small, and the drug has been available in large quantities through other routes for a long time.
Even if all of the hydromorphone prescribed as safe supply made its way to the street, "it would be a very, very tiny percentage of what is out there," she said.
Asked to comment, a spokesman for Poilievre shared links to recent media stories, saying they "directly challenge" the "allegations" made by the B.C. officials.
The three officials expressed concern over the "polarization" of safe supply and other harm-reduction measures.
Charlesworth told the news conference they were "standing together, saying fear-based, polarizing rhetoric that is not evidence-informed is causing harm."
Lapointe said it was not a response to any one person or media report, but they've been concerned about "increasingly polarized rhetoric that is not informed by evidence."
She said recent "divisive" language and rhetoric surrounding people who use drugs drives them further underground, and that includes children and youth.
"If they're using drugs, they will not come forward, or your relatives or your neighbours, and that is the most harmful thing we can do," she said.
Asked about safeguards to ensure prescribed drugs are not being resold, Lapointe said drug trafficking remains a crime.
Officials are "dealing with a lot of anecdotal information and allegations," she said.
Henry said officials can't change policies based on "individual stories or anecdotes."
"We need to have the data behind it."
Still, Henry said she wanted the public to know that officials take concerning reports from clinicians, media and others seriously, and they investigate accordingly.
"We are not just doing this without having robust monitoring and evaluation."
Henry said it may be time to re-evaluate the safe supply program to ensure it's meeting people's needs as the province emerges from the COVID-19 pandemic, which has contributed to increases in drug toxicity and overdose deaths.
She said she's heard from some clinicians that hydromorphone isn't always meeting patients' needs, and may be used to acquire other substances.
"What we're also hearing from people who use drugs is that sometimes they use (hydromorphone) as a commodity for friends, for others, who don't have access."
Officials will review early evidence from the program to consider any adjustments over the coming weeks and months, Henry said.
More than 12,400 people have died from overdoses since the B.C. government declared a health emergency in 2016.
Lapointe said it's estimated that more than 100,000 people in B.C. have an opioid use disorder, a number that does not include people who use illicit opioids occasionally, or those who regularly or irregularly use stimulants.
"All of those tens of thousands of people are currently at risk of death or serious harm. A substantial, co-ordinated, comprehensive response is required."
— By Brenna Owen in Vancouver
This report by The Canadian Press was first published June 5, 2023.
Tour the 2023 Red Deer Hospital Home Lottery grand prize dream home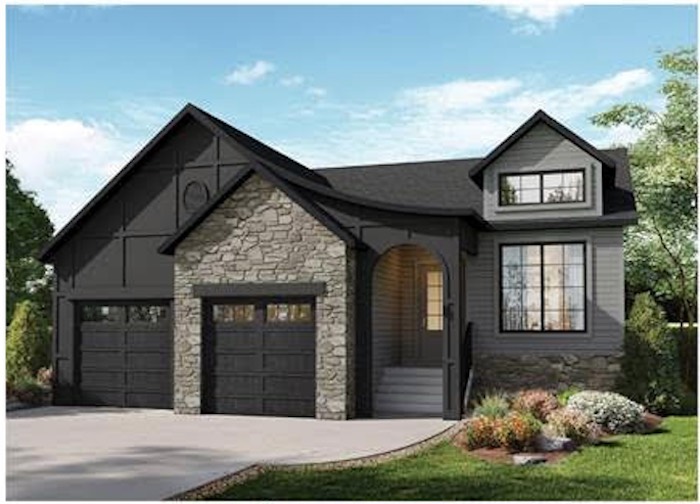 Later this month, someone is going to win this 3,049 sq ft beauty, built by Sorento Custom Homes.
The 4 bedroom, 2.5 bath bungalow is located in the new Evergreen neighbourhood, backing on to protected green space which a lucky family will be enjoying through a large wall of windows, and a cozy screened deck.
Don't wait any longer to buy tickets for a chance at 124 prizes valued at over 1.2 million dollars. And.. Don't forget the Mega Bucks 50 Raffle which is over a half million dollars – winner takes half!
Major prizes also include a 2022 Extreme Outdoors Mini MAX trailer, LG 55″ TV, Patio furniture set, Daymak Electric Bike, Camping set, Dyson Cordless Vacuums, Hisense portable air conditioner, Gyroor Scooter, PADERNO cookware set, and a Cuisinart small appliance package. But let's take another look at this dream home.
Tickets start at only $25 each!
CHECK OUT OUR GREAT TICKET PACKAGES
1 for $25 • 5 for $75 • 10 for $125 • 25 for $250
Over $1.2 Million in prizing to be won!
Win half of an increasing jackpot of up to $1,000,000
$10 EACH | 10 FOR $25
25 FOR $50 | 50 FOR $75
Win half of the current jackpot of: