Authorities call fatal stabbing of UK lawmaker terrorist act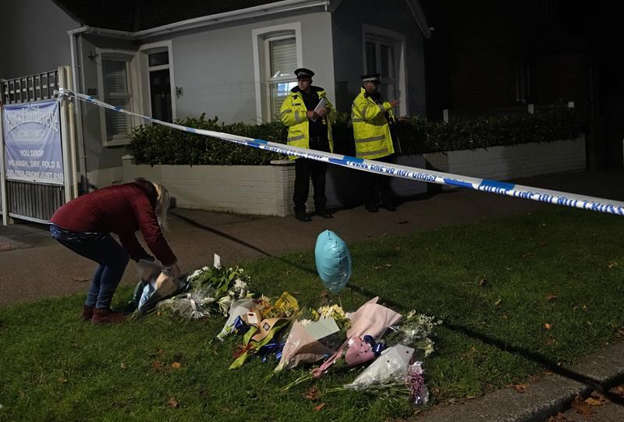 LEIGH-ON-SEA, England (AP) — A long-serving member of Parliament was stabbed to death Friday during a meeting with constituents at a church in England, in what police said was a terrorist incident. A 25-year-old man was arrested in connection with the attack, which united Britain's fractious politicians in shock and sorrow.
Counterterrorism officers were leading the investigation into the slaying of Conservative lawmaker David Amess. In a statement early Saturday, the Metropolitan Police described the attack as terrorism and said the early investigation "has revealed a potential motivation linked to Islamist extremism."
Amess, 69, was attacked around midday Friday at a Methodist church in Leigh-on-Sea, a town about 40 miles (62 kilometers) east of London. Paramedics tried without success to save him. Police arrested the suspect and recovered a knife.
They did not identify the suspect, who was held on suspicion of murder. Police said they believed the suspect acted alone, and were not seeking anyone else in connection with the killing, though investigations continue.
The slaying came five years after another MP, Jo Cox, was murdered by a far-right extremist in her small-town constituency, and it renewed concern about the risks politicians run as they go about their work representing voters. British politicians generally are not given police protection when they meet with their constituents.
Tributes poured in for Amess from across the political spectrum, as well as from the community he had served for decades. Residents paid tribute to him at a vigil at a church in Leigh-on-Sea.
"He carried that great East London spirit of having no fear and being able to talk to people and the level they're at," the Rev. Jeffrey Woolnaugh said at the vigil, attended by about 80 people. "Not all politicians, I would say, are good at that."
Conservative Prime Minister Boris Johnson said he and his Cabinet were "deeply shocked and heart-stricken."
"David was a man who believed passionately in this country and in its future, and we've lost today a fine public servant and a much-loved friend and colleague," Johnson said.
The prime minister would not say whether the attack meant politicians needed tighter security, saying, "We must really leave the police to get on with their investigation."
Amess had been a member of Parliament for Southend West, which includes Leigh-on-Sea, since 1997, and had been a lawmaker since 1983, making him one of the longest-serving politicians in the House of Commons.
A social conservative on the right of his party, he was a well-liked figure with a reputation for working hard for his constituents and campaigning ceaselessly to have Southend declared a city.
Amess, who leaves a wife and five children, was knighted by Queen Elizabeth II in 2015 for his service, becoming Sir David.
Flags at Parliament were lowered to half-staff amid a profusion of questions about lawmakers' security.
"This is an incident that will send shockwaves across the parliamentary community and the whole country," House of Commons Speaker Lindsay Hoyle said. "In the coming days we will need to discuss and examine MPs' security and any measures to be taken, but for now, our thoughts and prayers are with David's family, friends and colleagues."
Violence against British politicians is rare, but concerns have grown about the increasingly bitter polarization of the country's politics.
In 2016, a week before the country's divisive Brexit referendum, Cox, a Labour Party lawmaker, was fatally stabbed and shot in northern England. Also, several people have been jailed in recent years for threatening lawmakers.
British lawmakers are protected by armed police when they are inside Parliament, and security there was tightened after an attacker inspired by the Islamic State group fatally stabbed a police officer at the gates in 2017.
But politicians have no such protection in their constituencies. Amess published the times and locations of his open meetings with constituents on his website.
Two other British lawmakers have been attacked over the past two decades during their "surgeries," regular meetings where constituents can present concerns and complaints.
Labour legislator Stephen Timms was stabbed in the stomach in 2010 by a student radicalized by online sermons from an al-Qaida-linked preacher.
In 2000, Liberal Democrat Nigel Jones and his aide Andrew Pennington were attacked by a man wielding a sword during such a meeting. Pennington was killed and Jones wounded in the attack in Cheltenham, England.
Former Prime Minister Theresa May, a Conservative, tweeted that Amess' killing was a "tragic day for our democracy," and former Labour Prime Minister Tony Blair said he was "shocked and horrified."
Scottish First Minister Nicola Sturgeon of the Scottish National Party said on Twitter: "In a democracy, politicians must be accessible and open to scrutiny, but no one deserves to have their life taken while working for and representing their constituents."
Kim Leadbeater, Jo Cox's sister and now a member of Parliament herself, said it was "horrific" that Amess' family was experiencing what hers had gone through.
"They will think about this every single day for the rest of their lives," she said.
"I find myself now working as a politician and trying to do good things for people, and it's really important you get good people in public life, but this is the risk we are all taking, and so many MPs will be scared by this."
___
Lawless reported from London. Pan Pylas also contributed to this report.
Jo Kearney And Jill Lawless, The Associated Press
Despite ample school security plan, Texas shooter found gaps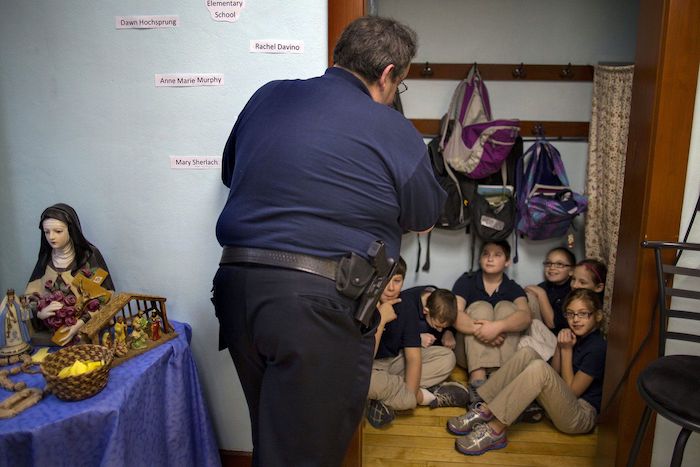 By Collin Binkley And Kantele Franko
Robb Elementary School had measures in place to prevent this kind of violence. A fence lined the school property. Teachers were ordered to keep classroom doors closed and locked. Students faced regular lockdown and evacuation drills.
But when an 18-year-old man arrived Tuesday at the school in Uvalde, Texas, intent on killing children, none of it stopped him.
Security failures allowed the shooter to massacre 19 students and two teachers, school safety experts say. The shooting already has led to calls to fortify schools further, on top of millions spent on equipment and other measures following earlier shootings. But more security offers drawbacks, with no guarantee of an end to mass violence. In the worst case, as in Uvalde, it could backfire.
"You can do the best job you can to prevent a school crisis, but we cannot read the minds of all the criminals who are out there," said Ronald Stephens, executive director of the National School Safety Center, a nonprofit that works with schools across the country. "We cannot prevent all crime."
According to a district safety plan, Uvalde schools had a wide range of measures in place to prevent violence. The district had four police officers and four support counselors, according to the plan, which appears to be dated from the 2019-20 school year. The district had software to monitor social media for threats and software to screen school visitors.
Yet when the gunman arrived at the school, he hopped its fence and easily entered through a back door that had been propped open, officials said. Behind the locked door of a fourth-grade classroom, he gunned down children and teachers.
Amid the attack, nearly 20 officers stood in a hallway because the on-site commander believed the gunman was barricaded in the classroom and children were not at risk, Texas Department of Public Safety Director Steven McCraw said at a Friday news conference, saying "it was the wrong decision."
The case underscores that even the strongest security plans can be undermined by a seemingly simple lapse, said Curtis Lavarello, executive director of the School Safety Advocacy Council, which provides training on school safety. The Texas school appeared to be doing many things right, he said, but none of that mattered once the gunman was able to walk unobstructed into the building and into a classroom.
"All those things on paper mean nothing if they're not followed in practice. And there seemed to be a number of gaps," he said.
In the aftermath of the shooting, some Republicans have been calling for further investments in school safety to prevent more attacks. Some have pushed for more armed police in schools, along with metal detectors and measures to make it harder to enter schools.
Among those promoting physical security measures is Sen. Ted Cruz, R-Texas. Appearing on Fox News on Wednesday, he brought up 2013 legislation that would have created grants to help schools install bulletproof doors and hire armed police officers among other measures.
If those grants had gone to Robb Elementary, Cruz said, "the armed police officers could have taken him out and we would have 19 children and two teachers still alive."
Security experts say the Uvalde case illustrates how fortifying schools can backfire. A lock on the classroom door — one of the most basic and widely recommended school safety measures — kept victims in and police out.
U.S. Border Patrol agents eventually used a master key to open the locked door of the classroom where they confronted and killed the gunman, McCraw said at the Friday news conference.
Some argue that investments in school security have come at the expense of student welfare. Lockdown drills that have become routine for a generation of American students have traumatized students and added to strains on mental health, educators say.
Schools need more counselors and psychologists to help troubled students, not stronger buildings, said Dewey Cornell, a psychologist and director of the Virginia Youth Violence Project at the University of Virginia.
"We have systemically reduced the number of support staff in our schools, and focused too much on installing metal detectors and surveillance cameras and electronic door locks, which are very short term and reactive and very expensive," he said.
In the wake of the 2012 massacre at Sandy Hook Elementary School in Newtown, Connecticut, schools across the country began spending huge sums of money on fortifications including bulletproof glass, metal detectors and armed security.
But such measures can create an atmosphere where students feel uncomfortable and less trusting, and it does not necessarily prevent attacks, said Matthew Mayer, a Rutgers associate professor who works on issues related to school violence.
"You'll go down these sort of endless rabbit holes of how much security is enough. And when it comes to someone who's coming in heavily armed, you're not going to stop them," Mayer said. "So the idea is you need to figure out why people do this in the first place and have ways — multi-level systems of prevention — to prevent it from happening."
He advocates for a multi-faceted prevention approach that also includes steps such as improving mental health services, assessing threats more effectively and building trust so students and families are not afraid to speak up if they're concerned someone has the means or intent to cause harm.
Still, schools can only do so much, he said, and he isn't optimistic that public outrage over Uvalde will lead to significant change.
"The problem is that a lot of this public reaction, you know, sort of rises like a wave and then recedes over time, and the politicians have been accustomed to riding that out. You know, they make speeches and so forth, and sometimes there's a commission that gets appointed, and they issue reports," Mayer said. "But substantive change is lacking."
___
The Associated Press education team receives support from the Carnegie Corporation of New York. The AP is solely responsible for all content.
'If there'd even been five minutes' warning': Woman questions storm alert system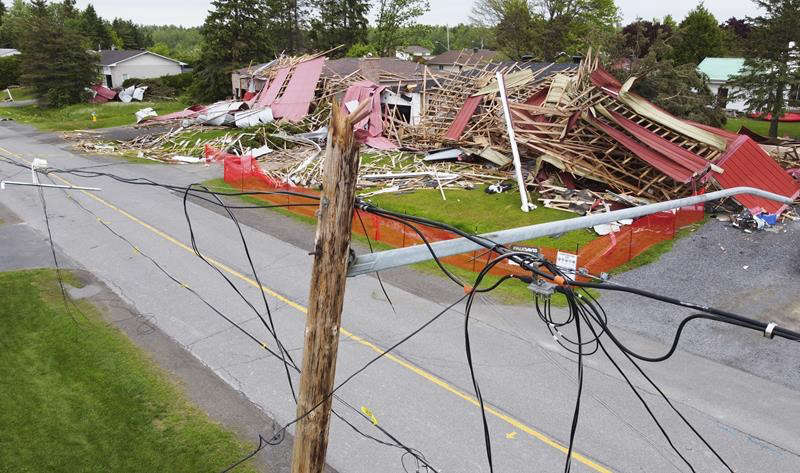 Bethany Armstrong watched as the sky turned a tint of green on Saturday afternoon.
The Peterborough, Ont., woman was out camping with friends in Lakehurst, Ont., at the time, so she checked a weather app on her phone and noticed a thunderstorm warning.
That was the only indication she said she had that a vicious storm was about to hit.
Armstrong said she never received the emergency alert that many Ontario residents got on their cellphones, warning them to seek shelter ahead of severe weather that ultimately killed 11 people.
One of those who died was a close friend of Armstrong's family – Armstrong says that friend didn't get the alert either.
"If there'd even been five minutes' warning … she would have gotten inside," Armstrong said of the woman she likened to her second mom.
Joanne Labelle, 64, of Cornwall, Ont., was among those killed as a result of the storm. She had been staying in a trailer on Armstrong's parents' property in the Peterborough area when the intense winds and rains hit.
Labelle's husband and Armstrong's father found Labelle struck by a tree – Armstrong said the family thinks Labelle had been trying to get from the trailer to a house on the property when she was hit.
Armstrong said her family and Labelle's husband later checked Labelle's cellphone, which was with her during the storm, but found no evidence of an alert.
"I just think like, 'Wow, you know, if she had got the alert, we wouldn't maybe be in this situation,'" Armstrong said, describing Labelle as a "smart" woman who loved the outdoors and would have taken a severe weather warning seriously.
Emergency alerts are issued in Canada through the Alert Ready system, which delivers critical alerts to Canadians through television, radio and LTE-connected and compatible wireless devices.
The system was developed with many partners, including federal, provincial and territorial emergency management officials, Environment and Climate Change Canada, weather information company Pelmorex Corp., the broadcasting industry and wireless service providers.
Cecelia Parsons, a spokesperson for Environment Canada, said "broadcast immediate" alerts are sent through the Alert Ready system for tornado warnings and severe thunderstorm warnings involving wind gusts of 130 kilometres per hour or greater and hail that is at least seven centimetres in diameter. Saturday's storm was the first time such an alert for a thunderstorm was sent through the system, she said.
However, some residents may not have received an emergency alert on their smartphones for a number of reasons, including their phones not being "compatible," Parsons said.
"This may occur for a variety of reasons: the phone is turned off or in silent or airplane mode; the phone is not physically in the specific area targeted for the alert; device compatibility, connection to an LTE network, cell tower coverage and device software and settings," she said.
Martin Belanger, director of public alerting for Pelmorex, said smartphones need to be in the area where an emergency alert has been issued in order to receive an alert and also need to be connected to an LTE or 5G network — a requirement established by the Canadian Radio-television and Telecommunications Commission.
As of April 2019, the CRTC requires that new phones sold by Canada's wireless carriers be compatible with the emergency alerting system, Parsons added.
Belanger said Environment Canada was responsible for issuing the emergency alerts on Saturday and Pelmorex received those alerts and made them available to broadcasters and wireless service providers.
He added that Pelmorex received "some" reports from the public about not getting an emergency alert during Saturday's storm. When the company receives such reports, it shares that information with its partners, he said.
Emergency Preparedness Minister Bill Blair said that with 11 people dead, the early warning system didn't work as well as it could have to protect residents from last weekend's storm.
"I think there needs to be improvement," Blair said on Friday from Indonesia, where he was attending international meetings on disaster risk and mitigation.
"When (there's) information that Canadians need to take the steps in order to be safe, we need to make sure that they get that information."
Blair said public education is also needed so Canadians know what to do when they receive such an alert. He also said the country's public alerting system, controlled by provinces and territories, is applied "inconsistently."
"The tragic loss of life and the damage that occurred in Ontario and Quebec over the past several days demonstrate to us that there is still more work to do, and we're committed to doing that," he said.
Armstrong, who made it through the storm last weekend by taking shelter in a nearby home, said she would like to see the Alert Ready system improved.
"I just hope that things can improve for the future and that they can get either a better system in place or adjust the criteria that has to be met," she said as she remembered Labelle as a beloved matriarch and a mainstay at the pharmacy where she worked. "So we can try and help save other people."
This report by The Canadian Press was first published May 27, 2022.
– with files from Stephanie Taylor in Ottawa.
———
This story was produced with the financial assistance of the Meta and Canadian Press News Fellowship.
Noushin Ziafati, The Canadian Press