Author Salman Rushdie attacked on lecture stage in New York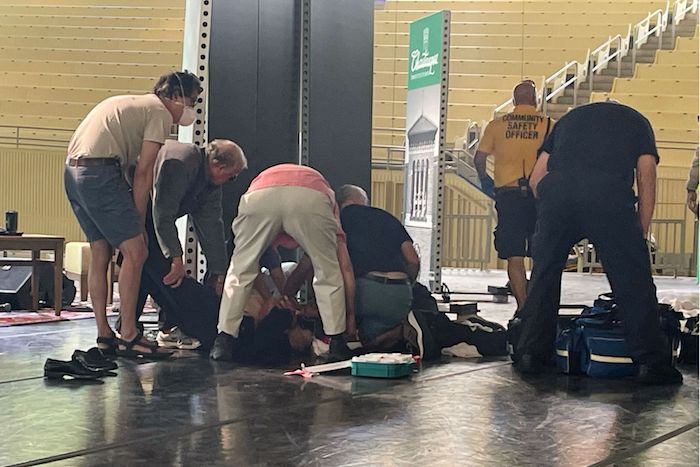 CHAUTAUQUA, N.Y. (AP) — Salman Rushdie, the author whose writing led to death threats from Iran in the 1980s, was attacked and apparently stabbed in the neck Friday by a man who rushed the stage as he was about to give a lecture in western New York.
An Associated Press reporter witnessed a man confront Rushdie on stage at the Chautauqua Institution and punch or stab him 10 to 15 times as he was being introduced. The 75-year-old author was pushed or fell to the floor, and the man was arrested.
State police said Rushdie was apparently stabbed in the neck and was flown to a hospital. His condition wasn't immediately known. The moderator at the event was also attacked and suffered a minor head injury, police said.
Rabbi Charles Savenor was among the roughly 2,500 people in the audience. Amid gasps, spectators were ushered out of the outdoor amphitheater.
The assailant ran onto the platform "and started pounding on Mr. Rushdie. At first you're like, 'What's going on?' And then it became abundantly clear in a few seconds that he was being beaten," Savenor said. He said the attack lasted about 20 seconds.
Another spectator, Kathleen Jones, said the attacker was dressed in black, with a black mask.
"We thought perhaps it was part of a stunt to show that there's still a lot of controversy around this author. But it became evident in a few seconds" that it wasn't, she said.
A bloodied Rushdie was quickly surrounded by a small group of people who held up his legs, presumably to send more blood to his chest.
Rushdie has been a prominent spokesman for free expression and liberal causes. He is a former president of PEN America, which said it was "reeling from shock and horror" at the attack.
"We can think of no comparable incident of a public violent attack on a literary writer on American soil," CEO Suzanne Nossel said in a statement.
Rushdie "has been targeted for his words for decades but has never flinched nor faltered," she added.
His 1988 book "The Satanic Verses" was viewed as blasphemous by many Muslims. Often-violent protests against Rushdie erupted around the world, including a riot that killed 12 people in Mumbai.
The novel was banned in Iran, where the late leader Grand Ayatollah Ruhollah Khomeini issued a 1989 fatwa, or edict, calling for Rushdie's death. Khomeini died that same year.
Iran's current Supreme Leader Ayatollah Ali Khamenei has never issued a fatwa of his own withdrawing the edict, though Iran in recent years hasn't focused on the writer.
Iran's mission to the United Nations did not immediately respond to a request for comment on Friday's attack.
A bounty of over $3 million has also been offered for anyone who kills Rushdie.
The death threats and bounty led Rushdie to go into hiding under a British government protection program, which included a round-the-clock armed guard. Rushdie emerged after nine years of seclusion and cautiously resumed more public appearances, maintaining his outspoken criticism of religious extremism overall.
He has said he is proud of his fight for freedom of expression, saying in a 2012 talk in New York that terrorism is really the art of fear.
"The only way you can defeat it is by deciding not to be afraid," he said.
Iran's government has long since distanced itself from Khomeini's decree, but anti-Rushdie sentiment has lingered. The Index on Censorship, an organization promoting free expression, said money was raised to boost the reward for his killing as recently as 2016, underscoring that the fatwa for his death still stands.
In 2012, Rushdie published a memoir, "Joseph Anton," about the fatwa. The title came from the pseudonym Rushdie had used while in hiding.
Rushdie rose to prominence with his Booker Prize-winning 1981 novel "Midnight's Children," but his name became known around the world after "The Satanic Verses."
The Chautauqua Institution, about 55 miles southwest of Buffalo in a rural corner of New York, has served for more than a century as a place for reflection and spiritual guidance. Visitors don't pass through metal detectors or undergo bag checks. Most people leave the doors to their century-old cottages unlocked at night.
Police said a state trooper was assigned to Rushdie's lecture.
The Chautauqua center is known for its summertime lecture series, where Rushdie has spoken before. Speakers address a different topic each week. Rushdie and moderator Henry Reese were set to discuss "the United States as asylum for writers and other artists in exile and as a home for freedom of creative expression."
___
Associated Press writers Carolyn Thompson in Buffalo, New York; Michael Hill in Albany, New York; and Jennifer Peltz in New York City contributed to this report.
Edmonton police use DNA phenotyping to find sex assault suspect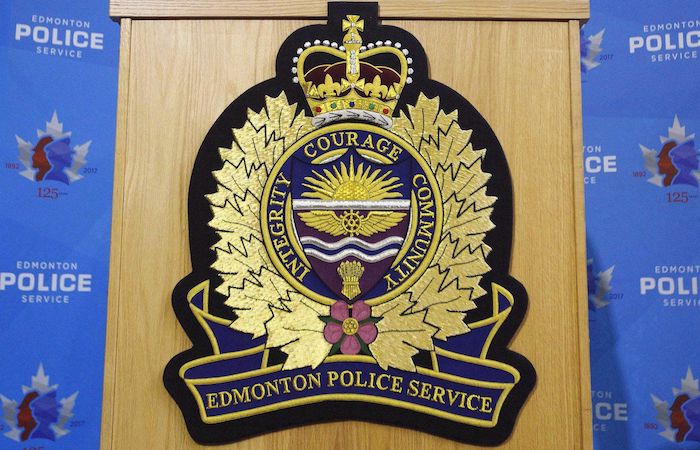 By Angela Amato in Edmonton
Edmonton police say they are using DNA phenotyping, for the first time in its history, in trying to solve a sexual assault.
DNA phenotyping predicts physical appearance and ancestry from unidentified DNA evidence, and police use that information to narrow suspects and generate leads in criminal investigations.
Det. Colleen Maynes says the method is a last resort after all other investigative avenues have been exhausted.
"This was a vicious assault," said Maynes, adding she doesn't want to see the perpetrator act again.
A woman lost consciousness after she was violently sexually assaulted by a man who followed her from a bus stop in the central Spruce Avenue neighbourhood in March of 2019.
She sustained serious injuries and was found wearing only a shirt when it was -27 C.
"This survivor deserves justice," said Maynes.
There were no witnesses, surveillance video, public tips or DNA matches in the case.
Detectives enlisted DNA technology company Parabon NanoLabs in Virginia to help in the investigation. The lab has provided DNA phenotyping to help with other files in Saskatchewan and Ontario.
Most DNA testing in Canada goes through the RCMP's lab. Maynes said this can take a long time, as the RCMP deals with cases across the country and doesn't have the resources or technologies that other labs do.
"We are lacking with that technology here in Canada," said Maynes.
Paula Armentrout with Parabon said that since 2018, its labs have helped solve 230 violent crimes in North America, although not all of them used DNA phenotyping.
DNA phenotyping is not exclusive to sexual assault cases. The analysis has also been used to find possible suspects in murder cases and to identify remains.
With a computer-generated snapshot in the Edmonton sex assault case, DNA phenotyping determined the suspect to be a Black man with dark brown to black hair and dark brown eyes who stands about five-foot-four.
Armentrout said the turnaround for this type of analysis is about 45 days after receiving a DNA sample.
Police said the suspect's description may impact a marginalized community. After consulting with community stakeholders and considering the severity of the assault and the threat to public safety, police released the details with a computer-generated image.
Any leads generated from the image will require further investigative steps, said Maynes.
"It is by no means an immediate path to accusing a suspect," she said. "What it does is potentially give us leads in a cold case, and we can follow up with DNA testing from there."
This report by The Canadian Press was first published Oct. 4, 2022.
'Ludicrous': Prosecutor questions testimony of teen in Calgary hit-and-run cop death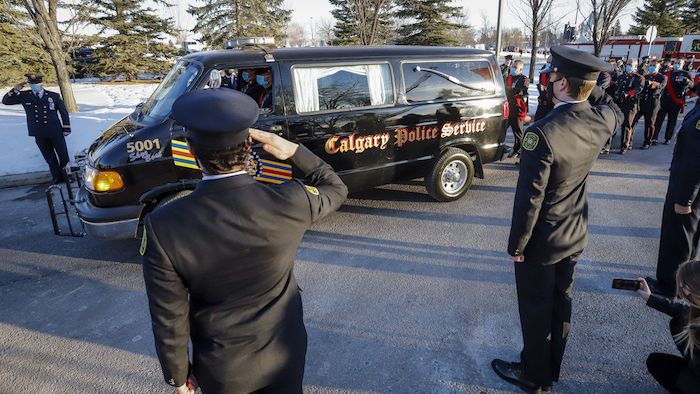 By Bill Graveland in Calgary
A prosecutor suggested Wednesday a teen charged with first-degree murder in the hit-and-run death of a Calgary Police Service officer had no reason to believe he was in danger.
Sgt. Andrew Harnett died in hospital on Dec. 31, 2020, after being dragged by a fleeing SUV and falling into the path of an oncoming car.
The alleged driver, who cannot be identified because he was 17 at the time, has testified he was scared when Harnett and another officer approached the vehicle during a traffic stop and he saw Harnett put his hand on his gun.
But during cross-examination, Crown prosecutor Mike Ewenson played the body-camera footage of the stop. He asked the accused, who is now 19, if there was any proof Harnett was being threatening or insulting during the routine traffic stop.
"You brought up George Floyd in your direct examination. Do you remember what happened to George Floyd?" Ewenson asked.
The accused replied: "He got pulled out of the vehicle and I think they stepped on his neck … and he said he couldn't breathe."
Floyd was a Black man who was killed during an arrest by Minnesota police on May 25, 2020.
During testimony Tuesday, the teen testified he and his friends had discussed the Floyd case on social media.
"Let's talk about what we just saw with Sgt. Harnett if we could, because you're bringing this up at a trial that involves his death," said Ewenson. "Any abusive language from him?"
"No," the teen replied.
"Anything that was insulting to your age, your race, your ethnic background or religion," Ewenson asked.
"Not necessarily, no. Actually, I felt like I was being racialized, right? Just the fact that the door opened and the fact that he asked for my phone number. I've never been asked for my phone number."
Ewenson said any talk of the traffic stop being racist was just something the teen wanted the court to "take his word for" and there's nothing that would be considered racist from Harnett's behaviour.
"That's how I felt," the accused replied.
The teen repeatedly told Ewenson that he wasn't sure how he ended up in the neighbourhood. He said he was following his GPS to get to a party. He also said he didn't know who the third person in the back seat of the vehicle was, who had come with a friend.
Ewenson said it's unlikely there would be memory lapses after an event that was the "most traumatic, powerful" and "consequential" night of the teen's life.
"So looking back on it, you realize the story is ludicrous? The story doesn't make sense, does it?" Ewenson asked. "Everything for you is a mindless reaction."
The suspect said at the time he panicked and just decided to take off because he was afraid. The teen said looking back, he wishes his decision had been different.
"Look, to be frank to you, I've sat for two years in jail and I've thought about this over and over and over again," he said. "It's different when I think about it now and what I was going through at the moment."
Ewenson suggested it was more likely something illegal was inside the suspect vehicle that made fleeing a simple traffic stop worth the risk.
Closing arguments in the trial are scheduled for Thursday.
This report by The Canadian Press was first published Sept. 28, 2022.