Auditor general calls for immediate action to protect children and youth in Nunavut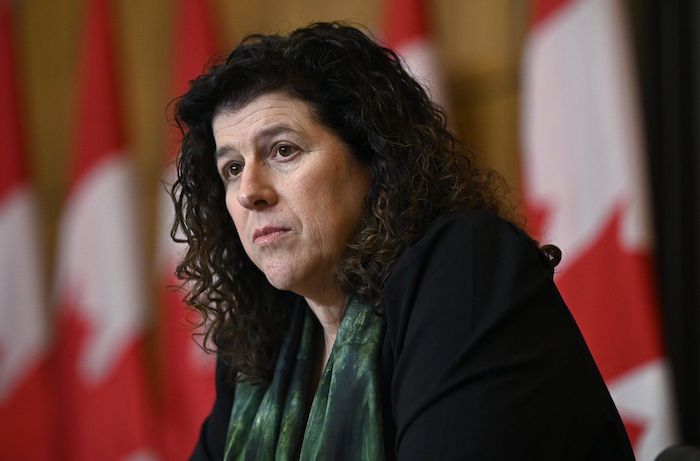 Canada's auditor general Karen Hogan says early findings in an audit of child and family services in Nunavut were so alarming, her office immediately raised concerns with the territorial government. Hogan participates in a news conference, in Ottawa, on Monday, March 27, 2023. THE CANADIAN PRESS/Justin Tang
Iqaluit
Canada's auditor general says early findings in a review of child and family services in Nunavut were so alarming that her office immediately raised concerns with the territorial government.
A report by Karen Hogan released Tuesday found the territory is failing to protect vulnerable children and youth and to provide support to families, front-line workers and communities.
"This report is more than statistics, trends and a compilation of facts — it is an urgent call to action," Hogan said during a news conference Tuesday in Iqaluit.
Among the findings were that the territory inadequately responded to reports of suspected harm, did not complete many investigations, did not sufficiently monitor the welfare of children in care, failed to meet obligations for the health and safety of employees, and could not provide accurate numbers of children in its care.
In a sample of 26 children placed in 15 foster homes, for example, the report found many cases where staff from the Department of Family Services failed to check in every six weeks as required. The report noted gaps between six to eight months for eight children in four homes. For 10 children in six homes, the department did not check in for at least a year.
The report said those gaps meant the department did not know about the children's well-being, whereabouts or the kind of care they were receiving. In the case of two children who the department had not contacted in four months, they were no longer living in their foster placement. The department also did not know two children were living with a parent who had a lost custody until a month after they moved back.
The report said there was also no evidence the department took action when it became aware 10 children in foster care were experiencing suicidal thoughts or had attempted suicide or were at risk of sexual abuse or physical harm.
The report also found many cases where the department had not carried out care plans for children and youth in need of protection.
In one case, a young child needing protection due to physical abuse by a parent was allowed to remain in the home while the parent was required to attend mental health counselling. The department, however, did not follow up for more than a year an a half, until it received another report of physical abuse. The child was then placed in foster care, but the report said the department again failed to follow up.
This is the third time in the past 12 years that the auditor general's office has raised serious concerns about services for children, youth and families in Nunavut.
A 2011 auditor general report found the territorial government was not adequately fulfilling its key responsibilities for the protection and welfare of children. Its recommendations included ensuring adequate staffing, training, managing workloads, complying with standards, collecting and analyzing information on children in care, and community engagement.
A 2014 report following up on those recommendations found some progress had been made, but there were still serious gaps when it came to complying with key child protection standards. It said the territory was also still not consistently collecting basic information on children in care and had done little to engage parents and communities in the development of its child welfare strategy.
The new report found several root causes have contributed to "this persistent and chronic crisis." They include long-standing issues with funding, housing and office space for employees, and timely training for front-line workers compounded by poor information management practices.
"I'm a mom of two, so to hear this at first I was very sad and then I was very mad by the fact that you know this could go on for so long and not be addressed," Hogan said.
Rather than giving formal recommendations, the report called for an immediate whole-of-government approach to address the challenges.
"We felt that our previous recommendations have not yet been addressed and that the typical approach was not the right one," Hogan said.
Nunavut Minister of Family Services Margaret Nakashuk said her department takes full responsibility for the report.
"It's a very heavy report, but we also have to take this opportunity to see what we can do as a government to improve the services for Nunavummiut," she said, adding supports are needed from all departments.
Premier P.J. Akeeagok said it will require systemic change to address the problems outlined in the report.
"It's our job as the government to look after the most vulnerable. And when we're dealing with children, we have to do everything within our powers to provide that support," he said.
Also Tuesday, Hogan released a report on COVID-19 vaccinations in Nunavut. It found several territorial departments worked together to quickly and equitably deliver vaccines across Nunavut, on average taking two weeks to deliver doses from the time they arrived in the territory.
The auditor general found, however, that efforts were hampered by the lack of a pandemic plan and insufficient monitoring and reporting systems. It said the lack of an inventory management system meant the Department of Health could not account for 19,500 doses, or 16 per cent, meaning while it reported 15 per cent of doses had been wasted, actual wastage was as high as 31 per cent.
"To strengthen its response to future pandemics and mass vaccination efforts, the Government of Nunavut needs to set up proper information systems, including an inventory management system," Hogan said.
"This would also improve the delivery of health-care services to Nunavummiut and reduce the burden on an overstretched workforce."
The Nunavut government has accepted the recommendations .
This report by The Canadian Press was first published May 30, 2023.
— By Emily Blake in Yellowknife
Hot rental market makes search 'stressful' for many — and it won't get better soon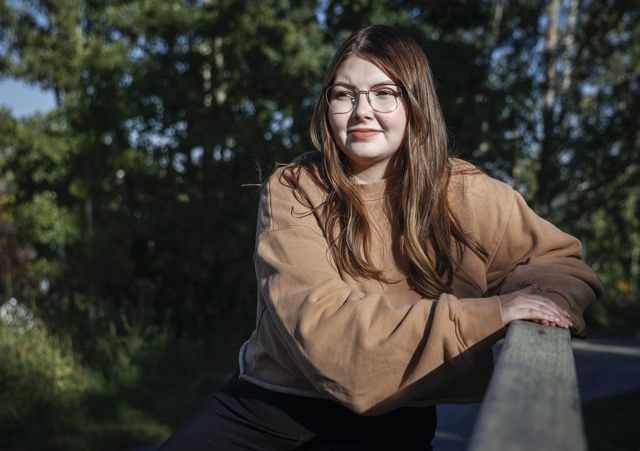 Marissa Giesinger is pictured in Calgary, Thursday, Sept. 21, 2023. On the hunt for a rental home in Calgary over the last six weeks, Giesinger and her boyfriend trawled through listings morning, noon and night, only to find most come along with dozens of applications and a steep price tag. THE CANADIAN PRESS/Jeff McIntosh
By Tara Deschamps in Toronto
On the hunt for a rental home in Calgary over the last six weeks, Marissa Giesinger and her boyfriend trawled through listings morning, noon and night, only to find most come along with dozens of applications and a steep price tag. As an added difficulty, many landlords are unwelcoming to the couple's brood — dogs Kado and Rosco and a cat named Jester.
"We made the tough decision recently to house our dogs with someone else until we can find a place that's affordable and we can take both of them," said Giesinger, a 23-year-old Mount Royal University student.
"It's definitely been stressful."
The competitive rental market Giesinger has encountered in Calgary is being seen across the country as multiple factors combine: high interest rates deter buyers and add to rental demand, still-high inflation is squeezing renter budgets, there's an undersupply of purpose-built rental units and population growth is fuelling demand.
These conditions have left prospective renters feeling even more frustrated than usual by sky-high rents, the frenzy of interest that surrounds any affordable listing and the litany of demands landlords can make when so many people are interested in their home.
Giacomo Ladas, communications director for Rentals.ca, calls it "almost a perfect storm" — and it isn't likely to ease up any time soon.
"What this does is create such a burden on this rental housing market that even though we're out of the (busy) summer rental season, there's so much demand that (these conditions are) going to continue like this until the fall and into the winter," he said.
Data crunched by his organization and research firm Urbanation.ca shows average asking rents for newly-listed units in Canada increased 1.8 per cent between July and August and 9.6 per cent from a year earlier to reach a record high of $2,117 last month.
Between May and August, asking rents in Canada increased by 5.1 per cent or an average of $103 per month.
When Giesinger rented a two-bedroom basement unit with a roommate a few years ago, the duo paid $1,000 per month, but now she routinely spots "super tiny," one-bedroom places for $1,350 a month.
"If you want a basement suite or an apartment, you're looking at minimum $1,200 and that doesn't include any utilities or anything like that unless it's a super rare listing," Giesinger said.
Rentals.ca data show newly listed one-bedroom properties in Calgary priced at an average $1,728 per month in August, up 21.6 per cent from a year earlier. Two-bedroom homes have climbed 17.4 per cent to $2,150 over the same period.
The picture in Vancouver and Toronto is far bleaker. Rentals.ca found the cities had the highest rents in the country.
Newly-listed one-bedroom properties in Vancouver averaged $2,988 in August, up 13.1 per cent from a year earlier, while two-bedroom units hit $3,879, an almost 10 per cent increase year-over-year.
Newly-listed Toronto one-bedroom homes averaged $2,620 in August, up almost 11 per cent from the year before, while two-bedroom properties had a 7.1 per cent rise over the same time frame to $3,413.
It's numbers like these that have convinced Kanishka Punjabi to abandon her hopes of moving in the near term.
"Two days ago, I gave up on my search because the rental market is that bad," she said.
The public relations worker has been living in Mississauga, Ont., but felt it was time to find a home in downtown or midtown Toronto, closer to where she works.
However, few of the two-bedroom homes she spotted in her two-month search were within her $2,800 budget.
For example, one apartment she liked at the intersection of Yonge and Eglinton streets had 25 offers in just over a week.
"Some people actually just sent in their offer without looking at the apartment too because there are so many people who are in desperate need of rental units," said Punjabi. "There's just not enough."
The Canada Mortgage and Housing Corp. has projected that the country needs to build 3.5 million additional homes beyond what's planned before the market reaches some semblance of affordability.
It also calculated that the annual pace of housing starts — when construction begins on a home — edged down one per cent in August to 252,787 units compared with 255,232 in July.
Despite the nudge down, Rishi Sondhi, an economist with TD Bank Group, said it has been a strong year for starts because the industry is responding to elevated prices by building at a robust pace.
But between population growth and rising interest rates, he said, "supply is struggling to keep up with demand" and that's bound to weigh on renters for quite some time.
"In the short term, it would be unrealistic to expect too much of a reprieve simply because population growth is likely to remain strong through the duration of this year — and that's really one of the big fundamental drivers," he said.
"In addition, it's unlikely to expect affordability in the ownership market to improve too much either because we think the Bank of Canada (key rate) is going to be on hold for the remainder of the year, but there is some risk that they take rates even higher, especially if inflation doesn't co-operate."
For renters like Giesinger that message puts even more pressure on her to settle on a place soon.
"Now I'm scrambling to find the money for a deposit and we're still never really sure like what kind of place we're going to get," she said.
"And when you're battling dozens of other people for a rental it can be super stressful."
This report by The Canadian Press was first published Sept. 24, 2023.
RCMP 'gutted' by death of Const. Rick O'Brien, 51, shot in B.C.: deputy commissioner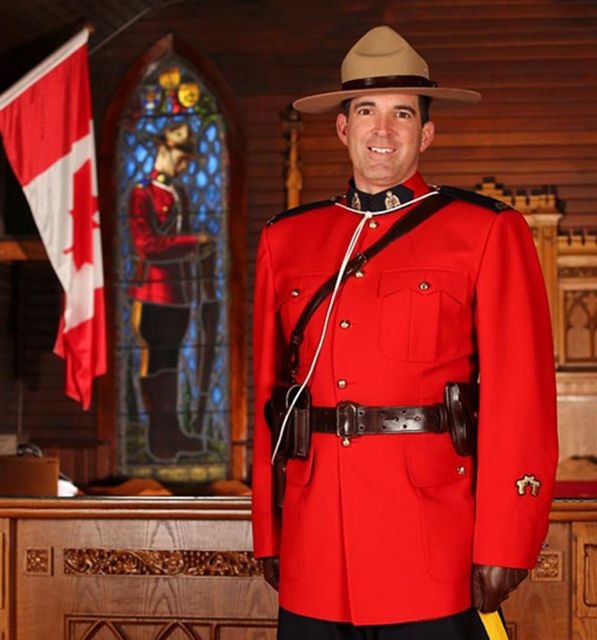 RCMP Const. Rick O'Brien poses in this undated RCMP handout photo. The 51-year-old officer was shot and killed and two other officers were injured while executing a search warrant in Coquitlam, B.C., on Friday, Sept. 22, 2023, while a suspect was shot and is in hospital with non-life-threatening injuries. THE CANADIAN PRESS/HO, RCMP
By Nono Shen in Coquitlam
The death of another Mountie in British Columbia less than a year after the last killing "enrages" the lead officer in the province.
RCMP Deputy Commissioner Dwayne McDonald said Const. Rick O'Brien, 51, was shot dead and two other officers were injured on Friday as they tried to execute a search warrant in Coquitlam, B.C.
A suspect in his 20s was also shot and is in hospital with non-life-threatening injuries.
O'Brien, who had a wife and children, was decorated for bravery in the rescue of victims during a home invasion within months of joining the RCMP in 2016.
"This is an extremely difficult and tragic day for our members," McDonald said Friday. "Const. O'Brien led by example. He had a great sense of humour. He was well respected by his peers and he was loved in his community."
He said O'Brien was part of a team from Ridge Meadows RCMP that had been serving a search warrant at a home in the neighbouring community of Coquitlam.
McDonald said O'Brien died at the scene. One injured officer is in hospital with non-life-threatening injuries, he said, while the other suffered minor injuries and was discharged.
While McDonald didn't reveal details about the investigation, he said it was a long-term probe.
A procession of RCMP vehicles led an ambulance carrying O'Brien's body from Coquitlam to Abbotsford later Friday.
O'Brien's death comes just 11 months after the death of RCMP Const. Shaelyn Yang, who was stabbed to death while accompanying a Burnaby, B.C., city worker to a homeless campsite.
McDonald said the past year had been a tragic one for police departments across Canada.
"It hurts. It really hurts. I'm outraged," he said. "To see police officers across this country killed trying to protect their communities enrages me."
Policing was a second career for O'Brien, who worked with at-risk youth before joining the RCMP. His entire career was spent at the Ridge Meadows detachment.
Supt. Wendy Mehat, the officer in charge of Ridge Meadows, said speaking about the impact of O'Brien's death was the most difficult moment of her career.
"Rick's contribution to his work, and his fellow team members at this detachment was immeasurable. Rick loved visiting schools and helping students, doing presentations, supporting our detachment (with) food drives and sport events," she said.
"He was truly exceptional, a hard worker and a good human being. His death is senseless and heartbreaking." Mehat said.
McDonald said O'Brien's death seemed to speak to an issue he and his colleagues across the country have been talking about.
"Perhaps painting police in a certain light … sometimes seems to encourage people to resist authority and disrespect the profession of policing and, quite honestly, fight the police," he said.
"I'm not commenting on this particular instance. But I will say that this is a stark reminder that the police are here to help you."
The Independent Investigations Office said in a statement that the officers went to a home in the Metro Vancouver city on Friday.
"While there, the attending officers became engaged in an altercation with a man which resulted in multiple officers being injured and the man being shot," the statement said.
"Emergency Health Services transported all injured to hospital, but one of the officers who was shot succumbed to their injuries."
Carley Hodges, a witness in the busy area of city, described a chaotic scene, with an officer receiving CPR as he was put in an ambulance, another officer with a wound on his leg and a tourniquet above it, and a man in handcuffs.
Hodges said there were "tons of police cars, ambulances and fire trucks coming in."
Mehat said O'Brien's death was "senseless and heartbreaking."
"He simply went to work today, and he was killed, doing his duty and keeping his community safe. The hours, weeks and months ahead will be difficult to our communities and Maple Ridge, Pitt Meadows, Coquitlam and across the country."
B.C. Solicitor General Mike Farnworth said he was shocked and saddened to learn of O'Brien's death.
"All three officers are shining examples of the extraordinary individuals who chose to take on the challenging mantle of protecting the public.
"I have spoken to the local mayors, and we all agree that the death of an officer is a stark reminder of the dangers police face to keep us safe. They put their lives on the line every day to fulfil their oath to protect our communities."
Prime Minister Justin Trudeau sent his condolences to O'Brien's family, friends and colleagues on social media.
"And to the officers who were injured: I'm wishing you a fast and full recovery."
This report by The Canadian Press was first published Sept. 22, 2023.
This is a corrected story. A previous version said police were trying to serve an arrest warrant.