Arizona elections chief criticizes policies used in recount
PHOENIX — In March, when it was clear that the Republican-controlled Arizona Senate planned to recount presidential votes in the state's most populous county, Democratic Secretary of State Katie Hobbs sent a letter urging the Senate president to adopt strict guidelines to ensure the results could be trusted.
Instead, President Karen Fann farmed out the recount to a supporter of election conspiracy theories with no recount experience who refused to share details of how the count would be done until a court ordered the disclosure and the recount was well underway.
That decision and others, including allowing a former state GOP lawmaker who was at the Jan. 6 U.S. Capitol insurrection to count ballots, seem destined to taint the results of the recount that Republicans who control the Legislature say is needed to craft election law reforms.
"When you've got half of the people that do not trust the electoral system anymore, rightly or wrongly so, if they have questions, who is responsible for answering these questions," Fann said in a Tuesday interview with Phoenix radio station KTAR. "How do … we put election integrity back into our system. And that's only what this has been about."
However, the recount has been contentious. Cyber Ninjas, the company hired to do the audit, initially refused to release its policies and procedures for re-tallying by hand the 2.1 million ballots in Maricopa County, where President Joe Biden defeated former President Donald Trump.
Counting started on April 23, after the state Democratic Party won a court order requiring the company to follow the law on ballot and voter secrecy and to file its policies with the court. Those policies were finally released Thursday, and by Friday criticism was piling up.
For example, the policies allow counters to accept a large enough error rate to perhaps show Trump won the state. But such an outcome would not change the outcome of the election because the results were certfied months ago in the state and Congress.
If a miscount is determined, it could, however, boost the unsupported argument of Trump and his backers that election fraud and malfeasance lost him the White House.
Bo Dul, state elections director, ticked off a series of issues with the documents that were released under court order, noting they seemed haphazard, lacked specifics and left much room for interpretation — something that's never allowed in ballot counts.
"They kind of confirmed what we assumed all along, is that there aren't established and adequate policies and procedures in place to really do this in any way that can yield reliable results," Dul said Friday.
She noted that the training materials for vote counters was a simple PowerPoint presentation dated the day after the recount started. The guidelines for the digital examination of voting machines appeared to be a document copied and pasted from a 2020 federal document with nothing specific about the state Senate audit.
Dul also said there were no policies for determining voter intent on a ballot where it wasn't clear, something that is critical in a hand count.
Florida-based Cyber Ninjas did not initially allow journalists into Veterans Memorial Coliseum, the site of the recount where the ballots were laid out on tables. After several days, the media was allowed in but only in limited numbers under a pooling deal worked out by media attorneys.
The reporters mainly reported mundane counting procedures until Friday, when a pool reporter spotted a Republican counting ballots who lost his November re-election bid and who was at the U.S. Capitol during the insurrection in January.
Former Rep. Anthony Kern has been outspoken in his belief that Trump's victory was stolen. He has denied entering the Capitol while participating in the rally headlined by Trump.
The Arizona Republic pool reporter who spotted Kern and tweeted his picture was later ejected for doing so.
Meanwhile, former Arizona Secretary of State Ken Bennett, who is acting as the Senate's liaison to the recount, watched as nine machines used to count early ballots were loaded onto trucks to be sent back to Maricopa County offices. Also returned were computer servers that tell the machines how to operate and compile the vote counts, said Megan Gilbertson, spokeswoman for the county Elections Department. Still in the Senate's hands are 385 smaller machines used at Election Day polling places to count ballots.
The county does not know what Cyber Ninjas or the companies it has hired did to the machines, which were supposed to be subject to a forensic computer examination. The county leased the equipment from Dominion Voting Systems for three years at $6.1 million.
Bob Christie, The Associated Press
Biden's plan would boost conservation of US lands, waters
WASHINGTON — The Biden administration is outlining a plan to sharply increase conservation of public lands and waters over the next decade. A report to be issued Thursday recommends a series of steps to achieve a nationwide goal to conserve 30% of U.S. lands and waters by 2030.
Titled "America the Beautiful," the report calls for a decade-long effort to support voluntary conservation and restoration efforts on public, private and tribal lands and waters from Maine to California as well as in Alaska and Hawaii.
The multiagency effort will create thousands of jobs and strengthen the economy, the report says, while also tackling climate change and environmental justice, including expanded access by disadvantaged communities to the outdoors.
Supporters say President Joe Biden's goal of conserving at least 30% of U.S. lands and waters by 2030 will help slow global warming while preserving some of the nation's most scenic lands for future generations of Americans to enjoy.
About 12% of the nation's lands and 25% of its waters are currently protected, according to research by the Center for American Progress, a left-leaning think-tank . Those protected areas include not just parks but also wilderness areas, game refuges, agricultural lands, forests, ranches and other sites with conservation easements.
The plan being released Thursday recommends a series of actions, including expansion of a federal grant program to create local parks, especially in cities and other "nature-deprived communities." The report also urges grants to Native American tribes to support tribal conservation priorities; expansion of fish and wildlife habitats and corridors; increased access for outdoor recreation; and creation of a "civilian climate corps" to work on conservation and restoration projects nationwide.
The plan, which follows through on a Biden campaign promise, builds on the Great American Outdoors Act, a 2020 law passed by Congress that authorizes nearly $3 billion for conservation projects, outdoor recreation and maintenance of national parks and other public lands.
Supporters call the law the most significant conservation statute in nearly half a century. It provides dedicated annual funding for parks and open space projects across the country.
Even with that injection of federal funding, the Biden plan relies heavily on voluntary conservation efforts by farmers, ranchers, forest owners and fishing communities.
"The president's challenge is a call to action to support locally led conservation and restoration efforts of all kinds and all over America, wherever communities wish to safeguard the lands and waters they know and love," the report states. "Doing so will not only protect our lands and waters but also boost our economy and support jobs nationwide."
The report was signed by three Cabinet officials — Interior Secretary Deb Haaland, Agriculture Secretary Tom Vilsack and Commerce Secretary Gina Raimondo — along with Brenda Mallory, chairwoman of the White House Council on Environmental Quality. The four are set to announce the report at a news conference Thursday.
To help track progress toward the conservation goal, the report calls for establishment of an interagency working group that includes the U.S. Geological Survey, the Natural Resources Conservation Service and the National Oceanic and Atmospheric Administration.
The report "is only the starting point" on a path to fulfil Biden's conservation vision, the three Cabinet officials and Mallory said in a statement.
"Where this path leads over the next decade will be determined not by our agencies, but by the ideas and leadership of local communities," they added. "It is our job to listen, learn and provide support along the way to … pass on healthy lands, waters and wildlife to the generations to come."
Matthew Daly, The Associated Press
Canada may find it challenging to reach herd immunity from COVID-19, experts say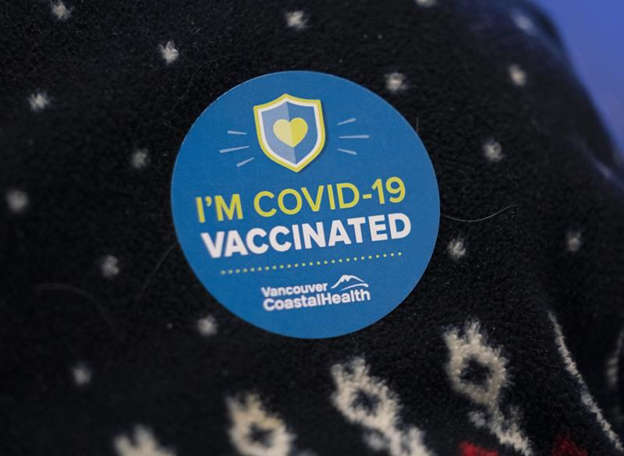 Herd immunity may not be reached in Canada but a return to life similar to that before COVID-19 is possible through immunization, experts say.
Such immunity is achieved when enough people are immune to a virus, either through vaccinations or natural infections or a combination of both.
Prof. Paul Tupper of Simon Fraser University's mathematics department said herd immunity is unlikely to happen with COVID-19 for a few reasons.
The virus is being transmitted worldwide, which means it is reintroduced in different places across borders and immunity through vaccination and infection doesn't last permanently. The vaccines don't seem to be completely effective against some of the new variants, he said.
"So, I think what is more likely to happen is that we end up in a situation like we have with seasonal flu," Tupper said.
"We have to live with the flu, and I think something similar is going to happen with COVID."
The level of immunity among the population also changes with the variants, especially the more transmissible strains, he said.
Sarah Otto, a University of British Columbia professor, said the disease's reproductive rate is hard to pinpoint, which makes it difficult to establish a herd immunity target. Otto is an expert on the mathematical models of pandemic growth and control in the university's zoology department.
The reproductive rate is the number of additional people infected by a single person with COVID-19, which has also changed because of the variants, she said.
Canada might also fall short of herd immunity because people can still get infected after vaccination, even if they are less likely to develop symptoms, she said.
"We don't yet know how effective vaccines are at reducing transmission from person to person and that matters a lot," Otto said.
Vaccinated people are getting fewer infections but those who do can still suffer severe symptoms, she said
"Before the pandemic, we didn't have working vaccines for coronaviruses, so we don't know exactly what the outcomes are going to be. It's very unusual to have a disease with such wildly differing outcomes, with asymptomatic individuals and severely affected long haulers. How are vaccines going to change that mix? We don't really know why the severe cases are so severe."
Tupper said public health guidelines will change as more people get vaccinated.
"But the goal of eradicating COVID just does not appear to be realistic."
Dr. Isaac Bogoch, an infectious disease specialist at the University of Toronto, said vaccines can significantly reduce transmission rates, regardless of whether Canada reaches herd immunity.
"Some communities might have no transmission while other communities, even within the same province, might have some low levels of transmission and it's all based on vaccine status," he said.
"But regardless, we will achieve very, very low rates of transmission in our communities because of vaccination."
Community level immunity is when a virus is not completely eliminated, he said.
"There may be some transmission of COVID-19 but sporadically with small outbreaks or with low levels of transmission, while most people are largely unaffected due to widespread vaccination."
It had been suggested that herd immunity could be reached when about 70 per cent of the population is vaccinated, but now researchers don't know what level of protection is required because of the variants.
Otto said there are more questions than answers at this point.
"With every partial answer we get two or three more questions. These are hard and tricky issues and I wish we were less uncertain, but that is the truth of the matter."
This report by The Canadian Press was first published May 6, 2021.
Hina Alam, The Canadian Press