Anger simmers for Dutch farmers who oppose pollution cuts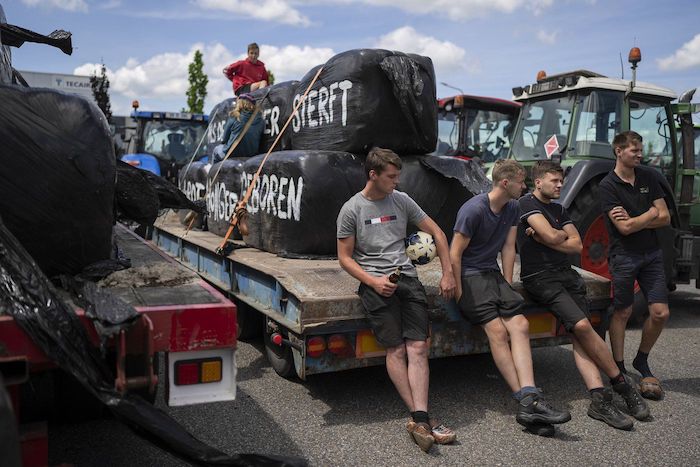 By Mike Corder in Maasland
MAASLAND, Netherlands (AP) — Bales of hay lie burning along Dutch highways. Supermarket shelves stand empty because distribution centers are blocked by farmers. Then, at dusk, a police officer pulls his pistol and shoots at a tractor.
Dutch farmers are embroiled in a summer of discontent that shows no sign of abating. Their target? Government plans to rein in emissions of nitrogen oxide and ammonia that they say threatens to wreck their agricultural way of life and put them out of business.
The reduction targets could radically alter the Netherlands' lucrative agriculture sector, which is known for its intensive farming, and may also foreshadow similar reforms — and protests — in other European nations whose farmers also pump out pollutants.
That turmoil seems a long way off Friday at Jaap Zegwaard's dairy farm, which occupies 80 hectares (200 acres) of grassland close to the port city of Rotterdam, whose chimneys and cranes form a backdrop to his fields.
Most of Zegwaard's herd of 180 cattle, mostly black and white Holstein-Friesians, graze in meadows close to a traditional Dutch windmill and large white wind turbines. And even if the farm has been in Zegwaard's family for five generations, some 200 years, he doesn't know if he would recommend the farming life to his a 7-year-old daughter and 3-year-old twin boys.
"If you ask me now, I'd say, please don't even think about it," the 41-year-old said. "There are so many worries. Life's much too beautiful to deal with what's going on in the agriculture sector at the moment."
"Ask the average farmer: it's profoundly sad," he said.
At the heart of the clash between farmers and the Dutch government are moves to protect human health and vulnerable natural habitats from pollution in the form of nitrogen oxides and ammonia, which are produced by industry, transport and in the waste of livestock.
The Netherlands, a nation of 17.5 million people inhabiting an area a little larger than Maryland, has 1.57 million registered dairy cattle and just over 1 million calves being raised for meat, statistics show. The country's farms produced exports worth 94.5 billion euros in 2019.
Nitrogen oxides and ammonia raise nutrient levels and acidity in the soil, leading to a reduction in biodiversity. Airborne nitrogen leads to smog and tiny particles that are damaging to people's health.
When the Council of State, the country's top administrative court and legislative advisory body, ruled in 2019 that Dutch policies to rein in nitrogen emissions were inadequate, it forced the government to consider tougher measures.
Unveiling a map detailing nitrogen reduction targets last month, the Dutch government called it an "unavoidable transition." It said the coming year would finally bring clarity for Dutch farmers, "whether and how they can continue with their business. The minister sees three options for farmers: become (more) sustainable, relocate or stop."
The Dutch government aims to slash nitrogen emissions by 50% by 2030 and has earmarked an extra 24.3 billion euros ($25.6 billion) to fund the changes. Provincial authorities have one year to draw up plans for achieving the reductions.
Nitrogen expert Wim de Vries, a professor at Wageningen University and Research, doubts that deadline is realistic.
"It seems to be very fast and there is a legacy, already for 40 years, because the problem was much bigger in the 1980s. We then called it 'acid rain,'" he said. "Considering that legacy, it doesn't make so much difference if we do it in 7 or 10 or 12 years. We anyhow have to wait for decades for nature to improve seriously."
Farmers have been protesting for years against the government's nitrogen policies, but the emissions targets unleashed new demonstrations, with tractors clogging highways and supermarket distribution centers that led briefly to some shortages of fresh produce.
Farmers also clashed with police outside the home of the minister in charge of the government's nitrogen policies. And this week an officer opened fire on a tractor driven by a 16-year-old. After initially being held on suspicion of attempted manslaughter, the young driver was released without charge.
The Dutch government has appointed a veteran political negotiator to act as a middleman, but the gesture was immediately rejected by activist farmers and the nation's largest farming lobby group.
"The government does not offer any space to enter into a real conversation," said the farming lobby group LTO. "Under these conditions, speaking with the mediator is pointless."
The LTO, which represents about 30,000 farms — nearly a half of the Dutch total — described the nitrogen reduction target as "simply unfeasible." Dutch farms produced exports worth 94.5 billion euros in 2019.
The group says the government is focused on reducing livestock and buying up farms and not paying enough attention to innovation and sustainable farming practices.
Environmentalists say now is the time to act.
"You rip a plaster off a wound in one go," said Andy Palmen, director of Greenpeace Netherlands. "Painful choices are now necessary."
Zegwaard's farm is in an area where the government is seeking only a 12% cut in emissions, yet he also demonstrates out of solidarity with others and supports the protests.
"The average person currently sees the Netherlands as a nitrogen polluter, while we are also a food producer. It seems like people have forgotten that," he told The Associated Press.
___
Follow all AP stories on climate change issues at https://apnews.com/hub/climate.
Sask. premier accuses Trudeau of risking trade with India, hiding status of talks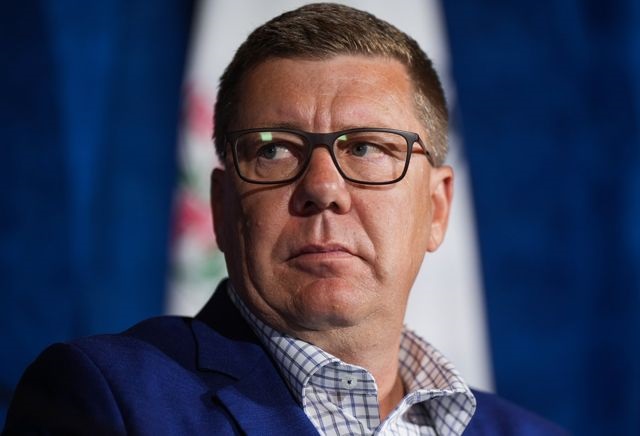 Saskatchewan Premier Scott Moe listens during a news conference, in Whistler, B.C., on Tuesday, June 27, 2023. Moe's government is accusing Prime Minister Justin Trudeau of damaging relations with India and keeping the provinces in the dark about trade talks.THE CANADIAN PRESS/Darryl Dyck
By Dylan Robertson
Saskatchewan Premier Scott Moe's government is accusing Prime Minister Justin Trudeau of damaging relations with India and keeping the provinces in the dark about trade talks.
In a letter Moe released Monday, Saskatchewan Trade Minister Jeremy Harrison argued Trudeau is picking a fight with India for domestic political gain and risking access to one of his province's most important export markets.
"It is very difficult to come to any other conclusion that your government has once again put its own domestic political interests ahead of the national economic interest — particularly as it relates to exports and trade of western Canadian-produced commodities," Harrison wrote.
Last month, Indian High Commissioner Sanjay Kumar Verma told The Canadian Press in an interview that Ottawa sought a pause "within the last month" to ongoing talks for an Early Progress Trade Agreement.
The news stunned business leaders, and Harrison wrote that his peers have had a "complete lack of updates" on the negotiations since at least late July.
"It is unacceptable to our government that we first heard of a pause in the EPTA negotiations through the media one week ago, and have received no explanation from (the) Government of Canada subsequent to that," reads Harrison's letter, dated Sept. 8.
"Clearly, what your government has done has put the already strained Canada-India relationship in even further peril after some improvement following the prime minister's disastrous trip to India in 2018," he wrote, a reference to Trudeau being mocked for wearing traditional outfits and for inviting a convicted terrorist to a reception he hosted in India.
Harrison added that provinces and territories ought to be present in the negotiations, saying this has been done in talks for past trade deals. Harrison also claimed that Trade Minister Mary Ng had not replied to a late July letter seeking an update on the negotiations.
The Liberals have given no clear reason why they ordered a pause in the trade talks, and Ng's office said she would be providing a statement in the late afternoon in response to Harrison's letter.
"We know the negotiations around free trade are long and complex, and I won't say any more," Trudeau told reporters last Friday in Singapore.
Saskatchewan makes up roughly a third of Canada's exports to India, amounting to more than $1 billion per year. The trade includes commodities such as lentils, which India has occasionally blocked or delayed as it tinkers with pest-control policies.
Trudeau briefly met with Indian Prime Minister Narendra Modi in New Delhi this weekend, and India's external affairs ministry said Modi expressed strong concerns to Trudeau about "anti-India activities of extremist elements in Canada," particularly Sikh separatists who want to carve out a state they call Khalistan from India.
The Indian readout made no mention of themes Ottawa included in its summary of the meeting, such as economic growth, support for lower-income countries and reforming global financial institutions.
Trudeau told reporters that he had concerns about foreign interference from any state, including India, and that Canadians of any origin have a right to free speech.
India has long accused Canada of harbouring extremists, while Ottawa has continually maintained that freedom of speech means groups can voice political opinions if they don't use violence.
Tensions escalated this spring over a series of incidents, including with posters referring to India's diplomats in Canada as "killers" and seeking their home addresses.
Ng is set to lead a trade mission to India next month with Canadian businesses.
Human Rights Watch says the Modi government has overseen a "serious regression in human rights and constitutional protections," with attacks on Muslims and other minorities met with impunity and restrictions on journalists.
This report by The Canadian Press was first published Sept. 11, 2023.
Canadian innovation beats EU precaution in agriculture sustainability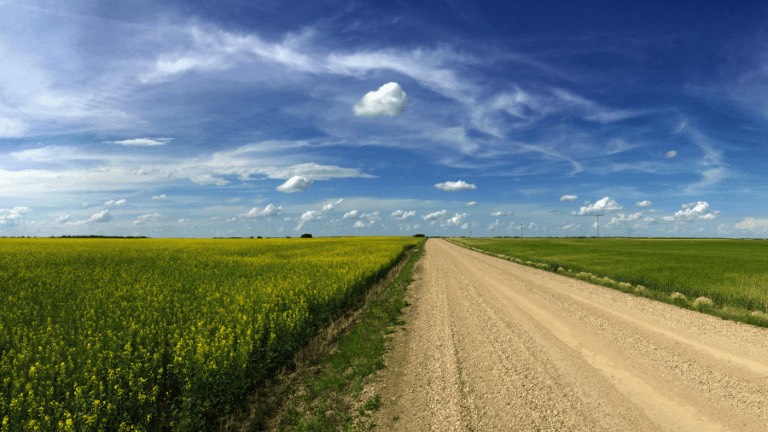 By Stuart Smyth
Canada should learn from, not follow, the EU's agriculture policy errors
The world needs a lot of food to feed eight billion hungry mouths. Even though global production for the most important crops – rice, wheat and maize – reached all-time highs last year, inflation, geopolitical interruptions and misguided policy have disrupted our ability to make food abundant and affordable for everyone.
Crop breeding, more efficient fertilizer and chemical use, and investments in farming equipment and technology offer tried and true strategies for increasing production while enhancing sustainability and reducing GHG emissions.
The European Union is rejecting these proven strategies through policies that dramatically reduce fertilizer and chemical use and ban modern crop breeding technologies. Regrettably, Canada's federal government is looking at the European approach as a model for its emissions reduction plans. Canadians must reject the ideologically driven, counterproductive policies pursued in the European Union and must insist on science and outcome-driven policies to promote a strong, sustainable agricultural sector that can help satisfy the world's growing needs.
Innovation is fundamental to modern societies and economies. Governments constantly encourage innovation and enact policies to incentivize investment into the research and development required to bring new products and processes to market. In recent years, environmental sustainability has been a primary concern and Canadian agriculture has been at the forefront of sustainable innovation. Fundamentally, sustainability in agriculture means maximizing efficiency: producing more pounds of crop per acre of land for each pound of input (seed, fertilizer, pesticides, labour) applied.
Prior to the widespread adoption of modern crop technologies, all crop and food production was done through what are now known as organic production practices. With organic production the only way to produce more food is to use more land. However, beginning in 1960, food production became decoupled from increased land use, increasing by 390% while using only 10% more land. Innovations in crop breeding technologies such as GM crops (genetically modified), fertilizer and chemical use, and farm industrialization have all contributed to this increasingly sustainable food production.
This increase in productivity has allowed the world's population to flourish from just 3 billion people in 1960 to 8 billion today. Although the global agricultural sector is a significant source of greenhouse gases, total emissions have remained flat since 2000 even as production increased, and the sector's share of global emissions has declined.
Despite this incredible success story, modern agriculture is often viewed with suspicion, particularly in the European Union. They have incorporated precaution-based regulations which dramatically reduce fertilizer and chemical use and ban modern crop breeding technologies. Presently they are proposing to triple organic production, from 8% of current land to 25%, by 2030, as part of what's known as their "Farm to Fork" strategy to reduce agricultural GHG emissions.
Inevitably, the strategy will not necessarily reduce emissions but will certainly reduce production. Declines are expected: -26% in cereals, -27% in oilseeds, -10% for fruits and vegetables, -14% of beef and -9% of dairy. All of these production decreases will contribute to even higher food prices in the EU, which has been experiencing double digit inflation increases for most of the past year.
By contrast, Canada allows all plant breeding technologies to be used in the development of new varieties, and fertilizer and chemical use is based upon risk appropriate, science-based regulations. The benefits of this approach are unambiguous.
In Saskatchewan, only 3% of crop land requires tillage – mechanical turning of the soil to control for weeds and pests and prepare for seeding. In the European Union, 74% of crop land requires it. Removing tillage from land management practices not only reduces soil erosion and increases moisture conservation; it also reduces the amount of carbon released and increases the sequestration of carbon through continuous crop production. 90% of Saskatchewan farmers indicate that efficient weed control provided by the use of glyphosate increased sustainability in their practices, and 73% said production of herbicide tolerant canola, which is predominantly GM, did.
An assessment of EU agricultural GHG emissions concluded that had genetically modified crops been adopted there in a timely fashion, total EU agricultural GHG emissions would have been reduced by 7.5%. This amounts to 33 million metric tonnes of carbon dioxide per year. At any rate, their reduced yields have left them heavily dependent on imports of GM livestock feed from Brazil and Argentina.
Comparing sustainable agricultural production between the EU and Canada reveals two very different situations. The EU has rejected GM crops due to politics and precaution and as a result still heavily relies on tillage. Canadian farmers have enthusiastically adopted GM crops, virtually eliminating tillage. The EU is proposing additional precaution-based regulations that will further reduce crop and food production. Canadian farmers have demonstrated the ability to produce more food with fewer inputs, while the EU is poised to produce less, with more land requirements.
Opposing paths have been selected in the EU and Canada. The evidence to date confirms that it is Canadian agricultural production that is increasingly sustainable. The government must learn the right lessons from Europe's mistakes when adopting strategies for reducing emissions from our agricultural sector. Canada should continue to improve sustainability through innovation. Canada should not follow Europe's failed attempts to reduce emissions by producing less food.
Stuart J. Smyth is Professor & Agri-Food Innovation & Sustainability Enhancement Chair at the University of Saskatchewan.