Analysis: China's sway over Russia grows amid Ukraine fight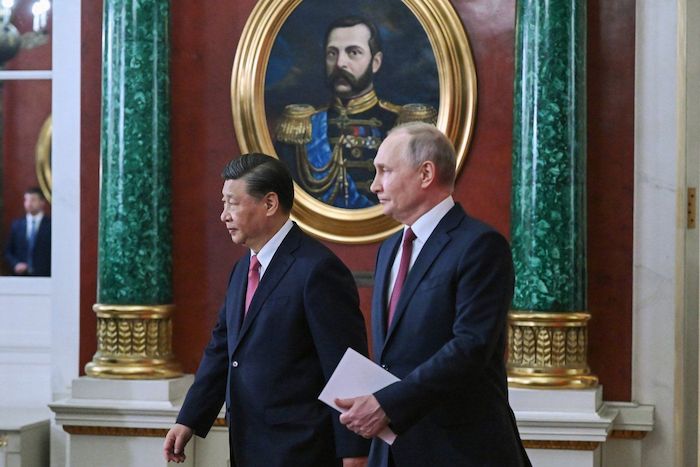 Russian President Vladimir Putin, right, and Chinese President Xi Jinping arrive to attend a signing ceremony following their talks at The Grand Kremlin Palace, in Moscow, Russia, Tuesday, March 21, 2023. (Grigory Sysoyev, Sputnik, Kremlin Pool Photo via AP)
By Vladimir Isachenkov in Moscow
MOSCOW (AP) — It was a revealing moment during Chinese leader Xi Jinping's tightly scripted visit to Moscow: Standing in the doorway of the Grand Kremlin Palace, he told Russian President Vladimir Putin that the two of them were "witnessing the changes that haven't been seen in more than a century, and we are pushing them together."
"I agree," Putin responded.
The remarks — caught on a Kremlin camera over a bodyguard's shoulder — offered a rare glimpse into Xi's ambitions and his relationship with Russia after more than a year of fighting in Ukraine.
While Moscow increasingly looks like a junior partner to Beijing, Xi is likely to offer a strong lifeline to Putin, his key partner in efforts to reshape the world to try to limit U.S. domination.
Xi's unusually blunt statement capped more than 10 hours of Kremlin talks, which ended with long declarations filled with florid rhetoric about expanding the "comprehensive partnership and strategic cooperation" between Russia and China, pledges to champion a multilateral approach to global affairs and criticism of Washington.
In his concluding statement, Putin hailed the Chinese proposal for a settlement in Ukraine, which the West had all but rejected as a non-starter. The Russian leader also rolled out a slew of initiatives that cemented his country's role as a key source of energy and other raw materials for China's giant economy. He proposed building new energy pipelines, invited the Chinese to fill the niche left after the exodus of Western businesses, and vowed to boost the export of agricultural products to China.
Xi remained tight-lipped, avoiding any firm commitments regarding specific projects and mostly sticking to general and vague rhetoric about expanding ties.
"A lot of things that Vladimir Putin would have liked to happen did not, in fact, happen," Rana Mitter, professor of Chinese history and politics at Oxford University, told The Associated Press. "There was no point at which Xi explicitly said that he accepted Russia's position on the Ukraine war over the position of Ukraine."
In fact, there was "a sense that China was reserving for itself the right to step away from a complete endorsement" of the Russian position, Mitter added.
Moscow and Beijing said they would increase contacts between their militaries and stage more joint sea and air patrols and drills, but there wasn't even the slightest hint from China that it could help Russia with weapons, as the U.S. and other Western allies feared.
Speaking Wednesday before a Senate committee, U.S. Secretary of State Antony Blinken said China so far has heeded strong U.S. warnings against providing lethal material support for Russia in Ukraine. "We have not seen them cross that — cross that line," he said.
U.S. National Security Council spokesperson John Kirby described the Putin-Xi relationship as "a marriage of convenience," in which they pool efforts to challenge U.S. leadership, and the Russians "certainly are the junior partner." He added at briefing earlier this week that Putin sees Xi as "a lifeline of sorts" amid the fighting in Ukraine.
Many commentators argued that the summit marked Putin's failure to win any specific aid from Beijing and cemented Russia's increasingly subordinate role in the alliance with China.
"China's domination of Russia is complete," tweeted Sam Greene, professor in Russian politics at King's College London. "While there were undoubtedly agreements we are not meant to know about, there is no indication here of a significant increase in military support for Russia — nor even of a willingness on Xi's part to ramp up diplomatic support. A swing and a miss for Putin."
After more than a year of fighting in Ukraine and bruising Western sanctions, Russia's dependence on China has increased significantly. Facing Western restrictions on its oil, gas and other exports, Russia has shifted its energy flows to China and sharply expanded other exports, resulting in a 30% hike in bilateral trade.
Western price caps on Russia's oil forced Moscow to offer it to China and other customers at a sharp discount, but despite those lower prices, the vast Chinese market ensured a stable flow of oil revenue to the Kremlin's war coffers.
As long as Russia can trade with China and other Asian states, it will face "no danger of running out of money or being forced to concede on the battlefield, said Chris Weafer, CEO of the consulting firm Macro-Advisory.
While profiting handsomely from Moscow's desperate situation, Beijing would be certain to ramp up its support if it sees Russia dangerously weakened.
"The nightmare scenario for China is that collapse of Russia militarily leads to collapse of the regime and installment of some pro-Western government," said Alexander Gabuev, a senior fellow at the Carnegie Endowment.
Gabuev argued that Beijing would be unlikely to provide any direct military assistance to Moscow anytime soon simply because it doesn't feel the pressing need to do so. "Russia is not doing great on the battlefield, but it's obviously not losing it, so need to support the Russian military efforts so far is questionable from both sides," he said.
More than ammunition, tanks and rockets, Russia badly needs China's help in skirting Western sanctions to maintain the flow of high-tech components for its weapons industries and other economic sectors. Sergei Markov, a pro-Kremlin political analyst, predicted that China could be expected to act more resolutely to help Russia get them.
"Russia doesn't need weapons from China," Markov wrote on his messaging app channel. "It needs microchips and components, and they will come."
Some observers say that while Beijing has been coy about supporting Moscow, it has vital interest in shoring up its ally to avoid being left alone in any potential confrontation with the United States.
Mikhail Korostikov, an expert on Russia-China ties, said in a commentary for the Carnegie Endowment that China has been closely watching Russia's experience in facing massive Western sanctions. "For Beijing, a close study and partial use of instruments and decisions used by Russia is a reasonable course in a situation when China's confrontation with the West looks inevitable," he said.
Korostikov noted that while Moscow's dependence on Beijing is growing, China's room for maneuvering is also shrinking.
"There is no alternative to Russia as a partner providing resources that China will critically need in case of an escalation in its confrontation with the West," he said. "It helps balance the situation and allows Moscow to hope that Beijing will not overuse its newly-acquired economic levers."
___
Isachenkov has covered Russia and other former Soviet nations for The Associated Press since 1992.
___
Associated Press writers Michael Weissenstein in New York, and Matthew Lee and Zeke Miller in Washington contributed.
Poland is done sending arms to Ukraine, Polish leader says as trade dispute escalates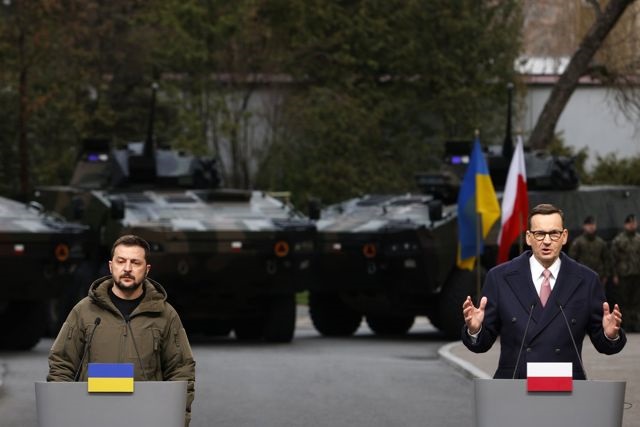 Poland's Prime Minister Mateusz Morawiecki, right, and Ukrainian President Volodymyr Zelenskyy attend a press conference in Warsaw, Poland, Wednesday, April 5, 2023. Poland's prime minister said on late Wednesday his country is no longer sending arms to Ukraine, a comment that appeared aimed at pressuring Kyiv but put Poland's status as a major source of military equipment in doubt as a trade dispute between the neighboring states escalates. (AP Photo/Michal Dyjuk, File)
By Vanessa Gera in Warsaw
WARSAW, Poland (AP) — Poland's prime minister said his country is no longer sending arms to Ukraine as a trade dispute between the neighboring states escalates and his populist party faces pressure from the far right in the upcoming national election.
Prime Minister Mateusz Morawiecki said in a television interview late Wednesday that Poland is "no longer transferring any weapons to Ukraine because we are now arming ourselves with the most modern weapons" in a military modernization plan spurred by fears of Russian aggression in the region. He did not elaborate or explain how the two actions were mutually exclusive.
A government spokesman, Piotr Mueller, clarified Thursday that the country was now only providing supplies of ammunition and armaments that had previously been agreed to, noting that "a series of absolutely unacceptable statements and diplomatic gestures appeared on the Ukrainian side."
White House national security adviser Jake Sullivan said he believes that "Poland will continue to be a supporter of Ukraine."
"When I read the headlines this morning, I was of course concerned and had questions, but I've subsequently seen the Polish government spokesman come out to clarify that in fact Poland's provision of equipment, including things like Polish-manufactured Howitzers, is continuing and that Poland continues to stand behind Ukraine," Sullivan said when asked about the matter at a news briefing.
Poland has supplied Ukraine with a wide range of weaponry, including Leopard 2 tanks and Soviet-era MiG fighter jets. Poles are still largely in favor of supporting Ukraine, believing their nation would be vulnerable if Russia were to prevail just across the border. But there is also a growing weariness in society with the large numbers of refugees.
Ahead of the national election on Oct. 15, the far-right Confederation party has said that Poland is not getting the gratitude it deserves for arming Ukraine and accepting its refugees. And emotions have been running high since Poland, Hungary and Slovakia announced a new ban on Ukrainian grain imports last week, saying they wanted to protect their farmers.
The Polish-Ukrainian spat comes as Ukraine forces are making slow progress breaking through Russian battle lines in a counteroffensive that has not moved as quickly or as well as initially hoped and Poland's move could have wider fallout as another winter of fighting approaches. Kyiv's leaders are lobbying for a new round of advanced weapons, including longer range missiles.
U.S. Army Gen. Mark Milley, chairman of the Joint Chiefs of Staff, said last weekend that there is a continued need for more weapons and equipment in Ukraine and that allies and partners are looking for ways to address that.
But some U.S. voters are beginning to tire of helping Ukraine, and Ukrainian President Volodymyr Zelenskyy visits Washington this week as Republican leaders in Congress diverge on how to send more military and humanitarian aid to the country.
A leading security and defense expert, Michal Baranowski, said that Poland gave most of what it could give earlier in the war, and with no plans for shipments of major equipment soon, he doesn't see a threat to Ukraine's capabilities in the near term. Still, he considers Morawiecki's comments troubling for Ukraine as its seeks to maintain Western support in the war unleashed by Russia.
"The message is very bad, both for Poland's reputation but also because Poland has been one of the chief advocates of military aid to Ukraine. Saying Poland will not be sending more weapons means that Poland can no longer play this role," said Baranowski, managing director of Warsaw-based GMF East, part of the German Marshall Fund think tank.
He said Poland's attempt to show toughness toward Kyiv should be understood in the context of the election campaign. In response to Morawiecki saying Poland would now focus on modernizing its own forces, Baranowski noted that Poland is capable of both modernizing its military and continuing to help Ukraine.
Donald Tusk, a top opposition leader, accused Morawiecki and other ruling authorities of a "moral and geopolitical scandal of stabbing Ukraine in the back politically when they decide to fight on the Ukrainian front, just because it will be profitable for their campaign."
Poland, Hungary and Slovakia said the new ban on Ukrainian grain imports was put in place to protect their farmers from a glut of Ukrainian grain in their markets, which lowers prices and hurts their livelihood. Kyiv responded with a complaint at the World Trade Organization against the three countries that sparked even more angry reactions from Poland.
Polish and Ukrainian agriculture ministers said Thursday they were working to resolve the situation in a way that takes the interests of both countries into account. Ukraine meanwhile was lifting its complaint against Slovakia as the two sides sought a resolution, Slovak authorities said.
At the United Nations on Tuesday, Zelenskyy suggested that the countries opposing Ukraine on grain were in fact working on Russia's behalf. Poland urgently summoned the Ukrainian ambassador to complain Wednesday.
Morawiecki said in interview on private broadcaster Polsat that a NATO and U.S. hub in the Polish city of Rzeszow used for transporting weapons into Ukraine would not be affected. "We are not going to risk the security of Ukraine," he said.
The German Foreign Ministry said: "Ukraine continues to need our full support. It is important that we in Europe act decisively and in solidarity in this regard. Germany will support Ukraine humanitarianly, politically, economically and with weapons for as long as it needs us."
___
Associated Press writers Seung Min Kim in Washington, Lorne Cook in Brussels, Kirsten Grieshaber in Berlin and Karel Janicek in Prague contributed to this report.
UN envoy for Sudan resigns, warning that the conflict could be turning into 'full-scale civil war'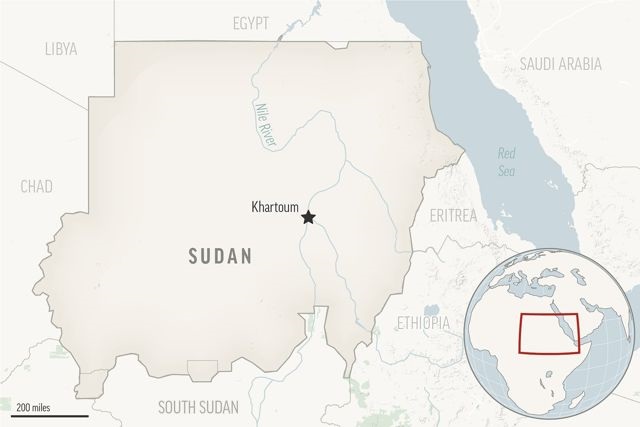 By Edith M. Lederer in Tanzania
UNITED NATIONS (AP) — The U.N. special envoy for Sudan who was declared unwelcome by the country's military rulers announced his resignation Wednesday in a final speech to the U.N. Security Council, warning that the conflict between Sudan's two military leaders "could be morphing into a full-scale civil war."
Volker Perthes, who had continued to work outside Sudan, said the fighting shows no sign of abating, with neither side appearing close to "a decisive military victory." He also said the violence in Sudan's western Darfur region "has worsened dramatically," with the warring parties blatantly disregarding human rights and civilians being targeted based on their ethnicity.
Sudan has been rocked by violence since mid-April, when tensions between the country's military, led by Gen. Abdel Fattah Burhan, and the paramilitary Rapid Support Forces, commanded by Gen. Mohamed Hamdan Dagalo, burst into open fighting.
Perthes said at least 5,000 people have been killed since then and over 12,000 wounded, calling these conservative numbers and saying the actual number "is likely much higher."
The Sudanese people are also facing "a crisis of epic and tragic proportions, with more than 20 million people — almost half the population — experiencing acute levels of hunger and food insecurity, the U.N. humanitarian office's operations director, Edem Wosornu, told the council.
"And more than 6 million people are now just one step away from famine," she said. "If the fighting continues, this potential tragedy comes closer to reality every day."
The fighting has forced 4.1 million people to flee their homes to other places in Sudan and more than 1 million to seek refuge in neighboring countries, Wosornu said, stressing that displacement and insecurity "have driven cases of sexual violence to distressing levels."
Perthes was a key mediator after the conflict began, but the military government claimed he was biased and informed U.N. Secretary-General Antonio Guterres on June 8 that he was declared persona non grata.
The U.N. denounced the move, saying that a member of its personnel cannot be declared persona non grata — unacceptable to the government — and that this goes against the U.N. Charter.
In announcing his resignation, Perthes, who was appointed as special representative for Sudan in January 2021, urged the warring sides to end the fighting and warned them "they cannot operate with impunity."
"There will be accountability for the crimes committed," he said.
Secretary-General Guterres told a news conference that he had accepted Perthes' resignation, saying, without elaborating, that the envoy "has very strong reasons to resign."
Perthes also warned of "the risk of a fragmentation of the country," pointing to a myriad of compounding crisis, including Darfur, the cross-border mobilization of Arab tribes, fighting in the country's South Kordofan and Blue Nile provinces between the Sudanese military and rebels, and rising tensions in eastern Sudan amid ongoing tribal mobilization.
He also added — referring to Sudan's longtime autocratic leader Omar al-Bashir who was deposed in a popular uprising in 2019 — that "the mobilization by former regime elements advocating for a continuation of the war is of particular concern."
U.S. Ambassador Linda Thomas-Greenfield sharply criticized Sudan's military leaders for threatening to end the U.N. political mission in Sudan known as UNITAMS if Perthes addressed the Security Council, calling the threats "unacceptable" and declaring that "No country should be allowed to threaten this council's ability to carry out its responsibilities for peace and security."
In a highly unusual procedure aimed at trying to maintain the U.N. mission, the council meeting started with a briefing by Ghana's ambassador who chairs the Security Council committee monitoring sanctions against Sudan, and Sudan's U.N. Ambassador Al-Harith Mohamed was then given the floor.
He claimed the government "is in control of the political and security initiatives and is communicating with all regional players and international terrorist in order to end the war," and is receiving "the full support of the Sudanese people who categorically reject the presence of the Rapid Support Forces."
He urged the Security Council and the international community to support the government, accusing the Rapid Support Forces and their militias summoning "killers and mercenaries" to destroy the country. "The international community must not allow for a new generation of terrorists against the state who who transform (it) into Frankenstein," he said.
Albania's U.N. Ambassador Ferit Hoxha then gaveled that council meeting to an end and after the Sudanese ambassador left, he gaveled the start of a new meeting on the secretary-general's lateat report on Sudan, which opened with the briefing by Perthes.
Thomas-Greenfield told Perthes the United States regrets his departure.
Perthes made no mention of his next steps. A former German academic with extensive background in international relations, Perthes served as chief executive officer and director of the German Institute for International and Security Affairs from 2005 to September 2020. From 2015 to 2018, he served as a U.N. assistant secretary-general and senior adviser to U.N. special envoy for Syria.