'Always remember': Funeral held for 2 Edmonton police officers killed on duty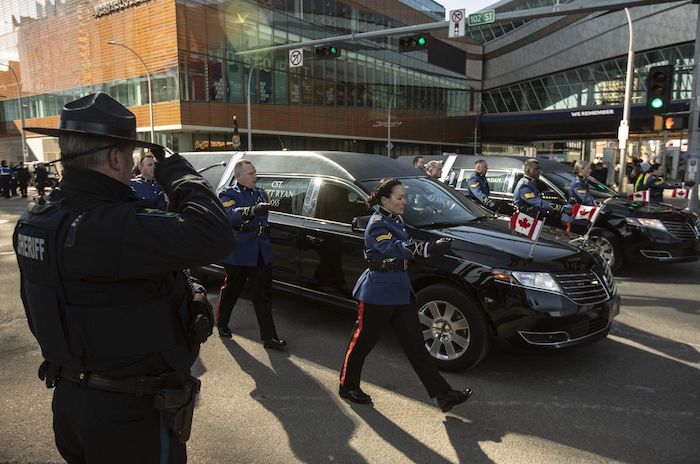 A sheriff salutes during a procession for Edmonton Police Service Const. Travis Jordan and Const. Brett Ryan in Edmonton on Monday, March 27, 2023. The officers were killed in the line of duty on March 16, 2023. THE CANADIAN PRESS/Jason Franson
By Ritika Dubey and Angela Amato in Edmonton
Two police officers killed in the line of duty were honoured Monday at a regimental funeral with tears and tales of off-key crooning, birdies and beers, laughs and contagious joy.
Thousands of officers gathered with family members to say a formal goodbye to Edmonton police Const. Travis Jordan, 35, and Const. Brett Ryan, 30, at Rogers Place arena, the home area of the Edmonton Oilers.
"I'll remember his smile, his wheezy laugh — we've been told we laugh the exact same way. I will always remember how excited he was when Brett found out he was going to be a dad, and I know that is one memory I will never lose," Ryan's pregnant widow, Ashley, said in her eulogy.
"You will live on in baby Ryan and they will know every last detail about how special you were to so many people and, most importantly, to me. I love you forever. I'll miss you always."
Jordan's widow, Annie, stood silently beside police chaplain Roy Langer as he read her parting words.
"We didn't have one hard day in 11 years," she said through Langer.
"The world was really ours. We had already started leaving our mark in some many different places."
The officers were shot at multiple times while responding to a family dispute on March 16. Police said the shooter, 16, then shot and wounded his mother during a struggle for the gun, before shooting and killing himself.
Jordan was remembered by colleagues as a valued officer of almost nine years, working to join the tactical squad. He came to Edmonton from Nova Scotia so he could realize his childhood dream of becoming an officer.
Sgt. Perry Getzinger and Sgt. Chris Gallahger remembered Jordan, or T.J., as a "great dog dad" to canines Teddy and B.J.
They recalled an excellent, ultracompetitive golfer who will live on in happy memories of lost balls and fairway trash talk from their "Birdies and Beers" golf trip.
Brodie Sampson, a childhood friend, said people who knew Jordan "were able to experience (his) kindness, contagious joy and unparalleled positivity even in the face of hardships."
"(It) gets us through these hard times now," he added.
Ryan, born in Edmonton, had more than five years' service with the force after working as a paramedic.
Ashley Ryan recalled life with the man with "a crooked little grin," who got up in the morning to have coffee and read the news in his fuzzy slippers, "because he was such an old man at heart."
Her husband, she said, loved skydiving, baseball and their dogs, even the one who chewed up their couch.
Garett Ryan said his older brother loved trips to Las Vegas and Mexico, eating donairs and Baconator burgers. He remembered driving around with his brother, windows down belting out Kenny Chesney country music songs.
"I often called him my big little brother because that's how much I looked up to him."
The caskets were brought to Rogers Place in two hearses that inched their way through the downtown from the legislature under bright sun amid chill winds. They were followed by officers from across the country.
They marched eight abreast, arms swinging amid the pipes and drums of interspersed marching bands while onlookers lined the streets. Some held up placards with painted blue hearts, others placed their right hands over their hearts.
"We're here to support all of the first responders but in particular our son, who is a police officer with Calgary Police Services," said Jim Funk, who attended the procession with wife, Chris.
"We feel so sad, especially for the families of the two officers, but that extends out to the whole first responder family nationwide."
Said Chris Funk: "It's probably the worst nightmare families can experience."
Two caskets, each draped in a Canadian flag, were carried into the arena on the shoulders of Edmonton police pallbearers.
The service was not open to the public but was livestreamed and broadcast outdoors at the Ice Plaza next to Rogers Place.
Dozens shivered in the cold to watch, including 15-year-old Charlie Dennis, whose father is an Edmonton officer.
"It's nice to know that there are people around that would care and would show up," she said.
Police continue to investigate the circumstances of the shooting and have said the same gun was used days earlier at a nearby Pizza Hut, leaving a man injured.
Police had also been called to the teen shooter's home in November, apprehending him under the Mental Health Act before taking him to hospital for an assessment.
The day of the shooting, the boy's mother called saying she was having trouble with her son. Police said there was no indication he had a gun or that the officers were walking into a high-risk or dangerous situation.
There have been 10 officers killed in the line of duty in Edmonton.
The most recent previous death was of Const. Daniel Woodall, who was shot in 2015 trying to enter the house of a suspect wanted for criminal harassment.
This report by The Canadian Press was first published March 27, 2023.
— With files from Dean Bennett
'Flared back up': Alberta town of 8,400 evacuated for second time due to fire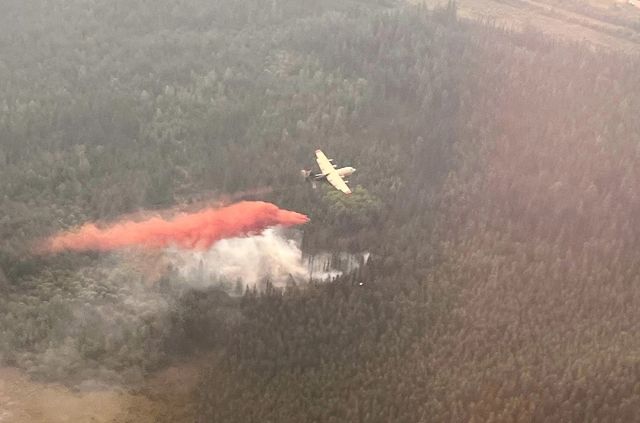 Airtankers work on a wildfire near Edson, Alta., in a Friday, June 9, 2023, handout photo. The town was evacuated Friday night due to an out-of-control wildfire. THE CANADIAN PRESS/HO-Government of Alberta Fire Service
Edson
A town in western Alberta was under an evacuation order late Friday due to an out-of-control wildfire — its second such order this spring.
Local officials issued the evacuation for Edson and parts of Yellowhead County.
"We're still evacuating the community and evacuating the hospital," said Edson mayor Kevin Zahara.
"All things considered, so far so good — but the next 72 hours are going to be critical for us. We have a lot of warm temperatures in the forecast and it's windy here right now.
"It's going to be dependent on those winds and the weather on how this fire behaves."
Alberta government officials said the fire burning near the community of about 8,400 jumped fire guards and moved closer to populated areas, including the town. They warned that there could be impacts to roads and highways if the fire crossed the guards and blocks evacuation routes.
"Because that fire is so out of control, some of the forestry crews have had to back off," said Luc Mercier, chief administrative officer for Yellowhead County, in a video statement on one of the town's Facebook pages. "They can't fight that fire."
Mercier said the fire could threaten Highway 16, the main east-west route in the area.
"We have significant concerns with egress along Highway 16 in the coming days," he said. "The next 36 hours will be paramount with the winds coming forward."
An update issued at 11 p.m. said live embers and flames were seen in Willmore Park, meaning the fire had crossed the river. The notice said if people had not left the area yet, "now is the time." Officials said emergency crews were busy with fire operations and would not be able to respond if people needed help.
The Edson area, about 190 kilometres west of Edmonton, saw four new fire starts on Friday, said Mercier.
An unprecedented start to the wildfire season led Alberta to bring in a provincewide state of emergency on May 6. At one point, about 29,000 people were out of their homes in various communities.
The state of emergency was lifted last week.
On Friday afternoon, before the evacuation order was issued for Edson and the surrounding area, about 3,500 Albertans remained out of their homes.
Evacuation buses were leaving from three points in Yellowhead County and five in Edson. An evacuation centre was being set up in Edmonton's Expo Centre.
Zahara said there had been little threat in the area as recently as four days ago. Hot weather and high winds put a stop to that.
"This fire has flared back up," Zahara said.
"It's really important people adhere to the evacuation order."
He said no services, including fire and medical, would be available in Edson until further notice.
Edson was evacuated for three days in early May by another wildfire.
Zahara said at the time that he thought there was a good chance the town would be lost to the flames.
That evacuation took a heavy financial toll on townspeople through loss of income and unexpected expenses such as hotel rooms, he said.
— By Bob Weber in Edmonton
This report by The Canadian Press was first published June 9, 2023.
A look at Alberta Premier Danielle Smith's new cabinet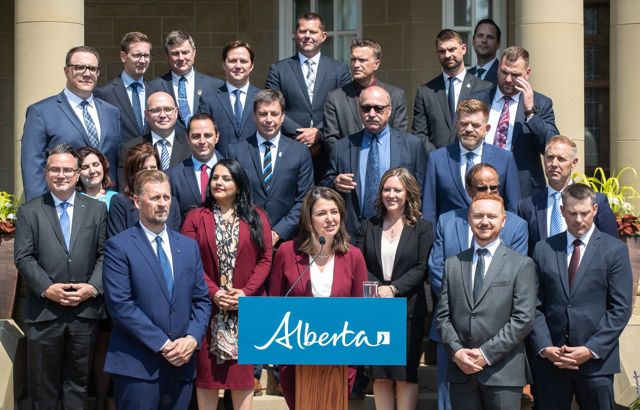 Premier Danielle Smith introduced her cabinet Friday, the second one since taking over as United Conservative Party leader in October. Here are the changes at a glance:
Second in command: Mike Ellis retains his Public Safety and Emergency Services portfolio but is also now deputy premier.
Big promotions: Mickey Amery moves from Children's Services to Justice; Nate Horner moves from Agriculture and Irrigation to Finance; Adriana LaGrange already had a heavyweight title in Education but now takes on enormous responsibilities in Health.
New faces: RJ Sigurdson joins cabinet for the first time in Agriculture and Irrigation; Searle Turton is new in Children and Family Services; Dan Williams gets his first cabinet seat in Mental Health and Addiction.
Returning vets: Jason Nixon, the environment minister and government house leader under former premier Jason Kenney, is back in cabinet handling the Seniors, Community and Social Services post. Ric McIver, dropped from Smith's first cabinet, returns in his old job of Municipal Affairs. Muhammad Yaseen, a former associate minister of immigration, now has full cabinet rank as minister of Immigration and Multiculturalism; Tanya Fir, former economic development minster under Kenney, is back in Arts, Culture and Status of Women portfolio.
Same faces, new jobs: Rebecca Schulz (Environment and Protected Areas), Brian Jean (Energy and Minerals), Nathan Neudorf (Affordability and Utilities), Joseph Schow (Tourism and Sport), Demetrios Nicolaides (Education), Rajan Sawhney (Advanced Education), Matt Jones (Jobs, Economy and Trade), Peter Guthrie (Infrastructure).
Same faces, same jobs: Nate Glubish (Technology and Innovation), Dale Nally (Service Alberta and Red Tape Reduction), Devin Dreeshen (Transportation and Economic Corridors), Todd Loewen (Forestry and Parks).
This report by The Canadian Press was first published June 9, 2023.