Allow unvaccinated Canadians to cross U.S. border, Poilievre asks President Joe Biden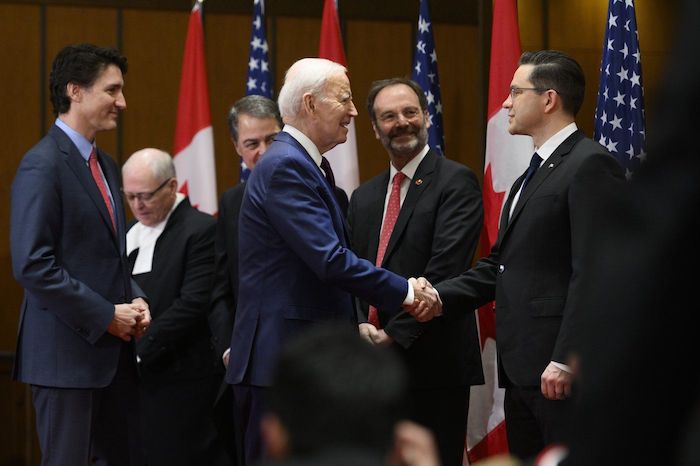 U.S. President Joe Biden shakes hands with Conservative Party of Canada Leader Pierre Poilievre, as Prime Minister Justin Trudeau looks on, during a welcoming ceremony on Parliament Hill in Ottawa, on Friday, March 24, 2023. Conservative Leader Pierre Poilievre says allowing Canadians who are unvaccinated against COVID-19 to cross into the United States was among issues he raised with President Joe Biden. THE CANADIAN PRESS/Justin Tang
By Stephanie Taylor in Ottawa
Conservative Leader Pierre Poilievre said Friday he asked President Joe Biden to remove the U.S. government's requirement that Canadians be vaccinated for COVID-19 before crossing the border.
He told reporters after their meeting that American citizens are no longer required to have their shots and Canada allows unvaccinated Americans to visit.
"There are millions of good, decent, honourable people who, through a personal medical decision, are discriminated against at the border," Poilievre said.
"I encouraged the president to lift those restrictions to allow them freedom of mobility."
Poilievre won the leadership of his party a little more than six months ago by mounting a vocal opposition to COVID-19 health restrictions, including mask and vaccine mandates, but he has since focused his message on cost-of-living issues.
He met with Biden on Parliament Hill Friday during the president's 27-hour visit to the Canadian capital, and later shared a photo of the two online.
Michael Ignatieff was the last Opposition leader to have face time with a U.S president. The former Liberal leader met with former President Barack Obama in 2009. It happened at the airport.
Poilievre said Friday he found Biden wants to be a "friendly" and "decent" neighbour to Canada, and on a personal level, he said he told the president they share Irish heritage.
He said they discussed the need for Canada to bolster its defence systems and "bring fairness" to workers by seeing the U.S. exempt Canada from its Buy American policies.
The Tory leader also said he expressed a need for Biden to axe tariffs on Canadian softwood lumber, arguing that the long-standing dispute saw a brief reprieve under Conservative prime minister Stephen Harper.
"I don't believe that Prime Minister (Justin) Trudeau has pushed and fought on behalf of Canadians," he said.
Before the meeting, Poilievre had shared some unscripted moments with the leader of the free world.
As he stood in a receiving line of Canadian politicians from all parties who were greeting Biden upon his arrival at Parliament Hill, Poilievre introduced himself as the "Leader of His Majesty's Loyal Opposition."
That prompted Biden to question, still shaking Poilievre's hand: "Loyal opposition?"
Poilievre assured him that yes, "we believe that opposition is an act of loyalty in our system."
Biden chuckled, patting Poilievre on the arm.
"We do, too, unfortunately," he said, chuckling.
Later, while addressing the House of Commons, Biden noted that both he and Trudeau appointed cabinets that were half women, making them the first in their respective countries to do so.
Many in the chamber broke out in applause.
Biden noticed that Poilievre and the Opposition Conservatives were not quick to rise, and quipped: "Even if you don't agree, guys, I'd stand up," which Poilievre and others then did.
Asked afterwards about that interaction, Poilievre said only: "We support gender equality for all Canadians."
Poilievre was on the guestlist for a dinner with Biden Friday evening, along with other government ministers, officials and celebrities.
The invitation process came with a dash of partisanship.
Earlier in the day, staff in Poilievre's office were left scratching their heads when they said it had not received an invite from Trudeau's office to attend, and asserted that any suggestion he had refused the invitation was false.
The Prime Minister's Office confirmed it had sent Poilievre notice of the dinner — but the invitation went to a personal email account that notifies senders it is not monitored.
This report by The Canadian Press was first published March 24, 2023.
BMO completes US$160M deal to purchase Air Miles loyalty rewards program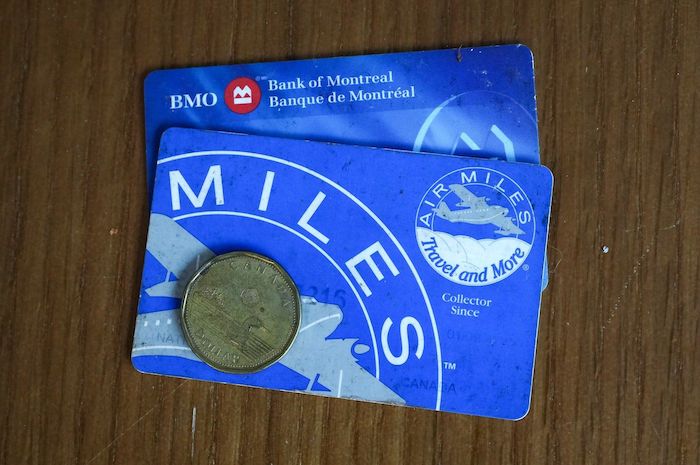 Air Miles and BMO cards are displayed in Mississauga, Ont., on Friday, March 10, 2023. BMO Financial Group closed its acquisition of the Air Miles loyalty rewards program in Canada on Thursday, saying it plans to expand the program with new ways to earn and redeem points. THE CANADIAN PRESS/Nathan Denette
Toronto
BMO Financial Group closed its acquisition of the Air Miles loyalty rewards program in Canada on Thursday, saying it plans to expand the program with new ways to earn and redeem points.
"Going forward, BMO ownership gives the program stability, but more importantly, the opportunity for us to invest in the program," said Air Miles president Shawn Stewart.
BMO announced in March it would purchase Air Miles after the program's U.S. parent company filed for bankruptcy. The bank's so-called stalking horse offer for LoyaltyOne Co. was US$160 million, subject to certain adjustments, according to court documents.
With the bank's ownership, Stewart says he's excited for the program's new chapter.
"We wanted to come out of the gate strong and reinvigorate what is a Canadian leading loyalty program. And what you'll see over the summer is a continued release of of new products, and new opportunities for collectors to earn."
Air Miles is one of the oldest and largest loyalty programs in Canada, with nearly 10 million active users, but the program has lagged in recent years as numerous companies dropped out of the program.
Last summer, Sobeys and Safeway owner Empire Co. Ltd. and office supply retailer Staples said they would be scrapping the program, a year after the Liquor Control Board of Ontario and Lowe's Canada pulled out.
BMO said it plans to introduce enhancements to the program including an improved travel booking platform and a new way for collectors to earn Bonus Miles through receipt scanning. The latter will be available first for collectors in Atlantic Canada, followed by those in other regions.
Stewart said the main complaint coming from program partners was a lack of investment in the Air Miles program, an issue the acquisition is expected to address.
"When partners see our investment, our hope and our plan is that they'll see the growth in the program, the opportunity for them to speak to 10 million Canadians, to understand and use the data and analytics the program provides," he said.
The Air Miles program is re-introducing itself to Canadians in a market that's seen more stores launching loyalty programs in recent years, but Stewart said that Air Miles stands out as a longtime brand with a broad catalogue for points redemption.
This report by The Canadian Press was first published June 1, 2023.
Total Canadian debt hit new record in first quarter: TransUnion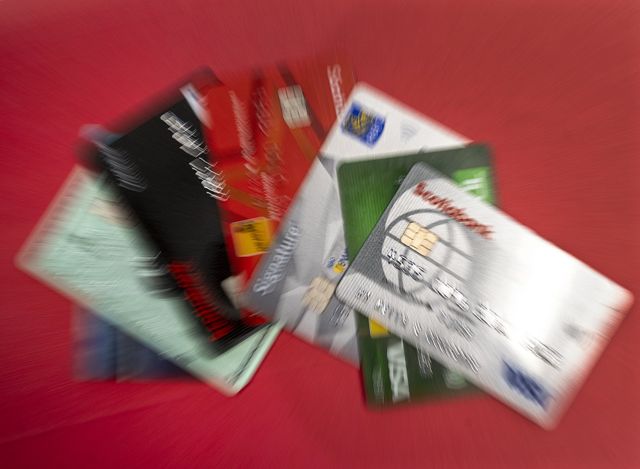 Canadians' combined outstanding debt hit a new record in the first quarter, reaching $2.32 trillion, TransUnion said Wednesday.
As the cost of living rose with high inflation and interest rate hikes, many Canadians turned to credit to alleviate financial pressures, the credit reporting agency said in its latest industry insights report.
The number of Canadians with access to credit grew 2.9 per cent year over year, led by subprime consumers, which grew by 8.3 per cent, TransUnion said.
However, the agency said consumers considered prime or higher still make up almost three-quarters of total consumers with a balance, characterizing that as a "relatively healthy risk distribution."
Credit card originations were up 20 per cent amid heavy competition in the market, while the average line of credit monthly payment increased by 43 per cent to $436.
Mortgage origination dropped 32 per cent year over year as higher interest rates slowed demand for new mortgages, especially in the refinance market.
Meanwhile, serious consumer delinquency increased, though TransUnion noted that overall delinquency levels remain below pre-pandemic levels.
"The financial position of Canadian credit consumers improved coming out of the pandemic, bolstered by higher savings accumulated through the pandemic and supported by a strong labour market," said TransUnion director of research and industry insights Matthew Fabian in the report.
"However, the longer the current conditions of elevated inflation and higher interest rates persist, the more likely it is that a segment of more vulnerable consumers may increasingly feel the pinch," he said.
"As available disposable incomes become more stretched, we expect a segment of consumers will be more likely to miss payments, and as a result, that delinquency rates will rise."
Average consumer balances on most credit products rose, with the average credit card balance up 11.4 per cent to $3,909, and the average mortgage balance up 7.1 per cent to $349,178.
TransUnion expects credit trends for 2023 to be mixed due to the uneven impact of higher inflation and interest rates.
This report by The Canadian Press was first published May 31, 2023.