Alberta's premier faces down restive United Conservative caucus over COVID-19 crisis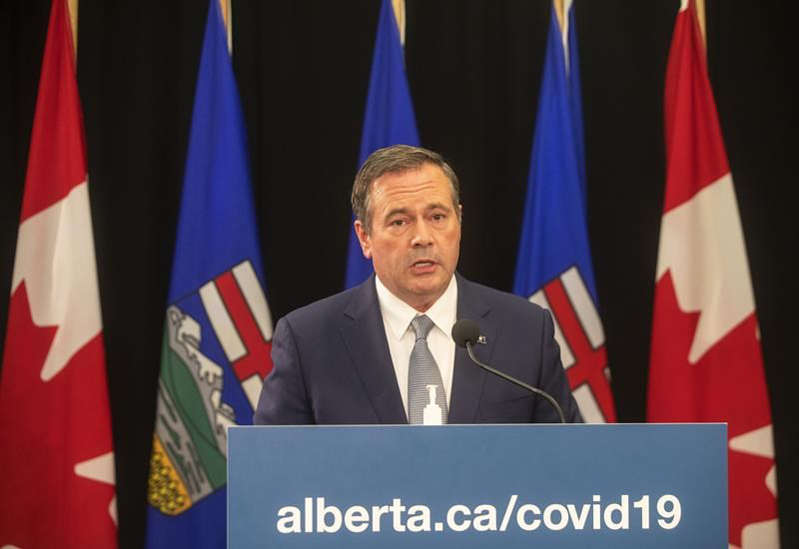 CALGARY — Alberta Premier Jason Kenney faced down a restive and divided United Conservative Party caucus Wednesday, focusing on COVID-19 while managing to avoid a straw vote on his leadership.
UCP backbencher Searle Turton said it was a wide-ranging caucus meeting, but there was no vote of confidence on Kenney's leadership.
He said the focus of the debate was the pandemic.
"There was discussion about the party, about unity, about how we got here, about COVID. Caucus is a robust place to do discussion in a confidential setting," said Turton, who represents Spruce Grove-Stony Plain.
"There were no votes by caucus. There was lots of robust discussion about the pandemic."
Kenney has been challenged by some of his legislature members for decisions on COVID, which has escalated into a crisis that has overwhelmed the provincial health system and forced Alberta to seek outside help.
Some of Kenney's caucus members have criticized his health measures as being too little too late, while others say he has gone too far and violated individual rights by imposing a form of voluntary vaccine passports.
Joel Mullan, the party's vice-president of policy, has already called for Kenney to resign and says enough constituency associations have signed on to force an early party review and vote on Kenney's leadership.
Kenney isn't slated to face a mandatory leadership review until late next year.
But Mullan has said 30 constituency associations have promised to pass resolutions to call for an earlier review. If that happens, Kenney could face a vote by the membership in about three months and would lose the top job unless he wins at least a simple majority.
Kenney has dismissed accusations of party infighting and calls to resign, saying Tuesday he's focused on the COVID crisis.
Alberta has more than 20,000 active cases of COVID-19 and its critical care facilities have already been pushed well past normal capacity.
There were 1,040 people in hospital Wednesday with the illness, including 230 in intensive care. There were 20 more deaths reported, for a total of 2,594. The province also announced its first COVID-19 death of a person under 20.
Kenney's government is looking to other provinces for critical care staff, particularly intensive care nurses and respiratory therapists. It is also working with the federal government to potentially have the military airlift some patients to other provinces.
Other medical procedures have virtually ground to a halt, with non-urgent surgeries cancelled to free up staff for COVID care. Doctors are being briefed on the criteria to use if resources run short and they must decide which critically ill patients get help and which do not.
The province has pinned its hopes on getting vaccination numbers up. Those numbers have improved since last Wednesday, when Kenney introduced a vaccine passport for non-essential businesses.
More than 81 per cent of eligible Albertans, those over age 12, are now fully vaccinated and almost 73 per cent of those eligible have had at least one shot.
Businesses that stick to the new passport can operate with almost no restrictions but must make sure patrons are double vaccinated.
Kenney's government has been criticized for leaving that decision up to businesses because it causes confusion and forces compliant businesses to face the wrath of anti-vaccination customers.
Other provinces have made it mandatory.
Calgary city council took matters into its own hands Wednesday, voting to make the passport — known in Alberta as a "restrictions exemption" — binding on non-essential businesses, with fines for violators. That new rule begins Thursday.
Elsewhere in Alberta, the passport is voluntary but non-essential businesses that do not comply face other restrictions, such as maximum one-third customer occupancy or, in the case of restaurants, outdoor seating only.
Also Wednesday, Alberta's Opposition NDP called for the reinstatement of contact tracing in schools and an early warning system for potential school closures.
NDP education critic Sarah Hoffman says action is needed immediately given that there are nearly 5,000 active cases among students, staff and families.
— With files from Dean Bennett in Edmonton
This report by The Canadian Press was first published Sept. 22, 2021.
Alanna Smith, The Canadian Press
'I knew the challenges': Lethbridge police chief aware of problems before taking job
LETHBRIDGE, Alta. — It's been a particularly tough year for the police chief of Alberta's third-largest city
But Lethbridge Police Chief Shahin Mehdizadeh says he was fully aware of the problems before he took the top job in July 2020.
"I knew the challenges in this department and in this city, and a lot of these events that are bringing a lot of bad press to this department," Mehdizadeh said in a sit-down interview with The Canadian Press. "I didn't come to this with blind eyes."
The police service has faced numerous controversies in recent years.
Last year, two officers were temporarily demoted after a review determined NDP provincial legislature member Shannon Phillips, while environment minister in 2017, was surveilled and photographed at a diner. The officers involved were concerned about changes Phillips was making regarding off-highway vehicles at nearby wilderness areas.
Separately, five officers and one civilian were investigated on allegations of conducting improper database searches on Phillips while she was in cabinet.
The force was also criticized in May 2020 for the violent takedown of a citizen wearing a "Star Wars" storm trooper costume and brandishing a toy laser blaster. An independent review said the officers had not acted inappropriately.
"There were some events that have really put a lot of negative publicity on this organization," said Mehdizadeh, "but a lot of these events … range from 2016 to 2018, and any recent allegations are being tied to the historic events.
"As a result we have many investigations."
Alberta Justice Minister Kaycee Madu ordered the Lethbridge Police Service to clean up its act or risk being dissolved. He demanded an action plan to address everything from recruiting to oversight to changing the department's internal culture.
"If I concluded that the leadership of the force and the commission were not serious about fixing the problem, I was prepared to do what was necessary to fix the problem," Madu said earlier this week.
"They came back to me with an action plan that was acceptable and I approved."
Madu said he will wait to see what a public inquiry by the Alberta Law Enforcement Review Board turns up before he decides how successful the changes have been.
He noted that he doesn't blame the current chief.
"Let me be blunt … I think it stems from the previous leadership there," said Madu. "I am very sympathetic to the current chief.
"He was brought in during the midst of these problems. None of these problems are part of his watch. This is a problem that he inherited."
The president of the Lethbridge Police Association said the problems that became public were years in the making.
"It's been miserable for us for more than the past year. I think what most people don't understand is what they're seeing now is predicated on things that came before. Nothing happens in a vacuum," said Jay McMillan.
"Many of our own internal issues were born of an era where there was different leadership in place, or a lack of leadership. It sort of created a culture here that was not healthy and probably not able to withstand any external pressures."
McMillan said most of the controversies don't reflect the service now. He supports the changes outlined in the provincial action plan, he said.
"You're able to look in the mirror as an organization or an individual and identify some things you can do a little bit better," he said.
"A lot of the things in that action plan were things that were set up to take place already, so it wasn't in response to the public attention. It wasn't in response to the justice minister … the organization had already realized there were some changes that needed to be made."
Mehdizadeh said his job is to "fix these things."
"This is very historic stuff and it wasn't fair to really judge the organization based on what went on a few years ago," he said.
"I don't have the authority to make arbitrary decisions to get rid of people or fire people. There are legal processes that we have to adhere to, that we have to be respectful of and compliant to move forward."
Sanctions have been taken against a number of officers as a result of the circulation of inappropriate images, reportedly including pictures of senior staff pasted onto the bodies of characters from the animated "Toy Story" movies.
This report by The Canadian Press was first published Dec. 4, 2021.
Bill Graveland, The Canadian Press
Federal minister to provide money to fight aquatic invasive species in mountain parks
BANFF, Alta. — Federal Environment Minister Steven Guilbeault is expected to announce funding today to fight aquatic invasive species in five mountain national parks in Alberta and British Columbia.
Guilbeault, who is scheduled to be in Banff, Alta., plans to make almost $15 million available over the next five years to prevent and manage invasive species in Banff, Jasper, Kootenay, Waterton Lakes and Yoho national parks.
The money is to be used for both prevention and education programs.
Environment and Climate Change Canada says the parks are vulnerable to non-native species of mussels as well as the parasite that causes whirling disease in fish.
Invasive species can be spread by people enjoying mountain rivers and lakes.
The work is also expected to support the recovery of species at risk, including westslope cutthroat trout, Athabasca rainbow trout and bull trout.
Guilbeault is in Banff after spending Friday in Calgary meeting with oil industry representatives and Alberta Environment Minister Jason Nixon.
This report by The Canadian Press was first published Dec. 4, 2021.
The Canadian Press