Alberta's premier faces down restive United Conservative caucus over COVID-19 crisis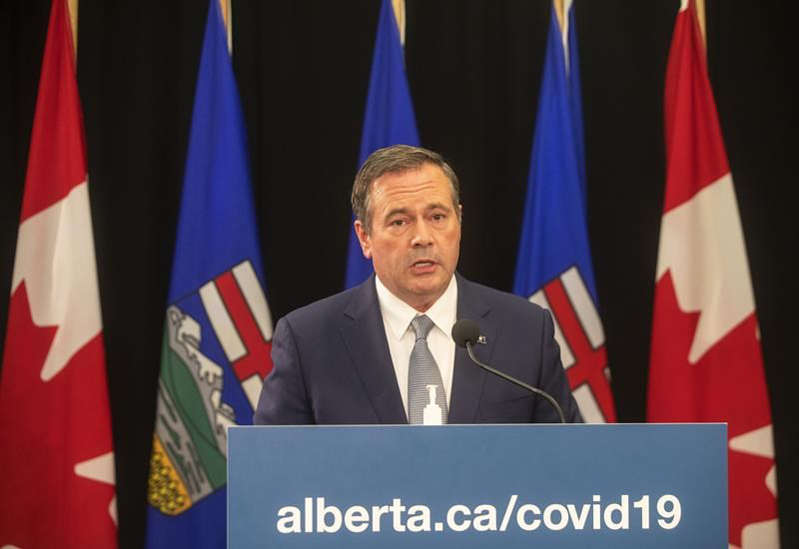 CALGARY — Alberta Premier Jason Kenney faced down a restive and divided United Conservative Party caucus Wednesday, focusing on COVID-19 while managing to avoid a straw vote on his leadership.
UCP backbencher Searle Turton said it was a wide-ranging caucus meeting, but there was no vote of confidence on Kenney's leadership.
He said the focus of the debate was the pandemic.
"There was discussion about the party, about unity, about how we got here, about COVID. Caucus is a robust place to do discussion in a confidential setting," said Turton, who represents Spruce Grove-Stony Plain.
"There were no votes by caucus. There was lots of robust discussion about the pandemic."
Kenney has been challenged by some of his legislature members for decisions on COVID, which has escalated into a crisis that has overwhelmed the provincial health system and forced Alberta to seek outside help.
Some of Kenney's caucus members have criticized his health measures as being too little too late, while others say he has gone too far and violated individual rights by imposing a form of voluntary vaccine passports.
Joel Mullan, the party's vice-president of policy, has already called for Kenney to resign and says enough constituency associations have signed on to force an early party review and vote on Kenney's leadership.
Kenney isn't slated to face a mandatory leadership review until late next year.
But Mullan has said 30 constituency associations have promised to pass resolutions to call for an earlier review. If that happens, Kenney could face a vote by the membership in about three months and would lose the top job unless he wins at least a simple majority.
Kenney has dismissed accusations of party infighting and calls to resign, saying Tuesday he's focused on the COVID crisis.
Alberta has more than 20,000 active cases of COVID-19 and its critical care facilities have already been pushed well past normal capacity.
There were 1,040 people in hospital Wednesday with the illness, including 230 in intensive care. There were 20 more deaths reported, for a total of 2,594. The province also announced its first COVID-19 death of a person under 20.
Kenney's government is looking to other provinces for critical care staff, particularly intensive care nurses and respiratory therapists. It is also working with the federal government to potentially have the military airlift some patients to other provinces.
Other medical procedures have virtually ground to a halt, with non-urgent surgeries cancelled to free up staff for COVID care. Doctors are being briefed on the criteria to use if resources run short and they must decide which critically ill patients get help and which do not.
The province has pinned its hopes on getting vaccination numbers up. Those numbers have improved since last Wednesday, when Kenney introduced a vaccine passport for non-essential businesses.
More than 81 per cent of eligible Albertans, those over age 12, are now fully vaccinated and almost 73 per cent of those eligible have had at least one shot.
Businesses that stick to the new passport can operate with almost no restrictions but must make sure patrons are double vaccinated.
Kenney's government has been criticized for leaving that decision up to businesses because it causes confusion and forces compliant businesses to face the wrath of anti-vaccination customers.
Other provinces have made it mandatory.
Calgary city council took matters into its own hands Wednesday, voting to make the passport — known in Alberta as a "restrictions exemption" — binding on non-essential businesses, with fines for violators. That new rule begins Thursday.
Elsewhere in Alberta, the passport is voluntary but non-essential businesses that do not comply face other restrictions, such as maximum one-third customer occupancy or, in the case of restaurants, outdoor seating only.
Also Wednesday, Alberta's Opposition NDP called for the reinstatement of contact tracing in schools and an early warning system for potential school closures.
NDP education critic Sarah Hoffman says action is needed immediately given that there are nearly 5,000 active cases among students, staff and families.
— With files from Dean Bennett in Edmonton
This report by The Canadian Press was first published Sept. 22, 2021.
Alanna Smith, The Canadian Press
Saskatchewan Roughriders avoid season sweep in downing Calgary Stampeders 20-17
CALGARY — The Saskatchewan Roughriders avoided a third consecutive loss to the Stampeders with a 20-17 win Saturday in Calgary.
By a quirk of the CFL schedule, Calgary is the only opponent the Roughriders have played so far in October interrupted only by a bye week.
The Winnipeg Blue Bombers hammering the B.C. Lions 45-0 in another West Division game Saturday to get to 10-1 means the defending Grey Cup champions will host the division final Dec. 5.
Saskatchewan (6-4), Calgary (5-6) and the Lions (4-6) are in a race to have the Nov. 28 division semifinal in their stadiums, while the Edmonton Elks (2-7) languish in the basement.
The Stampeders took two games off Saskatchewan in early October to secure the season series. Calgary would rank higher in the standings in the event of a tie between the two clubs at the end of the regular season.
Trailing 10-6 at halftime Saturday, the Roughriders rallied with a pair of second-half touchdowns in front of an announced 21,672 at McMahon Stadium.
Roughriders quarterback Cody Fajardo completed 21-of-26 pass attempts for 222 yards. He threw touchdown passes to Brayden Lenius and Kyran Moore and was intercepted once.
Saskatchewan kicker Brett Lauther kicked field goals from 48 and 52 yards, but missed from 54 and 44 yards.
Fajardo earned his first career victory against the Stampeders as did Craig Dickenson as Saskatchewan's head coach.
Quarterback Bo Levi Mitchell was 21 for 31 in passing Saturday to become the Stampeders' leader in all-time completions.
The 31-year-old Texan needed just two Saturday to surpass previous leader Henry Burris (2,267), and he produced them on Calgary's opening drive.
Mitchell threw for 311 yards to be 14 shy of a career 30,000.
Two of his three interceptions occurred in Saturday's second half, however, when Mitchell was also sacked four times.
Ka'Deem Carey scored a rushing touchdown, Richie Sindani made a touchdown catch and Rene Paredes kicked a 12-yard field goal for Calgary.
With just under two minutes remaining in the game, Mitchell's 44-yard bomb to Shawn Bane put the hosts on Saskatchewan's 24-yard-line .
A four-yard scoring throw to Sindani on the goal-line, plus the convert, had the Stampeders trailing by a field goal with 48 seconds remaining.
Calgary's attempt to recover an onside kick failed, however, on a leaping grab by Saskatchewan's Duke Williams. The Stampeders had the ball for one final drive, but didn't score again.
Saskatchewan's Jeremy Clark ran an interception back to Calgary's 13-yard line on the final play of the third quarter. On a third-and-goal, Fajardo threw to Moore in the end zone for a 20-10 lead.
The Roughriders led for the first time in the game midway through the third when Fajardo found Lenius in the end zone with a 13-yard pass.
Isaac Adeyemi-Berglund fumbled a return in the first half's final seconds for Saskatchewan to recover. Lauther was wide on a 44-yard attempt, however, after success from 52 out on Saskatchewan's previous drive.
Carey's one-yard scoring plunge finished a 12-play, 92-yard drive in the second quarter.
Calgary's march downfield featured Kamar Jorden's acrobatic grab for a 31-yard reception to get to Saskatchewan's doorstep.
Lauther kicked a 48-yard field goal on the final play of the opening quarter for a 3-3 score. He then missed a 54-yard attempt early in the second quarter.
Saskatchewan didn't take advantage of a Jacob Dearborn interception early in the first quarter. A subsequent fumble on a snap gave Calgary the ball back on their own 27-yard line.
Calgary converted a Branden Dozier interception on Saskatchewan's opening drive of the game into a 12-yard field goal by Paredes.
Notes: D'haquille "Duke" Williams compiled 48 receiving yards on three catches in his Roughriders debut. The former CFL all-star with Edmonton spent the last two seasons with the NFL's Buffalo Bills . . . Stampeder defensive end Folarin Orimolade sacked Fajardo twice after missing seven games with an ankle injury.
This report by The Canadian Press was first published Oct. 23, 2021
Donna Spencer, The Canadian Press
Alberta government says jobs, economy, COVID to be focus of fall legislature sitting
EDMONTON — The Alberta government plans a busy fall legislature sitting aimed at adding jobs and diversifying the economy while focusing on tamping down the renewed surge of COVID-19.
Government house leader Jason Nixon says this will include proposed legislation on recognizing professional credentials to address labour shortages. The bill will be introduced by Premier Jason Kenney.
"Our focus will be on Alberta's workforce, a couple of bills around diversifying the economy, a big focus on building infrastructure for our future, (and) growing our resources, particularly on the energy side," Nixon said in an interview Friday.
There will also be new initiatives on environmental protection and conservation.
Nixon said there will be 18 to 20 bills for the sitting, which begins Monday and is scheduled to run to the first week of December. 
"It's a very robust fall agenda," he said.
Nixon said the government will continue to take steps to reduce COVID-19 cases, which have severely stressed the health system.
No COVID-19-specific bills are planned, he said, noting they were passed in previous sittings. 
"There's certainly other stuff to be done to manage the pandemic … but we'll stand ready if Alberta Health needs us to pass any legislation to deal with the pandemic."
He said debate in the chamber is expected to return to some semblance of normalcy.
In the spring sitting, both the United Conservative government and the Opposition NDP reduced their numbers in the chamber to prevent the spread of the virus. 
This time, with all NDP members and all but one on the UCP side vaccinated, all will be allowed back in for debate.
The lone UCP member has a medical exemption and will be tested regularly, said Nixon.
He said there are still masking rules and members will try to maintain distancing where possible.
The NDP said it plans to hold the government accountable for what went disastrously wrong on COVID-19.
"This fall sitting of the legislature will be laser-focused on getting answers from the UCP on why they've failed Albertans so miserably in managing the devastating fourth wave of the COVID-19 pandemic," said Christina Gray, the NDP house leader.
"Since July 15, more than 85,000 additional Albertans have been infected with the virus and 700 have died."
Gray said the NDP will call for an all-party inquiry into the government's handling of the pandemic with the power to compel documents and testimony.
Nixon said the government will not agree to such a motion. He said it would be wrong to redeploy vital health resources right now and that Kenney has promised an eventual review of how the province handled the pandemic.
Kenney has also promised to bring forward a motion to ratify and act on the results of Monday's provincewide referendum on Canada's equalization program.
Final results aren't in from Edmonton, but figures from Calgary and other cities suggest the referendum will pass with about 60 per cent in support of urging the federal government to remove the principle of equalization from the Constitution.
Kenney has said the issue is not about removing equalization, something no province can do unilaterally, but about getting leverage to negotiate other issues surrounding federal transfers to attain a better deal with Ottawa.
Political scientist Jared Wesley said Kenney will likely continue to focus on initiatives such as the equalization referendum, if only to change the narrative on his low popularity ratings.
"The premier will be spending most of his time, if he has anything to say about it, outside the province, stumping for this fair deal," said Wesley, with the University of Alberta.
COVID-19 numbers have been trending down in recent weeks. But Kenney and Dr. Deena Hinshaw, the province's chief medical officer of health, say the situation remains precarious.
On Friday, there were just over 10,000 active COVID-19 cases in Alberta. And there were 191 COVID-19 patients in intensive care. 
Alberta's fourth wave troubles began after Kenney lifted almost all COVID-19 related health restrictions as of July 1, boasting that the pandemic had moved to the "endemic" phase and there was no need to plan for a renewed case surge.
This report by The Canadian Press was first published Oct. 22, 2021.
Dean Bennett, The Canadian Press