The masks are coming off in Red Deer!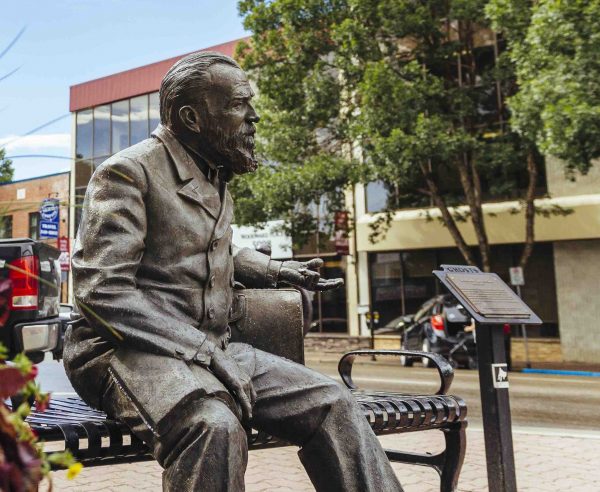 Municipal mask bylaws to expire July 1, some provincial mask restrictions to remain in place
All three of Red Deer's face covering bylaws will expire on July 1, in line with the lifting of the provincial mask mandate.

On June 18, the Government of Alberta announced that the general indoor provincial mask mandate would be lifted on July 1, with masking still required in some specific circumstances, including public transit.

At their meeting on May 25, Red Deer City Council made the decision to expire the local face covering bylaws when the provincial mandate was lifted. As such, the following bylaws will expire on July 1:
Face Coverings in Indoor Public Places and Public Vehicles Bylaw 3656/B-2021 (enacted on November 23, 2020)
Face Coverings in City Civic Facilities 3657/B-2021 (enacted on November 23, 2020)
Transit Face Covering Bylaw 3654/B-2021(enacted on August 17, 2020)
While the municipal face covering bylaws will expire, there will still be masking requirements as per provincial restrictions. Masks will still be Provincially mandated under in the following situations:
On public transit
In public ride shares and taxis
In specific continuing care and acute healthcare care settings
Additionally, there may be occupational and business masking requirements, so Red Deerians may still see people wearing masks outside of the Provincially mandated mask requirements.
For full details on the provincial mask mandates still in place after July 1, visit www.alberta.ca.
As restrictions are set to be lifted, citizens are reminded to get vaccinated and continue following public health restrictions in place, including the use of masks, physical distancing and staying home when sick.
For more information, please visit reddeer.ca/covid
Fight against opioid addictions to include recovery. Red Deer will be home to 75 bed treatment centre
From the Province of Alberta
Building a recovery community in Red Deer
Alberta's government is providing up to $5 million to build a recovery community in Red Deer, which will add 75 treatment beds in central Alberta.
As part of Alberta's Recovery Plan, $25 million will support the construction of life-changing recovery communities, which will play a critical role in supporting the health, wellness and long-term recovery of Albertans.
"Today's announcement is a big step towards supporting Albertans in their goal of recovery. We dedicated a portion of our Recovery Plan to ensure infrastructure was being dedicated to the vulnerable people in our communities. These recovery communities are a continuation of our efforts at creating 4,000 addiction treatment spaces in the province and building a full continuum of care for people struggling with addiction."
Recovery communities, also known as therapeutic communities, are a form of long-term residential treatment for addiction, used in more than 65 countries around the world. Recovery is seen as a gradual, ongoing process of cognitive change through clinical and peer interventions. Program participants advance through the stages of treatment at their own pace, setting personal objectives and assuming greater responsibilities in the community along the way.
"I am excited to announce the first of five recovery communities will be in Red Deer. This is an important step in the expansion of our mental health and addiction recovery strategy. I want to thank the City of Red Deer for their tremendous partnership on this important project. Their commitment to the community and the people struggling with addiction has been second to none."
Recovery Communities encourage participants to examine their personal behaviour to help them become more pro-social and positively engaged citizens – considered to be based on honesty, taking responsibility, hard work, and willingness to learn. The goal is for a participant to leave the program not only drug-free but also employed or in school or training.
Five recovery communities are being built across the Alberta. It is anticipated recovery communities will begin accepting participants in spring 2021.
"The City of Red Deer is proud to have worked closely with the Government of Alberta on this important initiative. Our friends, family, and neighbours suffering from addiction will have a place to go that's close to home. We will continue to working with this government hand-in-hand as we build out further supports for the people of Red Deer."
"I am pleased to hear that a recovery community is coming to Red Deer. This facility is poised to have a dramatic impact on those struggling with addiction in Red Deer and in central Alberta. I look forward to seeing the positive effects it has on its patients and the community as a whole."
"Addiction is a challenge of human nature.  Success in this complex matter must begin with the end in mind: supporting and loving our neighbors to become free from addictions. The announced therapeutic community for Red Deer is an innovative, game changing, service towards loving and supporting our neighbors seeking to become free from addictions, blessing families and communities throughout Central Alberta."
This historic infrastructure investment complements government's ongoing commitment to create 4,000 addiction and mental health treatment spaces in the province.
Alberta's Recovery Plan is a bold, ambitious long-term strategy to build, diversify, and create tens of thousands of jobs now. By building schools, roads and other core infrastructure we are benefitting our communities. By diversifying our economy and attracting investment with Canada's most competitive tax environment, we are putting Alberta on a path for a generation of growth. Alberta came together to save lives by flattening the curve and now we must do the same to save livelihoods, grow and thrive.
Quick facts
Alberta's Recovery Plan provides a total of $25 million to build five recovery communities across the province, adding 400 treatment beds – a 30 per cent increase to current capacity.
Construction of these long-term residential treatment centres is part of the more than $10 billion infrastructure spending announced as part of Alberta's Recovery Plan. This spending includes: $6.9 billion Budget 2020 capital spending, $980 million accelerated for Capital Maintenance and Renewal, $200 million for Strategic Transportation Infrastructure Program and water infrastructure projects, $600 million in strategic infrastructure projects, $500 million in municipal infrastructure and $1.5 billion for Keystone XL.