Albertans to vote on senators, equalization, daylight saving time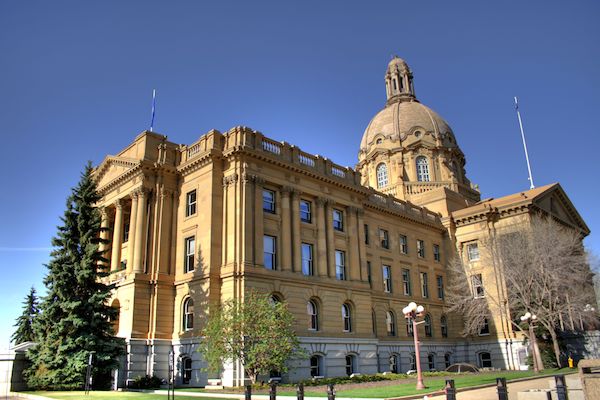 Albertans will have an opportunity to have their say on equalization and daylight saving time and elect nominees to the Senate when they vote in the fall municipal elections.
In addition to voting for Senate nominees, Albertans will be asked to vote on these two provincial topics on Oct. 18, in conjunction with the municipal elections:
Equalization payments – Should the principle of making equalization payments be removed from the Constitution?
Daylight saving time – Should Alberta end the practice of changing our clocks twice a year?
"Alberta has a long and proud tradition of grassroots, direct democracy. We will renew that tradition this fall. I encourage all Albertans to get engaged on these important issues and I look forward to taking part in the debate this fall."
Equalization
Over the last 25 years, Albertans have contributed more than $400 billion more to the nation in tax dollars than they have received in federal spending. Albertans make an immense contribution to equalization through federal tax contributions, which are transferred by the federal government to other provinces for programs and services. The current program has many issues, including a formula that requires it to grow automatically with Canada's economy, even if contributing provinces like Alberta are experiencing immense economic challenges.
Daylight saving time
Across Canada and the United States, more governments are bringing forward legislation to move to permanent daylight saving time, also known as summer hours. In 2019, Service Alberta asked Albertans if they thought we should make a similar shift. More than 141,000 Albertans responded, of which 91 per cent were in favour of year-round summer hours.
"Changing our clocks twice a year is something that every Albertan has an opinion on. As Alberta first adopted daylight saving time following a referendum in 1971, we owe it to Albertans to give them the same opportunity to make their voices heard now that we are considering another change."
Senate elections
Along with the municipal elections and the two referendum questions this fall, Albertans will elect three Senate nominees – one for each of the two current vacancies and one in case of early retirement.
The Senate nominee election enhances democracy in the province by allowing Albertans to choose the individuals who will best represent them in Parliament. Having representatives elected by Albertans would increase senators' accountability to Alberta voters to defend the province's interests.
Provincial police and pension
For the topics of creating an Alberta Police Service and Alberta Pension Plan, further analysis and work are underway before next steps are determined.
"Through the Fair Deal Panel, Albertans who are policed by the RCMP said that they want to see Alberta build its own provincial police service to improve policing in their communities. We are continuing to study what this could look like and how it could improve the safety and security of Albertans and their property, as part of making an informed decision on the next steps."
"The potential creation of an Alberta Pension Plan would be a significant decision for Albertans. As such, we are continuing the important work of completing an actuarial, economic and structural analysis so Albertans can make an educated and well-informed choice, and their questions and concerns can be adequately addressed. We look forward to putting this important decision on the table when the time is right."
Quick facts
The equalization question will be: "Should Section 36(2) of the Constitution Act, 1982 –Parliament and the Government of Canada's commitment to the principle of making equalization payments – be removed from the Constitution?"
Between 2014 and 2019 alone, Albertans made a net contribution of more than $100 billion to the federal government through federal taxes that helped build critical infrastructure.
Alberta has not received an equalization payment since the 1964-65 fiscal year.
The question on daylight saving time will be finalized this summer.
During 2019 and 2020, legislation was tabled in British Columbia and Ontario to move to summer hours all year. These changes have yet to be implemented.
In March 2020, the Yukon stopped changing their clocks and adopted Pacific daylight time year-round.
Since 2018, 17 American states have passed legislation to move to summer hours (daylight saving time) permanently and more states are debating the topic. However, in the United States, federal approval is required to enact the change.
Saskatchewan, Arizona and Hawaii do not change their clocks twice a year.
The Government of Alberta would provide names of elected Senate nominees to the prime minister for consideration when filling Senate vacancies.
Alberta's new proof-of-vaccination cards can be easily edited, residents say
EDMONTON — Albertans needing proof they're vaccinated against COVID-19 were able to download cards from the province's website on Sunday, but almost right away some residents said they were easily able to edit them.
Dan Shugar, who lives in Calgary, says the card was in a PDF file which he was able to edit to say his name was "Fakus McFakeFace" and that he'd received doses of "Ivermectin Horsey Paste" and "Bleach."
He says all of the fields could be edited and making changes was "mindbogglingly easy."
The government announced the availability of the cards in a news release on Sunday, a day before its "restrictions exemption program" launches.
The program allows businesses and venues to operate without capacity limits and other public health measures if they require proof of vaccination or a negative test result from anyone entering.
Health ministry spokeswoman Amanda Krumins acknowledges in an email that "a motivated individual" can edit the PDF, but that "work continues on a more secure QR code that will be available in the coming weeks."
"It's important to point out that falsifying a health record is an offense under (the) Health Information Act," Krumins wrote.
"That said, we know the vast majority of Albertans will use the system properly and adhere to the legal requirements set out in the current public health orders."
Premier Jason Kenney had opposed a vaccine passport over what he said were privacy concerns, but said last week it has become a necessary measure to protect Alberta's hospitals that face the prospect of being overwhelmed in the pandemic's fourth wave.
Kenney said in a Facebook live video on Thursday night that since he announced the passport system, COVID-19 vaccine bookings have nearly tripled in the province.
Many people, however, reported difficulty in obtaining the required proof they'd been vaccinated in the days that followed the announcement.
Prior to the cards becoming available on Sunday, Albertans had the option of either showing sheets of paper they'd received when they got their shots, or signing up for a system that would allow them to view their vaccine records online. 
The latter option required many people to sign up for a digital ID, and people who tried said they faced long, frustrating delays due to the system being overwhelmed.
The province says the new cards can be downloaded with an Alberta Health number, without the need for creating an online account and with minimal or no wait time.
It says Albertans will still be able to use their existing immunization records, including those received at their vaccination. 
This report by The Canadian Press was first published Sept. 19, 2021.
Rob Drinkwater, The Canadian Press
Edmonton Police Service investigating suspicious death case
EDMONTON — The Edmonton Police Service says it is investigating a suspicious death that occurred Saturday evening.
Police say that just after 6 p.m. they received a report of an assault with a weapon in the area of 104 Avenue and 95 Street. 
Officers responding to the call found a man with serious injuries. 
Police say the officers rendered first-aid but the man died at the scene.
The name of the deceased was not immediately released, and cause of death has yet to be determined.
Investigators are asking anyone who may have witnessed an assault in the area to contact them.
This report by The Canadian Press was first published Sept. 19, 2021.
The Canadian Press