Albertans as young as 58 with health conditions now eligible for the jab as province moves to 2B vaccine stage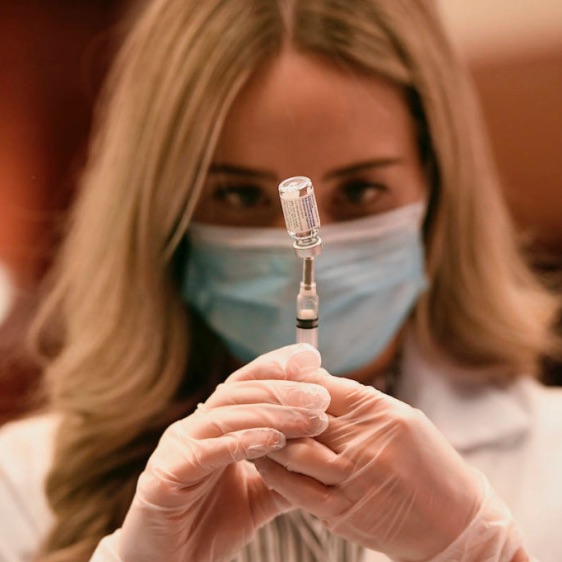 From the Province of Alberta
Phase 2B vaccine appointments available through AHS
Albertans born in 1963 or earlier with underlying health conditions now have another way to get the COVID-19 vaccine.
As part of Phase 2B of Alberta's vaccine rollout, anyone born in 1963 or earlier with eligible health conditions can now book appointments with Alberta Health Services (AHS) online or by calling 811.
Anyone with eligible health conditions born in 1963 or earlier can also continue booking at participating pharmacies in Calgary, Edmonton and Red Deer. In the coming weeks, as more vaccine supply is available, pharmacies across Alberta will begin to offer bookings.
As Phase 2B rolls out, additional birth years for Albertans with underlying health conditions will be added in the coming days, based on vaccine supply.
By April 23, all Albertans born in 2005 or earlier with eligible high-risk underlying health conditions will be able to book an appointment through pharmacies and AHS.
"We are expanding the vaccine rollout as quickly and safely as possible. Now, Albertans born in 1963 or earlier with diabetes, disabilities, cancer and many other conditions can book through AHS, offering another chance to get the vaccine as soon as possible. I know this will bring peace of mind to those with high-risk health conditions and their loved ones, and we will continue to put pressure on the federal government until every last dose arrives."
"Launching Phase 2B provides more Albertans, their families, and our communities across the province the hope of brighter days ahead. Our staff are working diligently, every day, to ensure we are providing vaccine to eligible Albertans as quickly and efficiently as possible and appreciate everyone's patience as we work to include more eligible Albertans in the weeks ahead."
Eligible health conditions
Phase 2B of Alberta's vaccine rollout focuses on those who have at least one of the following underlying health conditions:
A missing spleen or a spleen that is no longer working
Cancer
Chronic heart disease and vascular disease
Chronic kidney diseases requiring regular medical monitoring or treatment
Chronic liver disease due to any cause
Chronic neurological disease
Chronic respiratory (lung) diseases
Diabetes requiring insulin or other anti-diabetic medication to control
A weakened immune response due to disease or treatment
Anyone who is currently pregnant
Severe mental illness or substance use disorder requiring a hospital stay during the past year
Severe obesity
Severe or profound learning disabilities or severe developmental delay
Solid organ, bone marrow or stem cell transplant recipients
Additional information on eligible health conditions, including examples, is available at Alberta.ca/vaccine.
Individuals are not required to provide proof of health condition, such as a doctor's note. However, you may want to talk to your doctor or pharmacist to help you understand if your condition is on this list.
Alberta's government is responding to the COVID-19 pandemic by protecting lives and livelihoods with precise measures to bend the curve, sustain small businesses and protect Alberta's health-care system.
Quick facts
Anyone eligible in Phase 1 and 2A of Alberta's vaccine rollout who hasn't yet received the vaccine can continue to book their appointment through a participating pharmacy or AHS.
As of April 4, more than 690,000 doses of COVID-19 vaccine had been administered to Albertans.
Blue Bombers become first CFL team to earn playoff spot with 26-16 victory over Elks
EDMONTON — Zach Collaros threw two touchdown passes as the Winnipeg Blue Bombers defeated the Edmonton Elks 26-16 on Friday night to become the first CFL team to clinch a playoff berth.
Winnipeg (9-1) captured its seventh straight victory and improved to 7-0 within the West Division. Collaros finished 15-of-24 passing for 210 yards with an interception to remain the CFL's passing leader (2,565 yards) but is also tops in TD passes with 15.
This marks the fifth straight season that Winnipeg, the defending Grey Cup champion, has made the playoffs.
Edmonton (2-7) suffered its fifth straight loss and dropped to 0-5 at home this season.
Edmonton's defence forced a safety at 9:31 of the first quarter, then came up big five minutes later as Trumaine Washington intercepted Collaros in the end zone. The Bombers closed out the opening quarter with a 37-yard Ali Mourtada field goal.
The Elks responded with Sean Whyte's 34-yard field goal at 11:22 of the second.
Winnipeg took the lead with three minutes left in the first half as a 47-yard completion to Kenny Lawler set up Collaros's five-yard TD strike to Andrew Harris. But Harris appeared to suffer an injury to his right knee and did not return as Brady Oliveira finished up with 105 yards rushing on 16 carries.
Whyte kicked a 25-yard field cut Winnipeg's half-time lead to 10-8.
Mourtada converted from 27 and a career-high 43 yards to start the third. Edmonton tied it 16-16 on Taylor Cornelius's 11-yard TD toss to Shai Ross. Backup quarterback Dakota Prukop added the two-point convert.
Rookie Cornelius got the start as incumbent Trevor Harris was a healthy scratch.
Moments after Elks defender Aaron Grymes couldn't hang on to an easy interception opportunity, Collaros hit Rasheed Bailey on a 48-yard completion before finding him on a five-yard scoring strike six minutes into the fourth.
Mourtada cemented the win with a 23-yard field goal with 50 seconds remaining.
Winnipeg hosts the B.C. Lions next Saturday while Edmonton has a bye week before returning home against the Hamilton Tiger-Cats on Oct. 29.
NOTES: Harris being sidelined while healthy has led to speculation the Elks are actively shopping their veteran quarterback on the trade front… Lawler returned to the lineup after being suspended by Winnipeg for its last game for an impaired driving arrest… The actual attendance appeared to be far beneath the announced 24,276 fans.
This report by The Canadian Press was first published Oct. 15, 2021.
This report by The Canadian Press was first published Oct. 15, 2021.
The Canadian Press
Medical examiner describes deaths of mother, toddler at Calgary murder trial
CALGARY — A forensic pathologist has told a murder trial that a Calgary woman and her young daughter suffered blunt force trauma to their heads.
Jasmine Lovett and 22-month-old Aliyah Sanderson were reported missing in April 2019.
The next month, their bodies were found buried in a day use area in Kananaskis Country, west of Calgary.
Robert Leeming has pleaded guilty to second-degree murder in the death of Lovett but not guilty to second-degree murder in the child's death.
Deputy medical examiner Dr. Akmal Coetzee-Khan described his findings through a series of autopsy photos.
He says Lovett appeared to have been moved after her death, judging from pooling of blood in her body.
She also had a black eye and bruising on her face.
The Canadian Press