Albertans as young as 58 with health conditions now eligible for the jab as province moves to 2B vaccine stage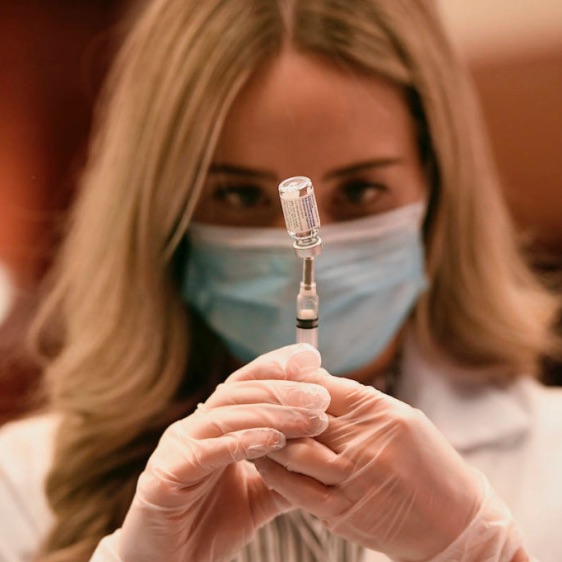 From the Province of Alberta
Phase 2B vaccine appointments available through AHS
Albertans born in 1963 or earlier with underlying health conditions now have another way to get the COVID-19 vaccine.
As part of Phase 2B of Alberta's vaccine rollout, anyone born in 1963 or earlier with eligible health conditions can now book appointments with Alberta Health Services (AHS) online or by calling 811.
Anyone with eligible health conditions born in 1963 or earlier can also continue booking at participating pharmacies in Calgary, Edmonton and Red Deer. In the coming weeks, as more vaccine supply is available, pharmacies across Alberta will begin to offer bookings.
As Phase 2B rolls out, additional birth years for Albertans with underlying health conditions will be added in the coming days, based on vaccine supply.
By April 23, all Albertans born in 2005 or earlier with eligible high-risk underlying health conditions will be able to book an appointment through pharmacies and AHS.
"We are expanding the vaccine rollout as quickly and safely as possible. Now, Albertans born in 1963 or earlier with diabetes, disabilities, cancer and many other conditions can book through AHS, offering another chance to get the vaccine as soon as possible. I know this will bring peace of mind to those with high-risk health conditions and their loved ones, and we will continue to put pressure on the federal government until every last dose arrives."
"Launching Phase 2B provides more Albertans, their families, and our communities across the province the hope of brighter days ahead. Our staff are working diligently, every day, to ensure we are providing vaccine to eligible Albertans as quickly and efficiently as possible and appreciate everyone's patience as we work to include more eligible Albertans in the weeks ahead."
Eligible health conditions
Phase 2B of Alberta's vaccine rollout focuses on those who have at least one of the following underlying health conditions:
A missing spleen or a spleen that is no longer working
Cancer
Chronic heart disease and vascular disease
Chronic kidney diseases requiring regular medical monitoring or treatment
Chronic liver disease due to any cause
Chronic neurological disease
Chronic respiratory (lung) diseases
Diabetes requiring insulin or other anti-diabetic medication to control
A weakened immune response due to disease or treatment
Anyone who is currently pregnant
Severe mental illness or substance use disorder requiring a hospital stay during the past year
Severe obesity
Severe or profound learning disabilities or severe developmental delay
Solid organ, bone marrow or stem cell transplant recipients
Additional information on eligible health conditions, including examples, is available at Alberta.ca/vaccine.
Individuals are not required to provide proof of health condition, such as a doctor's note. However, you may want to talk to your doctor or pharmacist to help you understand if your condition is on this list.
Alberta's government is responding to the COVID-19 pandemic by protecting lives and livelihoods with precise measures to bend the curve, sustain small businesses and protect Alberta's health-care system.
Quick facts
Anyone eligible in Phase 1 and 2A of Alberta's vaccine rollout who hasn't yet received the vaccine can continue to book their appointment through a participating pharmacy or AHS.
As of April 4, more than 690,000 doses of COVID-19 vaccine had been administered to Albertans.
Somali-Canadian group says another woman wearing a hijab attacked in Edmonton
EDMONTON — The chair of a group representing Somali Canadians in Edmonton says there has been another local attack on a woman who was wearing a hijab.
Jibril Ibrahim alleges the Somali-Canadian woman was walking by herself in northeast Edmonton on Friday evening when an unknown man grabbed her by her neck and pushed her down to the sidewalk before fleeing the scene.
He says her face was bloodied, some of her teeth are loose and she spent Friday night in hospital.
Police said in an email they are investigating a report of a Black woman in her 50s who was walking in the area at around 9 p.m. when she was assaulted by an unknown suspect.
They said she received treatment for non-life-threatening injuries at a local medical centre and then reported the incident to police.
Ibrahim says the alleged attack, the latest in a spate of similar incidents, has left the woman badly shaken.
"She's traumatized," Ibrahim said in a phone interview after visiting with the woman on Sunday, noting she's afraid now to leave her home alone.
He said she wasn't up to being interviewed on Sunday, and was frightened to appear on camera.
Edmonton has seen a number of alleged attacks on Muslim women in recent months.
City police say two women wearing hijabs were sitting in a mall parking lot in December when a stranger shattered a window, assaulted the passenger as she tried to flee and then assaulted the second woman when she tried to help. A man faces charges of assault and mischief in that case.
In March, a man was charged after three allegedly hate-motivated attacks on women in Edmonton.
In the first, police said the Black victim was followed inside a convenience store on Jan. 18 and allegedly assaulted.
The second and third attacks took place on the same day in early February. One woman was wearing a hijab and the other wore a burqa.
A 44-year-old man faces three counts of uttering threats and three of assault in those incidents.
"What we are aware of is only what has been reported to police. There is more than that, and a lot of people are afraid to report it, afraid that someone is going to follow them to their house," Ibrahim said.
Police said in their email that their Hate Crimes and Violent Extremism Unit has been told about the most recent incident on Friday, but its Investigative Response Team is still handling the case.
The incidents, as well as the deaths of four members of a Muslim family in London, Ont., earlier this month, have many Canadian Muslims on edge.
Ibrahim says the most recent victim has been in Canada for 30 years, and while she's been harassed in shops and other places, she's never experienced such violence.
Alberta Premier Jason Kenney announced on Friday that groups that experience hate crimes will soon be able to apply for grants to pay for security upgrades.
Ibrahim is calling for the bar for hate crimes to be lowered.
"So far, it looks like more or less, our leadership from the prime minister to the mayor, they're hoping that these people will go away. But it doesn't work that way," he said.
This report by The Canadian Press was first published June 13, 2021.
Rob Drinkwater, The Canadian Press
Alberta launches COVID vaccine lottery with million-dollar prizes to encourage uptake
EDMONTON — Alberta is launching a multimillion-dollar lottery in a bid to encourage more residents to get a COVID-19 vaccine. 
Premier Jason Kenney unveiled some details of the "Open for Summer Vaccine Lottery" in a video posted to his Twitter account.
The video, shot at a mass immunization centre in Edmonton, shows Kenney lamenting the lack of crowds at the facility and opining that not enough Alberta residents are seeking protection against COVID-19.
The premier says the lottery will offer three prizes worth $1 million a piece, as well as other unspecified prizes. 
He says the first instalment will be open to Albertans 18 or older who get at least their first dose of vaccine within a week of the day the province partially immunizes 70 per cent of the population.
He says the first grand prize draw will take place the day the province enters Phase 3 of  its pandemic recovery plan, adding more details will be announced in the coming days.
"We need to just nudge those who haven't gotten around to getting their vaccines yet," Kenney said in the video posted Saturday.
"After all, we've had to spend billions of dollars in our health-care system and through supporting people through the past 16 tough months. So if we can just keep pushing up those numbers of people who are vaccinated, that will easily pay for itself in future savings."
As of Friday, the province said almost 69 per cent of those 12 and older had received at least one dose of vaccine. About 729,000 people have had two shots.
Alberta is not the first jurisdiction to unveil incentives to make residents roll up their sleeves for a vaccine shot. Earlier this week, Manitoba announced it would be holding two lottery draws this summer with $100,000 prizes and $25,000 youth scholarships
This report by The Canadian Press was first published June 12, 2021
The Canadian Press