Alberta ups ante in mandate fight with Athabasca University, threatens funding cut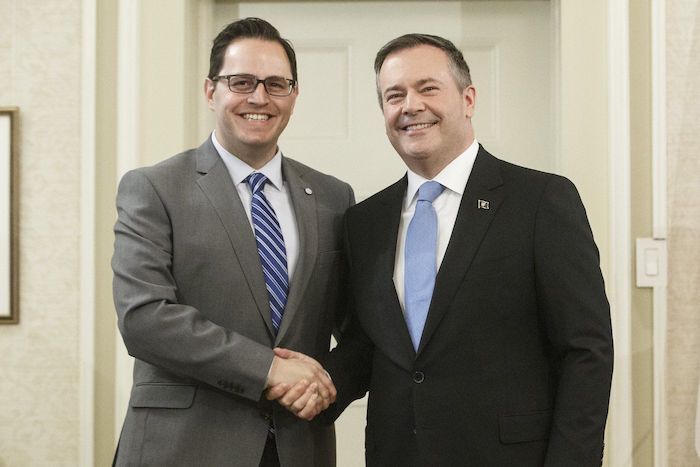 By Dean Bennett in Edmonton, Alberta, Canada
The Alberta government has upped the ante in its fight with Athabasca University, directing the online-oriented school to get busy making sure more staff work in the small northern town or risk losing millions of dollars in funding.
"The university must end its pursuit of the near-virtual strategy and must deliver a new strategic plan to Advanced Education for approval by Sept. 30," Advanced Education Minister Demetrios Nicolaides said in a statement Tuesday.
"Failure to comply will result in reductions to Athabasca's future funding."
Nicolaides informed the school of the changes in a letter sent over the weekend.
In it, Nicolaides tells the school's board of directors that it has until the end of August to direct school president Peter Scott to stop implementing what is known as the university's "near-virtual" strategy.
Further, writes Nicolaides, the board must then help Scott craft a new strategy "that expands and reinforces the university's physical presence in the town of Athabasca."
That new strategy must be submitted to Nicolaides for approval by the end of September.
Failure to do so, said Nicolaides, "would allow the Ministry of Advanced Education to withhold the $3.43-million monthly instalment for Athabasca University's base operating grant."
The letter also stipulates that all executive members of the university live in the town by no later than April 2025.
Kristine Williamson, the university's spokesperson, did not immediately respond to an email request for comment.
The letter escalates a standoff between the province and the university over the school's mandate.
Prior to the COVID-19 pandemic, the university instituted the "near-virtual" plan to give employees more freedom over where they carried out their work. That plan was accelerated when the pandemic forced people to work from home.
Scott has publicly argued the goal of the school is to provide the best distance education with the highest-quality staff — a mandate that would be hampered by a demand that employees work in Athabasca.
Nicolaides says high quality can still be maintained while adhering to the pledge of economic diversification that led to Athabasca being relocated from Edmonton almost 40 years ago.
Nicolaides directed the university in March to deliver by June 30 a plan to resume and expand in-person operations.
In May, the province replaced Nancy Laird as Athabasca University board chair to accelerate the shift. She was replaced by Calgary lawyer Byron Nelson.
Nevertheless, the shift has been rebuffed by Scott.
Scott, in an April email to staff, said "ongoing work with our near-virtual workforce will continue."
He also noted the university shuttered satellites in Calgary and Edmonton to concentrate on Athabasca.
Nicolaides said Tuesday that the June 30 response did not pass muster, leading to "the need for Alberta's government to take substantive action."
Local residents have also taken up the fight.
The advocacy group Keep Athabasca in Athabasca University has argued for more local presence, concerned that a small fraction of about 1,200 staff are left in the town.
The group hired a lobbyist to plead its case and, in March, Premier Jason Kenney himself came to town to promise they would make changes to bring people back.
Athabasca University has about 40,000 students.
This report by The Canadian Press was first published Aug. 2, 2022.
Alberta premier defends new rules on in-person learning, no mask mandates in schools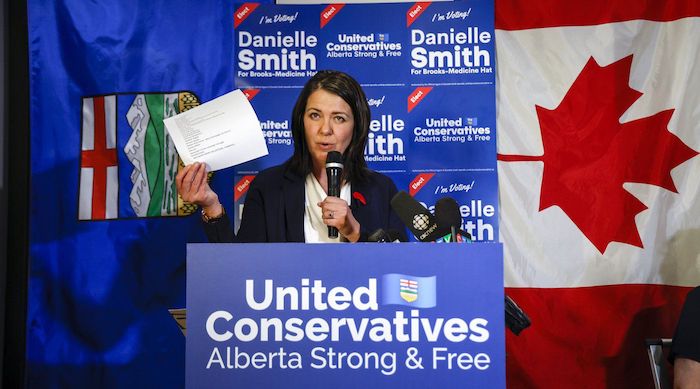 By Dean Bennett and Colette Derworiz
Alberta Premier Danielle Smith is defending new rules ordering schools to provide in-person learning during the current wave of viral illnesses, saying a clear, measured response is crucial for students and parents.
"We need a normal school environment for our children, and we need to make sure that the classrooms stay open to be able to support our parents," Smith said at a news conference in Medicine Hat on Friday.
"That's why we made the decision that we did — to give that clear direction."
Her comments came a day after she announced regulatory changes saying school boards must provide in-person learning. Schools also can't require students to wear masks in school or be forced to take classes online.
The changes take effect immediately.
"Anyone is welcome to wear a mask if they feel that that is the right choice for them, but we should not be forcing parents to mask their kids, and we shouldn't be denying education to kids who turn up without a mask," Smith said.
She has said mask rules and toggling from online to in-person learning adversely affected the mental health, development and education of students during the COVID-19 pandemic and strained parents scrambling to make child-care arrangements when schools shut down.
That's over, Smith said.
"We're just not going to normalize these kind of extreme measures every single respiratory virus season," she said.
School boards have been asking for more direction as a slew of seasonal respiratory and gastrointestinal illnesses, along with some COVID-19 cases, have led to high classroom absentee rates and have jammed children's hospitals.
In Edmonton, Trisha Estabrooks, board chair for Edmonton Public Schools, said the decision provided the clarity that the board was seeking.
"All Albertans now understand that it's not within the jurisdiction, and nor should it ever have been within the jurisdiction of individual school boards, to make decisions that belong to health officials," said Estabrooks.
She said the province has made it clear that any future public health order would supersede the new rules.
The in-person learning change applies to grades 1-12 in all school settings, including public, separate, francophone, public charter and independent schools.
The masking change applies to those same grades and schools, but also to early childhood services.
The Opposition NDP criticized the new rules, saying it's unrealistic to force schools to be all things to all students while also handling a wave of viral illnesses and not providing additional supports to do it.
Jason Schilling, head of the Alberta Teachers' Association, said the government needs to work with school boards to figure out how to make this work.
"You have schools that are struggling to staff the building, (they) can't get substitute teachers, teachers are sick, they're covering each other's classes, principals are covering the classes," Schilling said in an interview.
"And then to say if you go online, you are to still offer the same programming in person — we just don't have the people to do that."
Wing Li, communications director for public education advocacy organization, Support our Students, said it will be difficult for schools to offer hybrid learning without any additional resources.
"There are no teachers," Li said in an interview. "Pivoting online was mostly due to staffing shortages, which is worse now three years in."
Li said online learning is challenging for students but, when temporary and supported, can keep schools and communities safe from spreading illness.
"This is a quite aggressive use of the Education Act to enshrine an ideology," she said.
This report by The Canadian Press was first published Nov. 25, 2022
Don't have a cow: Senator's legen-dairy speech draws metaphor from bovine caper
OTTAWA — Haven't you herd? A dramatic tale of 20 escaped cows, nine cowboys and a drone recently unfolded in St-Sévère, Que., and it behooved a Canadian senator to milk it for all it was worth.
Prompting priceless reactions of surprise from her colleagues, Sen. Julie Miville-Dechêne recounted the story of the bovine fugitives in the Senate chamber this week — and attempted to make a moo-ving point about politics.
"Honourable senators, usually, when we do tributes here, it is to recognize the achievements of our fellow citizens," Miville-Dechêne began in French, having chosen to wear a white blouse with black spots for the occasion.
"However, today, I want to express my amused admiration for a remarkably determined herd of cows."
On a day when senators paid tribute to a late Alberta pastor, the crash of a luxury steamer off the coast of Newfoundland in 1918 and environmental negotiators at the recent climate talks in Egypt, senators seated near Miville-Dechêne seemed udderly taken aback by the lighter fare — but there are no reports that they had beef with what she was saying.
Miville-Dechêne's storytelling touched on the highlights of the cows' evasion of authorities after a summer jailbreak — from their wont to jump fences like deer to a local official's entreaty that she would not go running after cattle in a dress and high heels.
The climax of her narrative came as nine cowboys — eight on horseback, one with a drone — arrived from the western festival in nearby St-Tite, Que., north of Trois-Rivières, and nearly nabbed the vagabonds before they fled through a cornfield.
"They are still on the run, hiding in the woods by day and grazing by night," said Miville-Dechêne, with a note of pride and perhaps a hint of fromage.
She neglected to mention the reported costs of the twilight vandalism, which locals say has cost at least $20,000.
But Miville-Dechêne did save some of her praise for the humans in the story, congratulating the municipal general manager, Marie-Andrée Cadorette, for her "dogged determination," and commending the would-be wranglers for stepping up when every government department and police force in Quebec said there was nothing they could do.
"There is a political lesson in there somewhere," said the former journalist.
Miville-Dechêne ended on what could perhaps be interpreted as a butchered metaphor about non-partisanship: "Finally, I would like to confess my unbridled admiration for these cows that have found freedom and are still out there, frolicking about. While we overcomplicate things, these cows are learning to jump fences."
This report by The Canadian Press was first published Nov. 26, 2022.
Marie-Danielle Smith, The Canadian Press