Alberta Sports Hall of Fame 2020 Induction Ceremony is Going Virtual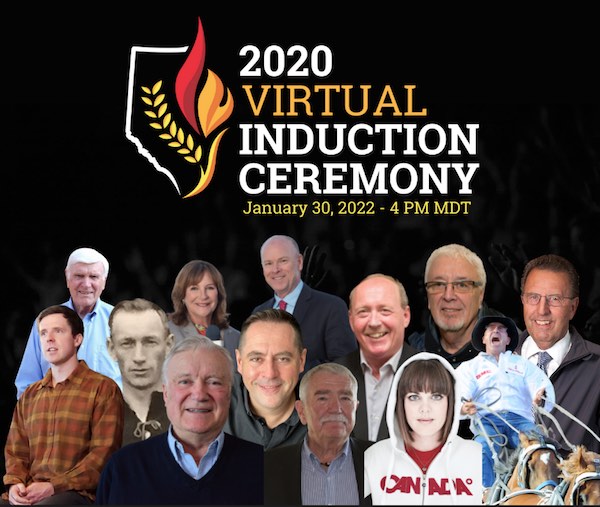 Welcome to the Official 2020 Virtual Induction Ceremony by the Alberta Sports Hall of Fame.
Live on YouTube : Alberta Sports Hall of Fame
Join the Alberta Sports Hall of Fame virtually as we celebrate Alberta's great athletes, sport builders, pioneers, and media personnel. The production will be streamed on YouTube on Sunday, January 30 at 4:00 MDT.
Get your free tickets today at albertasportshall.ca.
The newest athletes joining the Hall of Fame are:
Deidra Dionne (Athlete, Skiing); Bronze medalist in women's aerials at the 2002 Salt Lake City Winter Olympics.
Chris Phillips (Athlete, Hockey): A stay-at-home defenceman and the longest-serving player in Ottawa Senators franchise history.
Kelly Sutherland (Athlete, Chuckwagon Racing): Twelve-time Calgary Stampede Rangeland Derby Championships, and seven Calgary Stampede Aggregate titles.
Michael Robertson (Athlete, Snowboardcross): Silver medalist at the 2010 Vancouver Winter Olympics.
This year's builders include:
Jan Ullmark (Builder, Figure Skating): Jan is an elite coach whose skills have made an indelible mark on the sport of figure skating in Canada.
Terry Morris (Builder, Curling): Terry has been active in the promotion and development of the sport of curling in Alberta and across the nation for the better part of four decades.
Ken Babey (Builder, Hockey): In his nearly three decades behind the bench of the Southern Alberta Institute of Technology (SAIT) Trojans men's hockey team, Ken Babey guided the team to unparalleled success.
Derek Douglas (Builder, Soccer): The first soccer referee from Alberta to attain the position of FIFA International Referee in 1986, Derek has also been instrumental in growing the game in Sherwood Park, Edmonton and throughout the province.
This year's Alberta Sports Hall of Fame Award winners are:
Nancy Southern & Ian Allison (Bell Memorial Award): As the team who pioneered equestrian sport broadcasting in Alberta, they are the first duo to be awarded the Bell Memorial Award.
John Currie (Achievement Award): As president of the 1983 Western Canada Summer Games, John led the development and funding of the game's flagship facility – the Repsol Sport Centre.
Stan Wakelyn (Pioneer Award, Soccer): In 1922, Calgary Hillhurst FC won the Dominion of Canada Football Championship, with Stan, a centre forward, as team captain.
Dennis Kadatz (Legacy Award): At 22, Dennis guided the Edmonton Huskies Junior Football Team to three consecutive Canadian Championships in 1962, 1963 and 1964. In 1964, Dennis became head coach of the University of Calgary's fledgling football program.
For more information, please contact Tracey Kinsella, Alberta Sports Hall of Fame Executive Director, at(403) 341-8614 or via email at [email protected]
Join us virtually as we celebrate Alberta's great athletes, sport builders, pioneers, and media personnel.
The production will be streamed on YouTube on Sunday, January 30 at 4:00 MDT.
Flames looking for 'foundation' after Game 2 loss: 'We're playing into their hands'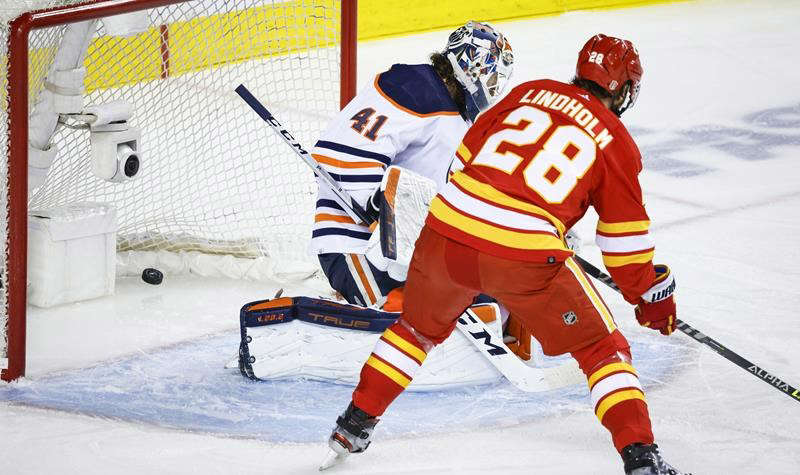 "We've got to clean that up."
Toffoli lamented his team's lack of discipline in a game that was there for the taking — especially early.
"We took too many penalties," the winger said after the Oilers connected on one of their six power plays. "We've got away from our type of game and started playing their game. When that happens they have guys that can do some of the things that they did.
"We didn't do a good job."
So why has Calgary strayed from a style that got the club to the top of the Pacific Division at the season's most critical juncture?
"I'm not really sure," Toffoli said. "It's something that we have to talk about within ourselves. At the end of the day, I've said last series as well, nobody's going to do it — it's only us.
"We have to find a way to get back to it and play five-on-five hockey and take over games."
Calgary jumped out to a 2-0 lead just over six minutes into Friday's contest after pushing ahead 3-0 in Game 2, but allowed Edmonton to find its footing.
"The main thing for us is just trying to keep it five-on-five," Hanifin said. "We're having good starts. We like our game at five-on-five.
"It's just when we start getting into those situations where it's four-on-four and stuff, it's not to our advantage, not our game, and they have success."
Toffoli, who won the Stanley Cup with the Los Angeles Kings in 2014, said the Flames simply need to get back to their old, trusted habits as the series now shifts to the Alberta capital.
"It's playoff hockey, it's not going to be perfect every single night," he said. "Things happen within a game and we have to stay composed.
"If we stay five-on-five we're in a good spot."
So far in this series, however, that's been easier said than done.
This report by The Canadian Press was first published May 20, 2022.
___
Follow @JClipperton_CP on Twitter.
Joshua Clipperton, The Canadian Press
Canadian Food Inspection Agency confirms another case of 'bird flu' in B.C.
RICHMOND, B.C. — The Canadian Food Inspection Agency has confirmed the presence of highly pathogenic avian influenza in a small flock of poultry in Richmond, B.C.
The agency did not provide information on the number of birds infected by H1N1, or the type of poultry.
It says while the so-called bird flu is not a food safety concern, it is spreading across the globe and anyone with birds must use preventive measures like securing their property by a fence.
It says small flocks are at risk of contracting viruses like avian influenza, especially if they have access to ponds or bodies of water known to be used by wild birds.
H1N1 can also be spread on the clothing and shoes of visitors and employees moving from flock to flock, through contaminated feed, water, bedding and farm equipment as well as via airborne particles and dust blown by the wind.
B.C.'s Agriculture Ministry said this week that avian flu had been found in a commercial flock in the Fraser Valley, home to 80 per cent of the province's poultry farms.
Avian flu cases have been confirmed in several other provinces, but no infections have been detected in humans.
This report by The Canadian Press was first published May 20, 2022.
The Canadian Press