Alberta Premier Kenney heading to U.S. to talk oil, energy security with lawmakers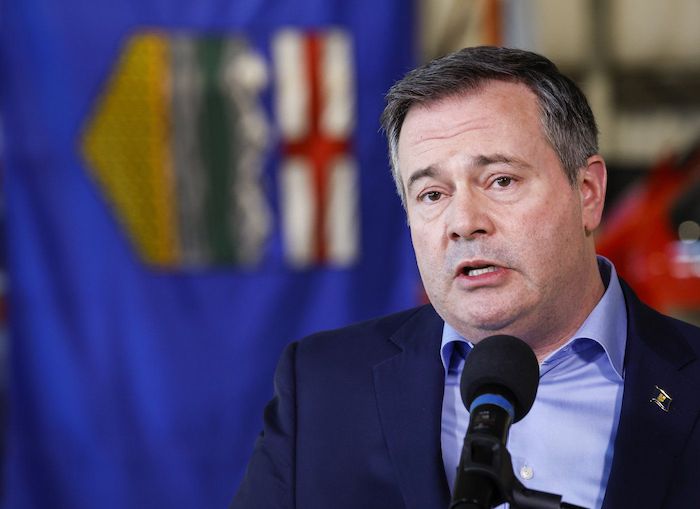 Edmonton, Alberta, Canada
Alberta Premier Jason Kenney will head to Washington D.C. next week to speak to lawmakers about the importance of getting more oil from Canada.
Kenney will speak to the U.S. Senate Committee on Energy and Natural Resources about Alberta's role in strengthening North American energy security.
Kenney has said Russia's invasion of Ukraine has amplified global energy concerns and highlighted the need for a better-integrated North American energy network.
The appearance comes after committee chair Sen. Joe Manchin visited Alberta last month to meet with Kenney and learn more about Alberta's energy sector.
Kenney leaves Sunday and will be joined on the trip by Energy Minister Sonya Savage and Environment Minister Jason Nixon.
He meets with the committee on Tuesday and returns Wednesday, the same day results will be announced from his party's leadership vote on whether he should remain as party leader and premier.
This report by The Canadian Press was first published May 12, 2022.
Kadri's winner halts Coyotes' comeback effort as Flames earn 3-2 victory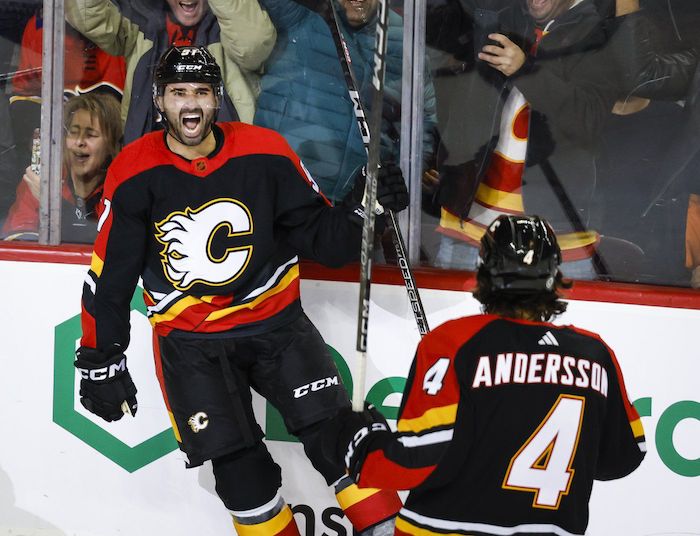 By Darren Haynes in Calgary
Nazem Kadri scored the game-winning goal at 15:42 of the third period and added two assists to lead the Calgary Flames to a 3-2 victory over the Arizona Coyotes on Monday.
Dillon Dube and Elias Lindholm also scored for Calgary (12-10-3), which has won five of its last six games at the Saddledome. Jonathan Huberdeau chipped in a pair of assists.
Shayne Gostisbehere and Jeff Chychrun each had a goal and an assist for Arizona (7-12-4), which has won just one of its last 10 (1-6-3).
Dan Vladar, starting for the fifth time in the last seven games, made 18 stops to even his record at 4-4-1.
Karel Vejmelka had 24 stops for the Coyotes in falling to 6-7-3.
Down 2-1 to start the third period, Arizona tied it at 5:50 when Chychrun snapped a shot over Vladar's shoulder. It was Chychrun's third goal in seven games since the defenceman returned from a wrist injury that sidelined him the first six weeks of the season.
But nine minutes later, Chychrun took a tripping penalty that proved to be costly.
Calgary regained the lead as Tyler Toffoli neatly set up Kadri, who notched his team-leading ninth goal of the season.
The Flames finished the night a perfect 2-for-3 on the power play, after having been in a slump, going 2-for-21 over the previous seven games.
Arizona went 0-for-2 on the man advantage.
Fuelled by back-to-back power plays early in the first period, Arizona held a 7-1 edge in shots at the 13-minute mark of the first period before Calgary started to tilt the ice in its favour.
After an extended stretch of pressure in the Coyotes' end, Dube opened the scoring deflecting a Chris Tanev point shot at 14:13 of the frame for his fifth goal of the season and fourth goal in his last eight games.
Just under three minutes later, Lindholm netted a power-play marker for his ninth of the campaign.
The Flames piled up 15 shots in a row before the Coyotes, having gone over 15 minutes without testing Vladar, finally directed a puck on the Calgary net seven minutes into the second.
With Vejmelka keeping the visitors within two, Arizona cut its deficit in half at 13:53 of the second. Rookie right-winger Matias Maccelli sent a drop pass to Gostisbehere whose shot found its way through a couple of screens and in off Vladar's arm.
HOMECOMING WEEK
Coyotes defenceman Juuso Valimaki, selected 16th overall in the 2017 draft, is the fourth Flames first-round pick to play against Calgary during its homestand. He follows Matthew Tkachuk (2016) and Sam Bennett (2014) with Florida on Tuesday and Sean Monahan (2013) with the Canadiens on Thursday.
ROOKIE RISING
Maccelli's assist extends the 22-year-old's point streak to four games (one goal, five assists). It's also his 15th helper on the season, which leads all rookies. Maccelli is second in rookie scoring behind Seattle's Matty Beniers.
UP NEXT
Coyotes: Having not played at home since Nov. 3, Arizona's stretch of 14 straight games on the road concludes on Wednesday in Edmonton.
Flames: Wrap up their five-game homestand on Wednesday against Minnesota.
This report by The Canadian Press was first published Dec. 5, 2022.
Suspect in massive fentanyl bust arrested in Edmonton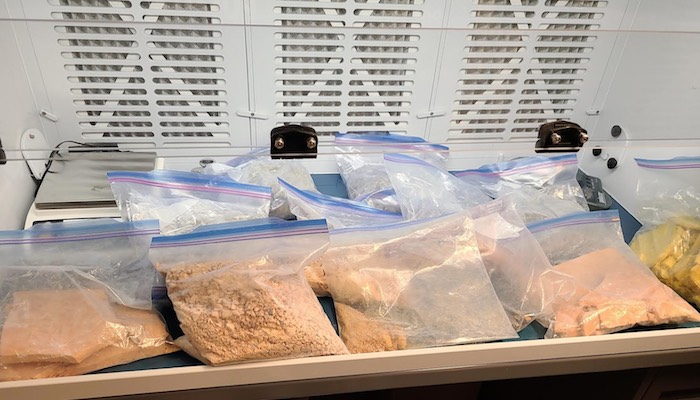 Release from Alberta RCMP on behalf of Saskatchewan RCMP
Over 10 kgs of fentanyl seized after SK RCMP WEST arrest male wanted on multiple warrants
In the Summer of 2022, the Saskatchewan RCMP Warrant and Enforcement Team (WEST) launched an investigation into the arrest of a 42-year-old Kurt Miller who was wanted on 25 outstanding charges.
Miller was wanted on warrants for his involvement in an incident back in May 2020. The Saskatoon RCMP F-SOC (Federal Serious and Organized Crime) team executed a search warrant near Biggar, SK, and an RCMP ERT (Emergency Response Team) officer was injured after shots were fired by the suspects. Miller was arrested on his outstanding matters but failed to appear at his final court proceedings.
Read more: https://www.rcmp-grc.gc.ca/en/news/2020/saskatchewan-rcmp-federal-serious-and-organized-crime-lay-drug-trafficking-charges
Saskatchewan RCMP WEST working in conjunction with the Regina Police Service, Alberta RCMP, the Edmonton Police Service, Swift Current Saskatchewan RCMP Trafficking Response Team (STRT), RCMP were able to determine that Miller may be in Alberta and actively involved in crime.
On Nov. 1, WEST, along with officers from Moose Jaw RCMP CRT (Crime Reduction Team) and Saskatoon F-SOC deployed to Red Deer, AB, worked in collaboration with the Red Deer ALERT (Alberta Law Enforcement Response Team) and corroborated information to better locate and identify Miller's whereabouts and activities. Based on all the information gathered by investigators, Miller was believed to be in the city of Edmonton.
The following day, WEST deployed to Edmonton in an effort to locate Miller. Officers conducted proactive patrols and canvassed the areas Miller was believed to have been seen.
On Nov. 3,2022, at 10:00 p.m. WEST was conducting patrols in Edmonton when they observed a male suspect exiting a trailer and placing bags in a vehicle before departing in it. WEST stopped the vehicle along the intersection of 82 Ave and 105 Street. Officers located Miller in the rear seat and he was taken into custody. The driver and female passenger were also taken into custody and released shortly after.
A search of the vehicle incidental to arrest revealed a suitcase and duffle bag containing drug preparation equipment and approximately 10.6 KG of suspected Fentanyl. The Strathcona County RCMP General Investigation Section was advised and have taken carriage of the drug investigation.
As a result of this investigation 42-year-old Kurt Miller of Brownlee, SK, has been charged with the following offences under theControlled Drugs and Substances Act (CDSA) in addition to his outstanding warrants for his arrest:
Trafficking 5(1) CDSA;
Possession for the Purpose of Trafficking 5(2) CDSA; and
Possession of equipment for use in production of substance 7.1(1) CDSA.
Miller was transported back to Saskatchewan to appear in court for his outstanding warrants in relation to the F-SOC investigation. He is scheduled to appear in court in Saskatoon on December 9, 2022, at 11 a.m.
"In this investigation, we seized over 10 kg of fentanyl which had the potential of reaching communities across Saskatchewan and Alberta. Approximately 2 mg of this substance is considered a lethal dose depending on a person's body size, tolerance and past usage. Our communities are safer because of this drug seizure and the dismantlement of this trafficking operation," says Superintendent Glenn Church, officer in charge of the Saskatchewan RCMP's new Saskatchewan Enforcement Response Team (SERT). "This investigation is an example of excellent collaboration between our specialized Saskatchewan RCMP teams and municipal and provincial partner police agencies. Removing illicit drugs from the street and preventing it from reaching our communities continues to be a top priority for the Saskatchewan RCMP."
Background:
The Saskatchewan Enforcement Response Team (SERT) consists of Saskatchewan RCMP's Crime Reduction Team (CRT) and Warrant Enforcement Suppression Team (WEST), as well as the Saskatchewan Trafficking Response Team (STRT). SERT will help the Saskatchewan RCMP continue to fulfil its mandate as the province's police force – keeping our communities safe.