Alberta leads the country in eliminating surgery backlog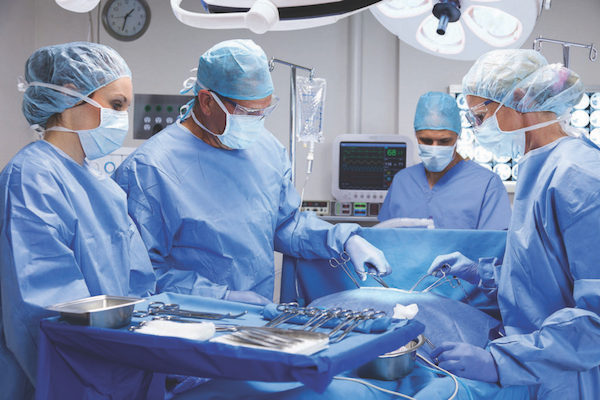 Surgery volumes exceed pre-pandemic levels
Alberta is now exceeding 100 per cent capacity for surgical volumes and is leading the country in eliminating the COVID-19 surgical backlog.
While all provinces delayed surgeries during the pandemic, Alberta delayed fewer surgeries than other provinces. For example, in the second wave, five to 10 per cent of surgeries were delayed in Alberta compared with between 30 and 60 per cent of surgeries postponed in Ontario, British Columbia and Quebec.
"As the pandemic recedes, Alberta's government will be pushing as hard as we can to ensure that any delayed surgeries are completed as fast as possible. Thanks to the incredible dedication of surgical teams in AHS and at chartered surgical facilities, we are getting closer and closer to that goal."
Through its surgical recovery plan, Alberta expects to recover faster than many other provinces.
The surgical recovery plan is now integrated into the Alberta Surgical Initiative, which will provide all Albertans the surgeries they need within recommended wait times. The initiative is improving and standardizing the entire surgical system from the time patients seek advice from their family doctor, to when they are referred to a specialist, to their surgery and rehabilitation.
"By carefully reducing the number of surgeries being performed in response to the pandemic, we were able to increase capacity in our intensive care units and ensure people with COVID-19 who needed ICU care could receive it. Now, we are able to focus on our surgical recovery plan. I am so proud of our teams who continue to work hard to ensure Albertans have high-quality care."
Quick facts
Throughout the 2020-21 fiscal year, surgical teams were able to support surgical activity at about 92 per cent of pre-COVID levels, with more than 268,000 surgeries completed compared with approximately 290,000 in the previous fiscal year.
About 40,000 surgeries were delayed in Alberta over the past 16 months:

25,000 surgeries were delayed in the first wave in the spring of 2020. All delayed surgeries from the first wave have been completed.
5,000 surgeries were delayed in the second wave during fall 2020 and early winter 2021. Another 10,000 surgeries were delayed in the third wave beginning in April 2021.
95 per cent, approximately 12,000, of these surgeries have been rebooked.

No emergency or urgent surgeries were delayed or postponed during the pandemic.
Most cancer surgeries continued during Alberta's pandemic response.
Top-ranked Winnipeg Blue Bombers edge Edmonton Elks 37-22 for fourth straight victory
EDMONTON — DeAundre Alford and Adam Bighill recorded defensive touchdowns as the league-leading Winnipeg Blue Bombers fought their way past the Edmonton Elks 37-22 Saturday.
The Blue Bombers (6-1) have won four games in a row while the Elks (2-4) have lost two straight and fell to 0-4 at home this season.
Winnipeg got off to a blazing start by scoring on its first drive, going 80 yards in nine plays, capped off by a 12-yard touchdown pass from QB Zach Collaros to Darvin Adams.
Collaros went 19 of 24 passing for 252 yards, a TD and an interception. 
The Bombers doubled their lead on their next drive as Nic Demski ploughed his way through several defenders for a 21-yard rushing major to make it 14-0.
Edmonton got back into the game midway through the second thanks to a Christian Rector fumble recovery on the Bombers' nine-yard-line, leading to a James Wilder Jr. touchdown run.
Winnipeg kicker Ali Mourtada missed a 28-yard field goal attempt before Edmonton's Sean Whyte nailed a three-pointer from 44 yards out to make it 15-10 at the mid-mark.
The Blue Bombers had 250 yards of offence in the first half to the Elks' 125. QB Taylor Cornelius passed for 106 yards in the first half in his CFL debut as he replaced Trevor Harris, who was placed on the six-game injured list with a neck injury.
Cornelius finished the game with 19 completions on 33 pass attempts for 243 yards and three interceptions. 
Edmonton surged into the lead early in the third quarter with an unconverted 19-yard TD run by Wilder.
However the Bombers regained the lead as Alford picked off Cornelius and took it back 22 yards for the touchdown. A two-point convert made it 23-16 for Winnipeg.
Whyte responded with a 32-yard field goal before Mourtada missed his third field goal attempt of the game from 44 yards.
The Bombers defence did it again late in the third as Cornelius fumbled deep in his own end, leading to a three-yard scoop and score by Bighill.
After Whyte kicked a 19-yard field goal, Winnipeg put the game away with a one-yard TD plunge by Sean McGuire.
Both teams have a bye next week. The Elks' next game will be in Ottawa on Sept. 28, while the Bombers will be in B.C. on Oct. 1. Winnipeg and Edmonton will then play each other again in a home-and-home series.
Notes: Two highly anticipated players made their Elks debuts: offensive lineman SirVincent Rogers and linebacker Derrick Moncrief… Winnipeg was trying its third place-kicker of the season with Mourtada making his CFL debut, relegating rookie Marc Liegghio to punting duties.
This report by The Canadian Press was first published Sept. 18, 2021.
The Canadian Press
Veteran Canadian rider Mario Deslauriers wins Spruce Meadows Grand Prix
CALGARY — Canada's Mario Deslauriers and Bardolina 2 posted two clear rounds Saturday to take the Queen Elizabeth II Cup Grand Prix at Spruce Meadows.
In a jump-off with Mexico's Carlos Hank Guerreiro and Australian Katie Laurie, Deslauriers and the 12-year-old mare didn't put a rail down and topped the leaderboard with a time of 53.05 seconds.
Deslauriers said Bardolina 2 can be difficult to ride, but she was on her game Saturday in Calgary.
"Today, she jumped incredible," Deslauriers said. "She was straight like an arrow and she jumped beautiful."
Deslauriers and Bardolina 2 were Canada's lone show jumping entry in the summer's Tokyo Olympics where the duo placed 22nd.
"She was very good I think in the medal round (there)," Deslauriers said. "She had two fences down that were very cheap, but overall she jumped super well.
"Before she came here, she had to do three weeks quarantine because I was over my limit when I came back from Europe.
"Really, I jumped her one time at home, she got in the truck and came here, so I think she's matured a lot. I can count on her. I don't need to practise so much any more."
Deslauriers, 56, is from Saint-Jean, Que., but lives in New York.
The North American is the last of three September tournaments totalling $5.6 million in prize money.
Spruce Meadows resumed hosting international show jumping events after a two-year hiatus because of the COVID-19 pandemic.
This report by The Canadian Press was first published Sept. 18, 2021.
The Canadian Press