Airlines, airports, transport minister to testify on holiday travel mess at committee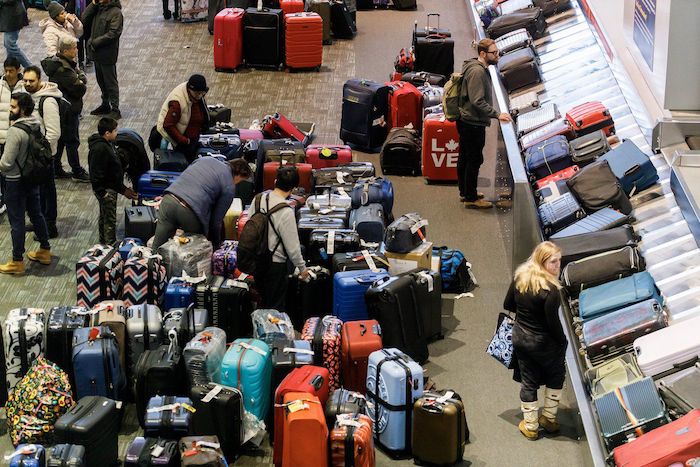 By Stephanie Taylor in Ottawa
From long hours waiting on hold to sleepless nights on airport floors and desperate scrambles to rebook flights and find missing bags, it was a holiday travel season that no one had on their wish list — but that thousands of people got.
Now, Canadians have a chance to hear top travel executives and the federal transport minister explain what went wrong, and what might be done to avoid a repeat.
Leaders from the country's major airports and airlines are among witnesses set to appear today during an emergency meeting of the House of Commons transportation committee being convened well ahead of Parliament's return later this month.
The meeting is expected to kick off with a panel of representatives from Air Canada, WestJet and Sunwing Airlines.
Sunwing, a vacation-destination airline, has apologized for leaving hundreds stranded in Mexico after cancelling its flights due to a winter storm that swept across parts of Canada in the lead-up to Christmas Day, and then axing trips out of Saskatchewan until early February due to "extenuating circumstances."
But it's not Mother Nature MPs are taking issue with. Rather, it's the communication — or lack thereof — that companies had with passengers whose plans were upended.
And while Sunwing Airlines president Len Corrado is scheduled to appear, neither Air Canada nor WestJet will be represented by a president or CEO, with the airlines instead sending vice-presidents to testify.
"Canadian travellers who were mistreated by airlines deserve an explanation. The very least that these rich CEOs can do is show up, explain what went wrong and show Canadians how they're going to do better," NDP Leader Jagmeet Singh said in a statement to The Canadian Press.
Bloc Québécois transportation critic Julie Vignola echoed that sentiment, saying in a French statement that their absences demonstrate their limited concern for passengers' rights.
A spokesperson for WestJet said its CEO was unavailable for comment, as did Air Canada, with the company saying committee members welcomed the decision to send vice-presidents with subject matter expertise instead.
The Opposition Conservatives say that while Canadians deserve answers from airlines, they believe the buck stops with Liberal Transport Minister Omar Alghabra, who is scheduled for an hour of testimony Thursday afternoon.
They point to the long lines and delays passengers experienced at airports last summer when the country witnessed a widespread return of travel for the first time since the COVID-19 pandemic began in March 2020.
"Canadians are suffering at the hands of (Prime Minister Justin) Trudeau's broken transportation system, and until the government is held to account to fix it, Canadians will continue to pay the price for their failure," Mark Strahl, a Conservative MP on the committee, said in a statement.
Alghabra has called what happened over the holidays "unacceptable" and vowed to bring in legislation to strength the country's existing Air Passenger Protection Regulations — a set of standards that allow travellers to request compensation when their flights are delayed or cancelled for reasons such as scheduling.
"Is this an opportunity for us to take a look at our rules and our system to make them stronger, to make them clearer, to make them more efficient? Absolutely," he told reporters. "But again it's not just the rules. We need airlines to make sure they make good decisions to keep passengers' rights at the centre of their operation."
Among other changes, Alghabra is eyeing amending the rules so that airlines would have to compensate passengers automatically. It's a move that passenger rights' advocates, Conservatives and the NDP support.
"When airlines' flight schedules get snarled, people miss weddings, funerals and vacations they've been saving up for. Some are left stranded," Taylor Bachrach, an NDP MP on the committee, said in a statement.
"The difficulty of a delayed or cancelled flight shouldn't be followed by the nightmare of fighting for compensation."
As for how airlines feel about the move, a WestJet vice-president said in a statement that it would be "foundationally burdensome" as it would require airlines to have "up-to-date passenger information to appropriately process these claims."
"We are disappointed that airlines continue to be singled out as the only point of ownership and accountability for travel in Canada, as this must be a shared responsibility by the entire aviation ecosystem," said Andy Gibbons, its vice-president of external affairs, who is set to testify Thursday.
A spokesperson for Air Canada added that while it won't speculate on the possible changes, "it should be noted that no passenger protection regime in the world requires carriers to compensate customers for severe weather delays."
The president and CEO of the National Airlines Council of Canada, Jeff Morrison, added that the regulations were last amended in the fall, and he believes it would be too soon to open them up again.
"We don't want to be making policy based on very individual, one-time incidents," he said.
Morrison said he believes it would be better for Ottawa to spend more on airport infrastructure to ensure travel hubs can handle storms, and introduce service standards for airports and aviation-related agencies such as the one that handles airport security.
"Many disruptions are due to factors outside the airline's control."
The presidents of the Vancouver, Montreal and Toronto airports are also scheduled to testify during the five hours of hearings on Thursday, as are officials from Transport Canada and leaders from the Canadian Transportation Agency.
One of the questions the federal regulator is likely to field is how it plans to clear a backlog of more than 33,000 passenger complaints, nearly 3,000 of which the agency said it has received since Dec. 20.
This report by The Canadian Press was first published Jan. 12, 2023.
Liberals float possibility of making motion on foreign interference a confidence vote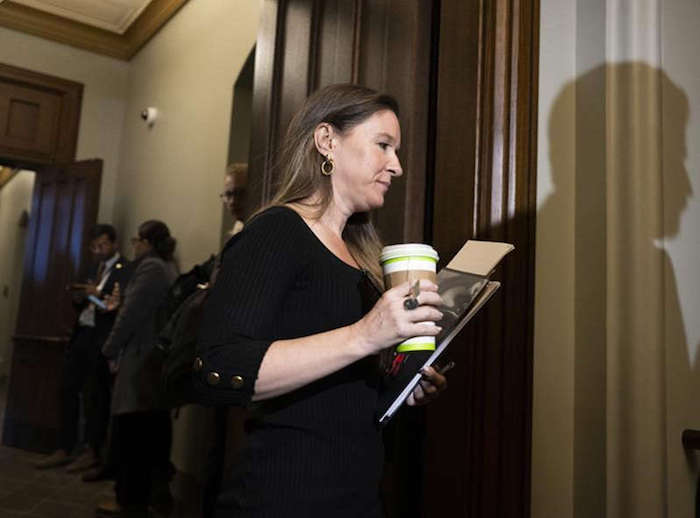 Katie Telford, Chief of Staff to Prime Minister Justin Trudeau, leaves after a meeting of the Liberal Caucus on Parliament Hill in Ottawa, on Wednesday, March 8, 2023. The federal Conservatives are trying to force Prime Minister Justin Trudeau's top aide to answer questions about allegations the Chinese government interfered in Canada's last two federal elections. THE CANADIAN PRESS/Justin Tang
By Mia Rabson in Ottawa
Liberal House leader Mark Holland isn't ruling out turning a Conservative motion on foreign interference into a confidence vote that could topple the government and would test the strength of the supply-and-confidence deal between the Liberals and the NDP.
The Conservatives tabled the motion in the House of Commons Monday demanding that Prime Minister Justin Trudeau's chief of staff, Katie Telford, appear at the House ethics committee before the middle of April. They want her, along with more than a dozen other witnesses, to answer questions about allegations that the Chinese government interfered in Canada's last two federal elections.
The move follows weeks of filibustering by the Liberals to prevent Telford from being summoned to appear at the House procedure committee on the same topic.
Alberta MP Michael Cooper said Telford is "a critical witness to get to the heart of the scandal." He said she should be able to answer what Trudeau knows about Beijing's attempts at meddling, when he learned about it and what he did about it.
The Conservatives and the Bloc Québécois both seem prepared to vote in favour of the motion. The NDP has yet to say where it stands on this specific motion, but intends to push its own motion demanding a full public inquiry be called on the issue of foreign interference.
NDP House leader Peter Julien reiterated Monday that his party wants an inquiry to look at the issue as a whole, rather than focus only on China. But the Conservatives have rejected calls to expand the probe to include meddling by other governments, such as Russia and Iran.
The Tories challenged the NDP to side with them instead of the "corrupt government."
"While this motion is a test for this government, it is also a test for the NDP," said Cooper.
It certainly could be the first real test of the supply-and-confidence arrangement the NDP and Liberals agreed to a year ago. Under that deal, the NDP is supporting the government on budgets and other votes that are automatically viewed as confidence matters, in exchange for the government moving on key NDP priorities such as dental care.
A confidence vote is one that the government must win — or be forced to resign.
The agreement, reached in early March 2022, does address situations in which the government declares a confidence vote on other matters. It requires the Liberals to inform the NDP of a confidence vote as soon as possible, and the NDP to discuss with the Liberals how its MPs intend to vote before announcing so publicly, "to permit discussions" to take place.
Holland hinted those talks are underway now, when asked specifically if the government would move to declare the Conservative motion a confidence matter.
"I think it's not helpful to jump to the end of a process when we are still having conversations in a contemporaneous circumstance," Holland said in a scrum with reporters outside the House Monday afternoon.
The Liberals are on the same page with the NDP about wanting to look at foreign interference from all other countries, not just China. However, thus far, Trudeau has rejected calls for a public inquiry, choosing instead to appoint a "special rapporteur" to oversee an investigation on the issue.
Trudeau named former governor general David Johnston for the role. The prime minister has committed to abiding by his advice, including any recommendation to hold a full public inquiry.
Holland accused the Conservatives of playing partisan games with the very serious issue of foreign interference in Canada's democratic processes. He said the government has offered to bring its national campaign chairs from 2019 and 2021 to the committees to answer questions.
He said the Conservatives won't offer the same, though the Conservative motion Monday includes not just Telford but more than a dozen others, including all the campaign chairs for every official party in the House of Commons for both the 2019 and 2021 elections.
The campaign chairs and co-chairs were briefed during the elections about any signs of foreign interference.
Holland said the decision to focus so intently on Telford is entirely about partisan politics.
Conservative House leader Andrew Scheer said the Tories would support the motion even if the Liberals made it into a confidence motion noting the issue is important enough.
"It's up to Justin Trudeau to make those kinds of decisions. And it's up to the NDP to decide whether or not they're going to allow themselves to be bullied around to cover up Liberal scandals," Scheer told reporters on Parliament Hill.
Scheer rejected Holland's contention that seeking Telford's testimony amounts to partisan games. He argued she is one of the few people in Trudeau's orbit during both elections and regular government work.
"She also would have had incredibly sensitive information as to the Liberal campaign itself, and that's why it's so important."
— With files from Dylan Robertson
This report by The Canadian Press was first published March 20, 2023.
Not a refugee, not quite a resident: Ukrainians who fled to Canada in 'grey area'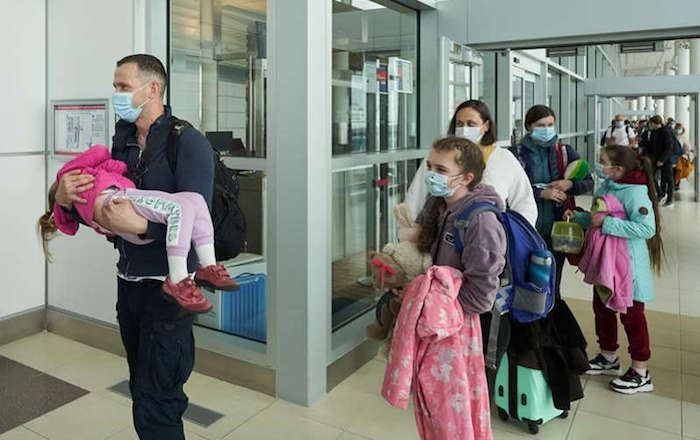 OTTAWA — Several immigrant specialists say Ukrainians who have fled to Canada with an emergency visa are stuck in a "grey area" of the immigration system, and they're urging the government to make changes.
Canada took a new approach to the crisis sparked by the Russian invasion last year, offering an unlimited number of temporary visas to Ukrainians while they figure out their next steps.
Those visa-holders were offered some targeted supports by federal and provincial governments, but not the same resources as people who arrive with refugee designations.
Nova Scotia immigration program director Simone Le Gendre says that created a challenge for the province at the outset, since their usual guidelines didn't apply.
Katie Crocker, the CEO of the Affiliation of Multicultural Societies and Service Agencies, says there is also no information about when people are arriving, making it more difficult to connect them with services.
The program is set to stop taking new applicants on March 31, giving the government two weeks to decide whether to extend it.
This report by The Canadian Press was first published March 20, 2023.
The Canadian Press