Air Canada denying passenger compensation claims for staff shortages, citing safety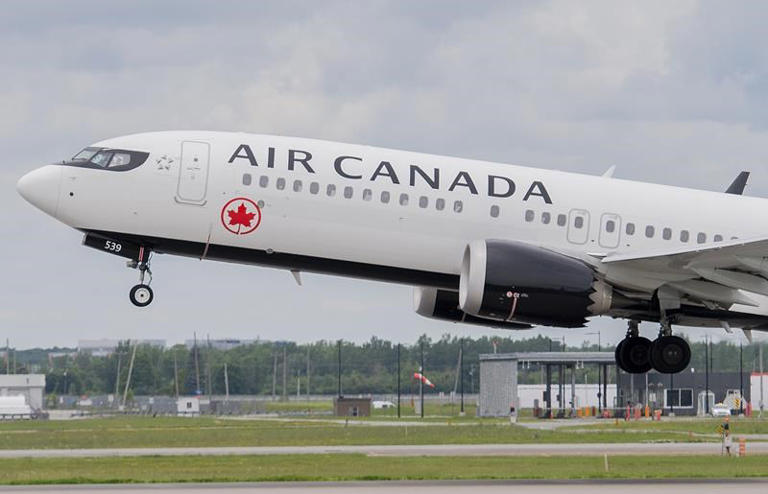 MONTREAL — Less than four hours before departure, Ryan Farrell was surprised to learn his flight from Yellowknife to Calgary had been cancelled.
Air Canada cited "crew constraints" and rebooked him on a plane leaving 48 hours after the June 17 flight's original takeoff time.
Farrell was even more surprised six weeks later, when he learned his request for compensation had been denied on the basis of the staff shortage.
"Since your Air Canada flight was delayed/cancelled due to crew constraints resulting from the impact of the COVID-19 pandemic on our operations, the compensation you are requesting does not apply because the delay/cancellation was caused by a safety-related issue," reads the email from customer relations dated July 29.
The rejection "feels like a slap in the face," Farrell said.
"If they don't have replacement crew to substitute in, then the flight (was) cancelled because they failed to assemble a crew, not because any other factor would have made it inherently unsafe to run the flight," he said in an email.
"I think the airlines are trying to exploit a general emotional connection that people make between 'COVID-19' and 'safety,' when in reality if you put their logic to the test it doesn't stand up."
Air Canada's response to Farrell's complaint was no outlier. In a Dec. 29 memo, the company instructed employees to classify flight cancellations caused by staff shortages as a "safety" problem, which would exclude travellers from compensation under federal regulations. That policy remains in place.
Canada's passenger rights charter, the Air Passenger Protection Regulations (APPR), mandates airlines to pay up to $1,000 in compensation for cancellations or significant delays that stem from reasons within the carrier's control when the notification comes 14 days or less before departure. However, airlines do not have to pay if the change was required for safety purposes.
The Canadian Transportation Agency (CTA), a quasi-judicial federal body, says treating staff shortages as a safety matter violates federal rules.
"If a crew shortage is due to the actions or inactions of the carrier, the disruption will be considered within the carrier's control for the purposes of the APPR. Therefore, a disruption caused by a crew shortage should not be considered 'required for safety purposes' when it is the carrier who caused the safety issue as a result of its own actions," the agency said in an email.
That stance reinforces a decision made July 8 — three weeks before Farrell learned he'd been denied compensation — when the CTA used nearly identical language in a dispute over a flight at a different air carrier. The regulatory panel's ruling in that case emphasized airlines' obligations around advance planning "to ensure that the carrier has enough staff available to operate the services it offers for sale."
In the December memo, which was issued at the height of the Omicron wave of COVID-19, Air Canada said: "Effective immediately, flight cancellations due to crew are considered as Within Carrier Control — For Safety."
"Customers impacted by these flight cancellations will still be eligible for the standard of treatments such as hotel accommodations, meals etc. but will no longer be eligible for APPR claims/monetary compensation."
The staff directive said the stance would be "temporary." But Air Canada acknowledged in an email on July 25 that the policy "remains in place given the continued exceptional circumstances brought on by COVID variants."
Gabor Lukacs, president of the Air Passenger Rights advocacy group, said Air Canada is exploiting a loophole in the passenger rights charter to avoid paying compensation, and called on the transport regulator for stronger enforcement.
"They are misclassifying things that are clearly not a safety issue," he said of Canada's largest airline, calling the policy "egregious."
Consumers can dispute an airline's denial of a claim via a compliant to the CTA. However, the agency's backlog topped 15,300 air travel complaints as of May.
Lukacs also noted that European Union regulations do not exclude safety reasons from situations requiring compensation in the event of cancellations or delays. Payouts are precluded only as a result of "extraordinary circumstances," such as weather or political instability.
"This document, along with the previous declarations and behaviour since the beginning of the pandemic, shows that Air Canada's priority is clearly to try to limit the costs of the flight cancellations instead of providing good service to its clients," Sylvie De Bellefeuille, a lawyer with Quebec-based advocacy group Option consommateurs, said after reviewing a copy of the directive.
She said Air Canada aims to deter passengers from requesting compensation in the first place. "This tactic does not, in our opinion, demonstrate that the company cares about its customers."
Air Canada disagrees with that characterization.
"Air Canada had and continues to have more employees proportionate to its flying schedule when compared prior to the pandemic," the company said in an emailed statement, indicating it had done everything it could to prepare for operational hiccups.
"Air Canada follows all public health directives as part of its safety culture, and during the Omicron wave last winter that affected some crew availability, we revised our policy to better assist customers in their travels with enhanced levels of customer care for flight cancellations related to crew contending with COVID."
John Gradek, head of McGill University's aviation management program, said the transportation agency is partly responsible for the "debacle" because it established looser rules than those in Europe and the United States.
"Carriers have been making strong efforts to point fingers and claim delays are outside of their control to reduce liability," he said in an email.
This report by The Canadian Press was first published Aug. 7, 2022.
Companies in this story: (TSX:AC)
Christopher Reynolds, The Canadian Press
Apple Inc will manufacture iPhone 14 in India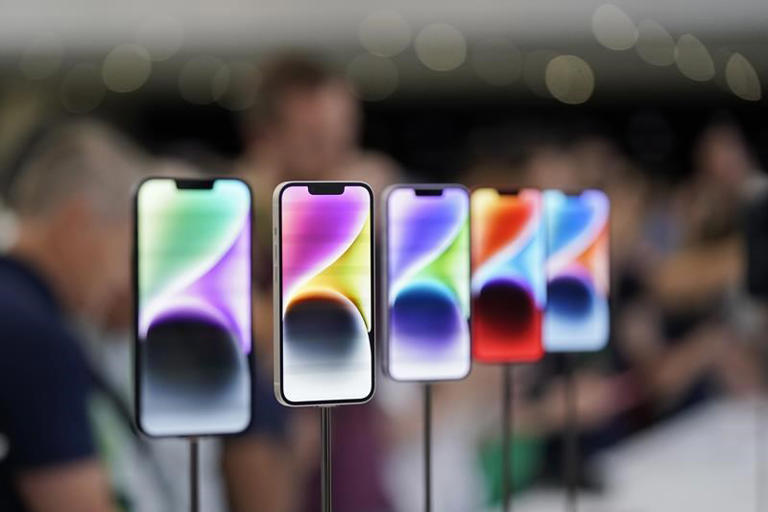 NEW DELHI (AP) — Apple Inc. will make its iPhone 14 in India, the company said on Monday, as manufacturers shift production from China amid geopolitical tensions and pandemic restrictions that have disrupted supply chains for many industries.
"The new iPhone 14 lineup introduces groundbreaking new technologies and important safety capabilities. We're excited to be manufacturing iPhone 14 in India," Apple said in a statement.
Apple unveiled its latest line-up of iPhones earlier this month. They will have improved cameras, faster processors and longer lasting batteries at the same prices as last year's models.
India is the world's second-largest smartphone market after China but Apple iPhone sales have struggled to capture a large share of the market against cheaper smartphones from competitors.
The announcement from the Cupertino, California-based company dovetails with Prime Minister Narendra Modi's push for local manufacturing, which has been a key goal for his government ever since he took office in 2014.
The tech company has bet big on India, where it first began manufacturing its iPhone SE in 2017 and has since continued to assemble a number of iPhone models there. Apple opened its online store for India two years ago, but the pandemic has delayed plans for a flagship store in India, according to local media reports.
The latest model will be shipped out by Foxconn, a major iPhone assembler, whose facilities are on the outskirts of Chennai, a city in southern India.
Apple is likely to shift about 5% of its iPhone 14 production to India from later this year, raising it to 25% by 2025, according to a JP Morgan report quoted by the Press Trust of India news agency.
The analysts expect that nearly a quarter of all Apple products to be manufactured outside China by 2025, compared to about 5% now. Supply chain risks like the stringent COVID-19 lockdowns seen in China are likely the trigger for such relocation efforts that will continue over the next two or three years, the report said.
"Apple has been trying to diversify its supply chain for a while, but these efforts have grown in the last two years over trade sanctions between the U.S. and China," said Sanyam Chaurasia, an analyst at Canalys.
Last year, the tech giant manufactured around 7 million iPhones in India. This news is likely to significantly increase India-made Apple smartphones, he added.
He said the plan to make more iPhones in India may also lead Apple to drop its prices for the Indian market, making it more competitive. "You can adopt a more aggressive pricing strategy if you manufacture locally," Chaurasia said.
Most of Apple Inc.'s smartphones and tablets are assembled by contractors with factories in China, but the company started asking them in 2020 to look at the possibility of moving some production to Southeast Asia or other places after repeated shutdowns to fight COVID-19 disrupted its global flow of products.
Apple hasn't released details, but news reports say the company planned to set up assembly of tablet computers and wireless earphones in Vietnam.
Other companies are keeping or expanding manufacturing in China to serve the domestic market while shifting export-oriented work to other countries due to rising wages and other costs, as well as the difficulty for foreign executives to visit China due to anti-COVID-19 travel restrictions.
___
AP Business Writer Joe McDonald in Beijing contributed.
Krutika Pathi, The Associated Press
Dow sinks to 2022 low as recession fears roil world markets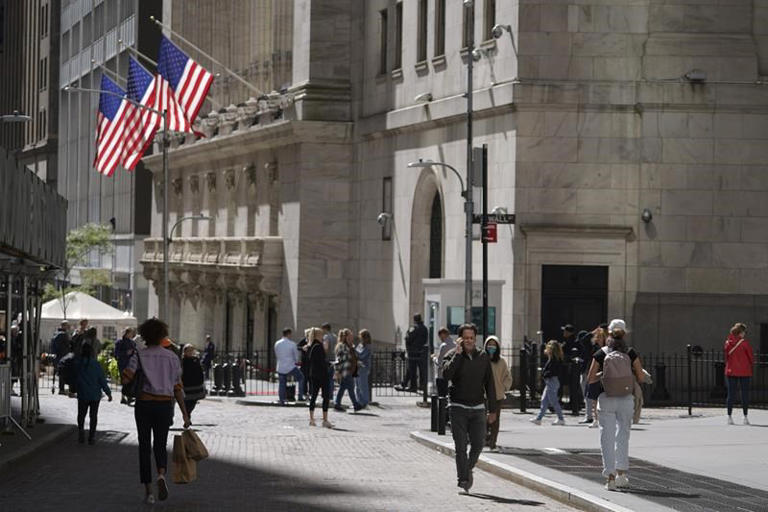 BEIJING — Stocks fell sharply worldwide Friday on worries an already slowing global economy could fall into recession as central banks raise the pressure with additional interest rate hikes.
The Dow Jones Industrial Average fell 1.6%, closing at its lowest level since late 2020. The S&P 500 fell 1.7%, close to its 2022 low set in mid-June, while the Nasdaq slid 1.8%.
The selling capped another rough week on Wall Street, leaving the major indexes with their fifth weekly loss in six weeks.
Energy prices closed sharply lower as traders worried about a possible recession. Treasury yields, which affect rates on mortgages and other kinds of loans, held at multiyear highs.
European stocks fell just as sharply or more after preliminary data there suggested business activity had its worst monthly contraction since the start of 2021. Adding to the pressure was a new plan announced in London to cut taxes, which sent U.K. yields soaring because it could ultimately force its central bank to raise rates even more sharply.
The Federal Reserve and other central banks around the world aggressively hiked interest rates this week in hopes of undercutting high inflation, with more big increases promised for the future. Such moves put the brakes on economies by design, in hopes that slower purchases by households and businesses will deflate inflationary pressures. But they also threaten a recession, if they rise too far or too quickly.
Besides Friday's discouraging data on European business activity, a separate report suggested U.S. activity is also still shrinking, though not quite as badly as in earlier months.
"Financial markets are now fully absorbing the Fed's harsh message that there will be no retreat from the inflation fight," Douglas Porter, chief economist at BMO Capital Markets, wrote in a research report.
U.S. crude oil prices slid 5.7% to their lowest levels since early this year on worries that a weaker global economy will burn less fuel. Cryptocurrency prices also fell sharply because higher interest rates tend to hit hardest the investments that look the priciest or the most risky.
Even gold fell in the worldwide rout, as bonds paying higher yields make investments that pay no interest look less attractive. Meanwhile the U.S. dollar has been moving sharply higher against other currencies. That can hurt profits for U.S. companies with lots of overseas business, as well as put a financial squeeze on much of the developing world.
The S&P 500 fell 64.76 points to 3,693.23, its fourth straight drop. The Dow, which at one point was down more than 800 points, lost 486.27 points to close at 29,590.41. The Nasdaq fell 198.88 points to 10,867.93.
Smaller company stocks did even worse. The Russell 2000 fell 42.72 points, or 2.5%, to close at 1,679.59.
More than 85% of stocks in the S&P 500 closed in the red, with technology companies, retailers and banks among the biggest weights on the benchmark index.
The Federal Reserve on Wednesday lifted its benchmark rate, which affects many consumer and business loans, to a range of 3% to 3.25%. It was at virtually zero at the start of the year. The Fed also released a forecast suggesting its benchmark rate could be 4.4% by the year's end, a full point higher than envisioned in June.
Treasury yields have climbed to multiyear highs as interest rates rise. The yield on the 2-year Treasury, which tends to follow expectations for Federal Reserve action, rose to 4.20% from 4.12% late Thursday. It is trading at its highest level since 2007. The yield on the 10-year Treasury, which influences mortgage rates, slipped to 3.69% from 3.71%.
Goldman Sachs strategists say a majority of their clients now see a "hard landing" that pulls the economy sharply lower as inevitable. The question for them is just on the timing, magnitude and length of a potential recession.
Higher interest rates hurt all kinds of investments, but stocks could stay steady as long as corporate profits grow strongly. The problem is that many analysts are beginning to cut their forecasts for upcoming earnings because of higher rates and worries about a possible recession.
"Increasingly, market psychology has transitioned from concerns over inflation to worries that, at a minimum, corporate profits will decline as economic growth slows demand," said Quincy Krosby, chief global strategist for LPL Financial.
In the U.S., the jobs market has remained remarkably solid, and many analysts think the economy grew in the summer quarter after shrinking in the first six months of the year. But the encouraging signs also suggest the Fed may have to jack rates even higher to get the cooling needed to bring down inflation.
Some key areas of the economy are already weakening. Mortgage rates have reached 14-year highs, causing sales of existing homes to drop 20% in the past year. But other areas that do best when rates are low are also hurting.
In Europe, meanwhile, the already fragile economy is dealing with the effects of war on its eastern front following Russia's invasion of Ukraine. The European Central Bank is hiking its key interest rate to combat inflation even as the region's economy is already expected to plunge into a recession. And in Asia, China's economy is contending with still-strict measures meant to limit COVID infections that also hurt businesses.
While Friday's economic reports were discouraging, few on Wall Street saw them as enough to convince the Fed and other central banks to soften their stance on raising rates. So they just reinforced the fear that rates will keep rising in the face of already slowing economies.
Economics Writer Christopher Rugaber and Business Writers Joe McDonald and Matt Ott contributed to this report.
Damian J. Troise And Alex Veiga, The Associated Press