Aid shipment to Afghanistan cancelled due to anti-terrorist law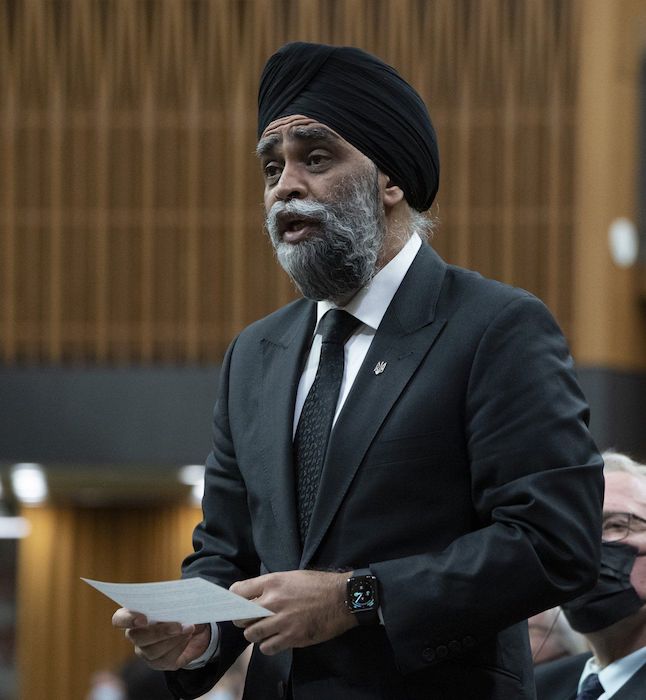 Ottawa – Two containers of food bound for Afghanistan have been cancelled by a Canadian aid agency because of a law banning any dealings with the Taliban.
World Vision says it has been forced to cancel a large shipment of "therapeutic food," which it said could have fed around 1,800 children.
Canada passed a law in 2013 listing the Taliban as a terrorist organization and listing penalties of up to 10 years in prison if Canadians directly or indirectly provide them with property or finances.
Aid agencies working in Afghanistan complain the law, in its current form, is impeding their work because they cannot help anyone who may have official dealings with what is now the Afghan government, including those paying rent or taxes.
A spokeswoman for International Development Minister Harjit Sajjan says he is working with the departments of Public Safety and Justice to look at "necessary changes" to the law help the Afghan people.
But he has stressed previously that the government has no plans to remove the Taliban from its list of terrorist organizations.
This report by The Canadian Press was first published Aug. 8, 2022.
After the storm: residents of Atlantic Canada and eastern Quebec survey damage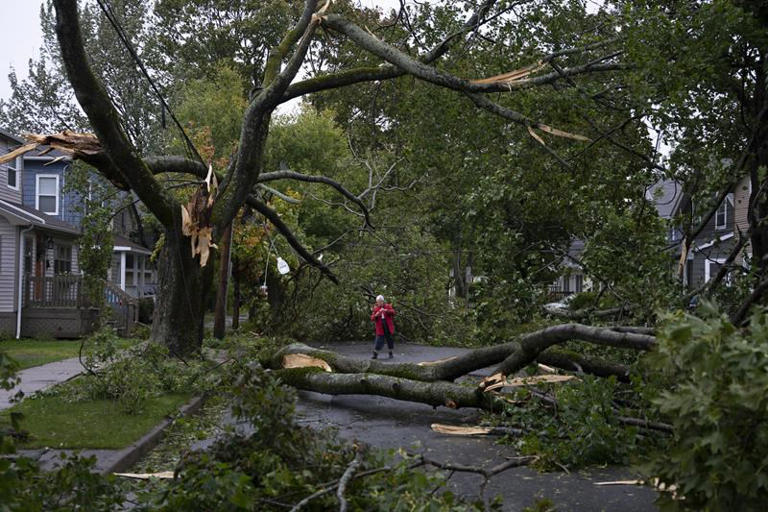 A day after post-tropical storm Fiona left a trail of destruction through Atlantic Canada and eastern Quebec, residents of a coastal town in western Newfoundland continued to pick through wreckage strewn across their community, easily the most damaged area in the region.
Photos posted on Sunday from Port aux Basques show homes and outbuildings smashed or submerged on the shoreline, the result of a record-breaking storm surge that swamped a residential neighbourhood.
Police received reports that two women had been swept into the ocean as their homes collapsed early Saturday. One woman was rescued by local residents, but the status of the second woman remained unclear.
Meanwhile, Nova Scotia Premier Tim Houston was expected to survey some of the hardest hit areas of Cape Breton, where Fiona's wrath left many homes badly damaged.
Despite downed trees and widespread power outages, some Cape Breton residents decided to carry on with milestone events Sunday.
Samantha Murphy, 35, said she was going to proceed with her wedding at a church in downtown Sydney, followed by a reception meal prepared by a caterer with a generator.
Sitting in a hotel lobby with her three bridesmaids, she was wrapping floral arrangements and waiting for her hairdresser to arrive as she contemplated Fiona's unwelcome visit.
"I think it's going to be more romantic with candlelight," she said in an interview. "We're going back to when there was no power. Our family is around and let's celebrate our love."
Murphy said she was determined to proceed with her wedding on Sunday after the COVID-19 pandemic forced her to cancel her previous plans.
On the north shore of Prince Edward Island, another area ravaged by Fiona, lobster buyer Leigh Misener pointed to what was once his office on the Covehead Wharf.
On Sunday morning, it lay upside down about three kilometres away on a front lawn.
"That's our building," Misener said with a laugh. "Stop by anytime."
Despite his wry humour, he said it was heartbreaking to see the destruction. The wharf is now an ugly vision of smashed buildings and upturned soil, as if an earthquake shook the place. Where the buildings once stood now lies a foundation littered with weights used for lobster traps and an anchor sitting in the rubble.
"The whole wharf's gone," Misener said. "Everyone's going to hurt from it."
Judy Profitt, who lives a few kilometres away on Brackley Beach, pointed to the Covehead Bridge and a now absent landmark — a small dune that once stood next to the bridge.
"It's my favorite dune, but it's just been sheared off," Profitt said, her voice breaking with emotion.
"I had taken a picture of that dune. After my husband died, (it was) laser-etched on his tombstone. To look at that dune now, it's just such a sad sight."
In eastern Quebec, officials were heading to the storm-battered island chain of Îles-de-la-Madeleine, where high winds and storm surges caused flooding and road closures.
Provincial Public Security Minister Geneviève Guilbault confirmed that 30 and 40 people were forced to leave their homes, but no one was hurt.
"We're going into recovery mode," she told reporters in Quebec City.
Guilbault said one of two underwater telecommunication cables linking the islands with the mainland — dubbed COGIM 1 — was damaged by Fiona, but she said the other remained intact.
Guilbault said the Quebec government has worked hard to lessen the impact of storms that have worsened with climate change, saying millions of dollars have been invested in slowing coastal erosion.
"As it's an island, the problem is fairly chronic around the island and in eastern Quebec in general," she said.
As for Fiona, the big storm moved into southeastern Quebec on Sunday, with Environment Canada saying it will continue to weaken as it tracks across southeastern Labrador and over the Labrador Sea.
This report by The Canadian Press was first published Sept. 25, 2022.
Michael MacDonald, The Canadian Press
Fiona knocks out power with strong winds in Atlantic Canada
HALIFAX — Fiona knocked out power to more than 500,000 customers in Atlantic Canada Saturday, damaging homes with strong winds and rain as it made landfall as a big, powerful post-tropical cyclone.
Fiona transformed from a hurricane into a post-tropical storm late Friday, but meteorologists cautioned that it still could have hurricane-strength winds and would bring drenching rains and huge waves.
More than 415,000 Nova Scotia Power customers — about 80% of the province of almost 1 million — were affected by outages Saturday morning. Over 82,000 customers in the province of Prince Edward Island were also without power, while NB Power in New Brunswick reported 44,329 were without electricity.
The fast-moving Fiona made Nova Scotia landfall before dawn Saturday, with its power down from the Category 4 strength it had early Friday when passing by Bermuda, though officials there reported no serious damage.
The Canadian Hurricane Centre tweeted early Saturday that Fiona has the lowest pressure ever recorded for a storm making landfall in Canada. Forecasters had warned it could be the one of the most powerful storms to hit the country.
The Royal Canadian Mounted Police in Newfoundland said the town of Port aux Basques, in Newfoundland is in a state of emergency as authorities deal with with multiple electrical fires and residential flooding. Port aux Basques Mayor Brian Button said some houses have been washed away amid high winds and surging seas.
A state of local emergency has been declared by the mayor and council of the Cape Breton Regional Municipality amid widespread power outages, road closures and damage to homes.
"There are homes that have been significantly damaged due to downed trees, big old trees falling down and causing significant damage. We're also seeing houses that their roofs have completely torn off, windows breaking in. There is a huge amount of debris in the roadways," Amanda McDougall, mayor of Cape Breton Regional Municipality, told The Associated Press
"There is a lot of damage to belongings and structures but no injuries to people as of this point. Again we're still in the midst of this," she said. "It's still terrifying. I'm just sitting here in my living room and it feels like the patio doors are going to break in with those big gusts. It's loud and it is shocking."
McDougall said the shelter they opened was full overnight and they will look to open more.
. The federal Public Safety ministry advised against all non-essential travel by car.
A hurricane watch was issued for coastal expanses of Nova Scotia, Prince Edward Island and Newfoundland.
Prime Minister Justin Trudeau decided to delay his trip to Japan for the funeral for assassinated former Prime Minister Shinzo Abe.
"We of course hope there won't be much needed, but we feel there probably will be," Trudeau said. "Listen to the instructions of local authorities and hang in there for the next 24 hours."
The U.S. hurricane center said Fiona had maximum sustained winds of 90 mph (150 kph) Saturday. It was moving across eastern Canada.
Hurricane-force winds extended outward up to 175 miles (280 kilometers) from the center and tropical storm-force winds extended outward up to 405 miles (650 kilometers).
Hurricanes in Canada are somewhat rare, in part because once the storms reach colder waters, they lose their main source of energy. But post-tropical cyclones still can have hurricane-strength winds, although they have a cold core and no visible eye. They also often lose their symmetric form and more resemble a comma.
"Just an incredibly strong storm as it made landfall. And even as it moves away it is continuing to affect the region for several more hours today," said Ian Hubbard, meteorologist for the Canadian Hurricane Centre in Dartmouth, Nova Scotia, said Saturday morning.
Hubbard said he lost power at his house and had to drive the long way to work because bridges have been closed. He said there are downed trees and signs in the Halifax area but other areas of province have it worse.
In Sydney, Nova Scotia, the largest city in Cape Breton, about 20 people have taken refuge at the Centre 200 sports and entertainment facility in Sydney, said Christina Lamey, a spokeswoman for the region.
"The key message from that is for people to stay at home," she said. "The first responders are really stretched right now. We want people to stay off the roads. Most of the roads have hazards on them, with power lines down and trees down as well."
Bob Robichaud, Warning Preparedness Meteorologist for the Canadian Hurricane Centre, said Fiona was shaping up to be a bigger storm system than Hurricane Juan, which caused extensive damage to the Halifax area in 2003.
He added that Fiona is about the same size as post-tropical storm Dorian in 2019. "But it is stronger than Dorian was," he said. "It's certainly going to be an historic, extreme event for eastern Canada."
Authorities in Nova Scotia also sent an emergency alert to phones warning of Fiona's arrival and urging people to say inside, avoid the shore, charge devices and have enough supplies for at least 72 hours.
Fiona so far has been blamed for at least five deaths — two in Puerto Rico, two in the Dominican Republic and one in the French island of Guadeloupe.
Meanwhile, the National Hurricane Center said newly formed Tropical Storm Ian in the Caribbean was expected to keep strengthening and hit Cuba early Tuesday as a hurricane and then hit southern Florida early Wednesday.
It was centered about 315 miles (519 kilometers) southeast of Kingston, Jamaica. It had maximum sustained winds of 45 mph (75 kph) and was moving west-northwest at 14 mph (22 kph). A hurricane watch was issued for the Cayman Islands.
___
Associated Press writer Rob Gillies in Toronto contributed to this report.