Aggressive measures in Alberta: Strict new rules for visiting seniors in care facilities
Province of Alberta COVID-19 Update for March 20
NOTE: Dr. Deena Hinshaw reports approximately 30 minutes into this video
Forty-nine additional cases of COVID-19 have been confirmed, bringing the total number of cases in the province to 195.
Aggressive public health measures continue to help limit the spread of COVID-19.
Latest updates
Cases have been identified in all zones across the province:

126 cases in the Calgary zone
43 cases in the Edmonton zone
17 cases in the North zone
Five cases in the South zone
Four cases in the Central zone

Of these cases, 10 are currently hospitalized, five have been admitted to intensive care units (ICU), and one patient has died.
At this time, three have recovered.
Aggregate data, showing cases by age range and zone, as well as by local geographical areas, is available online at alberta.ca/covid19statistics.
Stronger restrictions are being put in place for visitors to long-term and seniors care facilities. Essential visitors will be restricted to a single individual who can be family, a friend, or a paid companion who provides care and companionship necessary for the well-being of the resident (physical and mental health) and/or a single designated visitor for a person who is dying, as long as only one visitor enters the facility at a time. Every visitor will undergo a health screening.
Albertans are reminded of the importance of social distancing as an important way to minimize the spread of COVID-19.

Albertans are discouraged from attending large shopping malls and other large public spaces, unless necessary.
A tip sheet is available to help Albertans understand ways to minimize close contact with others in community settings.

Mass gathering limitations and restrictions around public recreation and private entertainment facilities remain in place across the province.
While there are no restrictions at this time regarding personal services like hair salons, Albertans are reminded to reduce the number of times they leave their house to perform errands, practise social distancing and limit the amount of time they spend in crowded spaces.
All Albertans need to work together to overcome COVID-19. Albertans are asked to share acts of kindness they have experienced in their community during this difficult time by using the hashtag #AlbertaCares.
ATB Financial services
ATB Financial has temporarily closed selected branches and has reduced hours for all other branches in order to protect the health and safety of their team members, customers and the communities they serve. Details about ATB Financial's customer relief programs, closures and reduced hours can be found at atb.com.
Driver road tests suspended
Effective immediately, driver road tests are suspended until April 20. Albertans who already have a road test booked will be able to rebook online using the same test permit at no additional charge. We are working with the commercial carrier industry to deliver emergency Class 1 road tests as necessary.
Alberta Corporate Registry annual returns suspended
In keeping with public gathering restrictions, deadlines are suspended for businesses, corporations and non-profits that require holding annual general meetings in order to file their annual returns with Alberta Corporate Registry.
Winter camping closing
Alberta Parks is closing winter camping effective immediately and not accepting new winter camping reservations to limit the spread of COVID-19. Bookings for winter camping sites will be cancelled and customers notified via the online reservation system or by phone. Refunds will also be issued.
Liquor and cannabis retailers remain open
Liquor and cannabis retail locations remain open in Alberta. AGLC is maintaining business as usual. There is no impact to supply. Contact aglc.ca for more information.
Some liquor manufacturers producing hand sanitizer
Some Alberta distillers have begun producing or indicating an interest to produce alcohol-based hand sanitizers in their facilities to help fill a gap in many markets due to COVID-19. AGLC is supporting the manufacturers' efforts, and more information can be found at https://aglc.ca/bulletin/production-hand-sanitizer-class-e. Check with your local distiller regarding the availability of hand sanitizers.
Information for travellers
Travel outside the country is strongly discouraged. Given the rapid global spread of the virus, it is no longer possible to assess health risks for the duration of the trip.
Any traveller returning from outside of the country should self-isolate for 14 days, even if they are feeling well, and monitor for symptoms.
Any traveller who has returned before March 12 should closely monitor themselves for symptoms. If they experience symptoms, they should self-isolate immediately and call Health Link 811 for follow-up assessment and testing.
The Alberta government and Travel Alberta have launched a campaign to inform Canadians travelling in the United States and Mexico about the importance of returning home.
COVID-19 related information has been provided for departing and returning passengers at the international airports in both Edmonton and Calgary. This information has also been shared with all airports in Alberta and several airlines.
Quick facts
The most important measures that Albertans can take to prevent respiratory illnesses, including COVID-19, is to practise good hygiene.

This includes cleaning your hands regularly for at least 20 seconds, avoiding touching your face, coughing or sneezing into your elbow or sleeve, disposing of tissues appropriately, and staying home and away from others if you are sick.

Anyone who has health concerns or is experiencing symptoms of COVID-19 should complete an online COVID-19 self-assessment.
For recommendations on protecting yourself and your community, visit alberta.ca/COVID19.
A look at Alberta Premier Danielle Smith's new cabinet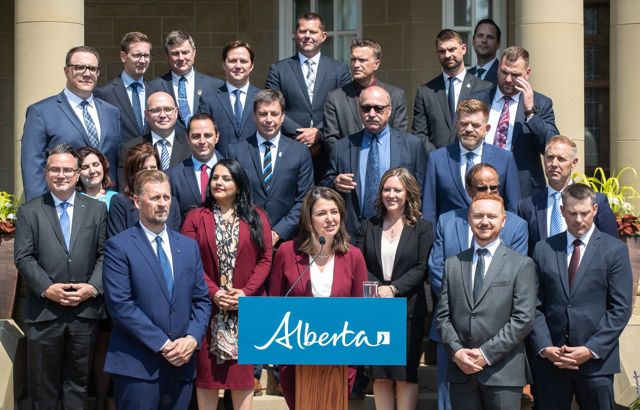 Premier Danielle Smith introduced her cabinet Friday, the second one since taking over as United Conservative Party leader in October. Here are the changes at a glance:
Second in command: Mike Ellis retains his Public Safety and Emergency Services portfolio but is also now deputy premier.
Big promotions: Mickey Amery moves from Children's Services to Justice; Nate Horner moves from Agriculture and Irrigation to Finance; Adriana LaGrange already had a heavyweight title in Education but now takes on enormous responsibilities in Health.
New faces: RJ Sigurdson joins cabinet for the first time in Agriculture and Irrigation; Searle Turton is new in Children and Family Services; Dan Williams gets his first cabinet seat in Mental Health and Addiction.
Returning vets: Jason Nixon, the environment minister and government house leader under former premier Jason Kenney, is back in cabinet handling the Seniors, Community and Social Services post. Ric McIver, dropped from Smith's first cabinet, returns in his old job of Municipal Affairs. Muhammad Yaseen, a former associate minister of immigration, now has full cabinet rank as minister of Immigration and Multiculturalism; Tanya Fir, former economic development minster under Kenney, is back in Arts, Culture and Status of Women portfolio.
Same faces, new jobs: Rebecca Schulz (Environment and Protected Areas), Brian Jean (Energy and Minerals), Nathan Neudorf (Affordability and Utilities), Joseph Schow (Tourism and Sport), Demetrios Nicolaides (Education), Rajan Sawhney (Advanced Education), Matt Jones (Jobs, Economy and Trade), Peter Guthrie (Infrastructure).
Same faces, same jobs: Nate Glubish (Technology and Innovation), Dale Nally (Service Alberta and Red Tape Reduction), Devin Dreeshen (Transportation and Economic Corridors), Todd Loewen (Forestry and Parks).
This report by The Canadian Press was first published June 9, 2023.
Alberta Premier Danielle Smith shuffles familiar faces into new cabinet roles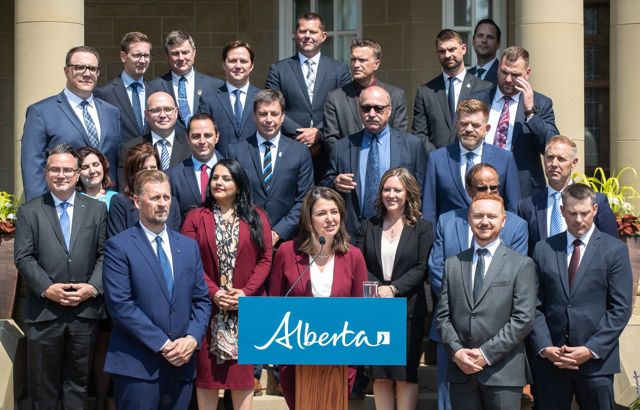 Alberta Premier Danielle Smith introduced her new cabinet Friday, shuffling familiar faces, tinkering with some titles, keeping former leadership rivals close while welcoming back two exiled political veterans.
Smith's 25-member team – down from 27 in her first cabinet last fall – were sworn in during a ceremony at Government House.
"I am so pleased to have this team working with me to deliver on the promises we made to Albertans during the election," Smith said in a news release.
"These are not just our government's priorities, they are Albertans' priorities. The next four years start today, and I can't wait to get back to work with each of my cabinet colleagues."
Nate Horner has been tapped to lead Finance, Mickey Amery takes over in Justice and Adriana LaGrange moves to Health from her old job in Education.
Brian Jean, Rajan Sawhney, Todd Loewen and Rebecca Schulz — all contenders in the United Conservative Party leadership — return to Smith's cabinet table.
Jean will head up Energy and Minerals, Sawhney takes over Advanced Education and Schulz is to lead Environment and Protected Areas.
Loewen returns in the newly renamed Forestry and Parks job.
Smith lost a lot of cabinet experience when veteran ministers retired or were defeated in last month's election. Two returning stalwarts, Jason Nixon and Ric McIver, were dropped from Smith's original cabinet Oct. 24 but are back at the table.
Nixon is in charge of Seniors, Community and Social Services. He was the top lieutenant to former premier Jason Kenney, serving as government house leader and Environment minister. After Kenney quit and Smith took over, Nixon was still viewed in caucus as part of the discredited Kenney administration and was moved to the backbenches.
McIver, with a decade of experience in the legislature under multiple portfolios, is back in his old job of Municipal Affairs.
Other cabinet ministers are also back with big promotions.
Amery, with no cabinet experience until Smith appointed him Children's Services minister last year, takes a big leap forward to Justice.
One of three lawyers in Smith's 48-member caucus, Amery inherits a controversial portfolio. He is the fifth person to hold the job in the last four years under the UCP.
One former UCP justice minister, Kaycee Madu, was found to have tried to interfere in the administration of justice by calling up Edmonton's police chief to complain about a traffic ticket.
Last month, the province's ethics commissioner concluded Smith sought to undermine the rule of law by pressuring Amery's predecessor, Tyler Shandro, to drop a criminal case against a protester at a U.S. border blockade.
LaGrange's Health job is viewed as critical, as Smith pledged to reduce wait times for emergency care and surgeries and to make changes to ensure more Albertans can see a family doctor.
Horner, who earned plaudits for his work in Agriculture and Irrigation, will have to navigate keeping Alberta's books balanced while also finding money to pay for a $1-billion-a-year tax reduction pledge promised by Smith.
Demetrios Nicolaides effectively switches classrooms, moving from Advanced Education to Education.
Matt Jones moves from Affordability and Utilities to the new Jobs, Economy and Trade.
Rick Wilson returns as Indigenous Relations minister. With Nicolaides and LaGrange switching portfolios, he is the only minister named in Kenney's original 2019 cabinet to be in the same job four years later.
Mike Ellis has emerged as a key lieutenant to Smith. The former Calgary police officer returns in the Public Safety and Emergency Services portfolio but is also her deputy premier. He is expected to play a pivotal role in Smith's promised legislation to force addicts into treatment as a last resort.
Devin Dreeshen stays in place as minister for Transportation and Economic Corridors.
Calgary member Tanya Fir's roller-coaster political career is back on the upswing, heading to the newly renamed Arts, Culture and Status of Women ministry.
Fir was part of the Kenney's original cabinet as Economic Development minister, but was dropped from cabinet, brought back in as a Jobs minister only to be dropped by Smith in October.
The Status of Women portfolio is also back on the rise after falling from a cabinet portfolio to an associate ministry under Kenney, then out of cabinet altogether under Smith.
Smith has said because the NDP took all 20 Edmonton seats in the election, she will rely more on cabinet ministers Nate Glubish, Dale Nally and Searle Turton, who represent constituencies near the capital.
Glubish remains in Technology and Innovation and Nally stays as minister for Service Alberta and Red Tape Reduction.
Turton, a second-term member, gets his first cabinet job in the renamed Children and Family Services ministry.
Nathan Neudorf is no longer deputy premier or Infrastructure minister, taking over Affordability and Utilities.
Peter Guthrie moves from Energy to Infrastructure.
Joseph Schow returns as government house leader and as minister for the new Tourism and Sport position.
Calgary backbencher Muhammad Yaseen, previously an associate immigration minister under Kenney, attains full cabinet rank as minister for Immigration and Multiculturalism.
Dan Williams, a second-term MLA, gets his first shot in cabinet with Mental Health and Addiction.
RJ Sigurdson gets his first cabinet assignment, taking over from Horner in Agriculture and Irrigation.
The job titles remain the same for the most part with some slight revisions. Loewen, for example, loses the Tourism responsibility from his old job.
The Jobs, Economy and Northern Development portfolio has dropped Northern Development and will add in Trade responsibilities instead.
The Seniors title, dropped last fall by Smith, returns in Nixon's new job.
The Skilled Trades and Professions portfolio has been dropped all together.
There is still no dedicated Labour ministry.
The government is set to return to the house in October and faces a large 38-member Opposition NDP that, along with sweeping Edmonton, took a big bite out of UCP support in Calgary.
The NDP now represents more than half the seats in Calgary.
Smith's caucus will also be further reduced.
While the UCP won 49 seats in the election, Smith said newly elected Lacombe-Ponoka member Jennifer Johnson is not welcome in caucus given her public comments late last year comparing transgender students to feces in cookie dough. Johnson will sit as an Independent.
UCP member Nathan Cooper is expected to return as Speaker, meaning Smith's team will have an even slimmer majority in the 87-seat legislature.
This report by The Canadian Press was first published June 9, 2023.