After US offer, Germany unleashes Leopard tanks for Ukraine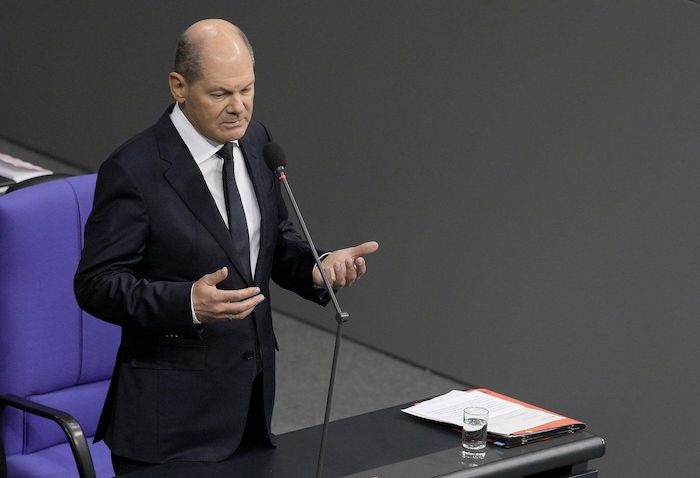 By Frank Jordans And Kirsten Grieshaber in Berlin
BERLIN (AP) — After weeks of hesitation that created impatience among Germany's allies, Chancellor Olaf Scholz announced Wednesday that his government would provide Ukraine with Leopard 2 battle tanks and approve requests by other countries to do the same.
The German government said it would initially provide Ukraine with one company of Leopard 2 A6 tanks, or 14 vehicles. The goal is for Germany and its allies to provide Ukraine with 88 of the German-made Leopards, which comprise two battalions.
"This is the result of intensive consultations, once again, with our allies and international partners," Scholz said in an address to German lawmakers.
"It was right and it is important that we didn't let ourselves be driven (into making the decision)," he added.
Ukrainian President Volodymyr Zelenskyy expressed satisfaction at the news. Several European countries have equipped their armies with Leopard 2 tanks, and Germany's announcement means they can give some of their stocks to Ukraine.
"German main battle tanks, further broadening of defense support and training missions, green light for partners to supply similar weapons. Just heard about these important and timely decisions in a call with Olaf Scholz," Zelenskyy wrote on Twitter. "Sincerely grateful to the chancellor and all our friends in (Germany)."
The long-awaited decision came after U.S. officials revealed Tuesday a preliminary agreement for the United States to send M1 Abrams tanks to help Ukraine's troops push back Russian forces that remain entrenched in the country's east almost a year after Russia invaded its neighbor. The officials spoke on condition of anonymity because the decision has not yet been made public.
It is not clear when or how the tanks would be delivered to Ukraine, or how soon they could have an impact on the battlefield. Military analysts have said Russian forces are thought to be preparing for a spring offensive.
While Ukraine's supporters previously have supplied tanks, they were Soviet models in the stockpiles of countries that once were in Moscow's sphere of influence but are now aligned with the West. Zelenskyy and other Ukrainian officials insisted their forces need more modern Western-designed tanks to defeat Russia.
NATO Secretary-General Jens Stoltenberg welcomed Germany's decision. "At a critical moment in Russia's war, these can help Ukraine to defend itself, win and prevail as an independent nation," Stoltenberg wrote on Twitter.
Russia's ambassador to Germany, Sergey Nechayev, called Berlin's decision to send Leopard 2 tanks to Ukraine "extremely dangerous."
The move "shifts the conflict to a new level of confrontation and contradicts the statements of German politicians about their reluctance to get involved in it," Nechayev said in a statement.
"We're seeing yet again that Germany, as well as its closest allies, is not interested in a diplomatic resolution of the Ukraine crisis. it is determined to permanently escalate it and to indefinitely pump the Kyiv regime full of new lethal weapons," the statement read.
Scholz had insisted that any decision to provide Ukraine with powerful Leopard 2 tanks would need to be taken in conjunction with Germany's allies, chiefly the United States. By getting Washington to commit some of its own tanks, Berlin hopes to share the risk of any backlash from Russia.
Ekkehard Brose, head of the German military's Federal Academy for Security Policy, said tying the United States into the decision was crucial, to avoid Europe facing a nuclear-armed Russia alone.
But he also noted the deeper historic significance of the decision.
"German-made tanks will face off against Russian tanks in Ukraine once more," he said, adding that this was "not an easy thought" for Germany, which takes its responsibility for the horrors of World War II seriously.
"And yet it is the right decision," Brose said, arguing that it was up to Western democracies to help Ukraine stop Russia's military campaign.
German Defense Minister Boris Pistorius cautioned that it would take about three months for the first tanks to be deployed in Ukraine. He described the Leopard 2 as "the best battle tank in the world."
"This is an important game change, possibly also for this war, at least in the current phase," he said.
The German government said it planned to swiftly begin training Ukrainian tank crews in Germany. The package being put together would also include logistics, ammunition and maintenance.
Kremlin spokesman Dmitry Peskov described German and U.S. intentions with the tanks as a "a rather disastrous plan."
"I am convinced that many specialists understand the absurdity of this idea," Peskov told reporters Wednesday.
"Simply because of technological aspects, this is a rather disastrous plan. The main thing is, this is a completely obvious overestimation of the potential (the supply of tanks) would add to the armed forces of Ukraine. It is yet another fallacy, a rather profound one," the Kremlin official said.
Peskov predicted "these tanks will burn down just like all the other ones. … Except they cost a lot, and this will fall on the shoulders of European taxpayers." he added.
Germany has already provided considerable amounts of military hardware to Ukraine, including powerful PzH 2000 howitzers, Iris-T air-defense systems and Gepard self-propelled anti-aircraft guns that have proved highly effective against Russian drones. It also announced plans to supply a Patriot air-defense battery and Marder infantry fighting vehicles.
Ahead of Scholz's official announcement, members of his three-party coalition government welcomed the Cabinet's agreement to supply the domestically made tanks.
"The Leopard's freed!" German lawmaker Katrin Goering-Eckardt, a senior Green party lawmaker, said.
However, two smaller opposition parties criticized the move. The far-right Alternative for Germany, which has friendly ties to Russia, called the decision "irresponsible and dangerous."
"Germany risks being drawn directly into the war as a result," party co-leader Tino Chrupalla said.
The Left party, which also has historic links to Moscow, warned of a possible escalation in the Russia-Ukraine conflict.
Recent opinion polls showed German voters split on the idea.
Scholz sought to reassure people in his country who were concerned about the implications of sending tanks to Ukraine.
"Trust me, trust the government," he said. "By acting in an internationally coordinated manner, we will ensure that this support is possible without the risks to our country growing in the wrong direction."
Polish Prime Minister Mateusz Morawiecki, who had previously called into question Germany's commitment to helping Ukraine, thanked Scholz following Wednesday's announcement.
"The decision to send Leopards to Ukraine is a big step towards stopping Russia," Morawiecki wrote on Twitter. "Together we are stronger."
Other European nations, such as Finland and Spain, indicated a willingness Wednesday to part with their own Leopard or similar battle tanks as part of a larger coalition.
Prime Minister Rishi Sunak of Britain, which had said it planned to send 14 of its Challenger 2 tanks to Ukraine, welcomed Germany's decision to further "strengthen Ukraine's defensive firepower."
"Together, we are accelerating our efforts to ensure Ukraine wins this war and secures a lasting peace," Sunak said on Twitter.
Still, it isn't clear whether Ukraine will receive the estimated 300 tanks that analysts say are required to keep Russia from advancing in Donetsk, Luhansk and Zaporizhzhia provinces and to press a counteroffensive in the country's southeast.
Andriy Yermak, head of the Ukrainian president's office, said on Telegram after Germany's announcement that "many Leopards are needed."
___
Lolita C. Baldor and Matthew Lee in Washington, Vanessa Gera in Warsaw and Jill Lawless in London contributed to this report.
___
Follow AP's coverage of the war in Ukraine: https://apnews.com/hub/russia-ukraine
Ukraine trying to end battlefield stalemate in what may be start of counteroffensive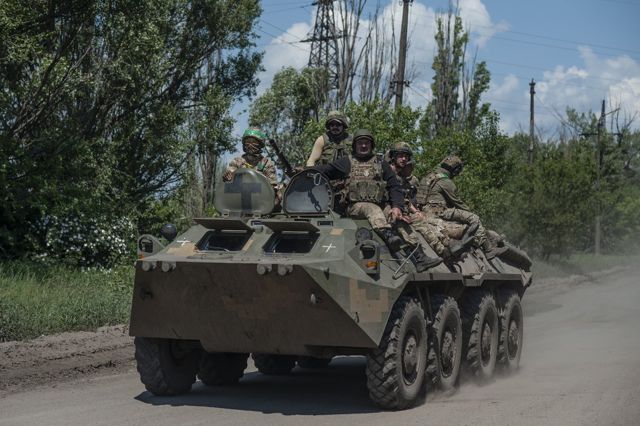 By Susie Blann in Kyiv
KYIV, Ukraine (AP) — Ukrainian forces were making a major effort to end a battlefield stalemate and punch through Russian defensive lines in southeast Ukraine for a second day Monday, in what may herald the start of a long-anticipated counteroffensive after 15 months of war.
Russian officials seemed to be trying to portray the Ukrainian attacks as the start of the counteroffensive, saying that Moscow's forces foiled at least one assault. While not explicitly confirming such a large-scale effort, Kyiv authorities said their forces were indeed increasing offensive operations and making gains, but suggested some of the Russian announcements were misinformation.
Vladimir Rogov, an official in the Russia-backed administration of Ukraine's partly occupied Zaporizhzhia province, said fighting resumed on its border with the eastern Donetsk province on Monday after Russian defenses beat back a Ukrainian advance the previous day.
"The enemy threw an even bigger force into the attack than yesterday (Sunday)," and the new attempt to break through the front line was "more large-scale and organized," Rogov said, adding: "A battle is underway."
Rogov interpreted the Ukrainian military movements as part of an effort to reach the Sea of Azov coast and sever the land corridor to the Crimean Peninsula, which Moscow annexed in 2014. Analysts have long viewed that strategy as likely because it would cut the Russian forces in two and severely strain supplies to Crimea, which has served as a key Russian military hub in the war that started Feb. 24, 2022.
Rogov's comments came after Moscow also said its forces thwarted large Ukrainian attacks in Donetsk province, near its border with the Zaporizhzhia province.
Reacting to Russia's declarations that it repelled Ukrainian offensives, a U.S. official said on the condition of anonymity to discuss sensitive matters: "We have no reason to believe any Russian action has had any spoiling effect on pending or ongoing Ukraine operations."
Ukrainian Deputy Defense Minister Hanna Malyar said the Ukrainian military has scored gains.
"Despite fierce resistance and attempts of the enemy to hold the occupied lines and positions, our units moved forward in several directions during the fighting," she said.
Malyar drew no distinctions between phases of the war, insisting that Ukraine's defense against Russia's invasion "contains everything, including counter-offensive actions." She acknowledged that Kyiv's forces "in some areas … are shifting to offensive operations."
Retired Gen. Richard Barrons, former Commander of the U.K. Joint Forces Command, said that Ukraine was "clearly in the preliminary phase" of its counteroffensive and would probe Russian defenses to find weak spots, then focus its resources to ram through them and hold ground. Barrons, now co-chair of the U.K.-based strategic consulting firm Universal Defence & Security Solutions, told The Associated Press the Ukrainians are "trying to increase the chances of surprise about when you do it, where you do it and how you do it."
Commenting on the Russian military's assertion that it thwarted a big Ukrainian attack, he said it could be part of Ukrainian efforts to probe Russian defenses and test its units in combat. He added that Moscow could have exaggerated the scale of the fighting and claimed victory to assuage its domestic Russian audience.
Barrons predicted that the Ukrainian counteroffensive would involve a series of moves and take weeks.
"It's a process, not an event," he said.
Ukraine often waits until the completion of its military operations to confirm its actions.
A Ukrainian Defense Ministry video showed soldiers putting a finger to their lips in a sign to keep quiet. "Plans love silence," it said on the screen. "There will be no announcement of the start."
Zaporizhzhia and Donetsk are two of the four provinces that President Vladimir Putin claimed as Russian territory last fall and which Moscow partially controls.
Russia's Defense Ministry said it had pushed back a "large-scale" assault Sunday at five places in Donetsk province. The announcement couldn't be independently verified, and while Ukrainian officials reported fighting in that area, they didn't confirm a retreat.
Russian Defense Ministry spokesman Igor Konashenkov said in an unusual overnight video that 250 Ukrainian personnel were killed in the fighting in Donetsk province, and 16 Ukrainian tanks, three infantry fighting vehicles and 21 armored combat vehicles were destroyed.
In response, the Center for Strategic Communications of the Armed Forces of Ukraine said Russian forces were "stepping up their information and psychological operations."
"To demoralize Ukrainians and mislead the community (including their own population), Russian propagandists will spread false information about the counteroffensive, its directions and the losses of the Ukrainian army. Even if there is no counteroffensive," a statement on Telegram read.
Ukrainian President Volodymyr Zelenskyy said that the Russians overreacted to its latest push.
"We see how hysterically Russia perceives every step we take there, every position we take," Zelenskyy said in his nightly address.
Ukrainian officials have said for months that a spring campaign with advanced weapons supplied by Western allies to reclaim territory seized by Russia during the war was planned, but they have kept quiet about when, how and where it might start, or whether it had already been launched.
Recent military activity, including drone attacks on Moscow, cross-border raids into Russia and sabotage and drone attacks on infrastructure behind Russian lines, has unnerved Russians. Analysts say those actions may represent the start of the counteroffensive.
In other disruption, TV and radio broadcasts in several regions of Russia were hacked Monday, according to Kremlin spokesman Dmitry Peskov. A fake broadcast featured a voice impersonating Putin and stated that Ukrainian forces had invaded the Belgorod, Bryansk and Kursk regions of Russia.
Those Russian regions have occasionally been targeted in cross-border strikes during the war.
The impersonator announced that martial law was declared in those regions, where people were urged to evacuate, and all Russians eligible for military duty were being mobilized.
The Russian military said Monday it repelled the latest Ukrainian incursion into the Belgorod region, on the border in Ukraine. Russians who purport to be fighting alongside Ukrainian forces said they attacked on Sunday. They were driven back by airstrikes and artillery fire, according to the Russian Defense Ministry.
At least two factors have been at play in the counteroffensive's timing: better ground conditions for the movement of troops and equipment after the winter, and the deployment of more advanced Western weapons and training of Ukrainian troops to use them.
Ukraine's Western allies have sent the country more than 65 billion euros ($70 billion) in military aid to help its defense. Driving out the Kremlin's forces is a daunting challenge for Kyiv's planners. Russia has built extensive defensive lines, including trenches, minefields and anti-tank obstacles.
After months of a battlefield stalemate, with neither side making significant gains and suffering losses of personnel and weapons, Ukraine could launch simultaneous pushes in different areas of the front line that stretches for around 1,100 kilometers (nearly 700 miles), analysts say.
In the devastated eastern city of Bakhmut, the site of the war's longest and bloodiest battle, Malyar, the deputy defense minister, said Ukrainian forces are advancing and "occupy dominating heights." Zelenskyy said in his nightly address, "Bakhmut direction — well done, warriors!"
The leader of Russia's Wagner mercenary group, Yevgeny Prigozhin — a frequent critic of his country's military brass whose statements are sometimes unreliable — said that Russian forces lost control of part of the village of Berkhovka outside Bakhmut. Prizoghin said last month that his forces had seized all of the city of Bakhmut, with Ukrainian forces remaining in control of many surrounding areas.
___
Danica Kirka contributed to this story from London.
___
Blinken warns Ukraine cease-fire now would result in 'Potemkin peace,' legitimizing Russian invasion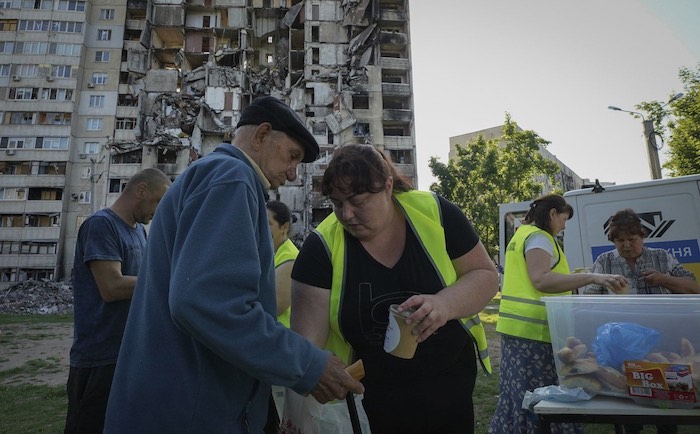 By Susie Blann And Matthew Lee in Kyiv
KYIV, Ukraine (AP) — U.S. Secretary of State Antony Blinken said Friday that the United States and its allies should not support a cease-fire or peace talks to end the war in Ukraine until Kyiv gains strength and can negotiate on its own terms.
As an anticipated Ukrainian counteroffensive appeared to be taking shape, Blinken said heeding calls from Russia and others, including China, for negotiations now would result in a false "Potemkin peace" that wouldn't secure Ukraine's sovereignty or enhance European security.
"We believe the prerequisite for meaningful diplomacy and real peace is a stronger Ukraine, capable of deterring and defending against any future aggression," Blinken said in a speech in Finland, which recently became NATO's newest member and shares a long border with Russia.
His use of the term "Potemkin" referred to the brightly painted village fronts that 18th century Russian government minister Grigory Potemkin reportedly used to have built to create an illusion of prosperity for Russia's empress.
Blinken repeated the U.S. view that "a cease-fire that simply freezes current lines in place" and allows Russian President Vladimir Putin "to consolidate control over the territory he has seized, and rest, rearm, and re-attack — that is not a just and lasting peace."
Allowing Moscow to keep the one-fifth of Ukrainian territory it's occupied would send the wrong message to Russia and to "other would-be aggressors around the world," according to Blinken, implying that a cease-fire shouldn't be arranged until either Ukraine pushes Russia back or Russia withdraws its troops.
Blinken's position is similar to that of Ukrainian officials, including his statement that Russia must pay for a share of Ukraine's reconstruction and be held accountable for the full-scale invasion of its neighbor in February 2022.
After months of battlefield stalemate across a 685-mile (1100-km) front line, Ukrainian officials have given confusing signals about whether a counteroffensive, relying heavily on recently deployed advanced Western weapons and training, is coming or already underway.
Some have suggested the campaign will not be a barrage of simultaneous attacks across the entire front but rather a series of more targeted, limited strikes, first to weaken Russia's supply lines and infrastructure, then expanded to broader targets with greater intensity.
Ukrainian President Volodymyr Zelenskyy weighed in again on Friday.
"This is not a movie," he told reporters in Kyiv. "It is hard to say how you'll see the counteroffensive. The main point here is for Russia to see it. And not just see but feel it. Especially, we speak about the troops that have occupied our territories. De-occupation of our territories – this is the result of our counteroffensive. When you see this, you'll understand that it has started."
Zelenskyy has said his goal is to drive Russian troops out of the four territories it partially occupies and illegally annexed last fall, as well as from the Crimean Peninsula the Kremlin illegally seized in 2014.
Putin has said two of his goals in invading Ukraine were to improve Russia's security and prevent Ukraine from joining NATO but the Kyiv government has applied to join the alliance, and Sweden is hoping to be accepted as a member in July. That would surround Russia with NATO countries in the Baltic Sea.
Blinken described the Russian invasion of Ukraine as a catastrophic strategic failure for Moscow that had strengthened NATO, the European Union and Ukraine. Russia has become more isolated, he said, shackled to China as a junior partner in a relationship that Beijing has increasingly come to resent, and no longer able to use energy as a political tool in countries it once counted as its own or satellites.
For its part, Russia wants any talks to address Ukraine's request to join NATO.
"Naturally, this (issue) will be one of the main irritants and potential problems for many, many years to come," Kremlin spokesman Dmitry Peskov said Friday.
Blinken said Washington was ready to support peace efforts by other countries, including those by China and Brazil but that any peace agreement must uphold the principles of sovereignty, territorial integrity and independence.
China, which says it is neutral and wants to serve as a mediator but has supported Moscow politically, on Friday urged countries to stop sending weapons to Ukraine. The United States is a leading Western ally and supplier of arms to Kyiv.
In Kyiv, in the sixth air attack in as many days, Ukrainian air defenses late Thursday and early Friday intercepted all 15 incoming cruise missiles and 21 attack drones, Ukraine's chief of staff, Valerii Zaluzhnyi, said.
The Ukrainian capital was simultaneously attacked from different directions by Iranian-made Shahed drones and cruise missiles from the Caspian Sea region, senior Kyiv official Serhii Popko wrote on Telegram.
A 68-year-old man and an 11-year-old child were wounded in the attack, in which falling debris damaged private houses, outbuildings and cars, according to Ukraine's Prosecutor General's Office.
Elsewhere, several explosions occurred Friday in the Azov Sea port of Berdyansk in the Russian-occupied part of Ukraine's southern Zaporizhzhia region, one of the four provinces Russia illegally annexed. Russian-appointed officials blamed Ukrainian rocket attacks and said nine people were wounded. Videos posted on social media appear to show smoke rising in the port area. Ukrainian officials acknowledged their forces were responsible and claimed Russian ships were evacuating the port.
The Moscow-appointed governor of Ukraine's occupied Donetsk province, Denis Pushilin, claimed Friday that Ukrainian strikes had killed three people and wounded four, including a 3-year-old-girl.
In other developments Friday, border regions of Russia again came under fire. One of the most frequently hit targets of cross-border shelling, Russia's Belgorod region, was bombarded by artillery shells and drone strikes in multiple villages, Gov. Vyacheslav Gladkov said. At least two women died in a car, multiple people were injured, and apartment buildings, cars, power transmission lines and farm equipment were damaged, he said on Telegram.
The Freedom of Russia Legion, one of the groups that has claimed responsibility for prior attacks on Belgorod, blamed the Russian military for the deaths. The group alleged the Russian army had mistakenly believed the car belonged to the paramilitary group. Thousands of people have been evacuated from the region, and many roads have been closed.
Air defense systems shot down several Ukrainian drones in Russia's southern Kursk region, Gov. Roman Starovoit reported. In Russia's Bryansk region, Gov. Alexander Bogomaz said Ukrainian forces shelled two villages, with no reported casualties.
Two drones also attacked energy facilities in Russia's western Smolensk region, which borders Belarus, officials said.
The U.K. Ministry of Defense said the incursions could be a Ukrainian strategy to disperse Russian forces before a counteroffensive.
"Russian commanders now face an acute dilemma of whether to (strengthen) defenses in Russia's border regions or reinforce their lines in occupied Ukraine," the ministry said.
___
Matthew Lee reported from Oslo, Norway. Karl Ritter contributed from Stockholm and Andrew Katell from New York.