Advocate asks AFN chiefs to ensure $40B settlement deal leaves no child behind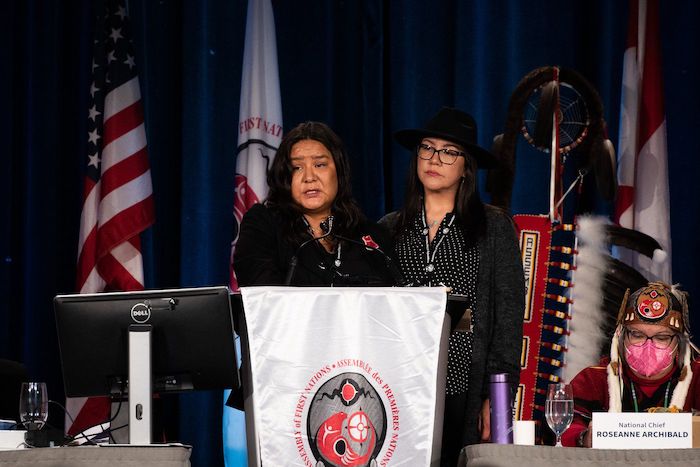 By Stephanie Taylor in Ottawa
A First Nations child welfare advocate on Wednesday implored chiefs to ensure "no child is left behind" in a landmark $40-billion settlement agreement with the federal government.
Cindy Blackstock delivered the message to an Assembly of First Nations gathering in Ottawa, after being invited to take the stage by Cindy Woodhouse, regional chief in Manitoba who helped negotiate the agreement, which had been thrown into question since being rejected by the Canadian Human Rights Tribunal.
The AFN, representing more than 600 First Nations across the country, had asked the tribunal to approve the settlement deal, which would see the government spend $20 billion to compensate families and children for systemic discrimination in the Indigenous child welfare system. It would also spend another $20 billion on making long-term reforms.
Blackstock, the executive director of the First Nations Caring Society who first lodged the complaint at the heart of the issue, raised concerns that the agreement wouldn't provide $40,000 in compensation to all eligible claimants, which is the amount the tribunal ruled they should get.
"We can make sure that in our First Nations canoe of justice, no child has to see their money go away and no child is left behind in justice," she said Wednesday.
"We are capable of that."
Following the tribunal's decision in October, the federal government filed for a judicial review of some parts of its decision.
Endorsing the settlement agreement loomed as one of the biggest items on the assembly's agenda, with chiefs being asked to vote on what the organization should do next.
The chiefs had been preparing to vote on conflicting resolutions, with one asking them to support the final settlement agreement, while another sought to see the organization not appeal the tribunal decision and renegotiate the deal.
But on Wednesday, further talks between both sides took place, assisted by former senator and judge Murray Sinclair, who helped the AFN, federal government and lawyers for two related class-action lawsuits reach the $40-billion agreement in the first place, which was formally announced in January.
Chiefs ultimately voted late Wednesday against re-entering negotiations but to instead support compensation for victims outlined in the agreement and "those already legally entitled to the $40,000 plus interest under the Canadian Human Rights Tribunal compensation orders."
It also included a provision that AFN leaders must regularly return to chiefs to provide it with progress updates and "seek direction" from chiefs on implementing the final agreement.
Many chiefs thanked Blackstock, who was greeted with applause after further agreement was met and said she was honoured to see people come together for children harmed by Ottawa's discrimination.
"We have had too many apologies, we've had too many compensation deals, we've had too many kids hurt. And this has got to be it," she said.
She added more discussion on the long-term reform part of the deal would be presented to chiefs on Thursday.
Earlier in the day, the assembly heard from sisters Melissa Walterson and Karen Osachoff, plaintiffs on the case, about the impact the foster care system had on their lives.
Osachoff said she had been in the child welfare system since she was born and didn't have a chance to grow up with her sister.
"Had it not been for the '60s Scoop and the child welfare (system), her and I would have grown up together."
She said she understands why the tribunal characterizes those like her as "victims," but told chiefs to instead think of them as survivors.
"I am not a victim and our claimants are not victims."
This report by The Canadian Press was first published Dec. 7, 2022.
Alberta First Nation signs child welfare agreement with feds, without the province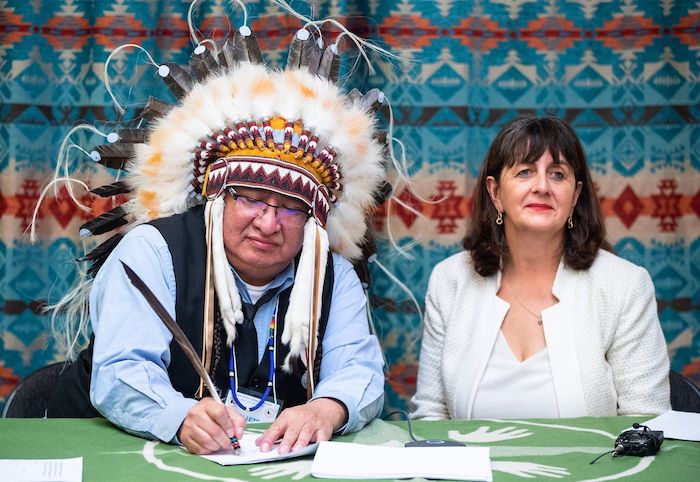 Maskwacis – An Alberta First Nation signed a two-year agreement with Ottawa Wednesday that gives it the autonomy to administer its own child welfare.
Louis Bull Tribe in Maskwacis, Alta., south of Edmonton, is the first in the province to sign such an agreement.
"This is an important day for Louis Bull Tribe," Chief Desmond Bull said during the signing. "Our children are sacred. This law seeks to bring them home."
The First Nation said it's a bilateral agreement with the federal government and does not involve the province.
Last year, Louis Bull's child welfare organization, Asikiw Mostos O'Pikinawasiwin Society, said Alberta wasn't co-operating and didn't want to sign the agreement. Child welfare services for most Indigenous children are provided by the province or territory where they reside.
The provincial government did not respond to a request for comment.
Ottawa passed An Act Respecting First Nations, Inuit and Métis Children, Youth and Families in 2020 with a focus on prevention so families can receive support to remain together.
It allows First Nations to bypass co-ordination agreements with provincial governments if no consensus is met one year after a request is made to administer to their own child welfare services.
"Wherever there is a conflict of law — federal, provincial, municipal, or another First Nation — this Asikiw Mostos O'Pikinawasiwin Law is paramount," said a news release from Indigenous Services Canada.
"Reducing the number of Indigenous children in care remains a priority for AMO Society with the support from the Government of Canada."
The Asikiw Mostos O'Pikinawasiwin Society was founded shortly after the federal bill was passed. The society works toward the First Nation having full authority over its child and family services.
Catherine Lappe, assistant deputy minister at Indigenous Services Canada, signed the agreement with Bull on behalf of Minister Patty Hadju during a ceremony.
"Louis Bull Tribe is leading the way to a better future for their families and children," said Hadju in a statement. "Canada's colonial reality has harmed too many people over generations, but today Canada and Louis Bull Tribe have a new path forward together."
Bull said the law will ensure that children will grow up immersed in their own culture.
"Although this is only a two-year agreement, it gives us the base and the foundation for us to look forward to developing something stronger, something more permanent, something that will allow that bilateral agreement to continue."
Cowessess First Nation in Saskatchewan was the first to sign such an agreement in 2021. Wabaseemoong Independent Nations in Ontario and Peguis First Nation in Manitoba have also signed agreements with Ottawa and their provincial governments.
Dozens of other First Nations across the country are waiting for agreements.
The federal government will provide Louis Bull Tribe nearly $125 million over the next two years as it implements the Asikiw Mostos O'Pikinawasiwin law.
This report by The Canadian Press was first published Feb. 1, 2023.
By Angela Amato in Edmonton.
Regional chief warns of 'tight' turnaround as Ottawa eyes First Nations policing law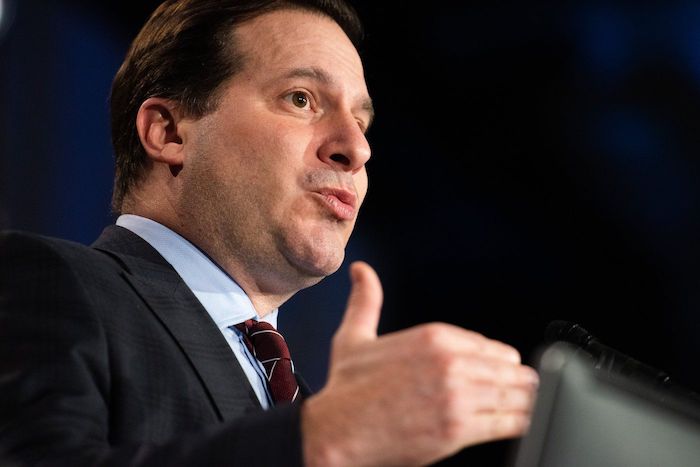 By Stephanie Taylor and Jim Bronskill in Ottawa
Public Safety Minister Marco Mendicino says he hopes to introduce legislation declaring First Nations policing an essential service early in the new year, with one regional chief calling that timeline "tight."
In a year-end interview with The Canadian Press, Mendicino said the prospective law is under development with input from Indigenous stakeholders and communities, who he said deserve "the same quality of policing" as non-Indigenous communities.
He described the work as the next step in advancing reconciliation with Indigenous people.
"We need to anchor our work in a relationship that is based on trust, on respect and on a recognition of the inherent right of Indigenous Peoples to self-determine when it comes to public faith," Mendicino said.
"It is precisely those values that is channelling the work that we are doing on the ground."
In September, Mendicino told reporters he would "work around the clock" to have the law ready to be introduced this fall, but that did not happen.
Prime Minister Justin Trudeau promised to create legislation declaring First Nations policing an essential service in 2020.
However, Ghislain Picard, a regional chief with the Assembly of First Nations representing Quebec and Labrador, says they have been discussing it with the federal government since the early days of Trudeau's first mandate in 2015.
"Timelines have been pushed back and pushed back," he said Wednesday.
He said the hope now is to have legislation presented in spring 2023, but "a lot of work has to happen between now and then."
Picard said that discussions about what the legislation should look like involve not only stakeholders such as the AFN, a national advocacy organization for more than 600 First Nations communities, but also provinces, experts and police chiefs.
"Timelines are going to be tight," he said.
The Conservative critic for Indigenous services, Gary Vidal, said that his party will review the legislation when it is introduced.
"However, it is already delayed, and that is not a good start if the government wants us to believe it is a priority for them," he said in a statement.
Trudeau's government has also faced pressure, including from Indigenous leaders, to reform the RCMP. The national force often acts as the main service for those living on-reserve because of contract policing agreements that it has in place with all provinces except Quebec and Ontario, which have their own provincial forces.
Crimes such as the stabbing rampage on James Smith Cree Nation in September, which left 11 dead and 18 others injured, have amplified the calls for reform.
Federal NDP Indigenous services critic Lori Idlout said that the tragedy reinforced a critical need for First Nations policing.
"The Liberal government keeps failing them through continuous delays in introducing the legislation," the Nunavut MP said in a statement.
"Indigenous peoples have the solutions; they just need a federal partner willing to provide long-term, sufficient and equitable funding."
Funding is indeed viewed as one of the major barriers. Since 1991, Ottawa has provided funding for police services on First Nations and in Inuit communities, but an internal evaluation this year found the program suffered from a lack of resources and the underfunding of service agreements.
Passing legislation that declares policing on First Nations to be an essential service is the easy part, Picard said.
"How do we fund it is the harder part," he said. "This is really what's at stake here."
Picard added that many elements will need to be taken into account, such as salaries, benefits, training and infrastructure — not to mention how needs will differ depending on factors such as a community's remoteness.
"It is complex," he said.
The National Inquiry into Missing and Murdered Indigenous Women and Girls also flagged concerns around the inadequate funding with the existing program, and its 2019 report included a call to action to "dramatically transform Indigenous policing."
It said Indigenous police services must be funded to the same level as non-Indigenous ones, and undergo audits by civilian oversight bodies.
There are currently 35 First Nations police services in the country, according to Public Safety Canada, the majority of which operate in Ontario and Quebec.
iation has said it's received dozens of calls from other communities looking to go the same route, which it says can be a lengthy, complicad process.
Despite not yet coming out with a new law, Mendicino said his government has made progress on the issue by reaching an agreement with the Alberta government and province's Siksika Nation that would allow the community to transition away from relying on the RCMP and instead create a self-administered police service.
Mendicino pointed out that Ottawa also signed an agreement with the Saskatchewan government and the Prince Albert Grand Council, which includes James Smith Cree Nation, to explore new ways to deliver public safety.
"That's what moving forward with reconciliation looks like," he said. "There's still a long way to go."
This report by The Canadian Press was first published Dec. 21, 2022.