A new space race? China adds urgency to US return to moon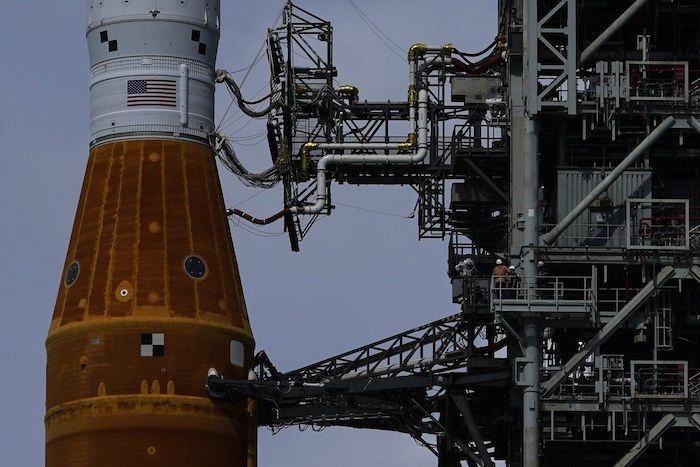 By Ellen Knickmeyer in Washington
WASHINGTON (AP) — It's not just rocket fuel propelling America's first moonshot after a half-century lull. Rivalry with China's flourishing space program is helping drive NASA's effort to get back into space in a bigger way, as both nations push to put people back on the moon and establish the first lunar bases.
American intelligence, military and political leaders make clear they see a host of strategic challenges to the U.S. in China's space program, in an echo of the U.S.-Soviet rivalry that prompted the 1960s' race to the moon. That's as China is quickly matching U.S. civil and military space accomplishments and notching new ones of its own.
On the military side, the U.S. and China trade accusations of weaponizing space. Senior U.S. defense officials warn that China and Russia are building capabilities to take out the satellite systems that underpin U.S. intelligence, military communications and early warning networks.
There's also a civilian side to the space race. The U.S. is wary of China taking the lead in space exploration and commercial exploitation, and pioneering the technological and scientific advances that would put China ahead in power in space and in prestige down on Earth.
"In a decade, the United States has gone from the unquestioned leader in space to merely one of two peers in a competition," Sen. Jim Inhofe, an Oklahoma Republican, declared this week at a Senate Armed Services hearing. "Everything our military does relies on space."
At another hearing last year, NASA administrator Bill Nelson brandished an image transmitted by a Chinese rover that had just plunked down on Mars. "The Chinese government … they're going to be landing humans on the moon" soon, he said. "That should tell us something about our need to get off our duff."
NASA, the U.S. civilian space agency, is awaiting a new launch date this month or in October for its Artemis 1 uncrewed test moonshot. Technical problems scrubbed the first two launch attempts in recent weeks.
China likewise aims to send astronauts to the moon this decade, as well as establish a robotic research station there. Both the U.S. and China intend to establish bases for intermittent crews on the moon's south pole after that.
Russia has aligned with China's moon program, while 21 nations have joined a U.S.-initiated effort meant to bring guidelines and order to the civil exploration and development of space.
The parallel efforts come 50 years after U.S. astronauts last pulled shut the doors on an Apollo module and blasted away from the moon, in December 1972.
Some space policy experts bat down talk of a new space race, seeing big differences from John F. Kennedy's Cold War drive to outdo the Soviet Union's Sputnik and be the first to get people on the moon. This time, both the U.S. and China see moon programs as a stepping stone in phased programs toward exploring, settling and potentially exploiting the resources and other untapped economic and strategic opportunities offered by the moon, Mars and space at large.
Beyond the gains in technology, science and jobs that accompany space programs, Artemis promoters point to the potential of mining minerals and frozen water on the moon, or using the moon as a base to go prospecting on asteroids — the Trump administration in particular emphasized the mining prospects. There's potential in tourism and other commercial efforts.
And for space more broadly, Americans alone have tens of thousands of satellites overhead in what the Space Force says is a half-trillion dollar global space economy. Satellites guide GPS, process credit card purchases, help keep TV, radio and cell phone feeds going, and predict weather. They ensure the military and intelligence community's ability to keep track of perceived threats.
And in a world where China and Russia are collaborating to try to surpass the U.S. in space, and where some point to private space efforts led by U.S. billionaires as rendering costly NASA rocket launches unnecessary, the U.S. would regret leaving the glory and strategic advantages from developing the moon and space solely to the likes of Chinese President Xi Jinping and Tesla magnate Elon Musk, Artemis proponents say.
The moon programs signal that "space is going to be an arena of competition on the prestige front, demonstrating advanced technical expertise and know-how, and then also on the military front as well," said Aaron Bateman, a professor of history and international affairs at George Washington University and a member of the Space Policy Institute.
"People who are supportive of Artemis and people who see it as a tool of competition, they want the United States to be at the table in shaping the future of exploration on other celestial bodies," Bateman said.
There's no shortage of such warnings as the Artemis program moves toward lift-off. "Beijing is working to match or exceed U.S. capabilities in space to gain the military, economic, and prestige benefits that Washington has accrued from space leadership," the U.S. intelligence community warned this year in its annual threat assessment.
A Pentagon-commissioned study group contended last month that "China appears to be on track to surpass the U.S. as the dominant space power by 2045." It called that part of a Chinese plan to promote authoritarianism and communism down here on Earth.
It's sparked occasional heated words between Chinese and U.S. officials.
China's space program was guided by peaceable principles, Foreign Ministry spokesman Zhao Lijian said in July. "Some U.S. officials are constantly smearing China's normal and reasonable outer space undertakings," Zhao said.
Flying on the mightiest rocket ever built by NASA, Artemis 1 aims for a five-week demo flight that would put test dummies into lunar orbit.
If all goes well with that, U.S. astronauts could fly around the moon in 2024 and land on it in 2025, culminating a program that will have cost $93 billion over more than a decade of work.
NASA intends that a woman and a person of color will be on the first U.S. crew touching foot on the moon again.
Lessons learned in getting back to the moon will aid in the next step in crewed flights, to Mars, the space agency says.
China's ambitious space program, meanwhile, is a generation behind that of the United States. But its secretive, military-linked program is developing fast and creating distinctive missions that could put Beijing on the leading edge of space flight.
Already, China has that rover on Mars, joining a U.S. one already there. China carved out a first with its landing on the far side of the moon.
Chinese astronauts are overhead now, putting the finishing touches on a permanent orbiting space station.
A 1967 U.N. space treaty meant to start shaping the guardrails for space exploration bans anyone from claiming sovereignty over a celestial body, putting a military base on it, or putting weapons of mass destruction into space.
"I don't think it's at all by coincidence or happenstance that it is now in this period of what people are claiming is renewed great-power competition that the United States is actually investing the resources to go back," said Bateman, the scholar on space and national security. "Time will tell if this turns into a sustained program."
Competition isn't necessarily a bad thing, said Sen. Chris Coons, a Delaware Democrat and member of the Senate Foreign Relations Committee.
Does rivalry with the Chinese "ensure greater sustained interest in our space program? Sure," Coons said. "But I don't think that's necessarily a competition that leads to conflict.
"I think it can be a competition — like the Olympics — that simply means that each team and each side is going to push higher and faster. And as a result, humanity is likely to benefit," he said.
Hawaii's Mauna Loa starts to erupt, sending ash nearby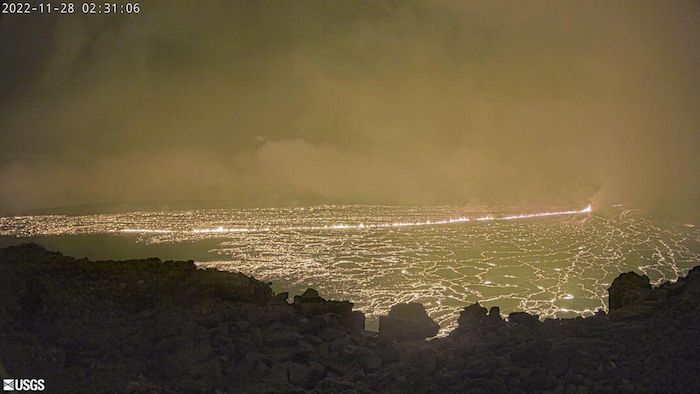 HONOLULU (AP) — Hawaii's Mauna Loa, the world's largest active volcano, has started to erupt for the first time in nearly four decades, prompting volcanic ash and debris to fall nearby, authorities said Monday.
The eruption began late Sunday night in the summit caldera of the volcano on the Big Island, the U.S. Geological Survey said. Early Monday, it said lava flows were contained within the summit area and weren't threatening nearby communities.
"However, lava flows in the summit region are visible from Kona. There is currently no indication of any migration of the eruption into a rift zone," the Hawaiian Volcano Observatory said in a statement. A rift zone is where the mountain is splitting apart, the rock is cracked and relatively weak and it's easier for magma to emerge.
How long the volcano erupts and whether it could cause lava to flow to populated areas of the island is impossible to predict, said Miel Corbett, a USGS spokesperson.
"But I can tell you, we're in constant communication right now with Hawaii Civil Defense, and they're providing updates to community members," she said.
Even though it noted there is no indication of lava exiting the summit, the civil defense agency said it has opened shelters in Kailua-Kona and Pahala because it has reports of of people self-evacuating along the South Kona coast.
"Multiple images have surfaced on social media indicating lava activity outside of the caldera. At this time, no lava migration into a rift zone has been confirmed," according to a statement.
The USGS warned residents at risk from Mauna Loa lava flows should review their eruption preparations. Scientists had been on alert because of a recent spike in earthquakes at the summit of the volcano, which last erupted in 1984.
Portions of the Big Island were under an ashfall advisory issued by the National Weather Service in Honolulu, which said up to a quarter-inch (0.6 centimeters) of ash could accumulate in some areas.
Mauna Loa is one of five volcanoes that together make up the Big Island of Hawaii, which is the southernmost island in the Hawaiian archipelago.
Mauna Loa, rising 13,679 feet (4,169 meters) above sea level, is the much larger neighbor to Kilauea volcano, which erupted in a residential neighborhood and destroyed 700 homes in 2018. Some of its slopes are much steeper than Kilauea's so when it erupts, its lava can flow much faster.
During a 1950 eruption, the mountain's lava traveled 15 miles (24 kilometers) to the ocean in less than three hours.
US and global markets sink as unrest in China spreads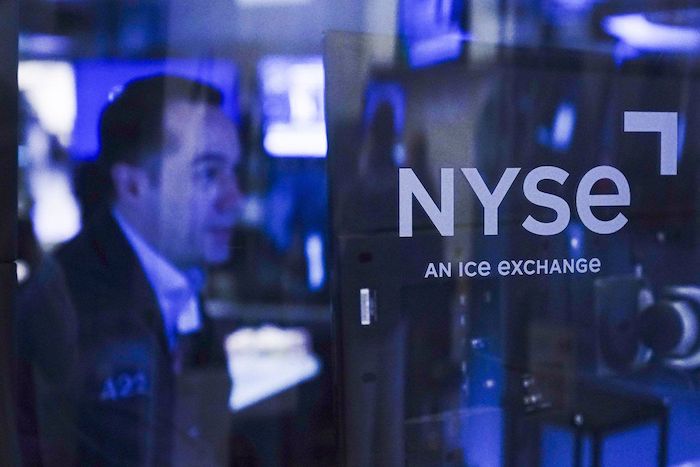 By Elaine Kurtenbach And Matt Ott in Bangkok
Wall Street is heading lower ahead of Monday's opening bell amid widespread protests in China calling for Xi Jinping to step down and an end to one-party rule.
Futures for the Dow Jones industrials fell 0.5% and the S&P slipped 0.7%.
Crude prices neared a low point for the year partially due to unrest in China, and have fallen for three consecutive weeks. Crude prices are now negative for 2022 and, after soaring above $120 in June, a barrel of benchmark U.S. crude can now be had for less than $74 per barrel.
The upheaval in China is the greatest show of public dissent against the ruling Communist Party in decades. Protestors are railing against policies aimed at eradicating the coronavirus by isolating every case, a policy that may have contributed to the death toll in an apartment fire in Urumqi in the northwestern Xinjiang region.
"For investors, when it comes to China, trying to predict with any degree the reopening certainty that has no certainty, basis, or track record to go by is looking like a dangerous game in the context of the disquieting protests and the colossal challenge China's leaders now have on their hands," Stephen Innes of SPI Asset Management said in a commentary.
Rising numbers of COVID-19 cases could further disrupt manufacturing and transport, adding to headaches over supply chains and inflation.
Apple fell almost 2% in premarket trading as the China manufacturing closures have hit the iPhone maker especially hard. Apple had been warning of shortages for its latest model, the iPhone 14, since early this month. Analysts now say those shortages could be even worse than previously thought.
Dan Ives of Wedbush Securities said Monday that disruptions in China could cut the number of available Apple's iPhone 14 models between 5% and 10% this quarter, with some Apple stores seeing inventory shortages of up to 40%.
"The reality is that Apple is extremely limited in their options for holiday season and are at the mercy of China's zero Covid policy which remains a very frustrating situation for Apple as well as the Street," Ives wrote in a note to clients.
Casino operators in China who also have been negatively impacted by China's strict COVID-19 policies finally got some good news as Macao tentatively renewed the casino licenses of MGM Resorts, Las Vegas Sands and Wynn Resorts. Shares in the Las Vegas-based companies all rose between 2% and 6% in premarket.
In Europe at midday, Germany's DAX and the CAC 40 in Paris each lost 0.9%, while Britain's FTSE 100 gave up 0.4%.
In Asian trading Monday, Hong Kong's Hang Seng fell 1.6% to 17,297.94 and the Shanghai Composite index lost 0.8% to 3,078.55.
Shares in telecoms equipment maker ZTE fell 4.2% after U.S. regulators banned sales of its products in the U.S.
The Federal Communications Commission said Friday it was banning the sale of communications equipment made by ZTE and Huawei Technologies and restricting the use of some China-made video surveillance systems, citing an "unacceptable risk" to national security.
Tokyo's Nikkei 225 index shed 0.4% to 28,162.83 and the Kospi in Seoul lost 1.2% to 2,408.27. In Sydney, the S&P/ASX 200 declined 0.4% to 7,229.10 following the release of weaker than expected retail sales data.
Bangkok's SET was 0.2% lower while the Sensex in Mumbai added 0.3%.
There are a number of highly anticipated economic indicators coming out this week. The Conference Board business group will release its report on consumer confidence and the U.S. releases its data on November employment on Friday.
Anxiety is riding high over the ability of the Federal Reserve to tame the hottest inflation in decades by raising interest rates without going too far and causing a recession.
The central bank's benchmark rate currently stands at 3.75% to 4%, up from close to zero in March. It has warned it may have to ultimately raise rates to previously unanticipated levels to rein in high prices on everything from food to clothing.
Federal Reserve Chair Jerome Powell will speak at the Brookings Institution about the outlook for the U.S. economy and the labor market on Wednesday.
U.S. benchmark crude oil slid $2.40, falling to $73.88 per barrel on the New York Mercantile Exchange, and has now fallen for three consecutive weeks.
Brent crude, which is used to price oil for international trading, sank $2.60 to $81.11per barrel.
The dollar fell to 138.32 Japanese yen from 139.28 yen. The euro rose to $1.0474 from $1.0379.