'A game changer': Calgary archeologist says technology unveiling ancient Mayan city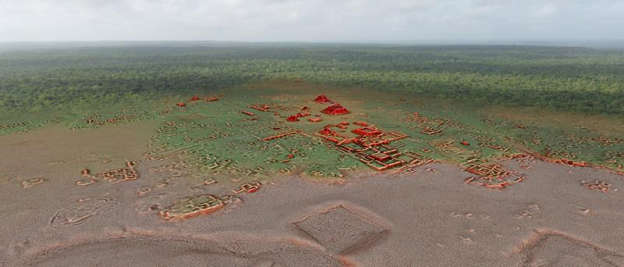 CALGARY — The use of light technology is allowing archeologists to peel away the rainforest and reveal the remains of an ancient Mayan city nearly twice the size of Vancouver.
LIDAR, which stands for light detection and ranging, is a remote sensing method that uses light in the form of a pulsed laser. The light pulses and combines with other data recorded by the airborne system to generate precise, three-dimensional information about the shape of the Earth and its surface characteristics.
"It's just a game changer," said Kathryn Reese-Taylor, a professor in the department of anthropology and archeology at the University of Calgary, said in an interview with The Canadian Press.
"You can be trying to survey and to map sites in the rainforest, and what would take you years to accomplish, LIDAR can do in a couple of days of flying over these large areas."
Reese-Taylor has been working for years with the Bajo Laberinto Archaeological Project, a University of Calgary-led multidisciplinary research project, in conjunction with Instituto Nacional de Antropología e Historia (INAH) Campeche in Mexico.
She and a colleague first visited the ancient Calakmul settlement over a decade ago.
"We hiked 13 kilometres to get there, looked around, oohed and aahed at all of the enormous unexcavated and unlooted ruins at the site, and then walked back," Reese-Taylor.
"Being on the ground and climbing these structures and looking at the landscape all around it — it's just an incredible experience. Some of these structures you may be the first person to walk on in over a thousand years, so it's really exciting."
She saidthe site of Calakmul was the new capital of the powerful Kanu'l (Snake) dynasty, which dominated geopolitics of the Mayan Lowlands, controlling a vast network of vassal kingdoms.
The results of the LIDAR scan give a better idea of the urban settlement and landscape modifications in the capital city itself, Reese-Taylor said.
"What other people might just think is a big hill, we know under it is a huge temple, for instance, or a palace. So we can see all of that.
"Apartment-style residential compounds have been identified throughout the surveyed area, some with as many as 60 individual structures. These large residential units were clustered around numerous temples, shrines and possible marketplaces, making Calakmul one of the largest cities in the Americas at 700 AD."
Reese-Taylor said researchers are able to see that the magnitude of landscape modification equalled the scale of the urban population. All available land was covered with water canals, terraces, walls and dams.
"It peels away all the vegetation and we can see exactly what we're looking for. And every time we get LIDAR, it's like opening up one of your favourite Christmas presents that you just don't know what to expect.
"I's an incredible gift when your get to pore through it and see what's actually there."
Reese-Taylor said she will be heading to the site in April, once her classes at the University of Calgary are done, and intends to spend two months at the site before the annual rainy season begins.
She said the site so far encapsulates 195 square kilometres, and that's huge.
"One of the biggest cities in the Americas at this time," she said. "Almost two Vancouver's could have gone into this area. Washington, D.C., is about the same size, as well as Amsterdam and Brussels."
Reese-Taylor said although the presence of temples and palaces is tempting, the initial excavation will be a little more mundane.
"I do want to dig in the new temple really badly. But I think right now we've got to focus on the households — just because we have some information on the history of the temples and the downtown civic structure, but we have no data on the people who actually lived there."
This report by The Canadian Press was first published Oct. 29, 2022.
Bill Graveland, The Canadian Press
Flames bounce back with 5-1 victory over Ducks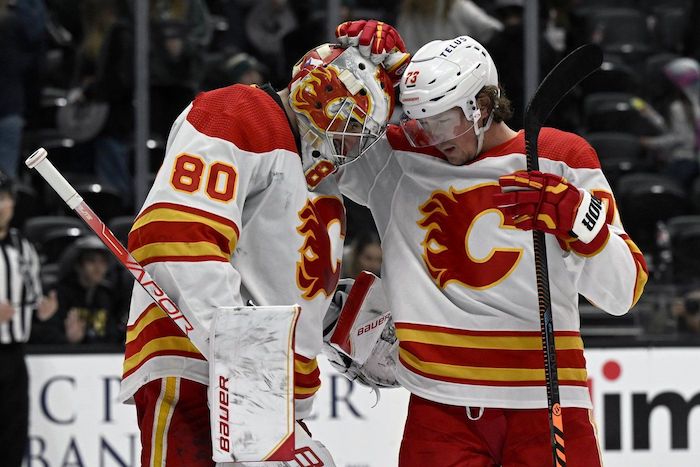 Calgary Flames right wing Tyler Toffoli (73) celebrates with goaltender Dan Vladar (80) after the Flames defeated the Anaheim Ducks in an NHL hockey game in Anaheim, Calif., Tuesday, March 21, 2023. (AP Photo/Alex Gallardo)
By Joe Reedy in Anaheim
ANAHEIM, Calif. (AP) — Tyler Toffoli had three assists, Calgary scored twice on the power play and the Flames bounced back from a six-goal loss one night earlier with a 5-1 victory over the Anaheim Ducks on Tuesday.
Toffoli has nine points in the past four games, including six assists.
Nick Ritchie, Troy Stecher, Rasmus Andersson, Elias Lindholm and Andrew Mangiapane scored Calgary's goals. Mikael Backlund had a pair of assists and Dan Vladar stopped 19 shots for the Flames, who rebounded from an 8-2 defeat Monday night in Los Angeles.
"We just wanted to put that game behind us. And there's no better way to put it behind you than to just go out there and play right away," said Mangiapane, who scored on a breakaway with less than five minutes remaining for his 12th of the season. "I think the first period set the tone for us. We wanted to come out strong and hard and just keep building off of that."
The win kept Calgary four points behind Winnipeg for the final wild-card berth in the Western Conference with 10 games remaining after the Jets beat Arizona 2-1.
"As a coach it is really simple: I just want to keep every game meaningful," Flames coach Darryl Sutter said.
Frank Vatrano scored Anaheim's lone goal. John Gibson made 38 saves, facing more than 40 shots for the 20th time this season.
"We knew that they were going to be a little ornery after their game last night against L.A., and other than a few spurts in the second period, maybe for about six minutes in the second, we couldn't sustain much. Every time we turned, they were in our face," Ducks coach Dallas Eakins said.
Calgary has 12 goals with the man advantage over the past month, which is fifth best in the NHL.
Andersson put Calgary up 3-0 less than three minutes into the third period on a one-timer off Toffoli's pass. It was Andersson's 11th goal and his third in the past six games.
The Flames grabbed the lead 37 seconds into the game when Ritchie put in the rebound after Gibson made a pad save on Noah Hanifin's shot from the point. Ritchie's 12th of the season marked the sixth time Calgary has scored in the opening minute.
Stecher broke a 90-game goal drought at 16:50 of the first with a snap shot from the right faceoff circle to the high side of the far post. Stecher — whose last goal was on Feb. 17, 2022 — has three points (one goal, two assists) since being acquired from Arizona at the trade deadline.
Anaheim got on the board five minutes later when Vatrano lifted a wrist shot over Vladar's shoulder on his glove side. Vatrano's 17th marked only the second goal in Anaheim's last 15 power-play opportunities.
Lindholm scored his 21st and gave Calgary a 4-1 lead 46 seconds into the third on a one-timer.
NOTES
Hanifin extended his point streak to six games with the first assist on Ritchie's goal. He has six points (two goals, four assists) during that span. … Calgary defenceman Chris Tanev was scratched an hour before the game due to an upper-body injury. … Anaheim forward Nikita Nesterenko made his NHL debut. Nesterenko was acquired from Minnesota in the John Klingberg trade at the deadline. Nesterenko played three seasons at Boston College and signed a two-year, entry-level contract last Wednesday.
UP NEXT
Flames: Open a three-game homestand against the Vegas Golden Knights on Thursday.
Ducks: Host the Winnipeg Jets on Thursday.
2022 World Senior Men's gold medalist rink and Cheryl Bernard among teams at Senior Curling Championships at Red Deer's Pidherney Centre this week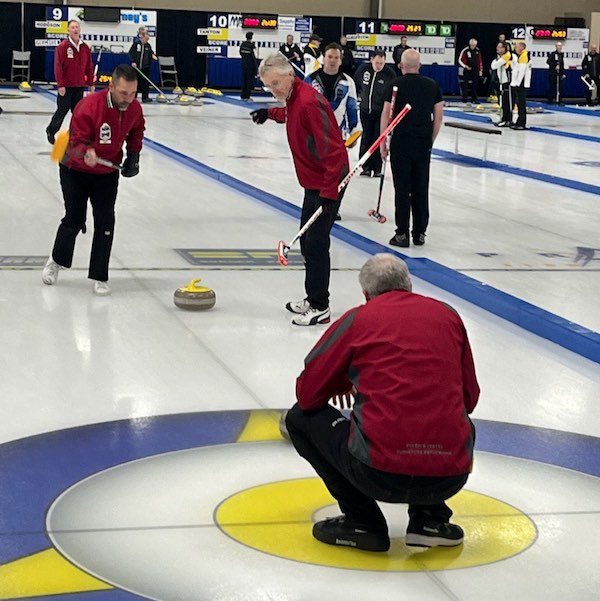 The 2023 Alberta Servus Credit Union Senior Men's and Women's Championships will take place at Red Deer's Pidherney Centre on March 21 to 26.
Thirty-three rinks are on hand to vie for the right to represent Alberta at the Men's and Women's Canadian Championships next fall.
The 2022 World Senior's gold medalists, Team Wade White looks to add yet another championship title to his name alongside teammates, third Barry Chwedoruk, second Dan Holowaychuk and lead George White. While defending Alberta champion, Team Pahl will keep the pressure on to represent Alberta once again.
Other noteworthy names on the men's side include, Mickey Pendergast; Master's Provincial Champion and former teammate of local legend, Rob Armitage, and 2017 Senior's Champion, Glen Hansen.
The talent continues on the women's side with nine of the top senior women's teams in the province.
The star studded line-ups include Olympians, Cheryl Bernard, Carolyn McRorie, Sandra Jenkins and Shannon Kleibrink forming a team under Bernard, and Glenys Bakker and Atina Ford-Johnston skipping their own rinks, with Cory Morris joining Ford-Johnston as lead.
With defending champion, Diane Foster, out of the race, it truly is anyone's title to claim.
Draws run throughout the week with the semi-finals of both the women and men at 9 am on Sunday March 26 followed by the finals at 2 pm.
Admission is free thanks to support from Servus Credit Union.