78 years on, Jewish Holocaust rescuers want their story told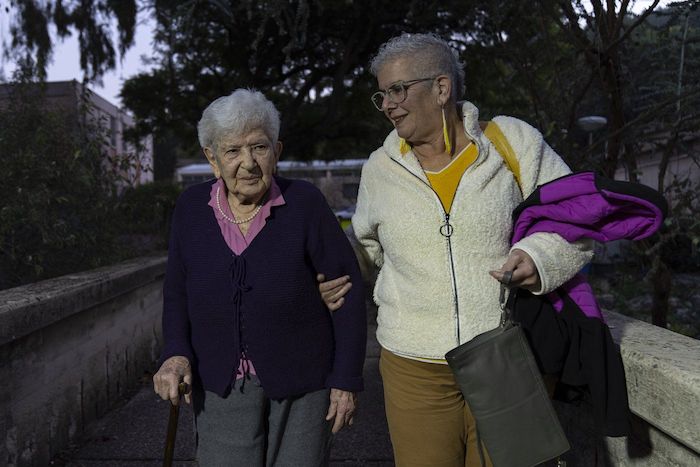 By Alon Bernstein in Kibbutz Hazorea
KIBBUTZ HAZOREA, Israel (AP) — Just before Nazi Germany invaded Hungary in March 1944, Jewish youth leaders in the eastern European country jumped into action: They formed an underground network that in the coming months would save tens of thousands of fellow Jews from the gas chambers.
This chapter of the Holocaust heroism is scarcely remembered in Israel. Nor is it part of the official curriculum in schools. But the few remaining members of Hungary's Jewish underground want their story told. Dismayed at the prospect of being forgotten, they are determined to keep memories of their mission alive.
"The story of the struggle to save tens of thousands needs to be a part of the chronicles of the people of Israel," said David Gur, 97, one of a handful of members still alive. "It is a lighthouse during the period of the Holocaust, a lesson and exemplar for the generations."
As the world marks International Holocaust Remembrance Day on Friday, historians, activists, survivors and their families are all preparing for the time when there will no longer be living witnesses to share first-person accounts of the horrors of the Nazi genocide during World War II. In the Holocaust, 6 million Jews were wiped out by the Nazis and their allies.
Israel, which was established as a refuge for Jews in the wake of the Holocaust, has gone to great lengths over the years to recognize thousands of "Righteous Among the Nations" — non-Jews who risked their lives to save Jews during the Holocaust.
Accounts of Jewish resistance to the Nazis, such as the Warsaw Ghetto uprising, are mainstays in the national narrative but rescue missions by fellow Jews — such as the Hungarian resistance — are less known.
Hungary was home to around 900,000 Jews before the Nazi invasion. Its government was allied with Nazi Germany, but as the Soviet Red Army advanced toward Hungary, the Nazis invaded in March 1944, to prevent its Axis ally from making a separate peace deal with the Allies.
Over the 10 months that followed, as many as 568,000 Jews were killed by the Nazis and their allies in Hungary, according to figures from Yad Vashem, Israel's official Holocaust memorial.
Gur said he and his colleagues knew that disaster was looming when three Jewish women arrived at Budapest's main synagogue in the fall of 1943. They had fled Nazi-occupied Poland and bore disturbing news about people being shipped off to concentration camps.
"They had fairly clear information about what was happening, and saw the many trains, and it was obvious to them what was happening," said Gur.
Gur oversaw a massive forgery operation that provided false documents for Jews and non-Jewish members of the Hungarian resistance. "I was an 18-year-old adolescent when the heavy responsibility fell upon me," he said.
There was great personal risk. In December 1944, he was arrested at the forgery workshop and brutally interrogated and imprisoned, according to his memoir, "Brothers for Resistance and Rescue." The Jewish underground broke him out of the central military prison in a rescue operation later that month.
The forged papers were used by Jewish youth movements to operate a smuggling network and run Red Cross houses that saved thousands from the Nazis and their allies.
According to Gur's book, at least 7,000 Jews were smuggled out of Hungary, through Romania to ships on the Black Sea that would bring them to British-controlled Palestine. At least 10,000 forged passes offering protection, known as Shutzpasses, were distributed to Budapest's Jews, and around 6,000 Jewish children and accompanying adults were saved in houses ostensibly under the protection of the International Red Cross.
Robert Rozett, a senior historian at Yad Vashem, said that although it was "the largest rescue operation" of European Jews during the Holocaust, this episode remains off "the main route of the narrative."
"It's very significant because these activities helped tens of thousands of Jews stay alive in Budapest," he said.
In 1984, Gur founded "The Society for Research of the History of the Zionist Youth Movements in Hungary," a group that has promoted awareness about this effort.
Last month at a kibbutz in northern Israel, Sara Epstein, 97, Dezi Heffner-Reiner, 95, and Betzalel Grosz, 98, three of the remaining survivors who helped save Jews in Nazi-occupied Hungary, received the Jewish Rescuers Citation for their role in the Holocaust. The award is given by two Jewish groups — B'nai B'rith World Center-Jerusalem and the Committee to Recognize the Heroism of Jewish Rescuers During the Holocaust.
"There aren't many of us left, but this is important," said Heffner-Reiner.
More than 200 other members of the underground were given the award posthumously. Gur received the award in 2011, the year it was created.
Yuval Alpan, a son of one of the rescuers and an activist with the society, said the citations were meant to recognize those who saved lives during the Holocaust.
"This resistance underground youth movement saved tens of thousands of Jews during 1944, and their story is not known," he said. "It's the biggest rescue operation in the Holocaust and nobody knows about it."
International Holocaust day falls on the anniversary of the Red Army's liberation of the Auschwitz death camp 78 years ago. Israel is home to some 150,600 Holocaust survivors, almost all of them over the age of 80, according to government figures. That is 15,193 less than a year ago.
The United Nations will be holding a memorial ceremony at the General Assembly on Friday, and other memorial events are scheduled around the globe.
Israel marks its own Holocaust Remembrance Day in the spring.
___
Associated Press writers Eleanor Reich and Ilan Ben Zion in Jerusalem contributed to this report.
China's Xi to meet Putin as Beijing seeks bolder global role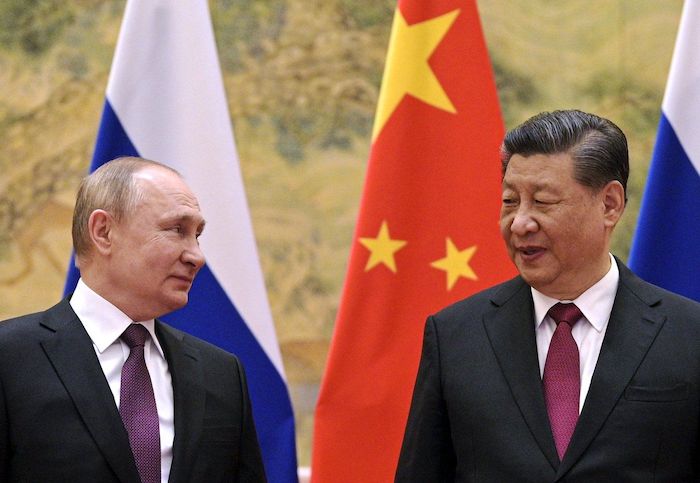 Chinese President Xi Jinping, right, and Russian President Vladimir Putin talk to each other during their meeting in Beijing, China on Feb. 4, 2022. China says President Xi will visit Russia from Monday, March 20, to Wednesday, March 22, 2023, in an apparent show of support for Russian President Putin amid sharpening east-west tensions over the conflict in Ukraine. (Alexei Druzhinin, Sputnik, Kremlin Pool Photo via AP, File)
By Karl Ritter in Kyiv
KYIV, Ukraine (AP) — Chinese President Xi Jinping plans to visit Moscow next week, a major boost for Russian President Vladimir Putin amid sharpening East-West tensions over the war in Ukraine and the latest sign of Beijing's emboldened diplomatic ambitions.
Western leaders have tried to isolate Putin over the conflict, now in its 13th month. Xi's trip, announced Friday, is a diplomatic shot in the arm to the Russian leader at a time when his troops are bogged down in a battle of attrition, focused now on Ukraine's eastern Donbas region.
The U.S. on Friday said it would oppose any effort by China at the meeting to propose a ceasefire in Ukraine as the "ratification of Russian conquest."
White House National Security Council spokesman John Kirby encouraged Xi to reach out to Ukrainian President Volodymyr Zelenskyy to get his country's perspective on the war and to avoid any "one-sided" proposals.
China has sought to project itself as neutral in the conflict, even while it has refused to condemn Moscow's aggression and declared last year that it had a "no-limits" friendship with Russia. Beijing has denounced Western sanctions against Moscow, and accused NATO and the United States of provoking Putin's military action.
Throughout the conflict, China has said the sovereignty and territorial integrity of all countries should be respected. It remains unclear, however, whether it sympathizes with Moscow's claims to seized Ukrainian territory.
Xi's visit would mark his first meeting with Putin since September, when they met on the sidelines of a regional summit in Samarkand, Ubekistan. Before that, Putin attended the opening of the 2022 Beijing Winter Games and met with Xi shortly before sending troops into Ukraine.
Kremlin spokesman Dmitry Peskov said Friday that Putin and Xi would have a one-on-one meeting over an informal dinner Monday. Broader talks involving officials from both countries are scheduled for Tuesday.
Putin's foreign policy adviser, Yuri Ushakov, suggested the talks could yield new approaches to the fighting in Ukraine.
"I'm sure that our leader and the Chinese leader will exchange their assessments of the situation in the context of the development of the conflict in Ukraine," Ushakov said. "We shall see what ideas will emerge after that."
A spokesman for Prime Minister Rishi Sunak said Britain would welcome any genuine effort by China aimed at "restoring sovereignty to Ukraine." Kyiv says that is non-negotiable in any attempt at ending the war.
"Any peace deal which is not predicated on Ukraine's sovereignty and self-determination is not a peace deal at all," Sunak's spokesman Jamie Davies said.
On Thursday, Chinese Foreign Minister Qin Gang reached out to his Ukrainian counterpart, Dmytro Kuleba, telling him that Beijing was concerned about the war spinning out of control and urging talks on a political solution with Moscow.
China has "always upheld an objective and fair stance on the Ukraine issue, has committed itself to promoting peace and advancing negotiations and calls on the international community to create conditions for peace talks," Qin said.
Kuleba later tweeted that he and Qin "discussed the significance of the principle of territorial integrity." Ukraine has listed Russia's withdrawal from the occupied areas as the main condition for peace.
"I underscored the importance of (Zelenskyy's)'s peace formula for ending the aggression and restoring just peace in Ukraine," wrote Kuleba, who spoke the same day with U.S. Secretary of State Antony Blinken.
China last month called for a Ukraine cease-fire and peace talks between Kyiv and Moscow. Zelenskyy cautiously welcomed Beijing's involvement but the overture appeared to go no further.
China has its own territorial issues with Taiwan, which it claims as its own territory to be brought under its control by force if necessary.
Beijing's apparent deeper dive into Ukraine issues follows its success last week in brokering talks between Iran and its chief Middle Eastern rival, Saudi Arabia. Those two countries agreed to restore their diplomatic ties after years of tensions.
The agreement cast China in a leading role in Middle Eastern politics, a part previously reserved for longtime global heavyweights like the U.S.
On the back of that, Xi called for China to play a bigger role in managing global affairs.
Washington has marshaled Western military and diplomatic efforts against Putin, but the Russian leader has showed no signs of softening his belligerent stance.
In Washington on Friday, Kirby told reporters, "A ceasefire now is, again, effectively the ratification of Russian conquest." It would, he added, "in effect recognize Russia's gains and its attempt to conquer its neighbor's territory by force, allowing Russian troops to continue to occupy sovereign Ukrainian territory."
He warned that Russia could use a ceasefire to regroup "so that they can restart attacks on Ukraine at a time of their choosing."
The destruction of a U.S. drone over the Black Sea on Tuesday following an encounter with Russian fighter jets further escalated U.S.-Russia tensions, although it also prompted the first conversations between the countries' defense and military chiefs since October.
Putin invited Xi to visit Russia during a video conference call the two held in late December. The visit, Putin said, could "demonstrate to the whole world the strength of the Russian-Chinese ties" and "become the main political event of the year in bilateral relations."
Chinese Ministry of Foreign Affairs spokesperson Wang Wenbin said Friday that Xi "will have an in-depth exchange of views with President Putin on bilateral relations and major international and regional issues of common concern…."
"Currently, the world is entering a new period of turbulence and reform with the accelerated evolution of changes of the century. As permanent members of the U.N. Security Council and important major countries, the significance and impact of the China-Russia relations go far beyond the bilateral sphere," he added.
The Kremlin said in a statement that Xi and Putin will exchange views "in the context of deepening Russian-Chinese cooperation in the international arena," and would sign "important bilateral documents."
___
Follow AP's coverage of the war in Ukraine: https://apnews.com/hub/russia-ukraine-war
Former Australian PM says subs 'worst deal in all history'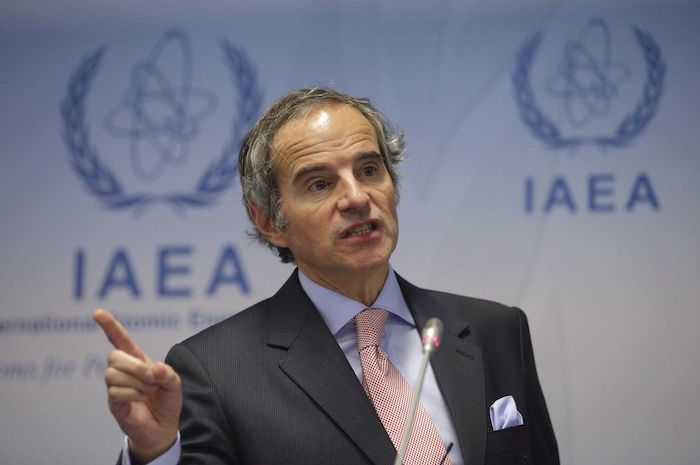 International Atomic Energy Agency (IAEA) Director General, Rafael Grossi, addresses a news conference during an IAEA Board of Governors meeting in Vienna, Austria, Monday, Feb. 6, 2023. The head of the International Atomic Energy Agency is set for another four-year term at the helm of the United Nations' nuclear watchdog as it grapples with monitoring Iran's nuclear activities and tries to shore up the safety of power plants in Ukraine. (AP Photo/Heinz-Peter Bader, file)
SYDNEY (AP) — Former Australian Prime Minister Paul Keating on Wednesday launched a blistering attack on his nation's plan to buy nuclear-powered submarines from the United States to modernize its fleet, saying "it must be the worst deal in all history."
Speaking at a National Press Club event, Keating said the submarines wouldn't serve a useful military purpose.
The condemnation came as China intensified complaints that the sub deal threatens global accords against nuclear non-proliferation, and as the head of the international nuclear watchdog organization was in Washington to consult with the White House on the deal.
"The only way the Chinese could threaten Australia or attack it is on land. That is, they bring an armada of troop ships with a massive army to occupy us," Keating said. "This is not possible for the Chinese to do."
He added that Australia would sink any such Chinese armada with planes and missiles.
"The idea that we need American submarines to protect us," Keating said. "If we buy eight, three are at sea. Three are going to protect us from the might of China. Really? I mean, the rubbish of it. The rubbish."
Australia's deal — announced Monday in San Diego by U.S. President Joe Biden, Australian Prime Minister Anthony Albanese and British Prime Minister Rishi Sunak — came amid growing concern about China's military buildup and influence in the Indo-Pacific. Biden emphasized that the submarines wouldn't carry nuclear weapons of any kind.
Australian Defense Minister Richard Marles said the deal was necessary to counter the biggest conventional military buildup in the region since World War II.
"We have to take the step of developing the capability to operate a nuclear-powered submarine so that we can hand over a much more self-reliant nation to our children and to our grandchildren," Marles said.
China said Tuesday the U.S., Australia and the United Kingdom were traveling "further down the wrong and dangerous path for their own geopolitical self-interest" in inking the deal, which has been given the acronym AUKUS.
China renewed its objections at length on Wednesday, accusing the three countries of "coercing" the International Atomic Energy Agency into endorsing the deal. All member states of the IAEA should work to find a solution to the "safeguards issues" and "maintain international peace and security," Foreign Ministry spokesperson Wang Wenbin said at a daily briefing.
Arms control experts in the West also have expressed concern, saying the U.S., Australian and British sub deal could open the door for other nuclear-armed countries to pursue nuclear transfers to third-party countries, and could set a precedent that would make it harder for international regulators to guard against the illegal trafficking and use of nuclear material.
Rafael Grossi, director general of IAEA, rejected China's accusation. "Nobody coerces me. Nobody coerces the IAEA," he told reporters Wednesday in Washington, where he was due to meet with senior National Security Council members on the nuclear-powered sub deal.
Grossi insisted his agency would hold the AUKUS allies and any other nation that attempts a similar nuclear transfer to tough and lasting standards of design, monitoring, inspection and transparency to try to make sure nuclear non-proliferation accords were being observed.
As part of the effort to ensure the nuclear material in the sub engines doesn't go astray after it leaves U.S. control, the power units are to be welded shut. It's a first for the IAEA to deal with, and inspectors will insist on guaranteeing that ships return to ports with as much nuclear material in the welded units as they left with, Grossi told reporters.
"We are going to put together a solid system to try to have all the guarantees" that there is no risk that the transfer of nuclear-powered submarines violates international barriers against more countries acquiring nuclear weapons capability, he said. "If we cannot do that, we would never agree."
Keating served as prime minister for more than four years in the 1990s. He was from the Labor Party, the same party as Albanese.
Keating said the submarine deal was the worst international decision by the Labor Party in more than 100 years, when it unsuccessfully tried to introduce conscription during World War I.
He also mocked the cost of the deal, which Australian officials have estimated at between 268 billion and 368 billion Australian dollars ($178-$245 billion) over three decades. Australian officials say the deal will create 20,000 jobs.
"For $360 billion, we're going to get eight submarines," Keating said. "It must be the worst deal in all history."
At the Press Club event, Keating was questioned about whether his own ties to China had influenced his views.
He said he had no commercial interests in China and had stopped serving on a bank board five years ago.
"I was on the China Development Bank board for 13 years, and 10 years as chairman," Keating said, adding that his fee, or honorarium, was $5,000 a year.
Keating also lashed out at some journalists at the event, telling one reporter her question "is so dumb, it's hardly worth an answer" and another that "you should hang your head in shame" over his newspaper's recent coverage of China's perceived threat to Australia.
"For the record, Mr. Keating, we're very proud of our journalism and we think that it has made an important contribution to the national debate," responded the second journalist, Matthew Knott from The Sydney Morning Herald.
——
Ellen Knickmeyer contributed from Washington.