$5.3 million worth of cocaine seized at Coutts. 25 year old Calgary man arrested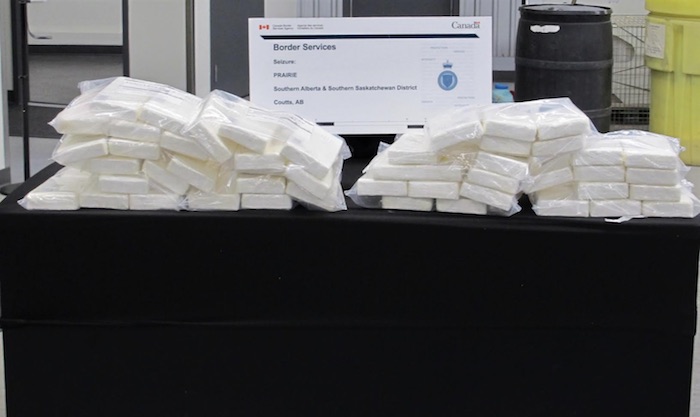 News release from the Integrated Border Enforcement Team (IBET)
Integrated Border Enforcement Team lays charges for drug importation
Coutts, Alta. – The Integrated Border Enforcement Team (IBET), a joint force operation between the Royal Canadian Mounted Police, Canada Border Services Agency (CBSA) and Calgary Police Service (CPS), has charged a man for importing cocaine into Canada.
On Nov. 21, 2022, CBSA officers discovered and seized 53 kg of cocaine following a secondary examination of a commercial transport vehicle at the Coutts border crossing. The drugs, which has a street value of approximately $5.3 million, were hidden within a shipment of produce and have been referred over to IBET for further investigation.
On Nov. 22, 2022, Jagroop Singh, 25, a resident of Calgary, was charged with the following offences:
Importation of a Controlled Substance contrary to section 6(1) of the Controlled Drugs and Substances Act; and,
Possession of a Controlled Substance for the Purpose of Trafficking contrary to section 5(2) of theControlled Drugs and Substances Act.
Singh is scheduled to appear in Lethbridge Provincial Court on Nov. 29, 2022.
"I cannot overstate the contributions of each law enforcement partner represented in IBET. Together, we successfully prevented harmful drugs from entering Canada and harming our communities."
– Supt. Sean Boser, OIC of Federal Policing – Calgary
"The safety and security of Canadians is our government's top priority. By stopping illegal drugs at the border, we're keeping our communities safe. This seizure is another great example of the ongoing cooperation between the CBSA, the RCMP and the Calgary Police Service in securing our borders."
– Brad Wozny, Regional Director General, Canada Border Services Agency
"Anytime a significant seizure like this is taken off our streets is a win for the communities we all work in partnership to protect."
– Acting Supt. Melanie Oncescu, CPS Criminal Operations and Intelligence
IBET's mandate is to enhance border integrity and security along the shared border, between designated ports of entry, by identifying, investigating and interdicting persons, organizations and goods that are involved in criminal activities.
Severe weather in Canada caused $3.1 billion in insured damages in 2022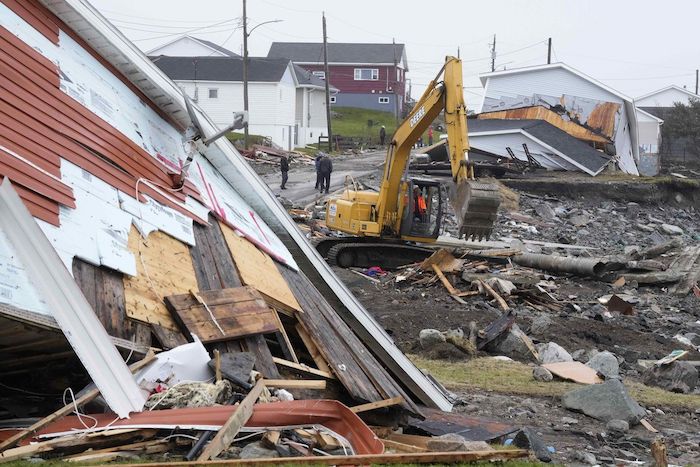 The Insurance Bureau of Canada says severe weather caused $3.1 billion in insured damage in Canada in 2022, from flooding to storms to Hurricane Fiona.
That makes 2022 the third worst year for insured losses in Canadian history.
The bureau says no single event or particular region accounted for the majority of the insured damage in 2022, with disasters in almost every part of Canada last year.
That's in contrast to a year like 2016, the worst year on record primarily because of the Fort McMurray, Alberta wildfire, which accounted for around three-quarters of national losses.
The most expensive extreme weather event for Canada in 2022 was the Ontario and Quebec derecho in May, which caused $1 billion in damages.
The other most expensive events included Hurricane Fiona, which cost $800 million, and the summer storms in Canada which cost $300 million.
This report by The Canadian Press was first published Jan. 18, 2023.
Debt worries rise amid higher interest rates and persistent inflation: MNP report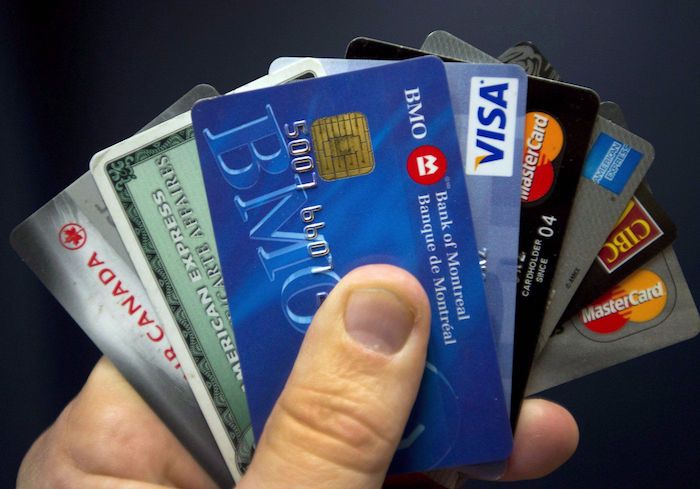 A new report suggests Canadians' worries about debt are rising amid higher interest rates and persistent inflation.
Bankruptcy trustee firm MNP says its quarterly consumer debt index fell 15 points since its last survey to an all-time low of 77 points.
A lower score on the index suggests higher anxiety about debt.
MNP president Grant Bazian says inflation is eroding household budgets and, at the same time, financially fragile and overleveraged Canadians face sharply rising borrowing costs.
The report, based on online interviews conducted in December, says the percentage of Canadians concerned about their debt rose seven percentage points to 47 per cent, a record high.
It says 64 per cent say that as interest rates rise they are more concerned about their ability to pay their debts, while 59 per cent say if interest rates go up much more, they will be in financial trouble.
This report by The Canadian Press was first published Jan. 16, 2023.