2 RCMP officers charged after ASIRT investigation into 2018 fatal shooting at Whitecourt
RCMP officers charged following ASIRT investigation
On July 3, 2018, the Alberta Serious Incident Response Team (ASIRT) was directed to investigate the circumstances surrounding an RCMP officer-involved shooting that resulted in the death of a 31-year-old man.
On July 2, 2018, a 31-year-old man was in a residence in Valhalla Centre when unidentified perpetrators attacked the residence and fired upon the occupants. While one occupant was injured during the incident, the 31-year-old man was able to flee the area in a very distinctive vehicle. As RCMP officers began to investigate the incident, they sought to locate and interview the man as a witness to the events and, indeed, as the possible intended victim.
On July 3, 2018, an off-duty RCMP officer observed what he believed to be the vehicle in question parked at the Chickadee Creek rest stop west of Whitecourt, and provided this information to nearby RCMP members.
Shortly after 12:15 p.m., officers attended the location and found the vehicle parked with what appeared to be one occupant asleep in the reclined driver's seat. The officers approached the vehicle and a confrontation occurred, during which the vehicle was put into motion. One officer discharged a service pistol at the vehicle while a second officer discharged a carbine rifle. The vehicle left the rest stop, crossed the highway and entered a ditch a short distance away.
The RCMP Emergency Response Team (ERT) was called in to clear the scene and located the 31-year-old-man deceased in the driver's seat, having sustained several gunshot wounds.
ASIRT conducted a thorough and independent investigation into the circumstances surrounding the incident. Upon reviewing the evidence, ASIRT executive director Susan D. Hughson, Q.C., determined that the evidence was capable of providing reasonable grounds to believe that a criminal offence(s) had been committed and, accordingly, on Aug. 22, 2019, the completed investigation was forwarded to the Alberta Crown Prosecution Service (ACPS) for an opinion on whether the case met their standard for prosecution. On May 29, 2020, ASIRT received the completed final opinion. Having carefully reviewed the completed investigation and the provided position of the Crown, Ms. Hughson concluded that there were reasonable grounds to believe that criminal offences had been committed and that the two RCMP officers who discharged their firearms should be charged.
On June 5, Cpl. Randy Stenger and Const. Jessica Brown, both RCMP officers with the Whitecourt RCMP detachment, were arrested and each charged with one count of criminal negligence causing death in relation to the death of the 31-year-old man, Clayton Crawford, contrary to the provisions of the Criminal Code.
Both officers were released on an undertaking with conditions, including a prohibition from the possession of firearms, to appear in Whitecourt Provincial Court on July 14.
As these matters are now before the courts, ASIRT will not provide any further information in relation to these incidents.
ASIRT's mandate is to effectively, independently, and objectively investigate incidents involving Alberta's police that have resulted in serious injury or death to any person, as well as serious or sensitive allegations of police misconduct.
Alberta Premier Danielle Smith says conservatives must learn to win in 'big cities'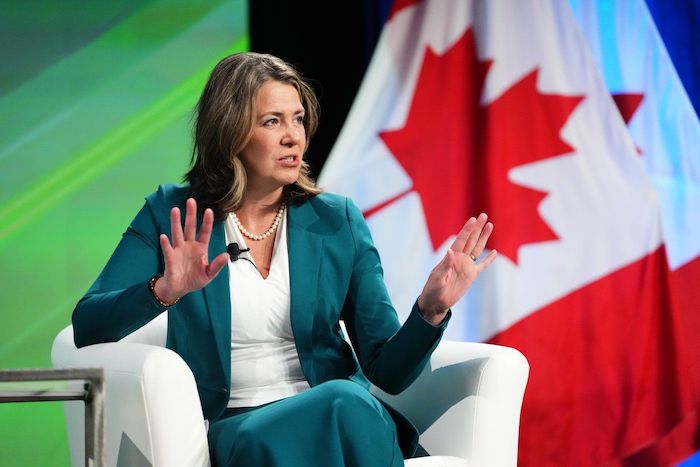 Alberta Premier Danielle Smith speaks at the Canada Strong and Free Network in Ottawa on Thursday, March 23, 2023. THE CANADIAN PRESS/Sean Kilpatrick
Ottawa (CP) – Alberta Premier Danielle Smith says conservatives must learn how to win in "big cities."
Smith made the comment to a room of conservatives gathered in Ottawa for the annual conference of the Canada Strong and Free Network, formerly called the Manning Centre.
With Albertans set to go the polls in a provincial election this year, Smith says the United Conservative Party has more ground to gain in the province's two largest cities: Calgary and Edmonton.
Smith replaced Jason Kenney as party leader and premier last fall, after he resigned following a leadership review where he received only 51 per cent support.
Kenney faced considerable backlash leading up to that vote for his handling of the COVID-19 pandemic, and Smith told today's crowd that the party had lost "a lot" of its base.
Smith's belief that conservatives must make inroads in large cities is shared by the federal Conservatives, with Leader Pierre Poilievre spending many of his weekends in Metro Vancouver and the Greater Toronto Area — areas where his party has struggled to gain ground in the past several elections.
This report by The Canadian Press was first published March 23, 2023.
Toffoli's two-goal effort leads Flames in 5-3 win over Sharks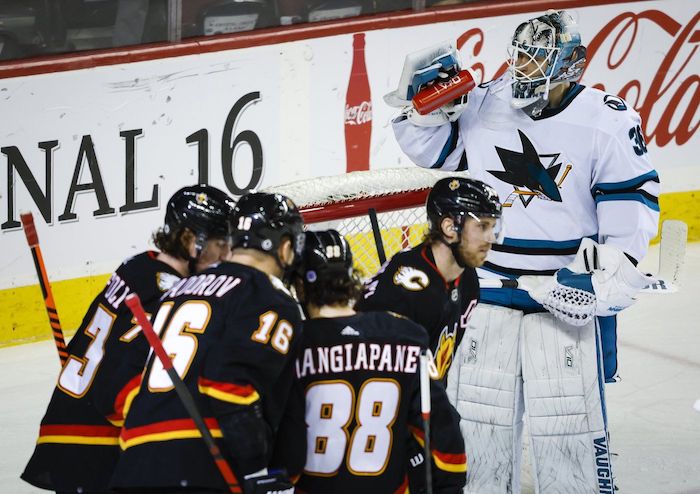 San Jose Sharks goalie Kaapo Kahkonen, right, takes a drink as Calgary Flames players celebrate a goal during first period NHL hockey action in Calgary, Alta., Saturday, March 25, 2023.THE CANADIAN PRESS/Jeff McIntosh
By Darren Haynes in Calgary
Led offensively by two guys with Stanley Cup rings, the Calgary Flames kept their faint playoff hopes alive on Saturday.
Tyler Toffoli scored two goals and Nazem Kadri notched the game-winner as the Flames won 5-3 over the San Jose Sharks to climb two points closer to a playoff berth.
"They're a desperate team, they have some skill. And obviously with (Erik) Karlsson on the back end, he can take over games, and I thought we did a good job sticking together and finding a way to win," said Toffoli, whose 31 goals equals a career high.
Combined with Winnipeg's 4-1 loss to Los Angeles, the Flames moved to within four points of the Jets, who occupy the final wild-card spot in the Western Conference. Both teams have eight games remaining including one head-to-head.
"We can't really worry about what other people are thinking," Toffoli added. "We just have to win every game we can, and every game we win keeps us in it and gives us a chance."
Toffoli played for Darryl Sutter in 2014 when he was the coach of the Stanley Cup-winning Los Angeles Kings.
"He's a winner," said Sutter. "Can't teach it, thankful to have him."
Kadri won his Stanley Cup last season with Colorado.
"Ideally you want to find yourself to not be in this position this late in the season," Kadri said. "But it's hard to win in months like these leading up to the playoffs and we've given ourselves a chance so that's really all that matters."
Tied at 3-3, Kadri scored the go-ahead goal 5:45 into the third period. On his first shift moved onto a line with veteran Milan Lucic and rookie Walker Duehr, he banged in a rebound from the side of the net after Kaapo Kahkonen had stopped shots from both of his linemates.
"Great work ethic by them," said Kadri, who has goals in consecutive games after a 16-game goal drought. "That's what Walks and Looch are good at, staying on pucks and being tenacious and I just tried to get simple and go to the net as that's where most of the pucks are going."
Toffoli put the game away scoring into an empty net with 1:10 remaining.
"It was a real gut-check game. We had nine games in 15-and-a-half days for everybody in this room that travels with us and it was hard for us," said Flames coach Darryl Sutter.
MacKenzie Weegar and Duehr added the other goals for Calgary (33-26-15), which won for just the second time in its last nine games at the Saddledome (2-5-2). Jacob Markstrom made 28 saves.
Logan Couture, Nico Sturm and Martin Kaut replied for San Jose (19-39-15), which had its winless skid extended to nine games (0-6-3). Kahkonen had 25 stops.
Erik Karlsson had two assists to reach 68 on the year and surpass his previous career-high of 66 in 2015-16 and break the Sharks record for helpers by a defenceman. Brent Burns previously held it with 67 in 2018-19.
"We just want to come every day and work hard and make the most out of a bad situation," said Karlsson. "Today everybody showed up and we tried to play the way we need to to be competitive and I think we were for the most part of 60 minutes."
The Flames saw their 2-1 lead entering the second period disappear after surrendering two goals to the visitors.
Sturm drove hard to the net, got his outstretched stick on the end of a hard centring pass from Noah Gregor and neatly deflected it in at 4:52.
Twenty-two seconds later, Steven Lorentz ripped a shot off the goalpost and Kaut knocked in the rebound.
The lead was short-lived, though, with Duehr answering back for Calgary 25 seconds later. He buried a one-timer on a dish from Trevor Lewis.
"Losing sucks," said Couture. "Tonight was one of our better efforts. We're realistic in here. We know where we're at. We lost a bunch of guys at the deadline. We moved out six or seven of our full-time players. I liked our compete. We fought to the end. We can be proud of that."
The Flames opened the game with a bang, grabbing a 2-0 lead before the Sharks even got a shot on net.
Couture cut into the deficit at 14:27 when he went hard to the net and was set up for a tap-in thanks to a slick pass from Karlsson.
MILESTONE FOR BACKLUND
Mikael Backlund played in his 900th career game Saturday. A first-round pick by the Flames in 2007, the 34-year-old centre is third on the franchise's all-time games played list behind Jarome Iginla (1,219) and Mark Giordano (949).
BLUE LINE SHUFFLE
The Sharks made two changes on the blue line, welcoming back Matt Benning (undisclosed) and Jacob MacDonald (upper body) from injuries that had sidelined them for one and nine games, respectively.
UP NEXT
Flames: Conclude their home stand on Tuesday against the Kings.
Sharks: Return home to host Winnipeg on Tuesday.
This report by The Canadian Press was first published March 25, 2023.